Last call for illegal migrant workers to register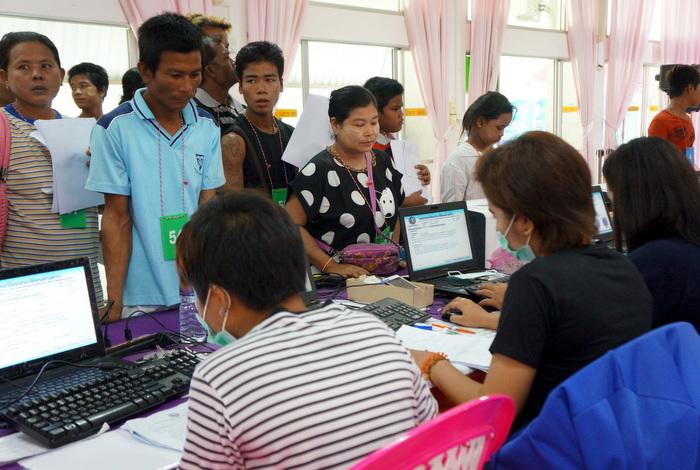 PHUKET: Immigration officials are calling on employers of illegal migrant workers to register their employees before a grace period ends this month.
"At least 20,000 foreign laborers, predominantly Myanmar nationals, have registered at Phuket's 'one-stop center' since it began accepting applications on April 1, so they can be properly registered and issued with work permits," said Phuket Provincial Employment Office (PPEO) senior officer Sukrita Canyook.
The registration drive is part of a nationwide campaign to legalize unregistered migrants from Myanmar, Cambodia and Laos working mainly in the country's construction and fisheries industries.
The registration period ends on July 29.
Construction workers must have either a passport or 'pink' ID card to register. However, those working in the fishing industry and at seafood processing plants who do not have those documents can still register at the center.
"I would like to call on all employers of migrant workers to come and register in time, otherwise they will be liable for prosecution," Ms Sukrita said. "At the moment the government is being flexible with employers and illegal workers."
Law enforcement officers have largely suspended immigration raids and their detainment of illegal immigrants for the past month.
Thailand's fishing industry, which has an infamous history of employing migrant laborers, has extended deadlines, with employers having until July 31 to register their workers. The PPEO stated those workers will receive a 'one-year' work permit that would retroactively cover them from February 2, 2016 until January 31, 2017.
Workers involved in the country's substantial seafood processing industry – which warranted a visit this month from Burmese stateswoman Aung San Suu Kyi (story here) – were able to register with the Department of Labor from February 23 until August 22.
Non-fishing industry employers, including construction companies operating in Phuket, have to register all of their migrant laborers by July 29 in order to apply for a two-year permit.
— Chutharat Plerin
Keep in contact with The Thaiger by following our
Facebook page
.
Vietnam Airlines opening direct Phuket to Ho Chi Minh City flights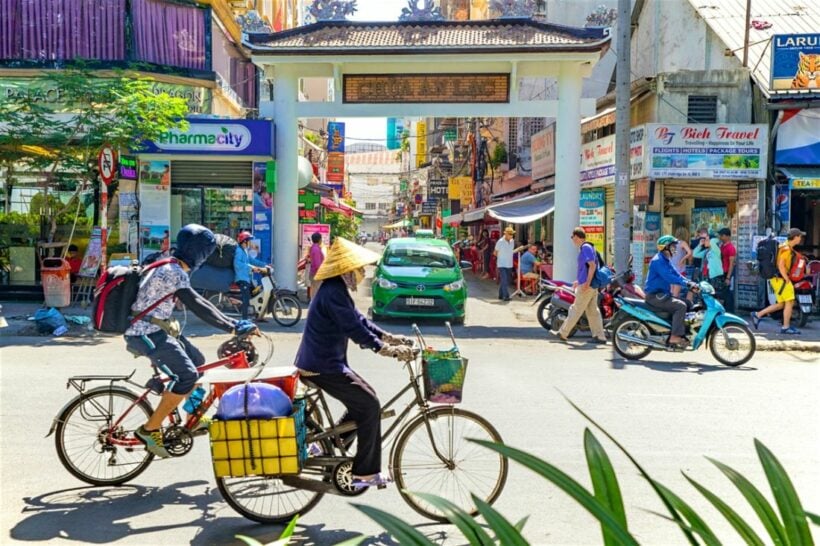 by Bill Barnett c9hotelworks.com
Vietnam Airlines will commence direct flights between Ho Chi Minh City (Saigon) and Phuket on October 27.
Flights will operate three days a week, on Tuesday, Friday and Sunday. The airline is also launching direct Ho Chi Minh City to Denpasar (Bali) service.
Vietjet Air, the popular new low-coast airline out of Vietnam, is currently servicing the increasingly popular route.
Keep in contact with The Thaiger by following our
Facebook page
.
Phuket social enterprise shop takes the first steps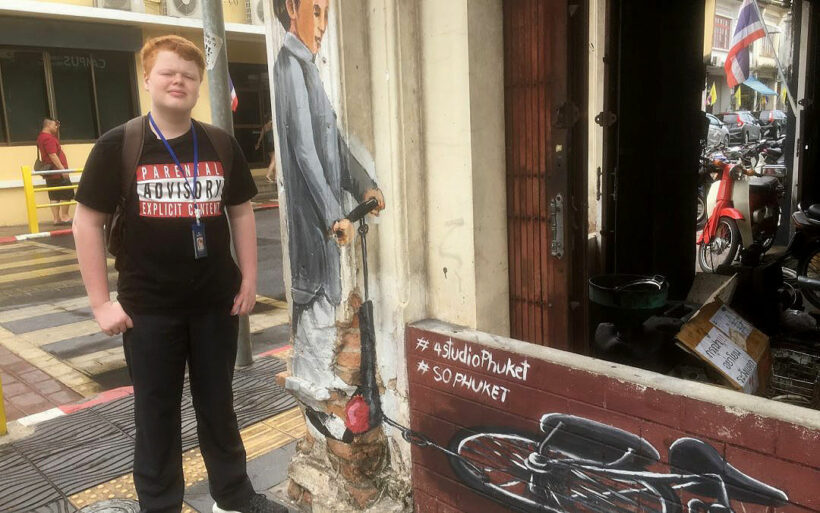 PHOTOS: stepswiththeera.com
A Bangkok-based social enterprise has made its debut in Phuket as it opened a new zero-waste shop, cafe and vocational training centre in Cherng Talay.
The shop is run by Steps With Theera and provides a range of plastic substitutes including bamboo straw sets, bamboo toothbrushes and SuperBee wax wraps, alongside a refill station with beauty products from HUG and cleaning products from Conscious Living and Pungungreen.
Steps with Theera runs vocational training centres for young people and adults with learning differences. Alongside the training centres, it runs businesses for trainees to get hands-on work experience.
"We're very excited to announce that Steps with Theera is expanding! We've now made our way down to Phuket. I'm Stacey, and I have been lucky enough to join the team and head up the Phuket branch. I am very excited to be a part of this great new adventure."
Max Simpson, one of the Steps founders, the shop will give trainees the chance to learn some key skills, stock taking and running workshops.
"Our mission is about providing opportunities for people with learning differences to demonstrate their capabilities, and how they can add value to all types of workplace. Zero-waste seemed the natural choice for us, since we take our environmental responsibilities very seriously and have pledged to go plastic-free in all our cafes by the end of October 2019."
The shop opened to the public back on September 9. The vocational centre is already running and taking on trainees, with the cafe due to open later this year.
"Our zero waste shop will be open from early September so please do come by. We are collecting secondhand furniture and workman's tools that need a second chance at life so that we can complete the set-up of the zero waste shop – donations are welcome!"
SOURCE: stepswiththeera.com | The Nation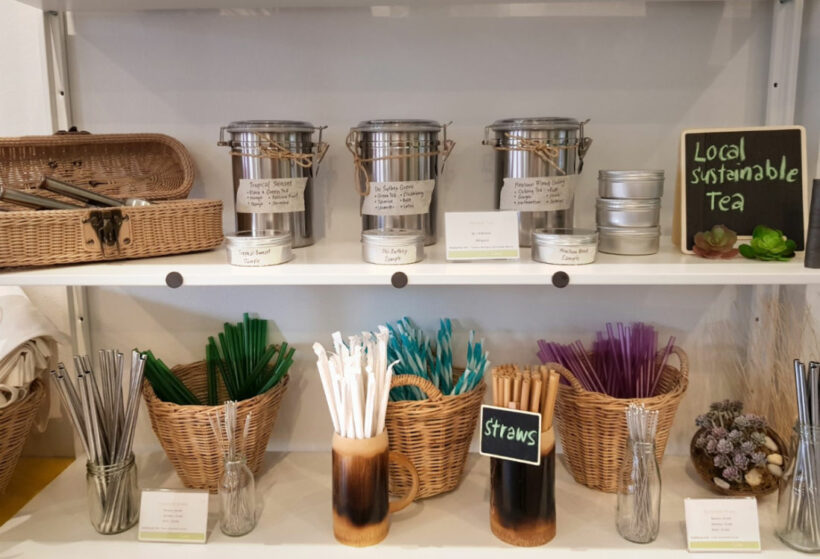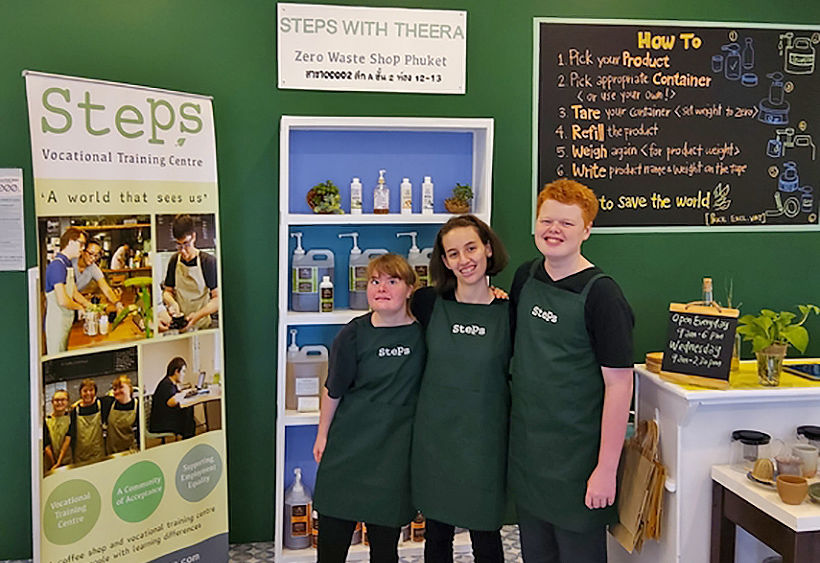 Keep in contact with The Thaiger by following our
Facebook page
.
6 year old Burmese boy dies from bike-pickup truck crash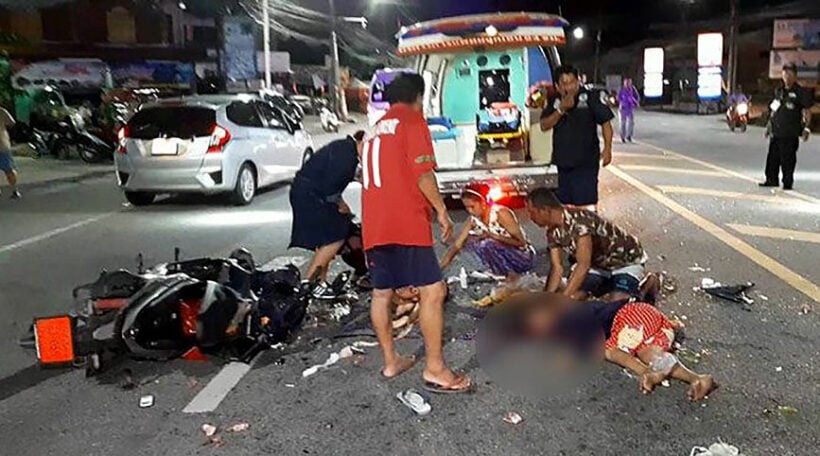 SOURCE: khaosod.co.th
A 6 year old Burmese boy has died following a motorcycle accident when his parents crashed the vehicle onto a pick-up truck earlier this week. He died in the intensive care ward at Vachira Hospital yesterday morning (Thursday)
The accident occurred on September 15 near Soi Pramote, Chaofa West Road, Chalong. The boy's father, 39 year old Thein Zaw, ended up with a head injury and his left leg was damaged. His mother, 39 year old Poehnin Phyu, suffered severe neck and head injuries and so did the boy. He was rushed to hospital in a coma but his mother was announced dead at the scene.
The father and son were rushed to Vachira Hospital in Samkong where the boy and his father received intensive treatment but the 6 year old succumbed to his injuries.
Witnesses told the police that they saw a Toyota Hilux Vigo pickup truck with Phang Nga number plates, driven by 39 year old Adit Pusuwan, heading from Phuket town towards Chalong circle. They told police they heard the loud noise of the pickup truck increasing speed before stopping at a 7-11 in front of Soi Pramote.
The driver was seen sitting in the car revving the engine with a loud noise. He headed into 7-11 before getting back in and then drove the car to the next U-turn and turned quickly. The motorcycle of the Burmese family was driving in the opposite lane and slammed into the side of the pickup truck.
After the accident, Adit waited for the police to arrive before being taken to police station for further questioning.
SOURCE: khaosod.co.th
Keep in contact with The Thaiger by following our
Facebook page
.