Ghost boat of starving Rohingya recovered, replenished, returned to sea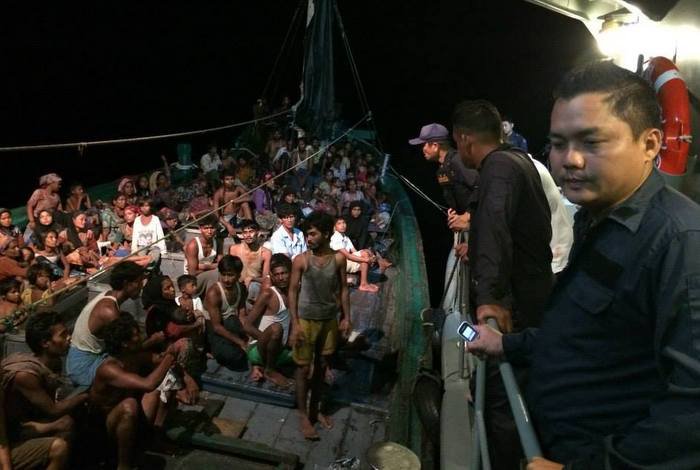 PHUKET: The Royal Thai Navy secured a ghost boat full of Rohingya refugees that was adrift off the west side Koh Lipe, south of Phuket, on Thursday.
The captain and crew had abandoned the vessel, leaving it to drift in the Andaman.
"The ship had more than 300 starving people on board, including women and children. Since they
departed Myanmar, more than 10 of them have died," explained Vice Admiral Sayan Prasongsamrej, commander of the Royal Thai Navy Third Area Command.
"According to their statements, the engine in the boat broke about 20 days ago and the captain abandoned ship, leaving them helplessly adrift."
The ship was recovered after the Air and Coastal Defense Command 491 (ACDC 491) received a report of the vessel from a fishing boat. A helicopter was dispatched to locate the boat.
"Once we located the boat, we brought them food, water and medicine. We then contacted Internal Security Operations Command (ISOC) in Satun to have them fix the engine," V/Adm Sayan said.
"After the boat was fixed, we let them resume their attempt to reach wherever they were going, as Thailand was not their final destination."
— Woranut Pechdee
Keep in contact with The Thaiger by following our
Facebook page
.
85 year old Swiss man drowns off Mai Khao Beach, Phuket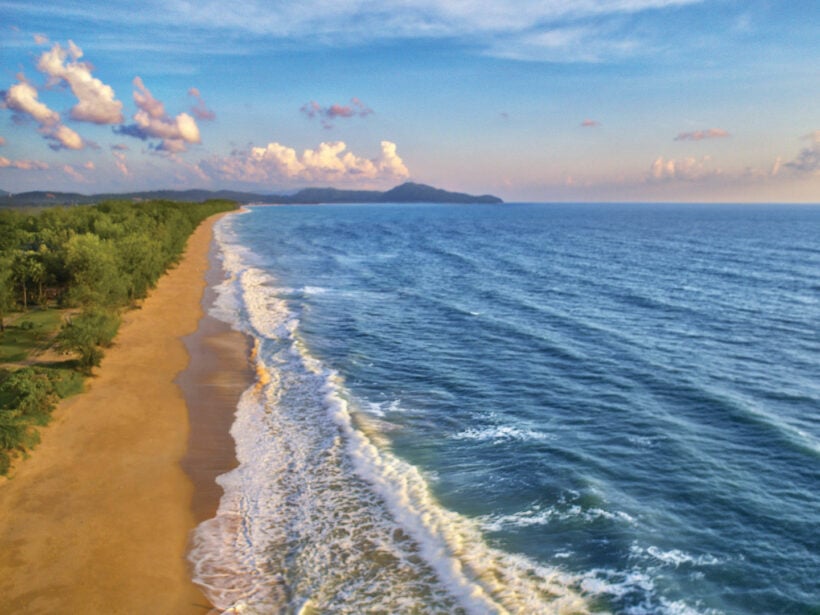 An elderly Swiss man drowned yesterday at a beach in Thalang district of Phuket on Thursday afternoon.
Paul Brunner, who would have turned 86 next month, was found dead at Mai Khao beach in the northern section of the island around 5.30pm, according to Tha Chatchai police.
Police report that he was wearing black swimming shorts. His body was discovered only about 500 metres from the hotel where he and his wife were staying. There were no bruises on his body, or indications of a struggle.
Paniti Thapthiang, a hotel employee, told police that Mr Brunner's 70 year old wife alerted the hotel around 3.30pm yesterday afternoon saying that her husband had disappeared. Hotel staff checked the CCTV which showed the man, wearing his swimming shorts, walking down towards the beach.
Hotel staff searched along the beach but were unable to find any trace of the man. Around 5.30pm, someone notified the hotel that a man's body had been found in the water. Police estimate that he had been dead about three hours before the body was discovered.
Police sent this body to Thalang Hospital for a post-mortem. Police noted that there appeared to be no suspicious circumstances in the man's death.
Conditions along Mai Khao Beach yesterday were reported to be calm but the stretch of beach has a notorious shore break that can be quite dangerous for inexperienced swimmers in some conditions. Mai Khao Beach is the longest stretch of beach in Phuket.
Keep in contact with The Thaiger by following our
Facebook page
.
Inaugural Thailand Charter Week in Phuket opens tomorrow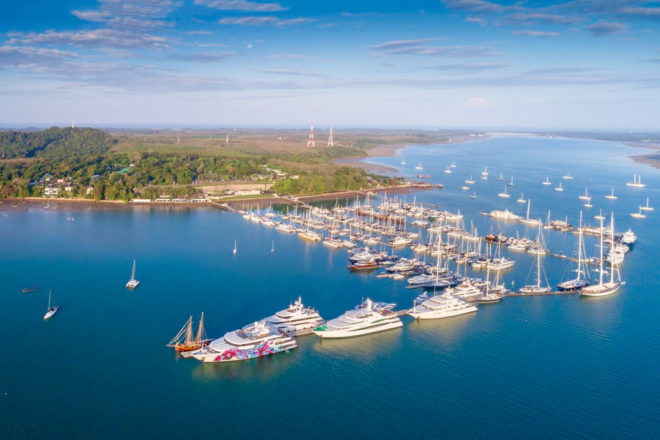 PHOTO: Phuket Yacht Haven, ready for the inaugural Thailand Charter Week – asia-marine.net
The Tourism Authority of Thailand has signed up as a Supporting Sponsor of the first Thailand Charter Week in a huge boost for the inaugural six-day event, held at Phuket Yacht Haven from tomorrow to November 21. Organisers were also facing the 'good problem' of over demand for berths, especially after a series of large yachts signed up in the lead-up to the event.
The Thailand Charter Week is Asia's first international charter show for industry professionals only, a 'B2B' event for charter brokers, central agents, luxury travel agents and tour operators to meet local agencies and discover leading charter yachts operating in Thailand and the rest of Southeast Asia.
The iconic 41.3m Ocean Emerald is the largest boat in the line-up and will exhibit at Yacht Haven four years after appearing in the movie remake of Point Break. The yacht often berths in Pattaya, is represented by Camper & Nicholsons, and is available for charter in Southeast Asia and the Indian Ocean.
Launched by Rodriguez Yachts in 2009, the 135ft motor yacht was designed by Norman Foster and has five suites for 12 guests, a bar, jacuzzi and enormous exterior decks for entertaining.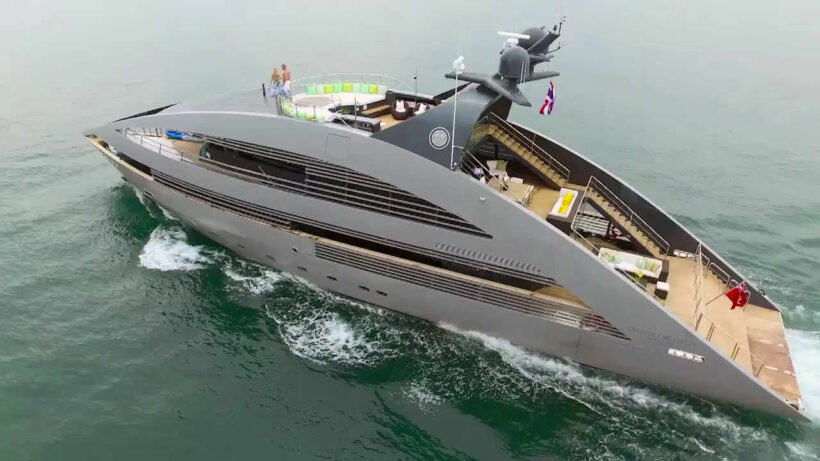 PHOTO: Ocean Emerald
At 31.6m in length, Silverlining is the biggest sailing yacht in the line-up and is represented by Fraser. A Sparkman & Stephens design, the 104ft yacht was launched in 2011 and has cruised more than 50,000nm, visiting more than 40 countries. Now based in Phuket, the yacht features two saloons and four guest cabins.
The 31.5m Aveline, a Maiora 31DP motor yacht, is a recent addition to the show by Northrop & Johnson and newly available for charter in the 2019/20 season.
Other newcomers include the 29.5m Mia Kai, which is represented by Ocean Independence and had an extensive interior refit in 2017, and the 29.5m Lady Eileen II, a motor yacht built by Taiwan's New Ocean Yachts and represented by Yacht Sourcing.
Built by renowned Turkish yard Bilgin in 2007, Mia Kai had an extensive interior refit in 2017. The yacht features four guest cabins, including two almost equally sized, full-beam master suites, while the sun deck features an al fresco dining area, jacuzzi, bar and high-tech sound system.
Motor yachts include the 27m Baglietto Ajao, 27m Thai-built wooden boat Maha Bhetra, 25m Azimut 80 Mirage, 23m Sunseeker Maxxx, 22m Chowa, 21m Riva Aria Blue, 20m Cheoy Lee L'Orientale, 18m Princess Mayavee, 18m Princess Shard 1, 17m Azimut Pillars Spirit and 15m Sea Princess.
Sailing catamarans include the 19m Lagoon 62 Jyohana and 16m Lagoon 52F Blue Moon – the latter launched in 2018 – a 16m Andaman 50 and a 15m Moorings 4800, while Super Mario is a 15m powercat.
Companies exhibiting on land include Sevenstar Yacht Transport, Southeast Asia Pilot, Yacht Sourcing, Corsair Marine/Seawind Catamarans, Port Takola Yacht Marina, Zodiac ribs and Advance Yachting.
Matthew Na Nagara, Chairman of the Thai Yachting Business Association, the event organiser, says the event is designed to show the amazing appeal of Thailand's yacht tourism industry and its spectacular coastlines, islands, beaches and marine life.
"The Thailand Charter Week is building up nicely, with more large yachts signed up in the last couple of months and challenging us to find ways to accommodate them all. We have a full calendar of events for the show, including some great trips into the beautiful areas surrounding Phuket, and are confident that this first edition will prove a success."
The event's partner hotels include The Slate and Dusit Thani Laguna Phuket on the island's west coast, and Como Point Yamu on the east coast, while Coconut Village will host a beach party.
www.thaiyachtingbusinessassociation.com
Keep in contact with The Thaiger by following our
Facebook page
.
Utopia Music Festival: Dare to Dream!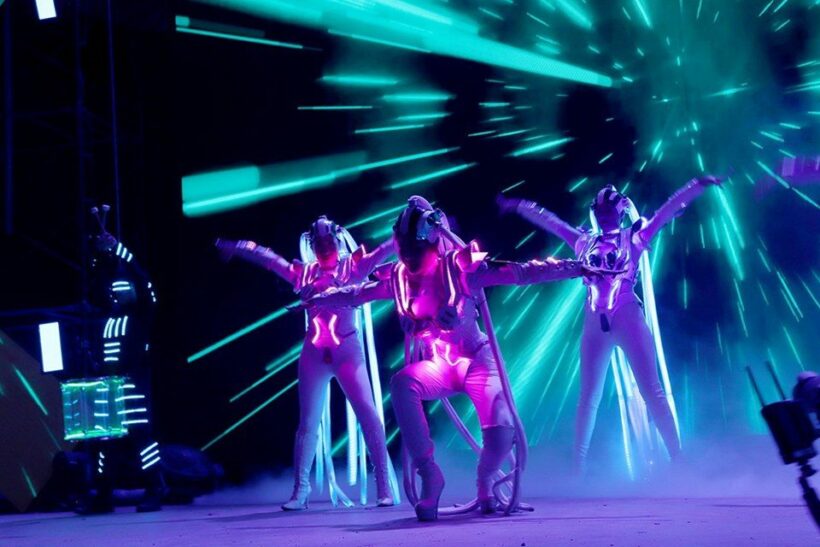 On November 11, 2019, Utopia Corporation arranged the Utopia Music Festival at their condominiums in Nai Harn Beach, using a theme of superhero. The concept of 'Dare to Dream' showcases the outstanding and unique properties under Utopia Corporation.
The music festival started with a speech from Utopia CEO Hachi Yin and Vice President Leo Li, who explained their various properties across Phuket, currently valued at almost 6 billion baht. Their speech was followed by an exciting glow-in-the-dark light show and some awesome performances and talented DJs.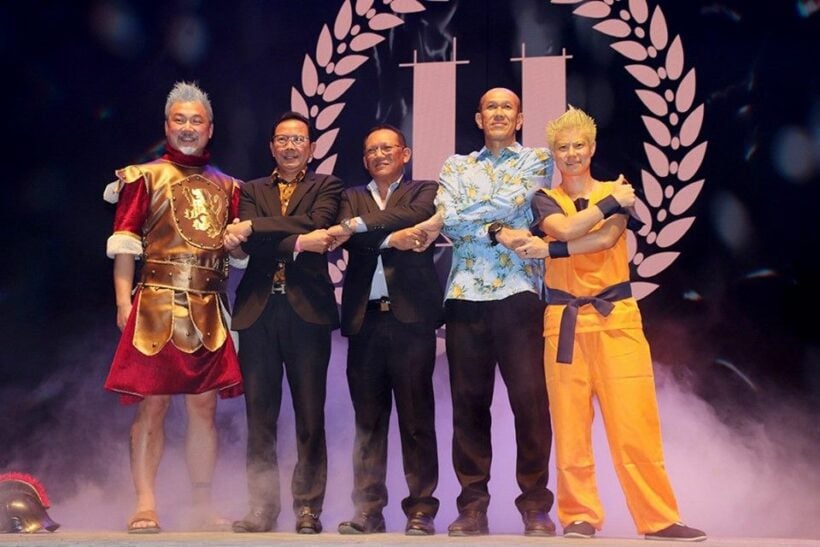 The party goers were all dressed in superheroes, from Son Goku to Wonder Woman, to Maleficent and Harley Quinn. Plenty of Phuket local street cuisine was available in the food trucks around the event along with refreshing drinks. The guests thoroughly enjoyed the music from the DJs and the astonishing shows on stage.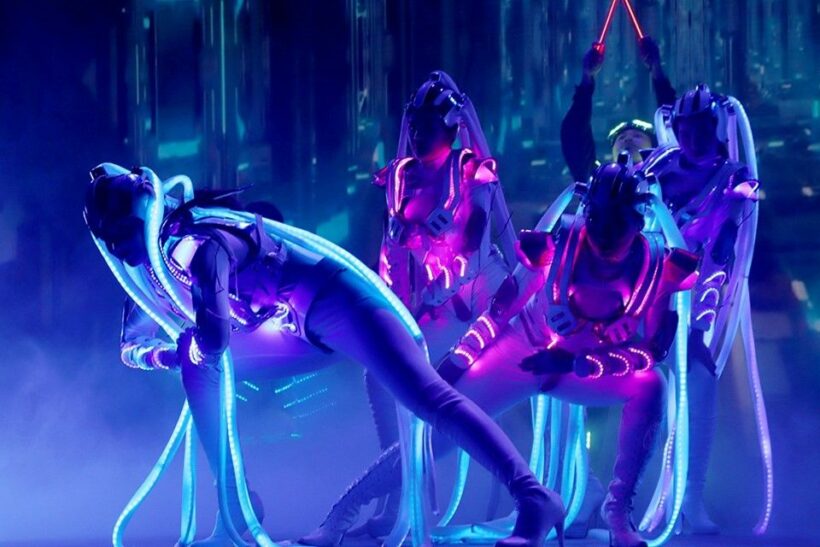 Utilising their extensive experience and knowledge of the Australian design and construction, IPA Corp., which owns the Utopia Development business unit, currently possesses seven projects on the island of Phuket. Utopia Nai Harn is one of them and is located between two of Phuket's most beautiful beaches, Nai Harn and Rawai Beach, and the beautiful Nai Harn Lake is just a stone's throw away. Known as the Naiharn Tropical Alley, these surroundings provide a tranquil and relaxing backdrop to the hotel.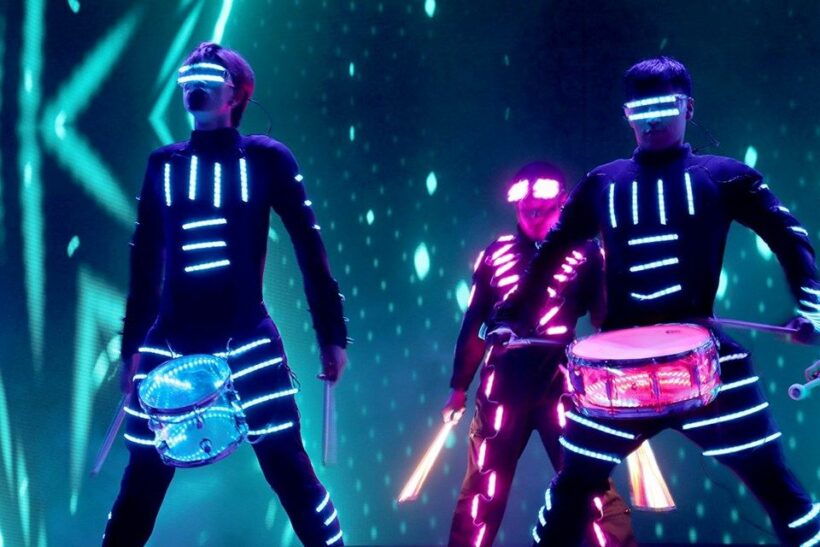 The high-quality hotel site provides all of the facilities one could ask for – a spa, fitness center, swimming pool with pool side bar, mini water park – U Lagoon and 24-hour front desk service are available. The hotel is within easy reach of numerous shopping locations and there are plenty of restaurants in the immediate vicinity.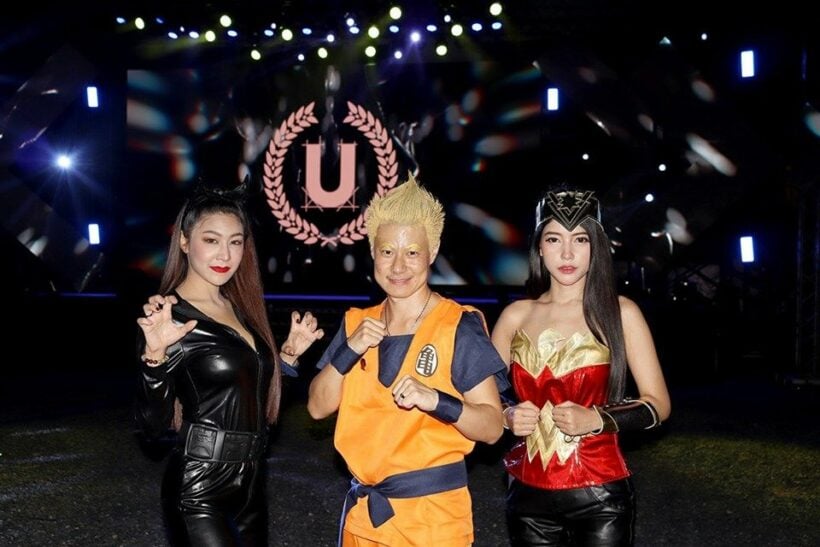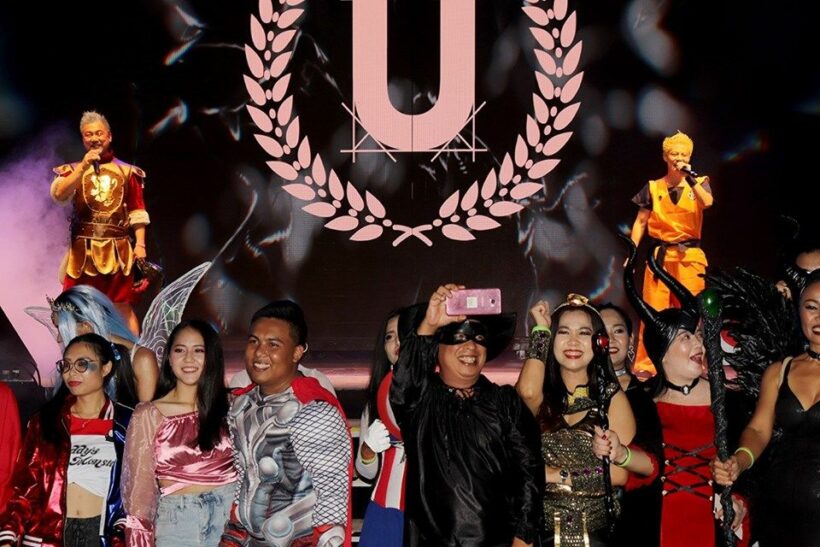 "Utopia Corporation contribute to solving fragmentation on the island by integrating and planning connectivity in its master plan to develop the Utopia Empire," Utopia CEO Hachi Yin said.
"We offer choices of exciting & unique dining experiences at Imagine Restaurant, a hip all-day dining restaurant where guests can open their minds to unique and inspired menu items from our Chefs, whilst enjoying beautiful views of tropical forest and green mountains from the restaurant balcony. Or our Mikha Authentic Japanese Restaurant specialising in Omakase in a relaxed Japanese atmosphere. For villa residents, we proudly serve a unique Utopia Floating Breakfast experience that will make you never want to leave your Villa."
Keep in contact with The Thaiger by following our
Facebook page
.