Broken-hearted woman jumps off Phuket building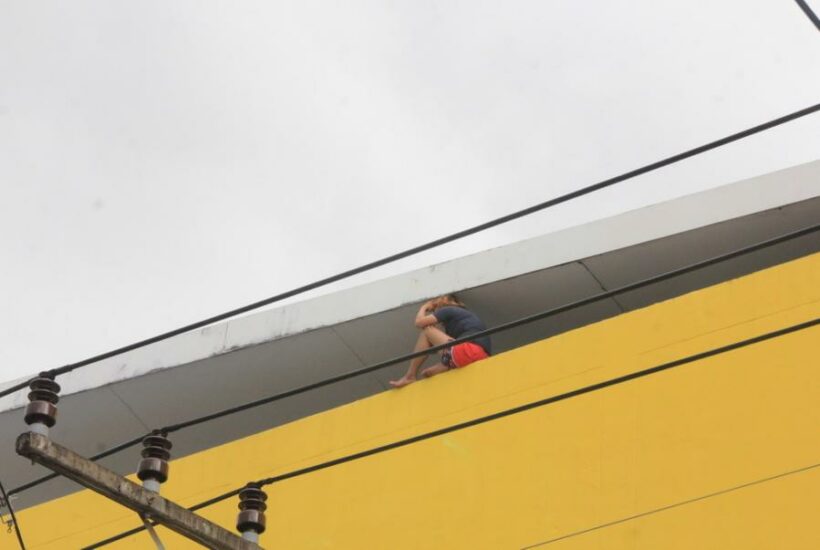 PHUKET: An agitated woman with relationship troubles was injured this morning after she jumped off the third floor of a building in Phuket Town.
This is the second case of its kind within two days – the first incident took place early morning yesterday when another girl nearly drowned in the sea at Saphan Hin (story here).
"Today's incident took place at Sarita Mansion in the Poonpon area at about 11am. The 21-year-old woman was sitting at the edge of the roof of the apartment building. Rescue workers tried to persuade her not to jump, while other team members rushed to set up an air mattress and arranged for a cable car to get up there," Phuket City Police Superintendent Komol Osiri told Phuket Gazette reporters.
The woman reportedly refused to listen to anyone and lowered herself to hang off the edge instead.
"She held on for about three minutes and then let go, hitting her head on an aircon unit and falling to the ground unconscious. She was taken to Vachira Phuket Hospital," he added.
Sarita Mansion staff told police that she had been living at the apartment for about one month and had had an argument with her girlfriend at about 3am this morning. Her girlfriend had then left for work.
"She wrote a letter before going up to the roof. The letter stated that she was done with the relationship. However, we will question her girlfriend first before closing the case," said the superintendent.
— Kritsada Mueanhawong
Keep in contact with The Thaiger by following our
Facebook page
.
Two Thai restaurants grab their second Michelin star – new guide 2019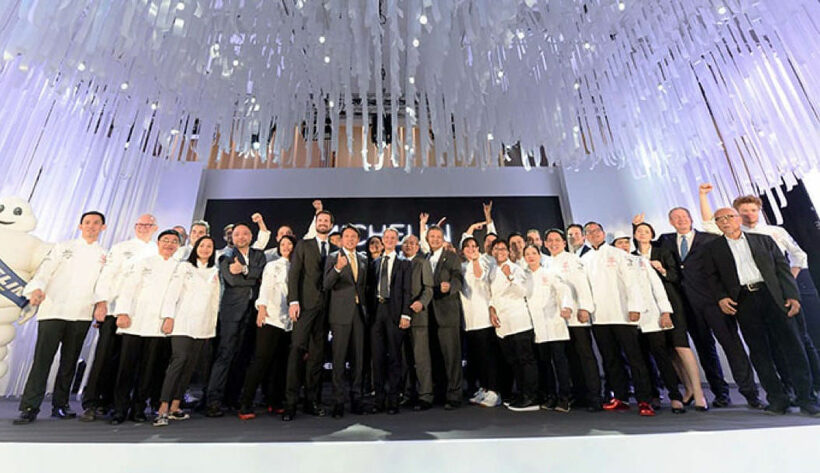 Traditional Thai restaurants 'R-Haan' and southern-style 'Sorn' have each scored two Michelin Stars for 2020, while 'Le Normandie', 'Mezzaluna', and 'Sühring' held onto their two stars. Another 24 restaurants in Thailand received their first Michelin gongs.
The awards were announced at the launch of the 2020 Michelin Guide for Thailand, featuring award winning restaurants in Bangkok, Chiang Mai, Phuket and Phang-nga. It's the third edition of the guide for the country.
Both R-Haan and Sorn received a Michelin Star last year, making their second star only a year later that much more impressive.
Twenty restaurants across the kingdom, which won a star last year, retained their awards, including Bo.lan, Canvas, Chim by Siam Wisdom, Elements, and many others, and 94 bagged the Bib Gourmand award, with 27 new entries including eight in Bangkok, 17 in Chiang Mai and two in Phang-nga.
"The 'locavore' movement, or the use of locally sourced ingredients, has become the true star of Thailand's foodscape," according to the Michelin Guide's international director.
"The trend indicates Thailand's rich diversity and high quality of local produce. In addition, we see the glorious rise of traditional Thai cuisine, as, for the first time globally, two traditional Thai restaurants, both promoted from one star, are on the Michelin Guide's two star list."
The 2019 Michelin Guide for Bangkok, Phuket and Phang-Nga is available HERE.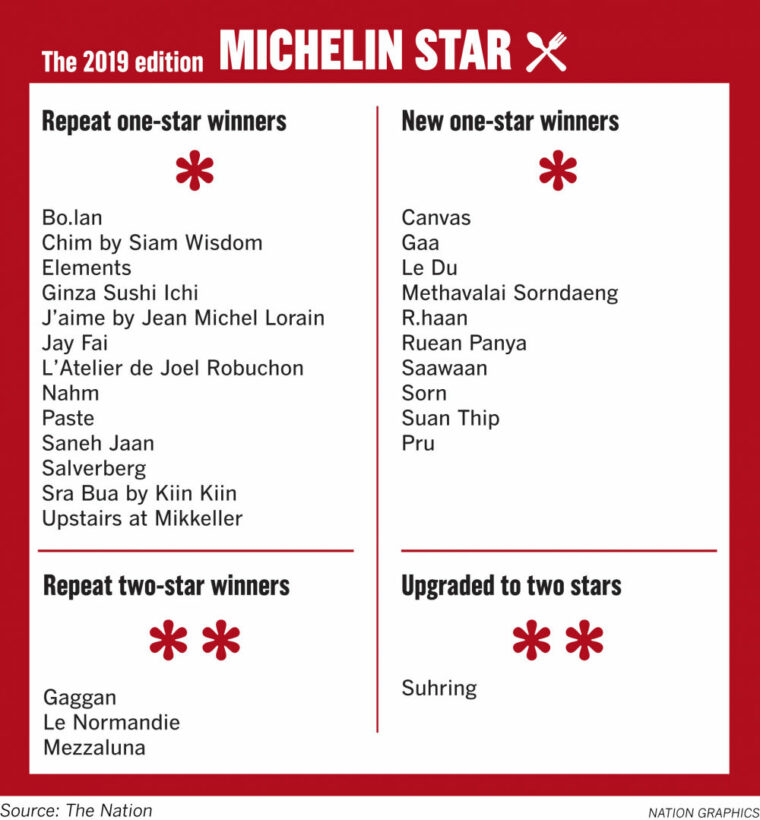 Keep in contact with The Thaiger by following our
Facebook page
.
Phuket scores #2 in Asia's most popular destination list – Trip Advisor survey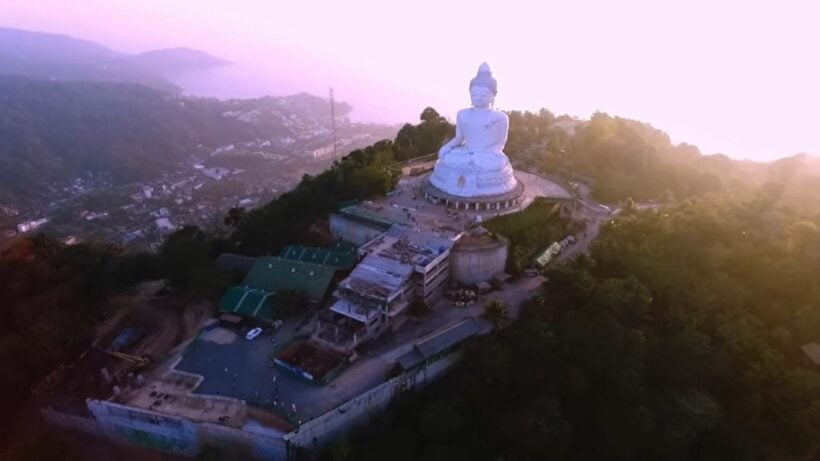 PHOTO: Bangkok Cheap Hotels
Phuket has scored the second position in the list of Asia's Top 25 Destination in a Trip Advisor survey. The survey is done across the travel website's million of users. Bali scored the #1 position in the extensive reader survey.
Three other destinations in Thailand made the Top 25 list – Bangkok at #11, Chiang Mai at #14 and Krabi at #18. Phuket also made it into the position of #6 most popular destination in the world for 2019.It was the only Thai destination to make it onto the Trip Advisor Top 25 World Destinations list for 2019.
About Phuket, Trip Advisor said…
"Phuket offers a rainbow spectrum of spectacular holiday sights from blue lagoons and pink sunsets to orange-robed monks. Three wheeled-Tuk Tuks, taxis, buses and long tailed boats transport visitors between these marvels. Phuket's south coast offers its most popular beaches. The north is more tranquil. Koh Phi Phi, Phang Nga Bay and Patong Beach are popular spots. Diving, snorkelling, wind surfing and sailing are just a few active options. Inland, forested hills, mountains and cliffs wait to be explored."
Apart from the three-wheeled tuk tuks, the survey's comments painted Phuket fairly accurately (Phuket has small Diahatsu vans for its local version of tuk tuks). It conveyed the kaleidoscope of activities now available on the island and its position as a stepping-off point for many of the offshore attractions.
For Bangkok, the survey described the capital…
"Bangkok is full of exquisitely decorated Buddhist temples – as you go from one to the next you'll be continually blown away by the craftsmanship and elaborate details. But if you'd rather seek enlightenment in a gourmet meal, or dance the night away, you'll also enjoy Bangkok – the restaurant and nightclub scenes here are among the best in the world."
Also in the Top ten list of Asia's Top 25 destinations….
3. Siem Reap, Cambodia
4. Hanoi, Vietnam
5. Tokyo, Japan
6. Kathmandu, Nepal
7. Jaipur, India
8. Hong Kong, China
9. Seoul, South Korea
10. Goa, India
Read the full Asian destination list HERE.
London, UK, Paris, France and Rome, Italy were the top three destination in the Worlds Most Popular Destinations list for 2019.
Keep in contact with The Thaiger by following our
Facebook page
.
85 year old Swiss man drowns off Mai Khao Beach, Phuket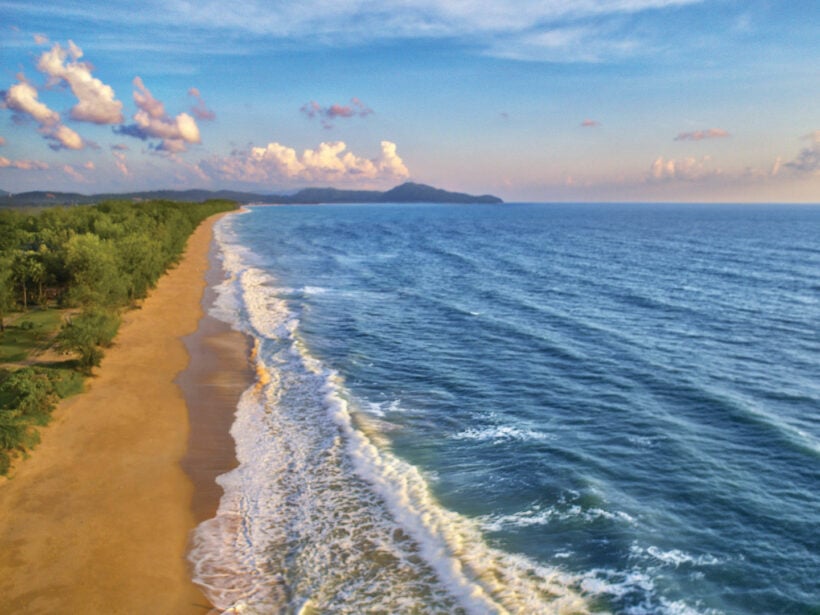 An elderly Swiss man drowned yesterday at a beach in Thalang district of Phuket on Thursday afternoon.
Paul Brunner, who would have turned 86 next month, was found dead at Mai Khao beach in the northern section of the island around 5.30pm, according to Tha Chatchai police.
Police report that he was wearing black swimming shorts. His body was discovered only about 500 metres from the hotel where he and his wife were staying. There were no bruises on his body, or indications of a struggle.
Paniti Thapthiang, a hotel employee, told police that Mr Brunner's 70 year old wife alerted the hotel around 3.30pm yesterday afternoon saying that her husband had disappeared. Hotel staff checked the CCTV which showed the man, wearing his swimming shorts, walking down towards the beach.
Hotel staff searched along the beach but were unable to find any trace of the man. Around 5.30pm, someone notified the hotel that a man's body had been found in the water. Police estimate that he had been dead about three hours before the body was discovered.
Police sent this body to Thalang Hospital for a post-mortem. Police noted that there appeared to be no suspicious circumstances in the man's death.
Conditions along Mai Khao Beach yesterday were reported to be calm but the stretch of beach has a notorious shore break that can be quite dangerous for inexperienced swimmers in some conditions. Mai Khao Beach is the longest stretch of beach in Phuket.
Keep in contact with The Thaiger by following our
Facebook page
.