Weird World News: When punishment takes an unusual route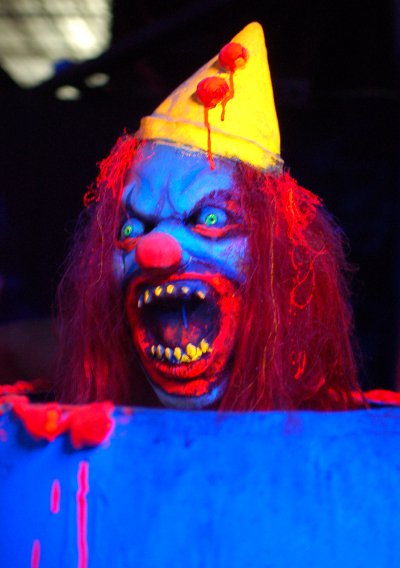 PHUKET: This week's Weird World News roundup shatters the foundations laid out by many great nations that claim "cruel and unusual punishments [shall not be] inflicted", as a hometown speedster has his car turned into a tree house, a horror film clown threatens your child (by request) and a suicide-kit saleswoman's business gets smothered with a mere US$1,000 fine after at least seven deaths, all made headlines this week.
'Race car' left aloft
Residents of a Polish town driven crazy by a young man's driving found a suitable parking space for him – on top of a willow tree.
This month Zbigniew Filo, 24, woke to find his car, a souped-up white Ford Escort, not where he had parked it the night before, The Mirror reported.
"We received a call from a man saying his car was stuck in a tree, and that his neighbors had put it there," said a police spokesman.
"After inspecting the site, we instructed him to remove it from the tree," she added.
The residents of Lubczyna have refused to oust the uplifting culprit, but did admit that one of the villager's cranes was borrowed for the night, which you think would help police hone in on possible suspects.
However, it seems the Poles have made their point, as Mr Filo has promised to drive with more care, – despite the fact that he does not have a driver's license.
"Whoever, or whatever it was, it's probably a good thing as he was a dangerous driver and could have killed someone," a neighbor was reported as saying.
"Perhaps he'll think twice about his hair-raising driving and about getting a license or who knows where his next car might end up?" the neighbor added.
"I get the message, but I think it was a bit harsh," Mr Filo admitted.
Evil cake-slinging clown offers to stalk your child
An "evil birthday clown" in Switzerland, for a fee, will threaten and stalk your child for the entire week leading up to their birthday, all while waiting for the perfect moment to attack them.
The clown, Dominic Deville, will send frightening text messages, make prank calls and even booby-trap their letters, but the icing on the cake is the surprise attack – a cake in the kid's face, reported Metro.
Dominic Deville is capitalizing on what has become a mainstay for all circus-going kids: the fear of clowns, reported The Huffington Post. He also apparently is capitalizing on unusually cruel parents.
"The child feels more and more that it is being pursued," Deville told Metro. "The clown's one and only aim is to smash a cake into the face of his victim, when they least expect it, during the course of seven days."
Mr Deville's look appears based on the monster clown played by Tim Curry in the 1990 TV adaptation of the Stephen King novel It," reported The Sun.
In his text messages, phone calls and letters to his targets, Deville lets them know that their time is coming, according to the Herald Sun.
Since the creepy prank is supposedly all done in fun, Mr Deville the evil clown does promise to back off if the parent's ask him to, so the judgment call on how scarred the child should be is left up to already questionable judgment.
"If at any point the kids get scared or their parents are concerned we stop right there," he said. "But most kids absolutely love being scared senseless."
Great-grandma's suicide kit business smothered only for tax evasion
A great-grandmother who made headlines by selling suicide (asphyxiation) kits has agreed to cease selling them as part of her plea settlement Monday, reported Reuters.
Sharlotte Hydorn, a retired science teacher, pleaded guilty in December to a federal charge of failing to file income tax returns from 2007 through 2010, a period during which investigators said at least seven customers used her mail-order kits to kill themselves.
As part of her plea deal Mrs Hydorn has agreed to pay back US$25,000 in back taxes, as well as a US$1,000 fine.
But the federal judge who sentenced Mrs Hydorn in San Diego rendered a finding that her suicide-kit business was illegal under California law.
However, the San Diego County district attorney, who was a party to the plea settlement, agreed to not prosecute Mrs Hydorn for her role in any of the six known deaths that occurred in California.
Mrs Hydorn's kits sold under the brand name GLADD (Glorious Life And Dignified Death) were priced at US$60, including instructions and shipping. The kits contained a plastic hood that closed around the neck, and tubing that connected the hood to a tank of gas.
The US government estimates that she grossed about US$40,000 from about 1,300 do-it-yourself asphyxiation hoods sold between 2007 and 2010.
Mrs Hydorn was prosecuted under the US tax code because "the sale of suicide kits is not a violation of federal law," assistant US Attorney Peter Mazza said after the sentencing.
"This case was never about the position that someone has the right to end their own life. This was about her indiscriminate sale of kits to anyone who wrote her a check," he added.
Mrs Hydorn claimed that her product intended to help terminally-ill people end their lives with dignity at home, but she acknowledged selling the kits without performing background checks or screening individuals who ordered the apparatus.
Prosecutors said Mrs Hydorn had no way of knowing whether her customers actually suffered from incurable, fatal illnesses or were merely depressed, or whether they were adults or minors.
Mrs Hydorn has said her interest in helping the terminally ill stemmed from the loss of her husband to colon cancer in 1977.
On Monday after the hearing, she recounted how her spouse was tied down to his hospital bed with restraints at the end of his life.
"All he could say was, 'Home, home.' He wanted to go home, and I couldn't take him. That's how we got here," she said.
— Isaac Stone Simonelli
Keep in contact with The Thaiger by following our
Facebook page
.
Never miss out on future posts by
following The Thaiger
.
Nude Panda: naked food delivery man hit with 500 baht fine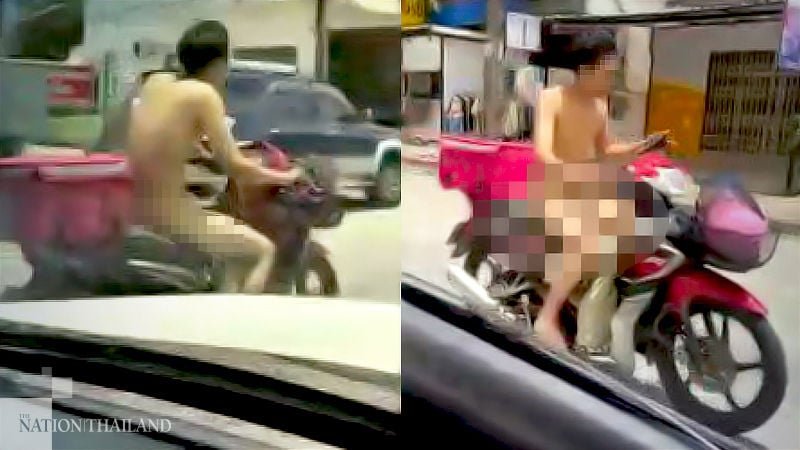 Nude Panda? Rude Panda? Or NoodPanda? A man working as a food delivery driver in the southern province of Songkhla, has been filmed riding his motorbike while naked. 24 year old Botsin Dueanchamroon later handed himself in to police, explaining that he'd taken his clothes off due to "a personal problem". The nature of the problem is not known, and police let Botsin go with a 500 baht fine.
The incident came to light after a video was posted on social media, showing a naked Botsin hurtling along on his motorbike, which had a food delivery bag on the back. The video has now been deleted. According to a 66 year old motorbike taxi driver, Bai Aumaoom, Botsin parked his bike in front of a local temple, removed his clothes, then got back on the bike and drove off.
He later returned and strolled around before putting his clothes back on. One woman who witnessed the spectacle says she was "sickened by the sight" and would not want to eat any food delivered by the man.
Social media response was mixed with most just inquisitive about his motives to ride "commando" with little (actually no) protection.
SOURCE: Nation Thailand
Catch up with the latest daily "Thailand News Today" here on The Thaiger.
Keep in contact with The Thaiger by following our
Facebook page
.
Never miss out on future posts by
following The Thaiger
.
Divers believe they have found a 77 year old wrecked US Navy submarine by Phuket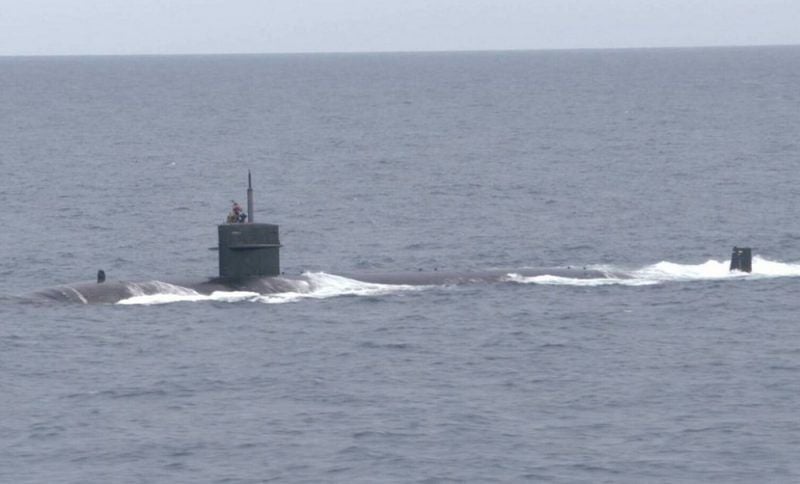 Divers in the Strait of Malacca have reportedly found what they believe to be a 77 year old US Navy wrecked submarine in what is seemingly the concluding piece in a tale from World War II. The divers are currently awaiting confirmation of the finding from the United States Naval History and Heritage Command for verification after sending photos and other evidence to be reviewed. Over a five month time period, the divers gathered evidence over six separate dives to substantiate their claims that the shipwrecked submarine is that of the USS Grenadier, one of the 52 American submarines lost during the conflict.
The Grenadier, weighing 1,475 tonnes and measuring 307 feet long, was found about 150 km south of Phuket, Thailand in the Strait of Malacca. Singapore-based Jean Luc Rivoire, Frenchman Benoit Laborie, Australian Lance Horowitz, and Belgian Ben Reymenants-all who live in Phuket made the discovery. Reymenants was also one of the divers who helped in the dangerous rescue mission of the 12 Thai young football players who became trapped in a cave with their coach 2 years ago.
The Belgian has made a habit out of searching for sunken vessels over the years and would enlist Rivoire's help in underwater searches as he had a suitable boat.
History of the submarine's sinking details the story of the boat's crew abandoning ship after Japanese bombs nearly killed them undersea. However, the sailors were lucky as all 76 of its personnel reportedly survived the bombing and subsequent sinking, but their luck soon took a dark turn. After Japan took the crew as prisoners, they were allegedly tortured, beaten and nearly starved for more than 2 years with 4 reportedly succumbing to the ordeal.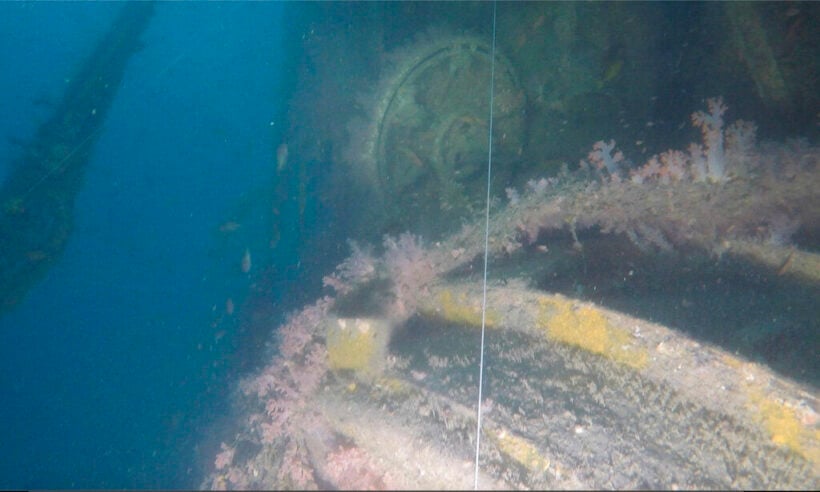 In this image taken from video, the top hatch of a conning tower can be seen from a submarine wreck somewhere in the Strait of Malacca on March 4, 2020. Divers have found what they believe is the wreck of a U.S. Navy submarine lost 77 years ago in Southeast Asia, providing a coda to a stirring but little-known tale from World War II. (Jean Luc Rivoire via AP)
The Belgian says he has been researching possible locations of shipwrecks for many years. When they dived to look at one captivating object, they found it was much larger than they had originally expected. Horowitz says once confirming the object's size, they searched archives to find out which vessel it could be.
"And in the end, we took very precise measurements of the submarine and compared those with the naval records. And they're exactly, as per the drawings, the exact same size. So we're pretty confident that it is the USS Grenadier."
However, the confirmation could take anywhere from 2 months to up to 1 year to complete. But its 77 year old history may make it well worth the wait.
The Grenadier set sail from Pearl Harbor on Feb 4, 1942 embarking on multiple missions while sinking 6 ships and damaging 2. Then, it took to the waters again on March 20, 1943 from Australia, on its 6th patrole to the Malacca Straight and Andaman Sea. One month later, a plane was sighted causing the ship to be ordered to crash dive. But it was too late. Blasts from 2 bombs attacked the sub, leaving important parts of the ship damaged.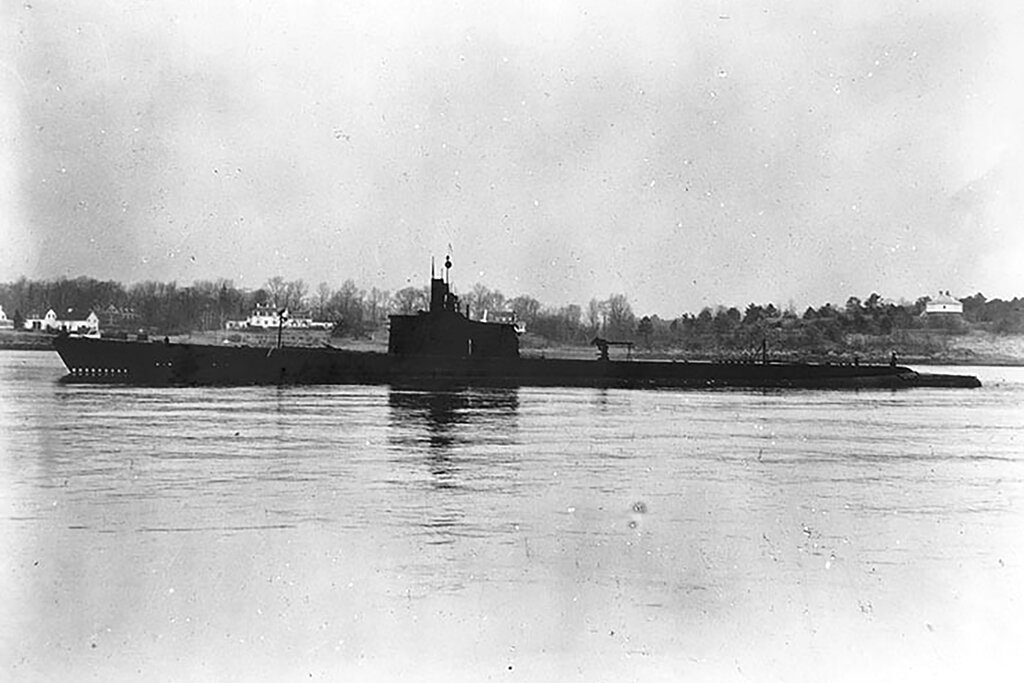 This Dec. 27, 1941, photo released by U.S. Navy shows USS Grenadier (SS-210) off Portsmouth, New Hampshire. Divers have found what they believe is the wreck of the U.S. Navy submarine lost 77 years ago in Southeast Asia, providing a coda to a stirring but little-known tale from World War II. Photo: United States Navy via AP
The next morning, the crew made plans to scuttle the submarine but was captured by an armed merchant ship and hauled off to Penang, a major port town in Malaysia. Fitzgerald says the crew landed in a Catholic school turned Japanese prison where they then began to become the recipients of alleged abuse.
"The rough treatment started the first afternoon, particularly with the (enlisted) men. They were forced to sit or stand in silence in an attention attitude. Any divergence resulted in a gun butt, kick, slug in the face or a bayonet prick. In the questioning room, persuasive measures, such as clubs, about the size of indoor ball bats, pencils between the fingers and pushing of the blade of a pen knife under the finger nails, trying to get us to talk about our submarine and the location of other submarines."
He says after a few months, the sailors were transferred to camps in Japan where they saw 4 of their compatriots die from a lack of medical attention. Such a tale that has spurned from the Grenadier has Horowitz enthralled in its history and significance.
"This was an important ship during the war and it was very important to all the crew that served on her. When you read the book of the survivors, that was, you know, quite an ordeal they went through and to know where she finally lies and rests, I'm sure it's very satisfying for them and their families to be able to have some closure."
Catch upwith the latest daily "Thailand News Today" here on The Thaiger.
Keep in contact with The Thaiger by following our
Facebook page
.
Never miss out on future posts by
following The Thaiger
.
Mother, daughter run over by pickup truck in Pathum Thani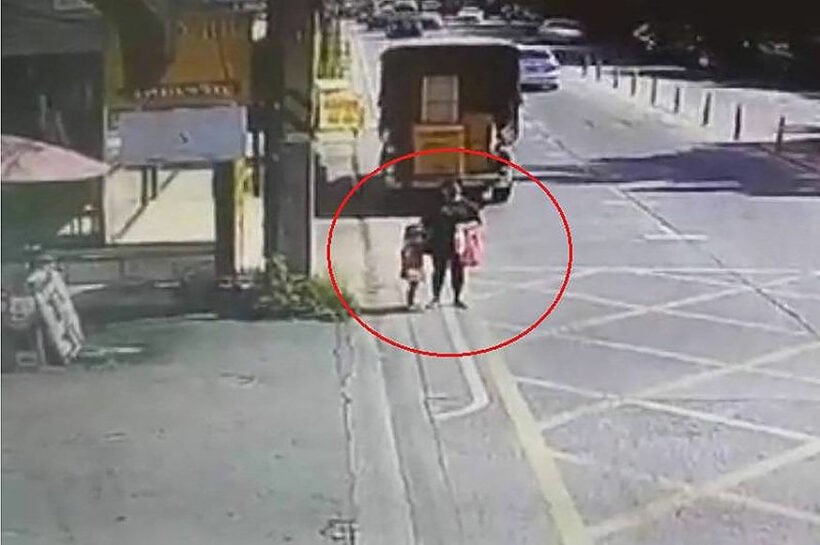 A mother and daughter were run over today by a pickup truck carrying furniture reversing down a busy road in Pathum Thani, just north of Bangkok. The shocking incident was caught on surveillance footage. The pair had stepped into the road and didn't notice the truck creeping up on them from behind.
Fortunately, both mother and child survived. Poh Teck Tung Rescue Foundation told the Daily News they were taken to hospital with leg and rib injuries.
Comments, criticisms and shares have been many on Thai social media. Most blame the pickup driver, but others say the mother and daughter shouldn't have been standing in the road and should have looked to their left. Still, others say they appeared to have been waiting for a bus and shouldn't have stepped off the sidewalk at all.
Local police say that the driver clearly could not see behind him properly and was negligent.
They suggested he should fit his truck an additional mirror, or better yet not reverse down a busy road but go to a U-turn to get back to where he wanted.
They say they plan on inviting the driver in for a "chat" with the victims when possible.
SOURCE: thaivisa | Daily News
Keep in contact with The Thaiger by following our
Facebook page
.
Never miss out on future posts by
following The Thaiger
.