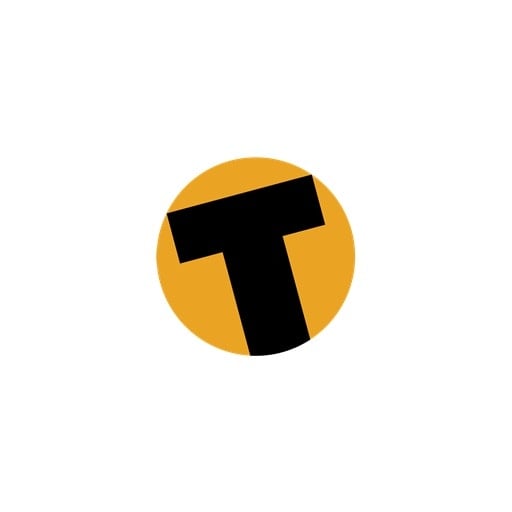 PHUKET CITY: After undergoing an emergency appendectomy, a patient at Bangkok Phuket Hospital found himself unable to enter Big-C Supercenter without setting off the magnetic anti-theft security devices. Confused, embarrassed and unable to fulfill his rightful role in the Phuket consumer economy, 44-year-old Prapet Tiranon returned to the hospital and asked physicians to X-ray him to see if they had perhaps left something inside him that could account for his transformation into a human bar code. But all the tests were negative and K. Prapet was sent home. Fearing further embarrassment, he steered clear of Big C. But when he joined the throng at the opening of Central Festival, he set off the security device there as well – again causing him a great deal of embarrassment. Desperate to solve the mystery, he took his story to the press. A meeting of doctors and store officers at Big C was arranged and, with all eyes upon him, he passed though the device – setting it off. The doctors were initially confused, for they had already passed a bag containing all of the same equipment used in K. Prapet's surgery through the security check – without setting it off. What could account for it? Had K. Prapet really become a human bar code? Then someone had the bright idea of bringing K. Prapet inside Big C and running the bar code scanning device at the checkout counter over his person. When it reached his pocket it went off. "What's in your pocket?" he was asked. "My wallet," came his reply. It turned out that the scanner was being set off by a security bar code sticker that was stuck on the inside lining of his wallet. Once the offending sticker was removed, K. Prapet was able to walk straight through the device without setting it off. The mystery had been solved. K. Prapet was neither a human bar code nor the victim of medical malpractice. K. Prapet, owner of the Ban Pae Seafood Restaurant, slunk off without talking to the press, while physicians and other personnel from Bangkok Phuket cheered in celebration at having been cleared of suspicion of shoddy workmanship. As it turns out, what happened to K. Prapet could have happened to any island consumer. The magnetic strips are commonly hidden away in merchandise to prevent theft, either by shoplifters or store employees. They are commonly inserted at the factory and are meant to be deactivated by the scanning device at the time of purchase. When this doesn't happen – or when the goods find their way into the black market – they can trigger alarms and cause the unsuspecting buyer a good deal of embarrassment – as K. Prapet learned.
Keep in contact with The Thaiger by following our
Facebook page
.
Man stung by scorpion hiding in bag of fruit
PHOTO: Wikiwand
A Bangkok man has taken to social media to warn fruit lovers to check fruit thoroughly before eating it, after he was stung by a baby scorpion hiding in a bag of langsat fruit.
Pennung Chaiyachit says he put his hand in the bag, which contained about 2 kilos of the fruit, when he felt a sharp pain as if his thumb had been cut.
Mr Pennung washed his thumb and poured some rubbing alcohol on it but, despite there being no visible wound or any bleeding, his pain began to get worse and he decided to drive to hospital.
While waiting to see a doctor, Mr Pennung did an internet search which revealed a breed of tiny scorpion that can live on langsat fruit and has particularly powerful venom.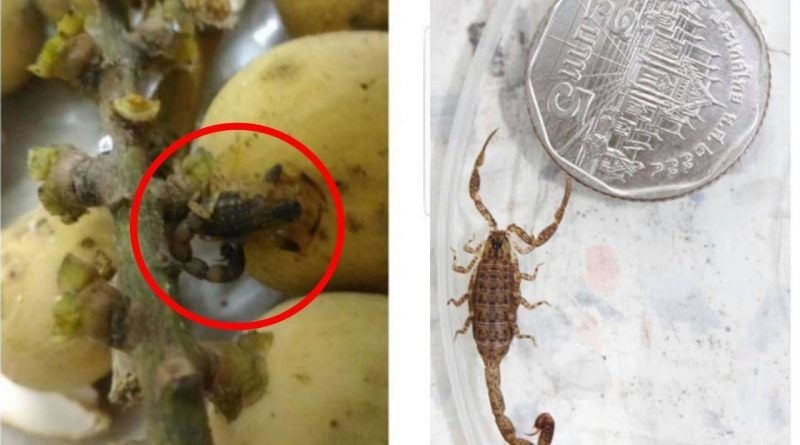 The doctor decided to keep Mr Pennung in overnight as a precaution, giving him antibiotics and administering pain relief through IV.
Mr Pennung documented his experience on Facebook as a warning to others, advising them to always check bags of fruit thoroughly and always wash fruit before peeling.
SOURCE: Thai Residents
Keep in contact with The Thaiger by following our
Facebook page
.
Pet leopard not a hit with neighbours in Chonburi, Thailand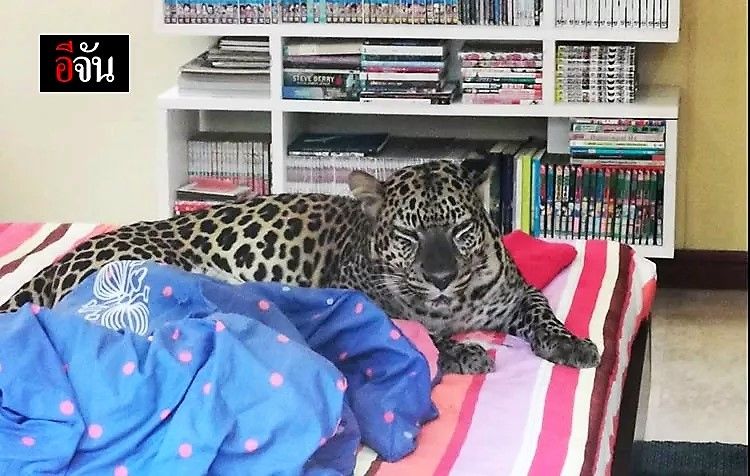 A couple in Chonburi, eastern Thailand, have not ingratiated themselves with neighbours after it was revealed they're keeping a pet leopard in their home.
It's understood that a Thai woman known as Nittiya, and her foreign husband, nationality unconfirmed, have just recently moved to the area from Chiang Mai, and news of their unusual pet has put neighbours very much on edge.
The couple have just had a visit from the Thailand Wildlife Enforcement Network (Thailand-WEN) after anxious villagers notified officials, saying they believed the leopard had been acquired illegally.
They added that the leopard was living in the couple's home and being treated as a pet, expressing concern that it could escape and attack people.
Yesterday, officials visited the home, which is surrounded by a 3-metre-high wall. Nittaya explained that the couple have had the leopard – named Typhoon – since it was born 4 years ago, producing the required documentation for inspection.
Officials agreed that the couple have the right to keep the leopard, but will need to apply for a new licence to keep it in its new location.
SOURCE: Thai Residents
Keep in contact with The Thaiger by following our
Facebook page
.
JetSki crashes into shop in Kamala, Phuket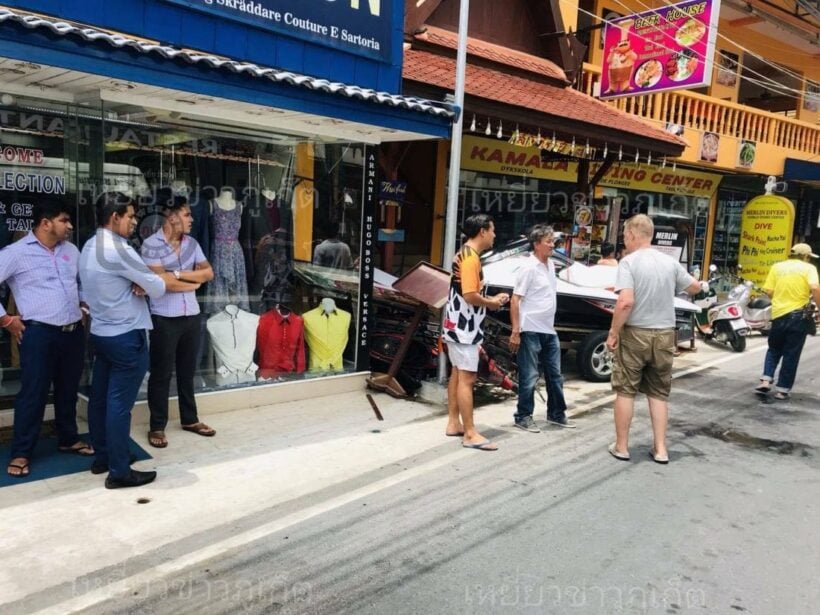 PHOTOS: Newshawk Phuket
Not often we get to write this headline… "JetSki crashes into shop in Kamala".
The jetski was being towed by a Saleng (motorcycle and side-car) through the streets of Kamala this afternoon when, for reasons we don't yet (probably brake failure), the whole shebang went AWOL and ended up running into the front window of some tourist shops.
The jetskis are a common sight going through the backroads of the various west-coast shopping areas at the start and end of each day, on their way to the beach to hire to tourists, usually in a convoy with the jetski staff riding shotgun on top.
This time it was a lone JetSki, being towed by a saleng, that somehow veered off the street and into the roadside Kamala shops.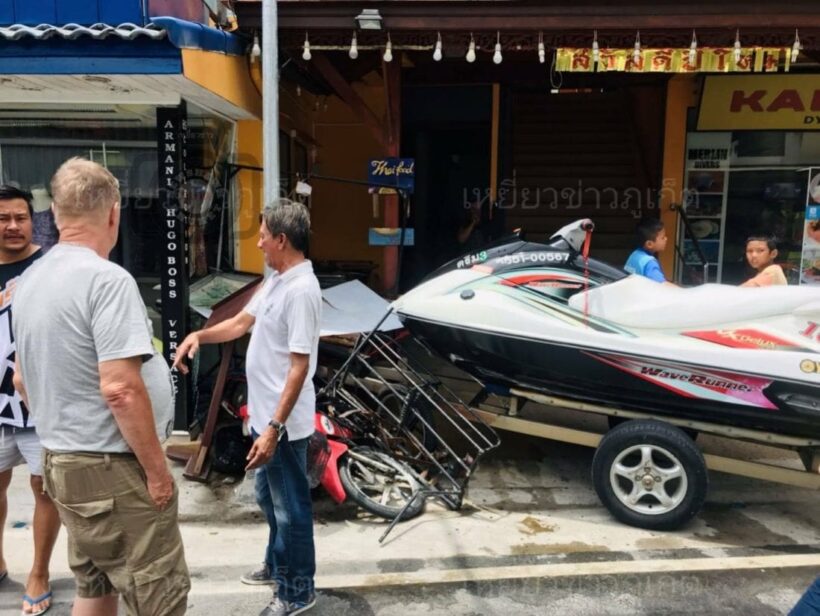 Keep in contact with The Thaiger by following our
Facebook page
.