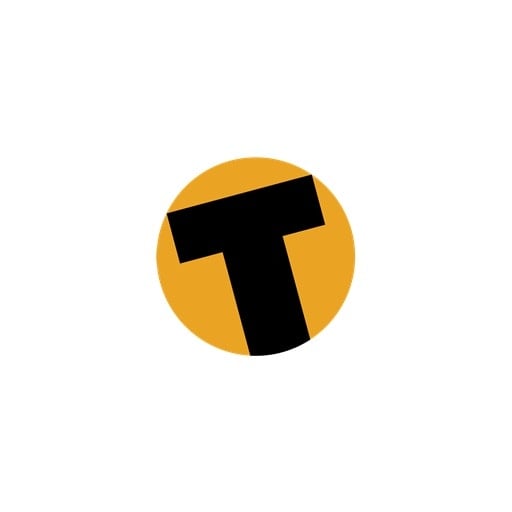 CHALONG: A 16-year-old punk recently found out the hard way that crime does not always pay. At about 11 pm on June 7, Chalong Community Volunteer Police collared a boy name Ouan (not his real name), after an unsuccessful attempt to rob an 18-year-old girl late at night. The victim, Phuket Vocational College student Primrita Saisen, was returning home by motorcycle along Chao Fa West Rd when she noticed a boy on a motorbike following very close behind. Riding pillion on her motorbike was her younger sister, name and age not reported. Despite the late hour and her duty to protect her young sister and the presence of a mysterious man riding unusually close behind them through the darkness, what did she do when her Samsung i700 mobile phone rang? She answered it, of course. Seeing his intended prey with only one hand left for controlling her bike, the spikey-haired young thug knew it was time to pounce. He pulled up alongside, leaned over and snatched the phone right out of her hand. Perhaps emboldened by the ease of that manouver, he did not fly off as most snatch-and-run specialists do. Instead, he decided he also wanted for himself Primrita's shoulder bag and its contents. He yanked it hard, but Primrita fought back, tenaciously refusing to let go. Not surprisingly, the high-speed tug-of-war quickly caused both motorcycles to crash onto the road outside the Wiroj Gold Shop. A split second later, a pickup truck "travelling at high speed" smashed into Ouan's 125cc Honda, leaving it a crumpled wreck on the tarmac. Primrita screamed for help – and it did not take long to arrive. Members of the Chalong Community Volunteer Police soon had the boy under control. Under questioning, Ouan confessed to having previously carried out three similar snatch-and-run crimes in Chalong Police District and four or five more in Phuket City Police district. Chalong Police Inspector Pol Lt Col Chokchai Suttimake said the boy faced charges of snatching aggravated by causing bodily harm and using a vehicle to commit the crime. Were Ouan an adult, he would face two to seven years in prison and a fine. As a minor, he will probably be back out on the streets by the time this is published.
JetSki crashes into shop in Kamala, Phuket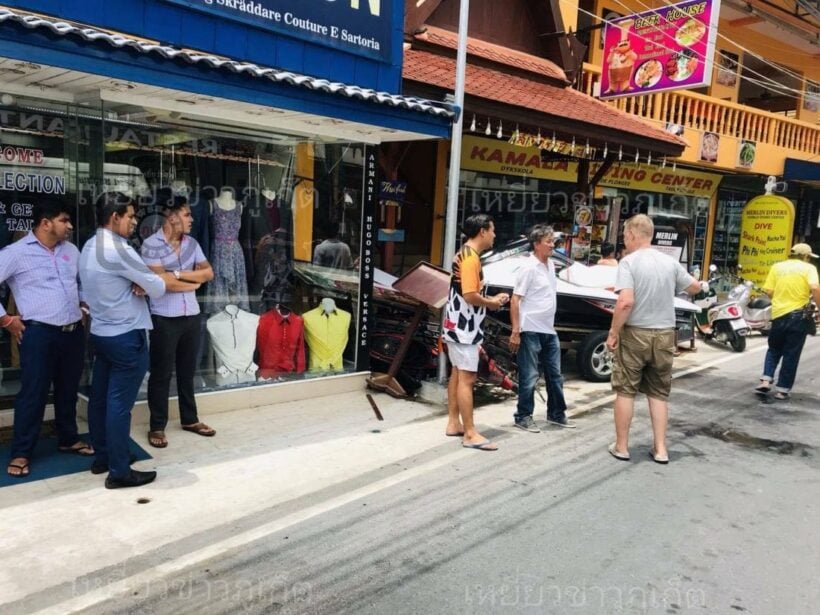 PHOTOS: Newshawk Phuket
Not often we get to write this headline… "JetSki crashes into shop in Kamala".
The jetski was being towed by a Saleng (motorcycle and side-car) through the streets of Kamala this afternoon when, for reasons we don't yet (probably brake failure), the whole shebang went AWOL and ended up running into the front window of some tourist shops.
The jetskis are a common sight going through the backroads of the various west-coast shopping areas at the start and end of each day, on their way to the beach to hire to tourists, usually in a convoy with the jetski staff riding shotgun on top.
This time it was a lone JetSki, being towed by a saleng, that somehow veered off the street and into the roadside Kamala shops.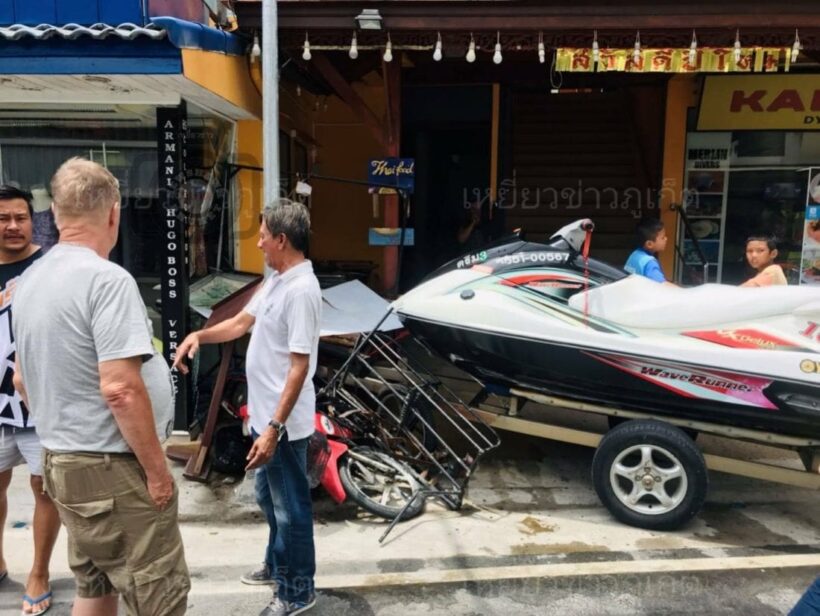 NO Plastic Bag! @ Central Phuket
China has the most atheists. Indonesia and Philippines the most believers.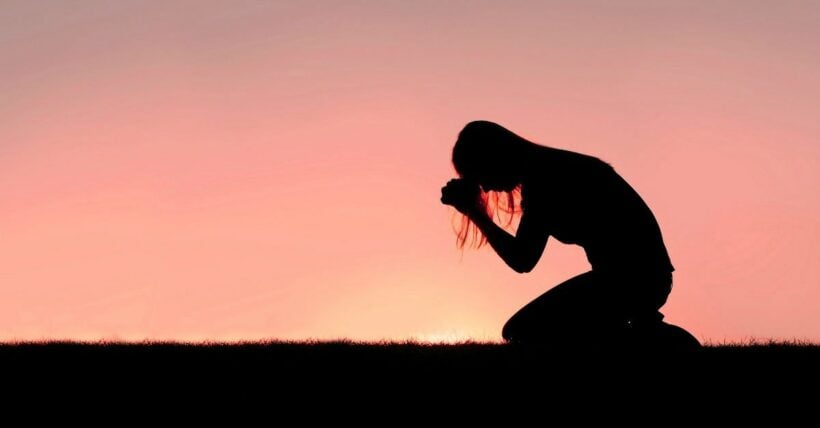 China is the least believing country in the world but belief in a God gets 100 per cent mention in countries like Indonesia, Bangladesh and Philippines, according to the survey by Gallup International.
According to the survey exploring religious tendencies of 66,000 people in 68 countries across the world, 62 per cent of people in the world define themselves as religious, 74% of people globally believe we have a 'soul' and 71% believe in a God. Another 56% believe in heaven, 54% in life after death and 49% in hell.
China has the highest percentage of atheists in the world with 67% not believing in any religion. Every seven out ten people are atheists, more than double than any other country. 23% consider themselves as non-religious. Less than 10% identify themselves as religious in China.
China's atheist percentage is followed by Japan, a long way behind in second place at 29%, Slovenia (28%) and Chech Republic (25%). Despite rapid industrialisation and urbanisation religion has stayed relevant in the South Korean region with only 23% identifying as atheist.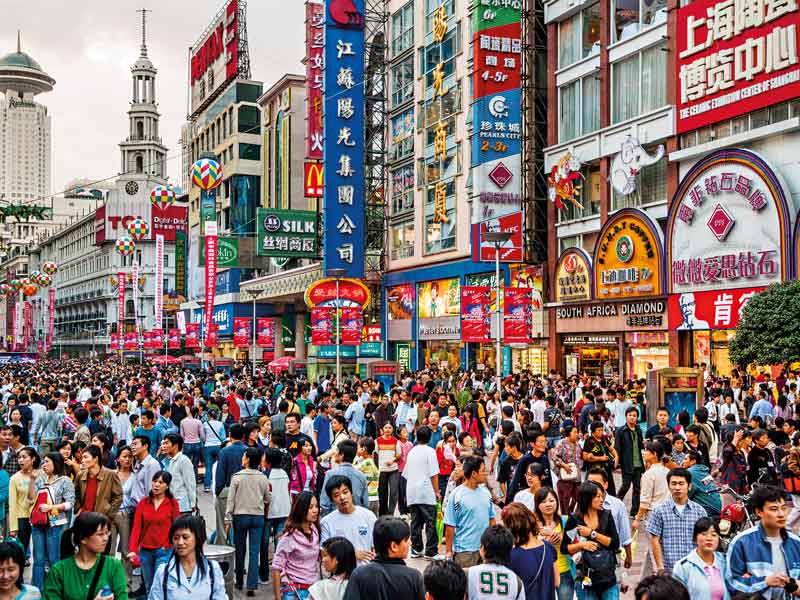 European countries like Belgium (21 %), France (21%) , Sweden (18%) and Iceland (17%) also have a large percentage of believing population.
Bangladesh, Indonesia and Philippines are the most believing countries with entire population claiming to believe in God, soul, hell and heaven. Thailand and Pakistan have 99% believing population, followed by India, Vietnam and Mongolia.
The survey shows that the levels of religiosity diminish as income and education levels increase. While 66% of people with low income affirm to be religious, this percentage drops to 50% among people with higher incomes. The same trend is verified in relation to education levels: 83% of people with lower education level are religious against 49% of higher level.
According to the survey there is a connection between religiosity, beliefs and socio-demographic characteristics like age, income and education level. As education and income levels grow higher, religiosity levels tend to go down. Also, the expression of different beliefs is higher among young people.
The level of education has a considerable influence on the perception of religion by the society. Women and young children show higher percentage for spiritual forces.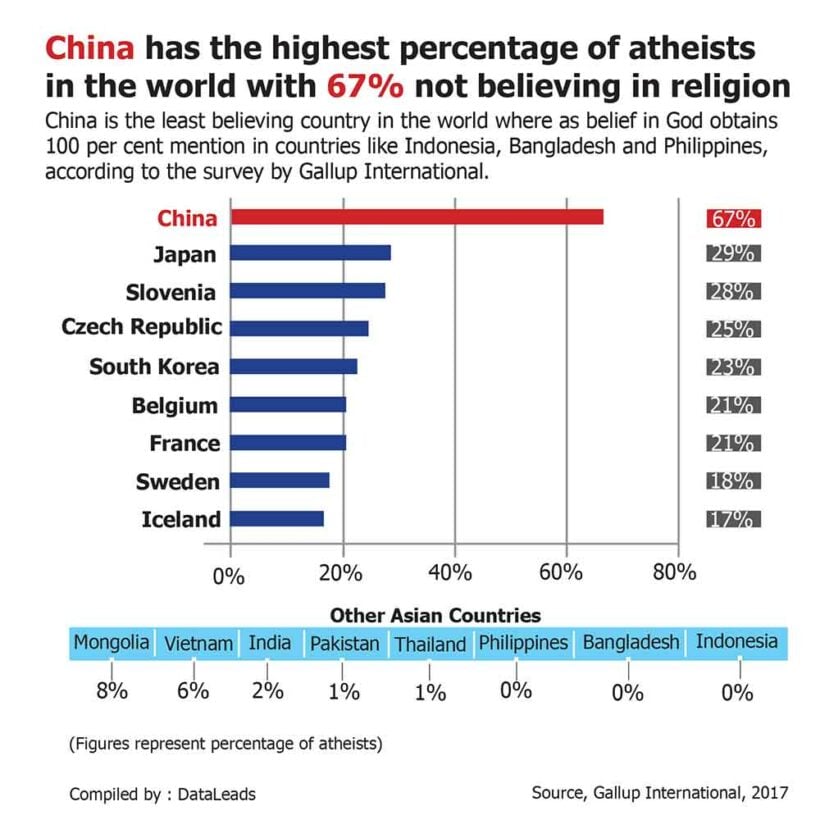 SOURCE: Data Leads