A fish in the hand is better than two in the pond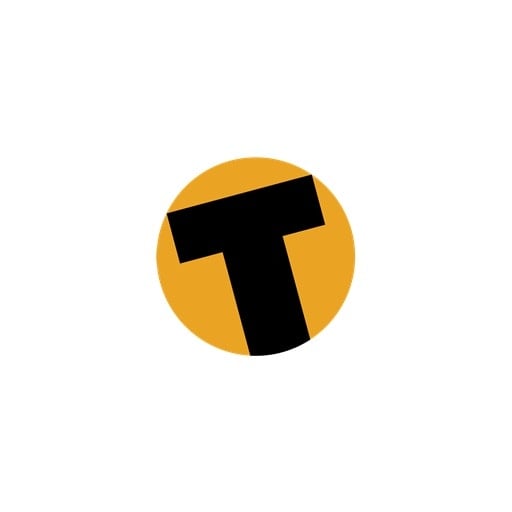 ROI-ET: As the old proverb goes, "a bird in the hand is worth two in the bush". As a young soldier in Isarn recently found out, the same holds true for fish in ponds.

Late last month, Royal Thai Army Private Benchaphon Dangwibul told a reporter in a rather hoarse voice that on November 24 he was on a 10-day furlough from his base in Nakhon Pathom to help his family bring in the rice harvest.

That afternoon he felt like having fish for dinner, so he called to his parents that he was off to a nearby pond to go and catch some – by hand.

After scrabbling about the bottom of the pond for a while, he soon managed to grab a pla mor, or climbing perch. The fish was about four inches long and one inch thick, he said.

He held it tightly in his left hand while he continued to hunt for more fish with his right. He soon found a pla chon, or snakehead fish, but the fish put up a good fight and he couldn't hold it with just one hand.

To free up both hands, he quickly put the perch in his mouth, holding its head firmly between his teeth, while he got to grips with the feisty snakehead.

The perch, however, did not appreciate being clamped in Pte Benchaphon's jaw and started to struggle violently. Eventually it slipped through his teeth and began to slide straight down his throat, where its sharp fins dug into the flesh, wedging it firmly in place and very nearly choking him. Pte Benchaphon waved frantically to his parents, who rushed him to Roi-Et Thonburi Hospital.

Dr Somkiat Wichethaphong, who treated the poor private, said that when the patient was brought in he was writhing with pain. Fortunately, he could still see the fish's tail sticking out, so it hadn't gone in too far. Dr Somkiat said that he used forceps to hold Pte Benchaphon's throat open while he cut up the perch, taking it out bit-by-bit. It took him and his team of nurses more than an hour to get all of the fish out.

Pte Benchaphon was very lucky to have survived, the doctor said. If he hadn't gotten to hospital so quickly he could have died. The patient is now recovering well and has been given permission to go home, Dr Somkiat said.

Thongin Dangwibul, Pte Benchaphon's father, said that he had heard many stories of people dying after getting fish stuck in their throats, but had never thought it could happen to anyone in his family.

It was very lucky that he saw what had happened straight away and that he lived close to a hospital, otherwise his son may have died, he added.

The incident should serve as a lesson to people not to use their mouths to hold fish as they may not be as lucky as his son, Mr Thogin said.


Keep in contact with The Thaiger by following our
Facebook page
.
Man stung by scorpion hiding in bag of fruit
PHOTO: Wikiwand
A Bangkok man has taken to social media to warn fruit lovers to check fruit thoroughly before eating it, after he was stung by a baby scorpion hiding in a bag of langsat fruit.
Pennung Chaiyachit says he put his hand in the bag, which contained about 2 kilos of the fruit, when he felt a sharp pain as if his thumb had been cut.
Mr Pennung washed his thumb and poured some rubbing alcohol on it but, despite there being no visible wound or any bleeding, his pain began to get worse and he decided to drive to hospital.
While waiting to see a doctor, Mr Pennung did an internet search which revealed a breed of tiny scorpion that can live on langsat fruit and has particularly powerful venom.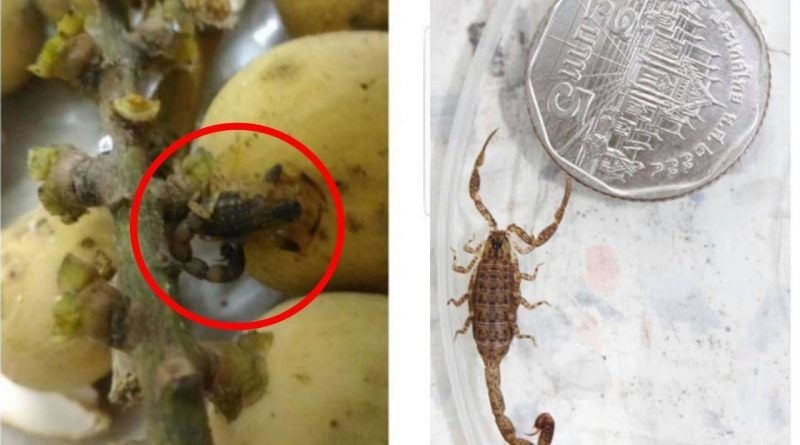 The doctor decided to keep Mr Pennung in overnight as a precaution, giving him antibiotics and administering pain relief through IV.
Mr Pennung documented his experience on Facebook as a warning to others, advising them to always check bags of fruit thoroughly and always wash fruit before peeling.
SOURCE: Thai Residents
Keep in contact with The Thaiger by following our
Facebook page
.
Pet leopard not a hit with neighbours in Chonburi, Thailand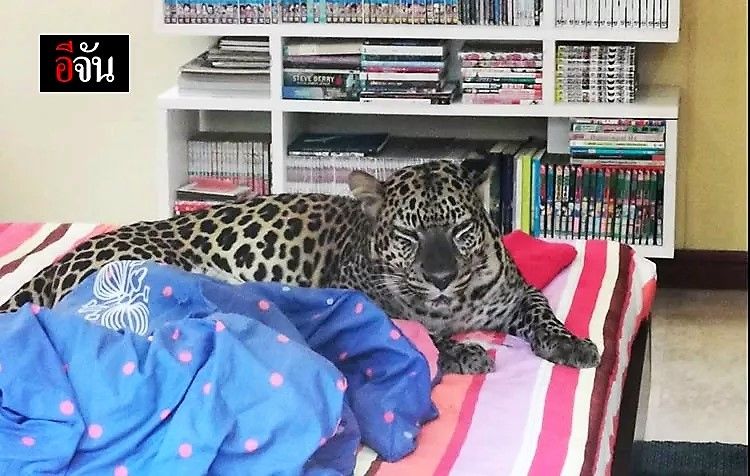 A couple in Chonburi, eastern Thailand, have not ingratiated themselves with neighbours after it was revealed they're keeping a pet leopard in their home.
It's understood that a Thai woman known as Nittiya, and her foreign husband, nationality unconfirmed, have just recently moved to the area from Chiang Mai, and news of their unusual pet has put neighbours very much on edge.
The couple have just had a visit from the Thailand Wildlife Enforcement Network (Thailand-WEN) after anxious villagers notified officials, saying they believed the leopard had been acquired illegally.
They added that the leopard was living in the couple's home and being treated as a pet, expressing concern that it could escape and attack people.
Yesterday, officials visited the home, which is surrounded by a 3-metre-high wall. Nittaya explained that the couple have had the leopard – named Typhoon – since it was born 4 years ago, producing the required documentation for inspection.
Officials agreed that the couple have the right to keep the leopard, but will need to apply for a new licence to keep it in its new location.
SOURCE: Thai Residents
Keep in contact with The Thaiger by following our
Facebook page
.
JetSki crashes into shop in Kamala, Phuket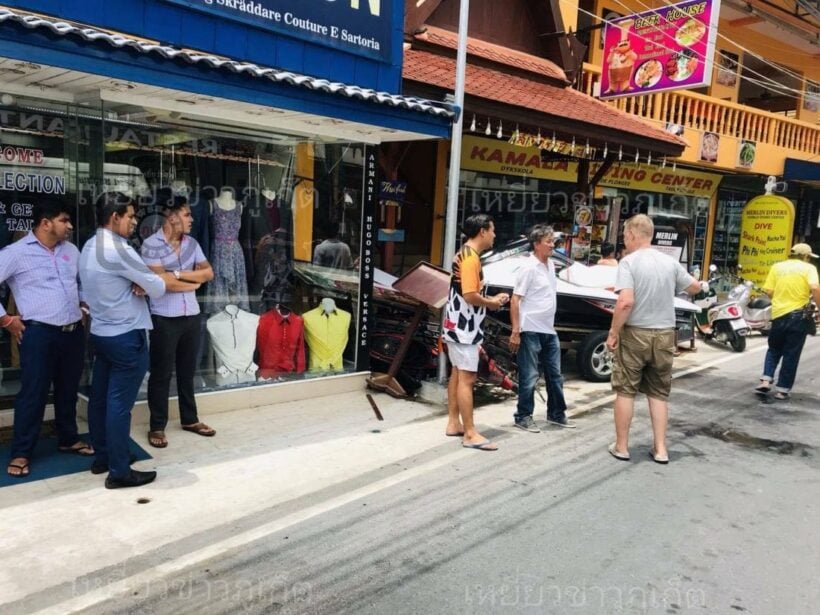 PHOTOS: Newshawk Phuket
Not often we get to write this headline… "JetSki crashes into shop in Kamala".
The jetski was being towed by a Saleng (motorcycle and side-car) through the streets of Kamala this afternoon when, for reasons we don't yet (probably brake failure), the whole shebang went AWOL and ended up running into the front window of some tourist shops.
The jetskis are a common sight going through the backroads of the various west-coast shopping areas at the start and end of each day, on their way to the beach to hire to tourists, usually in a convoy with the jetski staff riding shotgun on top.
This time it was a lone JetSki, being towed by a saleng, that somehow veered off the street and into the roadside Kamala shops.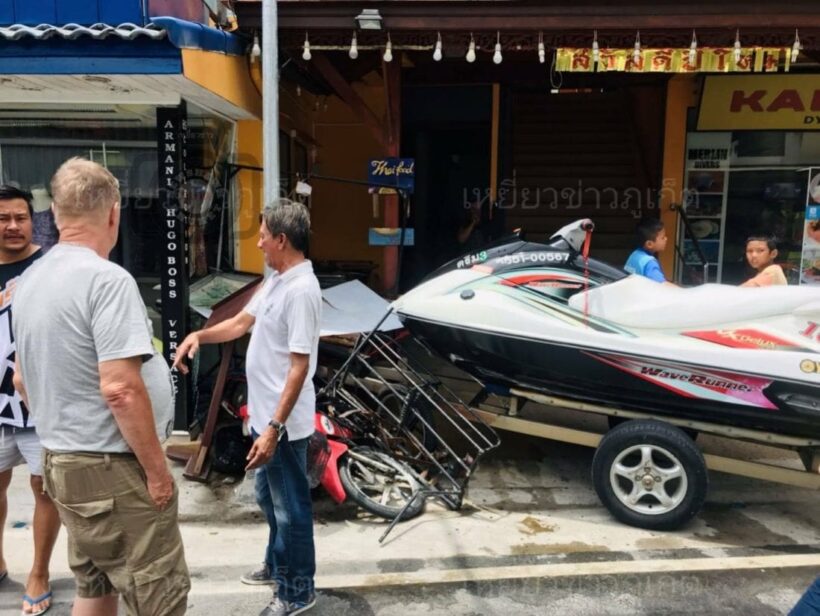 Keep in contact with The Thaiger by following our
Facebook page
.