Weird World News: Shocking news connections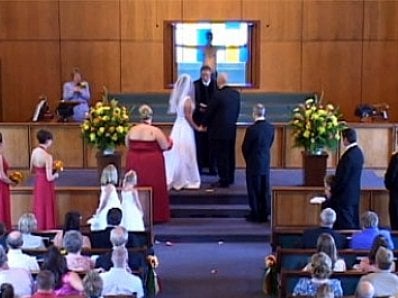 PHUKET: This week's Weird World News Roundup is all about making the connection, from a flasher at a wedding to a wedding with a deadly-electric ending and finally arriving conveniently at the end with a cleaner and his electric out-of body experience.

Naked flasher ruins wedding

A bride and groom had their their marriage vows interrupted when a flasher threw open the alter shutter doors and not once, but twice, gave them an eyeful of his wedding tackle, reported the Herald Sun.

The unlucky couple were standing in front of the vicar when the shutters above the altar suddenly opened to reveal the naked stranger with his arms aloft in a religious pose.

On the wedding video the bride could be heard whispering: "Oh my god. Get him out. Turn around. Please get him out."

The man then closed the shutters, only to reappear again, receiving more shocked gasps from the congregation.

He remained on display for several moments before a large wedding guest got up from his seat and strode meaningfully toward the front of the church to take the matter in hand.

Aware of the potential threat the naked stranger closed the shutters and made his exit, just as a relieved priest said: "Let us continue to pray."

Celebratory gunfire brings down cable, kills 23 attendees at wedding

A more serious wedding disaster occurred in the Middle East on October 30 when celebratory gunfire at a wedding party near Abqaiq in Saudi Arabia brought down an electric cable, killing 23 people, reported The Guardian.

"The cable fell on a metal door and electrocuted the 23 people," Eastern province official Abdullah Khashman told Reuters.

All those killed were from the same tribe, Mr Khashman said. Thirty others were also injured in the incident, which occurred near Abqaiq, a center of the Saudi energy industry.

The dead were women and children as Saudi Arabia has strict codes that requires the separation of males and females at most public events, including weddings.

It should be noted that last month the kingdom banned the shooting of firearms at weddings, a popular tradition in tribal areas, but old habits die hard.

Cleaner's out-of-body experience after electric shock from industrial cables

High-voltage electricity also played a prominent role in the adventures of John Scrimshaw, a 51-year-old cleaner in the seaside town of Poole, reported Bournemouth Echo in Southern England.

Mr Scrimshaw a cleaner at Hamworthy Combustion Engineering, told how he had an out-of-body experience after he suffered an electric shock and "could have died".

Mr Scrimshaw was cleaning electric cables at work when he was thrown five meters from the scaffolding he was working from to the ground. He suffered a broken collarbone and hand, as well as burns.

The cleaner said he was shaking as the current went through him. He described being able to look down and watch his own body fall from the raised platform and hit the ground.

"Then I floated like a leaf back into my body," he said.

"I had an out-of-body experience," Mr Scrimshaw added. "I thought 'I'm a gonner, this is my unlucky day.'"

"It's changed him completely and he can't remember things," said his wife Lorraine.

Mr Scrimshaw, who has seven children and seven grandchildren, said he was signed off for 14 months after the ordeal in July 2010.

The Health and Safety Executive found the cables, which powered an overhead crane used to move heavy industrial heating units, were bare and had not been isolated when Mr Scrimshaw was hurt.

Hamworthy Combustion Engineering admitted breaching electricity at work regulations at Poole Magistrates' Court. They were fined £16,000 and ordered to pay £14,372.50 in costs.
— Mark Dee

China has the most atheists. Indonesia and Philippines the most believers.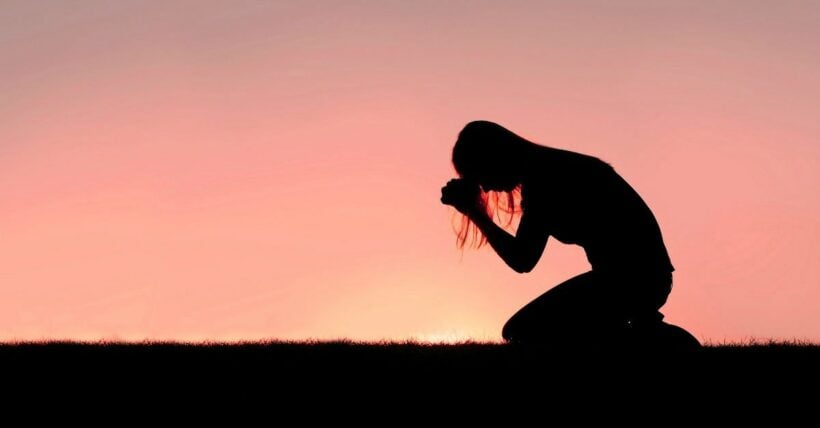 China is the least believing country in the world but belief in a God gets 100 per cent mention in countries like Indonesia, Bangladesh and Philippines, according to the survey by Gallup International.
According to the survey exploring religious tendencies of 66,000 people in 68 countries across the world, 62 per cent of people in the world define themselves as religious, 74% of people globally believe we have a 'soul' and 71% believe in a God. Another 56% believe in heaven, 54% in life after death and 49% in hell.
China has the highest percentage of atheists in the world with 67% not believing in any religion. Every seven out ten people are atheists, more than double than any other country. 23% consider themselves as non-religious. Less than 10% identify themselves as religious in China.
China's atheist percentage is followed by Japan, a long way behind in second place at 29%, Slovenia (28%) and Chech Republic (25%). Despite rapid industrialisation and urbanisation religion has stayed relevant in the South Korean region with only 23% identifying as atheist.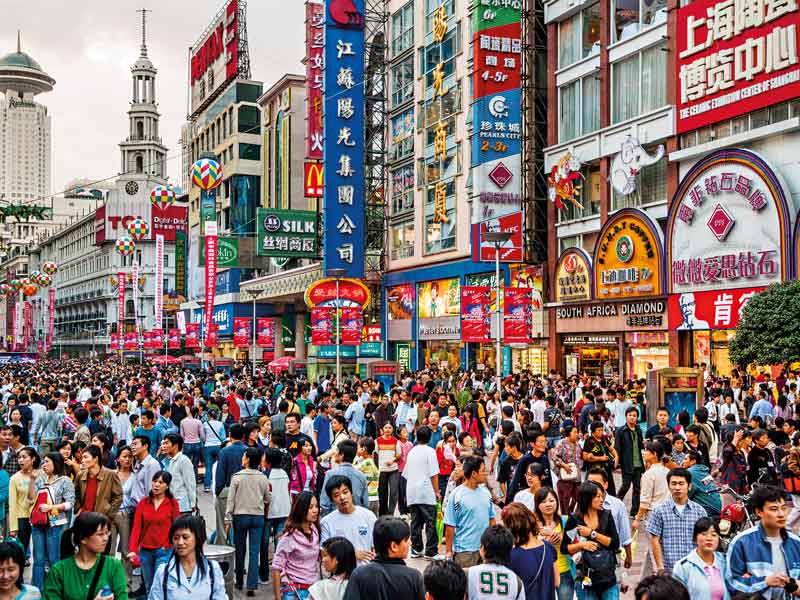 European countries like Belgium (21 %), France (21%) , Sweden (18%) and Iceland (17%) also have a large percentage of believing population.
Bangladesh, Indonesia and Philippines are the most believing countries with entire population claiming to believe in God, soul, hell and heaven. Thailand and Pakistan have 99% believing population, followed by India, Vietnam and Mongolia.
The survey shows that the levels of religiosity diminish as income and education levels increase. While 66% of people with low income affirm to be religious, this percentage drops to 50% among people with higher incomes. The same trend is verified in relation to education levels: 83% of people with lower education level are religious against 49% of higher level.
According to the survey there is a connection between religiosity, beliefs and socio-demographic characteristics like age, income and education level. As education and income levels grow higher, religiosity levels tend to go down. Also, the expression of different beliefs is higher among young people.
The level of education has a considerable influence on the perception of religion by the society. Women and young children show higher percentage for spiritual forces.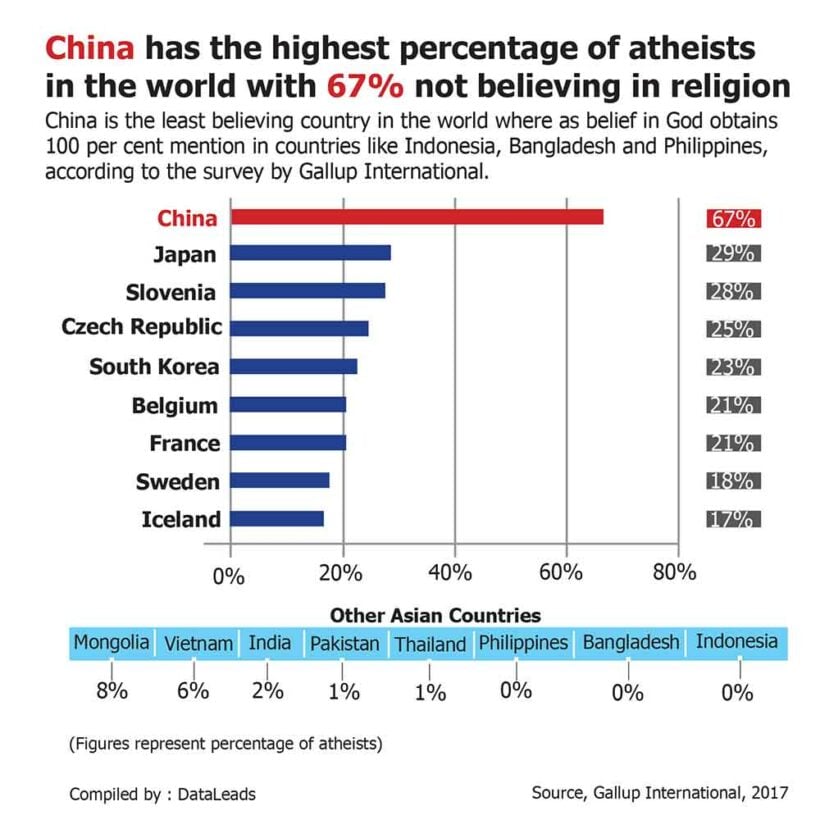 SOURCE: Data Leads
Stunning Malaysian election result ousts Barisan Nasional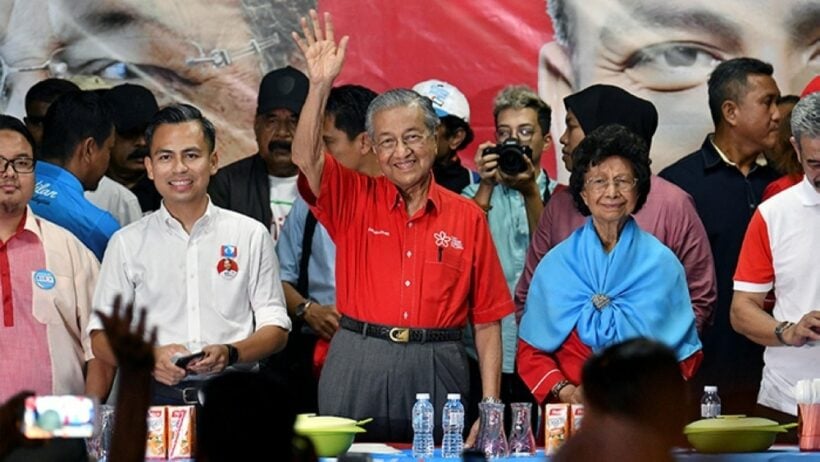 FILE PHOTO
Malaysia's Pakatan Harapan (PH) opposition coalition has crossed the minimum threshold of 112 seats needed to form government in Malaysia. The Election Commission continue to count a few remaining votes this morning but have confirmed the win of the Pakatan Harapan party and coalition members.
The result brings to an end the rule of Barisan Nasional (BN) and it's leader Najib Razak. Barisan Nasional, a nationalist right-wing government with strong links to it's ethnic Malay constituency, has dominated Malaysian politics for decades.
In a press conference just before the official confirmation, opposition leader and former Malaysian PM Mahathir Mohamad, now 92 years old, said his party had achieved a victory.
He said he hoped a swearing-in ceremony would be held on Thursday. Mr Mahathir will become the oldest elected leader in the world.
The final official results indicate PH had won 115 seats, with BN on 79 (these numbers will alter slightly as the counting finishes today).
The 92 year old pledged a government that would include a "young person", referring to criticism during the campaign that he was too old to lead Malaysia again. Mahathir said he would honour his agreement to help secure a royal pardon for jailed opposition leader Anwar Ibrahim. The two became the odd couple of Asian politics after decades working together, then becoming bitter enemies. Anwar was Mahathir's deputy PM at one stage but then fell out of favour.
But the two formed a curious coalition to bring down PM Najib Razak who they claimed was corrupt and had stained the country with the 1MDB financial scandal.
Mahathir said Anwar would have to win a by-election or be elected senator in order for him to take over as prime minister from Dr Mahathir, as per their agreement.
An upset was on the cards when unofficial results started trickling in about four hours after the ballot boxes were closed at 5.30 last night.
• 9pm – Bernama reported that caretaker Transport Minister Liow Tiong Lai, the president of BN component party Malaysian Chinese Association, had lost his Bentong seat.
• Caretaker Health Minister S Subramaniam, of BN coalition party Malaysian Indian Congress, was the next major casualty, losing his Segamat seat in Johor.
• 9.30pm, there was respite for BN when word came in that incumbent PM Najib Razak had successfully defended his Pekan seat in Pahang.
By 9.45pm last night, another four deputy ministers fell. At about the same time, it emerged that Mahathir would make a return to parliament after winning his Langkawi seat.
The result throws into doubt Najib Razak's position in his party.
While he had been praised for his fiscal policies, he was also unpopular for rolling out a goods and services tax in addition to being a target of unwanted international attention over allegations funds were misappropriated from a state fund he advised, 1Malaysia Development Berhad (1MDB). He has denied consistently any wrongdoing.
Mahathir had accused his former protege Najib of corruption and abuse of power before quitting UMNO to form his own party, Parti Pribumi Bersatu Malaysia.
But Mahathir has vowed: "We are not seeking revenge. We want to restore the rule of law."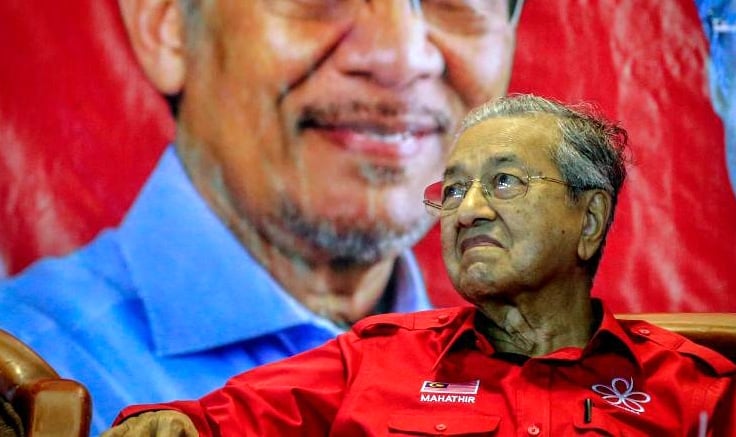 92 year old PM-elect Mahathir Mohamad, with a shirt emblazoned with his name, in case he forgot it whilst campaigning for the historic election.
CamGO adding more 'autorickshaws' to its Cambodian fleet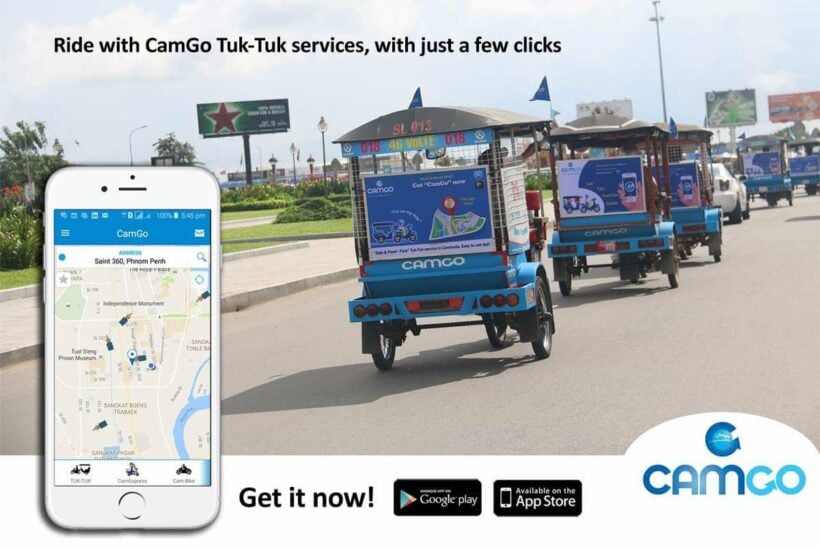 CamGO, the company behind the local ride-hailing app, have announced a partnership agreement with Indian motorcycle company TVS Motor that would provide TVS's King model autorickshaws for use in the Kingdom.
In the agreement, TVS will supply the three-wheeled vehicles to CamGO using local firm Three Wheel Motor Service Provider as a front for their services.
Ouk Chipsourn, CEO of CamGO, says that his company has offered their service in Cambodia since 2016 and up to now their app has been downloaded by 5,000 users in the capital Phnom Penh.
While there are 42 TVS King autorickshaws available for service in Phnom Penh at the current time, Chipsourn said 42 others will be arriving early next month, expanding the fleet to 84.
"With the agreement today, we expect that there will be 300 TVS tuk-tuks available for operation before the end of this year," he said, adding that the service will expand beyond Phnom Penh to other tourism destination like Siem Reap, Kampot, Preah Sihanouk provinces.
While no dollar figures were given on the deal, CamGO owns all of its tuk-tuks and offers its drivers the option to either work for a fixed salary or rent their vehicles for $4.50 a day.
Mobile taxi-hailing apps have been expanding quickly in Cambodia this year. Last December, Malaysian technology company Grab entered Cambodia's ride-hailing market and later acquired US-headquartered giant Uber.
Additionally, there are also several locally operated companies.Va Chandore, director of Three Wheel Motor Service Provider, said yesterday that demand for ride-hailing services are increasing at a breakneck pace in Cambodia. Thus, the added supply of vehicles will help to reduce traffic congestion and bring jobs into the country.