Some secondary students use Wai Khru to make 'controversial' floral tributes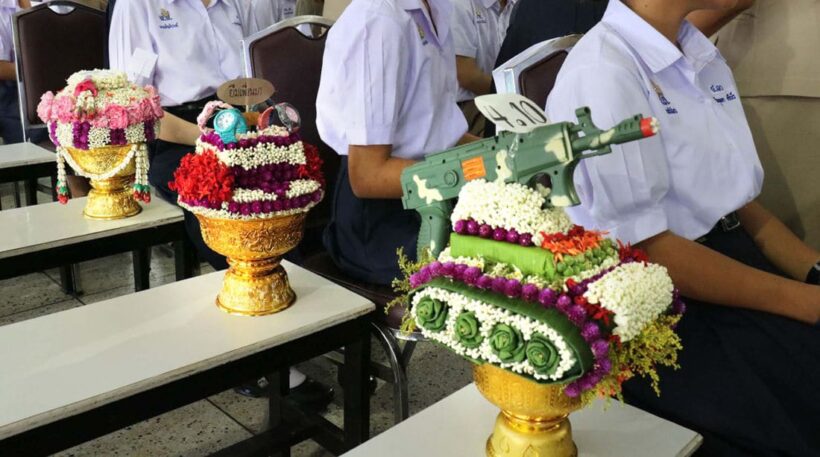 High school students have used an annual Wai Khru ceremony to make political statements via they floral tributes. The students were from the Chumphol Phon Phisai School in Nong Khai, north-east Thailand, and Phitsanulok.
The floral protests came to the attention of the current Thai deputy PM and defence minister Prawit Wongsuwan who was said to have 'taken offence'. He was speaking to the local media…
"I believe there is someone behind this. How could the kids come up with this idea by themselves?"
"I don't know who they are (the students). We have to investigate first, but we also have to respect their freedom of expression," according to Bangkok Post.
Two displays from student in Mathayom 6 (Grade 12) captured particular attention. One was a set of scales with one side marked '250 votes' and the other 'several million votes'. This was in reference to the NCPO hand-picked 250 Senators vs the country's voters. All Senators voted in a bloc to support the election of Prayut Chan-o-cha to the position of PM.
The other floral arrangement was a depiction of Bangkok's Victory Monument with a soldier standing in front.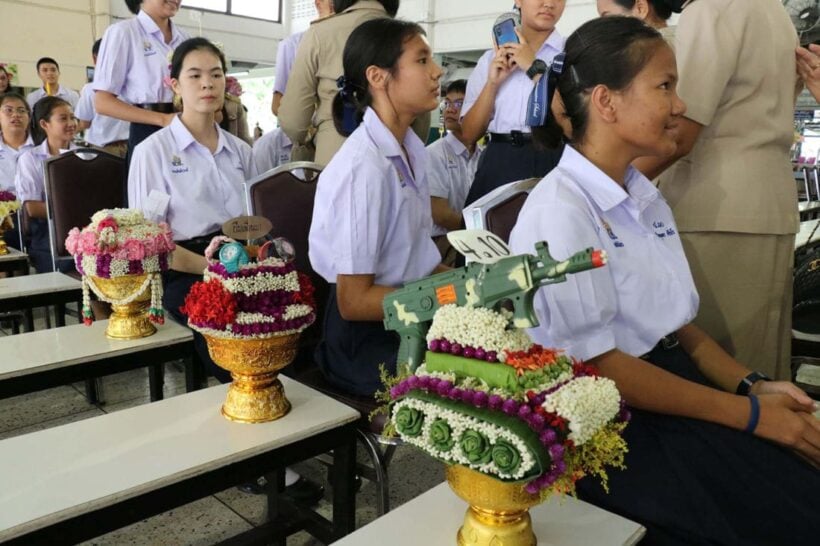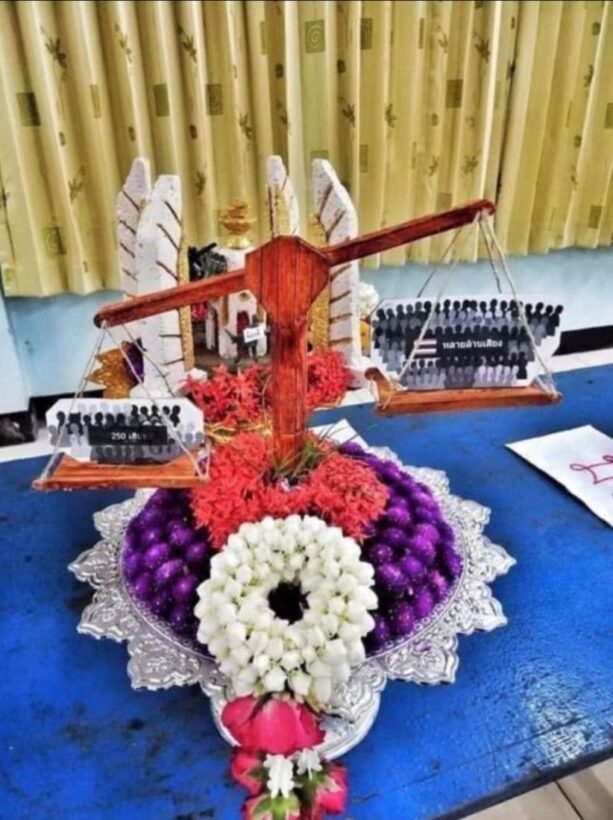 PHOTOS: Chinnawat Singha and Twitter@hanatawann
Meanwhile students in Phitsanulok were at the same game and had their floral tributes shared widely on social media. One was a beautifully-prepared Army tank and automatic rifle. Another displayed wristwatches with an accompanying message "borrowing them from a friend", a tribute aimed specifically at the deputy PM who was embroiled in controversy last year for his extensive range of luxury watches he was often seen wearing. At the time he told an enquiry "I borrowed them from a friend".
Meanwhile Future Forward's Thanathorn Juangroongruangkit got involved in the social media commentary on the student's flower-arranging skills saying "all people have the right to air their political opinions".
He also referred to a visit to the school in Nong Khai by security authorities to talk to the students who made the floral tributes. The officers asked the teens to delete pictures of their handiwork from their social media accounts.
Meanwhile Suthep Chittayawong, the acting secretary-general of the Basic Education Commission has asked schools to observe Wai Khru in the right spirit and advised teachers to make sure that the activities of their students were appropriate.
The wai khru ceremony is a Thai ritual in which students pay respects to their teachers in order to express their gratitude and formalise the student–teacher relationship. It is regularly held near the beginning of the school year in most schools in Thailand.
SOURCE: Bangkok Post
Keep in contact with The Thaiger by following our
Facebook page
.
John Legend & Chrissy Teigen check out the tastes at a Korat Market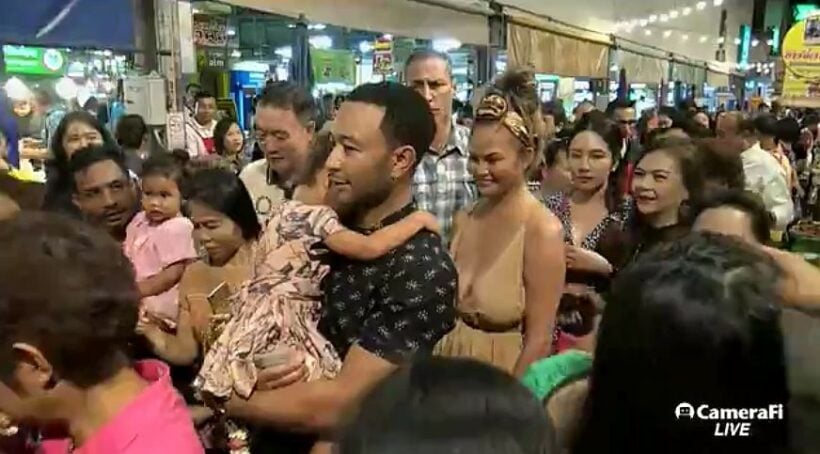 American music legend, John Legend, and his Thai-American wife Chrissy Teigen headed to a Nakhon Ratchasima food market only to be surrounded by locals trying to get a quick selfie.
The army of fans surround the musician, his wife and daughter to follow them around the market in the 25 minute Facebook post. It was smiles all around but as the video wears on so does the patience of the American singer whose only protection appears to be a plain-shirt body-guard who is at least 40 centimetres taller than everyone around him (he doesn't stand out at all).
A Thai policemen comes to their rescue and helps escort them somewhere a bit quieter.
Legend's model wife Chrissy Teigen is seen almost wearing her dress as any number of wardrobe malfunctions appear moments away from happening throughout the video.
The family were reported to have visited a number of famous Korat landmarks during their visit to the area.
Legend performed in Bangkok in March 2018 this year as part of his Darkness and Light tour.
Keep in contact with The Thaiger by following our
Facebook page
.
Thai bus travels 'sideways' along north-east highway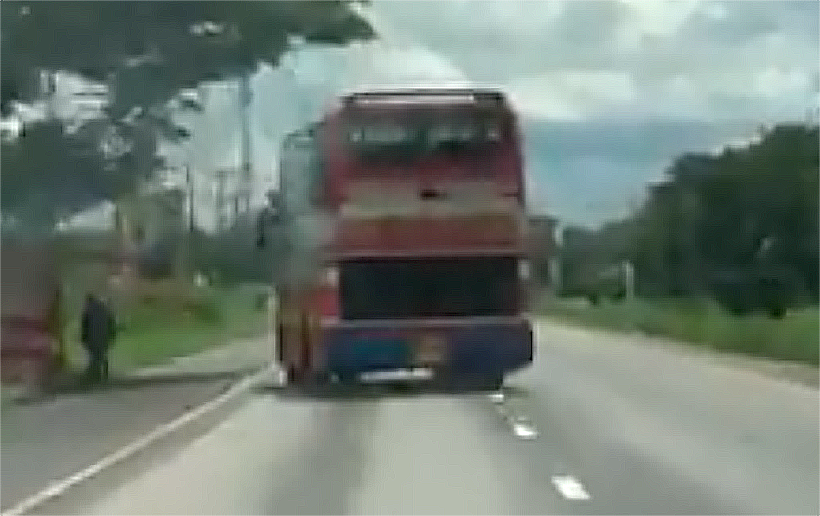 VIDEO: สุดจัดปลัดบอก ปลัดลาออกยังบอกว่าสุดจัด
A bus, making its way from Nakhon Ratchasima, to Udon Thani, has surprised the passengers in the car behind. They did what we all would do in these circumstances. Notify the police? No, post it on Facebook!
The bus was travelling, crab-like, slightly sideways, at reasonably high speed for many kilometres. The bus's wheel alignment was well out of whack or something was loose. Either way, the bus was a danger for everyone on the road, and the passengers, as its journey was captured, making its way through Khon Kaen in north-east Thailand.
On a positive note, the passengers on the right hand side of the bus had a lovely view of the road ahead.
รถบัสโดยสารสายนครราชสีมา-อุดรธานี สภาพรถเอียงคล่อมเลนตั้งแต่ออกจากอุดรธานีมุ่งหน้าขอนแก่น อาจจะเกิดอันตรายแก่ผู้โดยสารได้ ไม่ทราบว่าคนขับรู้สึกถึงความผิดปกติหรือไม่ 🙄

Posted by สุดจัดปลัดบอก ปลัดลาออกยังบอกว่าสุดจัด on Tuesday, 20 August 2019
Keep in contact with The Thaiger by following our
Facebook page
.
How to raise rats and other livestock: lessons from a north-eastern school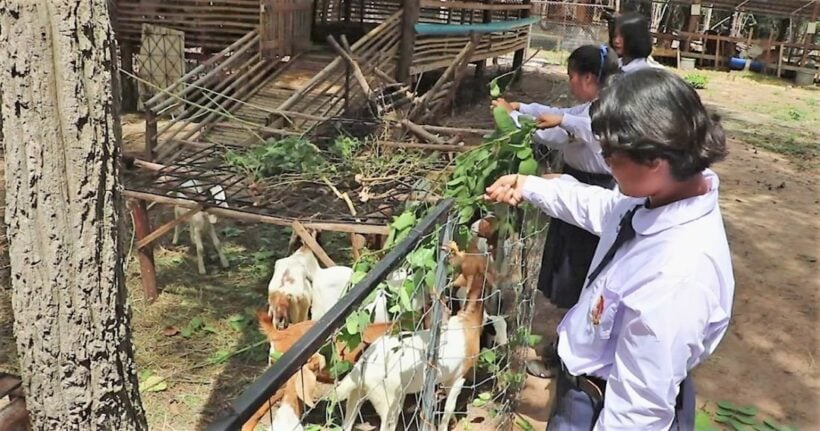 PHOTOS: The Nation
A school in Surin province, north-east Thailand, is teaching students how to make a living raising small livestock such as wild rats and voles.
Local farmers will often pay up to 1,000 baht for breeding rodents, with fully-grown ones sold for meat at 120 baht a kilo. Rodent meat remains a traditional food source in some parts of rural Thailand.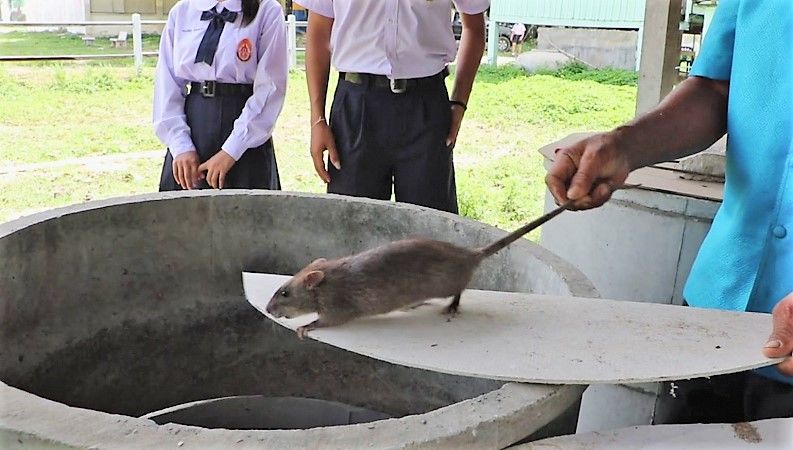 With rodents only requiring a small enclosure, raising them is easier compared to most other livestock. 12th grade student Charuvith Charoensup explains that the rodents eat grass, rice, maize and other vegetables.
Thakongwithaya school in Sangkha district also provides courses in raising cattle, goats and fish, all under the supervision of appropriately-named principal Surapong Rattanakot.
SOURCE: The Nation
Keep in contact with The Thaiger by following our
Facebook page
.