Two construction workers win big in the National Lottery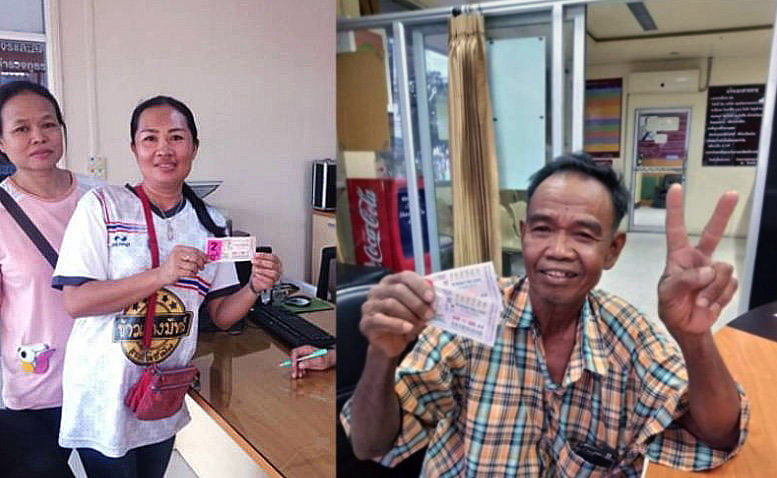 PHOTO: Daily News
Two Thai construction workers have won big in this week's national lottery. Two wins but two very different methods used to select the winning number, 926526.
Wathida Trinet had been visiting Khon Kaen but works in Wang Noi to the north of Bangkok, according to Daily News. There she noticed a gecko clambering over the house number "526" and decided to buy a ticket including that number. She won a whopping 6 million baht thanks to the gecko.
Meanwhile in the north-east 65 year old Charlerm Hettakhu says that a lottery vendor came to his building site to sell the remaining few lottery tickets. He says he could just afford two from a set of three as he only had 200 baht at the time.
He scored a tidy 12 million win. In that case it was just pure luck… "they were the only tickets she had," he said.
SOURCE: Daily News
75 tonnes of marijuana and Kratom destroyed in Nakhon Phanom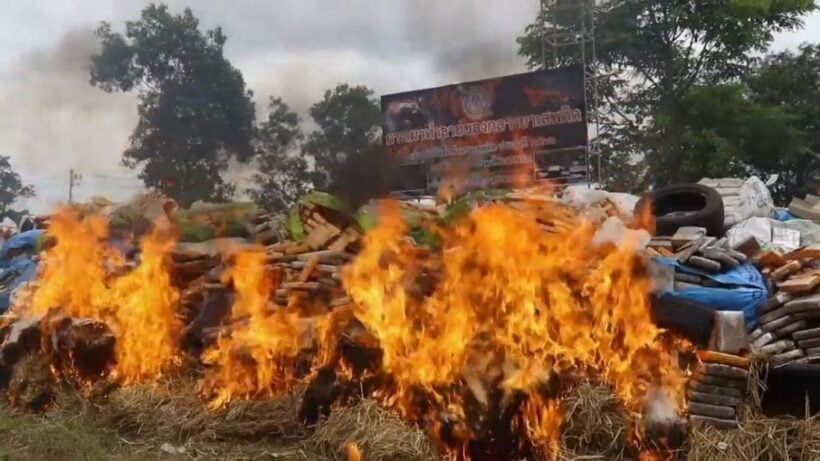 8.4 tonnes of marijuana and 67.3 tonnes of kratom leaves have been destroyed by Nakhon Phanom provincial administration officials in a ceremony to mark the International Day Against Drug Abuse and Illicit Trafficking. The ceremony was held in an open field in front of the Muang district office.
As part of the ceremony, officials also launched local campaigns against drug abuse.
Officials say the burned drug were seized by various agencies in the province during the past 12 months.
They reeled off some local statistics about the drugs seized in the province as part of the ceremony. Nakhon Phanom is in Thailand's far north-east on the Laos border.
From October 1, 2018, to May 31, authorities in Nakhon Phanom seized 7 million methamphetamine pills, 6 tonnes of marijuana, 29 marijuana plants, 19.3 kilograms of crystal methamphetamine, 67 kilogram of kratom leaves and 58 cans of glue used for inhaling.
A total of 1,809 arrests were made in 1,784 drug cases during the period.
SOURCE: The Nation
Seven injured in Khon Kaen minivan and trailer crashed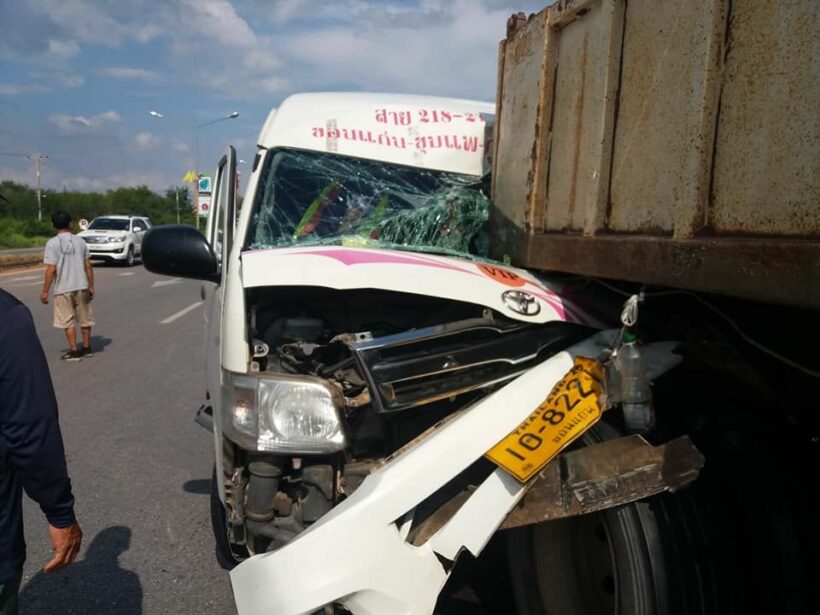 PHOTOS: Chumphae Rescue
Seven passengers have been rescued after a minivan collided with a trailer in Khon Kaen, northeast of Thailand.
Chumphae rescue workers were notified of the incident on Maliwan Road in Chumphae, Khon Kaen yesterday. They arrived to find the minivan slammed into the rear end of the trailer truck. The minivan's left hand side was crushed up to the passenger cabin.
There were 13 passengers and one driver in the minivan. Seven of them sustained injuries and were rushed to hospital.
Police are continuing their investigation.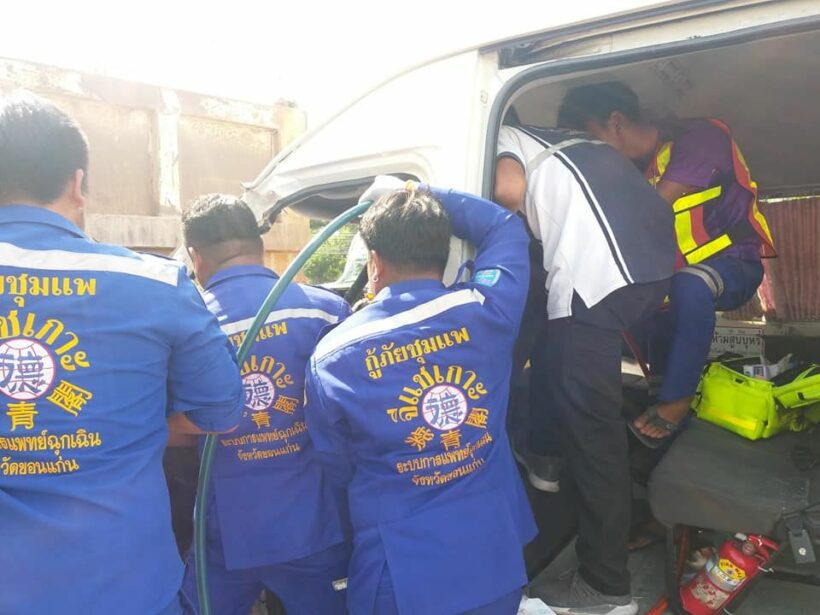 Four arrested as police intercept 572 kilograms of marijuana heading south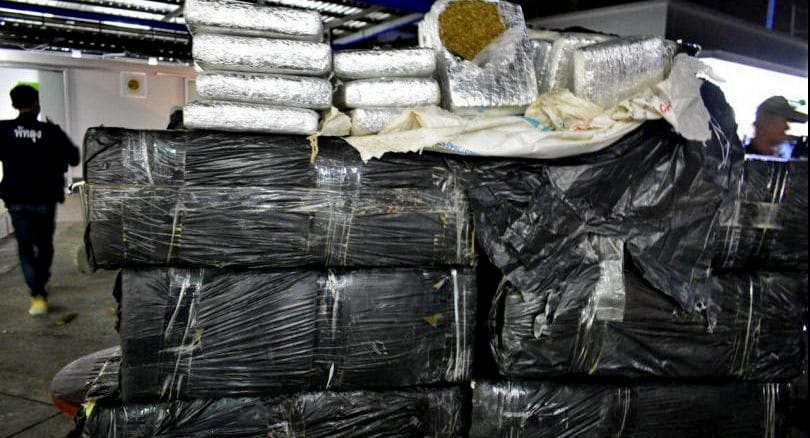 Four suspects have been arrested after police intercepted an attempt to smuggle 572 kilograms of marijuana from Mukdahan to Songkhla.
The deputy Phatthalung police chief says that two suspects were arrested in Phatthalung in a pick-up truck carrying the drugs, along with a couple who were arrested in a car that was driving ahead to advise of any checkpoints ahead.
Acting on a tip-off, police monitored the two vehicles from Khuan Khanun district before they made the arrests in the main city district of Phattalung.
The pickup was stopped after it made a u-turn to buy petrol at the Asia Intersection. The 59 year old driver, Plaeng Khongna and 47 year old passenger Suwit Mongkol Supha were arrested. Both are residents of Mukdahan's Muang district.
Police found 572 bars of compressed marijuana bars wrapped in 13 parcels. Each bar weighed around one kilogram.
The suspects denied any knowledge of the drug, claiming they were hired by two Lao men to drive 'winter melons' and 'sponge gourds' from Mukdahan in Thailand's north-east to Hat Yai district in Songkhla. They said the two Lao men loaded the goods for them to drive and they were promised 45,000 baht on arrival.
Police also arrested the couple driving the 'warning' car a kilometre from the petrol station where the pickup was stopped.
The couple declined to speak to police after the arrest, but records of phone calls from their mobile phones showed they had made calls to the phones of the two suspects in the pickup.
SOURCE: The Nation