Judgment day for Yingluck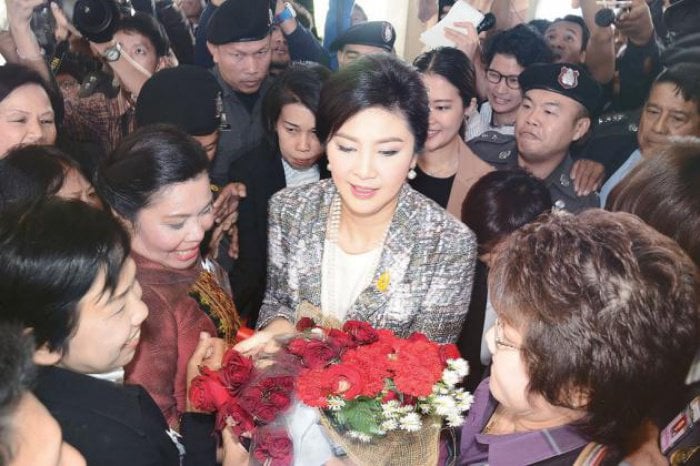 PHUKET MEDIA WATCH
– Thailand news selected by Gazette editors for Phuket's international community
Judgment day for former PM Yingluck
The Nation / Phuket Gazette
PHUKET: Pressure is mounting on the National Legislative Assembly (NLA), which votes today on whether to impeach former prime minister Yingluck Shinawatra and two former parliamentary speakers accused of wrongdoings.
Supporters and detractors of the three targeted politicians – Ms Yingluck, former Parliament president Somsak Kiartsuranon and his ex-deputy Nikom Wairatpanij – have urged the NLA members to vote with their conscience.
Social media yesterday was agog with campaigns from both sides. People supporting impeachment said it was a necessary step towards national reform while those opposing impeachment warned of renewed conflicts if the NLA votes to punish the trio.
Observers, meanwhile, expect the impeachment vote to polarize the nation. "No matter which way it goes, there will be those who agree and those who disagree. It won't please everyone," Reuters quoted NLA vice president Peerasak Porchit as saying.
Either way, the vote would create dissension against the junta, said Paul Chambers, director of research at Chiang Mai University's Institute of South East Asian Affairs. "Ultimately, no matter which way the NLA votes, it will create dissension against the NCPO by either pro- or anti-Thaksin elements of Thai society," he said, referring to former premier Thaksin Shinawatra.
Support from at least three-fifths of the 220-member NLA, or 132 votes, is required to impeach any of the targeted politicians.
An impeached politician will face a five-year ban from holding political office.
The National Anti-Corruption Commission (NACC) accused Ms Yingluck of negligence of duty by failing to curb corruption in her government's rice-pledging scheme, and former House speaker Somsak and Senate ex-speaker Nikom of violating the constitution while chairing parliamentary meetings on charter amendments.
The People's Democratic Reform Committee (PDRC), which held street protests against Ms Yingluck's government, yesterday called on the NLA members to decide with their conscience.
"It is now the NLA's task to prove that morality and ethics exist in Thai society," PDRC spokesman Akanat Promphan said in a phone interview with The Nation.
He said Ms Yingluck failed to provide satisfactory answers to NACC's accusations in her closing statement.
Red-shirt leader Kwanchai Praipana yesterday said Ms Yingluck is the latest of the people close to former prime minister Thaksin Shinawatra who are victims of "political persecution".
He also said that as the country has been under the control of the National Council for Peace and Order, the red shirts have been unable to do much in campaigning publicly about this matter.
A politician from Ms Yingluck's Pheu Thai Party, Somkid Chueakong, said yesterday that he expected increased voter support for the party in the next general election if the NLA votes to impeach Ms Yingluck. Defence Minister Prawit Wongsuwan yesterday criticized certain red-shirt leaders for having warned that a decision to impeach Ms Yingluck could lead to bloodbath or riots.
"Such talk is not good for the country, which is now progressing well. They must use more brains before such talk," he said.
Mr Prawit, who is also deputy PM, said the government was not seeking revenge or acting against anyone. "We are just solving the country's problems and helping the country to move forward."
Yingluck 'satisfied'
Meanwhile, Ms Yingluck said after presenting her closing statement before the NLA that she felt satisfied for "explaining everything" to the assembly members. "I feel happy," she said when asked to describe her feelings.
Ms Yingluck's lawyers were also satisfied with her explanations in response to all the allegations against her, said Pichit Chuenban, one of the legal team members.
He also said that NACC member Wicha Mahakhun, who represented the agency in presenting the closing statement yesterday, appeared to rely on rhetoric in a bid to persuade the NLA members.
The lawyer also urged NLA members to carefully consider all the documents presented by Ms Yingluck's legal team to support her case, before voting today.
Mr Wicha yesterday also voiced satisfaction with his closing statement. "Whether the NLA will vote for impeachment or not, we have created a new standard for the country's reform," he said. Before leaving Parliament yesterday, the ex-PM was handed flowers by a small group of supporters. Ms Yingluck is expected to watch a broadcast of the NLA vote today at SC Park Hotel, which is owned by her family, according to a source close to her.
Starting at 10am, the NLA is scheduled to hold a secret ballot whether to impeach Mr Somsak and Mr Nikom, followed by a vote on Ms Yingluck's case later in the day.
NLA member Wanlop Tangkananurak said that after listening to their closing remarks yesterday, he feels that both sides had not produced any new information that was different from their opening remarks last week.
He stressed that reconciliation and impeachment are entirely different issues and the NLA members should make decisions based strictly on legal principles.
"I can't answer for other NLA members but mention of the word 'reconciliation' was less frequent during our impeachment conversation," he said.
Regarding the contrasting information produced by both sides, including the estimated total loss caused by the rice scheme, Mr Wanlop said in his opinion the official figure produced by the Rice Scheme Accounting Committee, which the NACC used as its reference, has more credibility because it came from an official committee.
— Phuket Gazette Editors
Keep in contact with The Thaiger by following our
Facebook page
.
Never miss out on future posts by
following The Thaiger
.
Thai woman dressed as a zombie sells dead people's clothes – VIDEO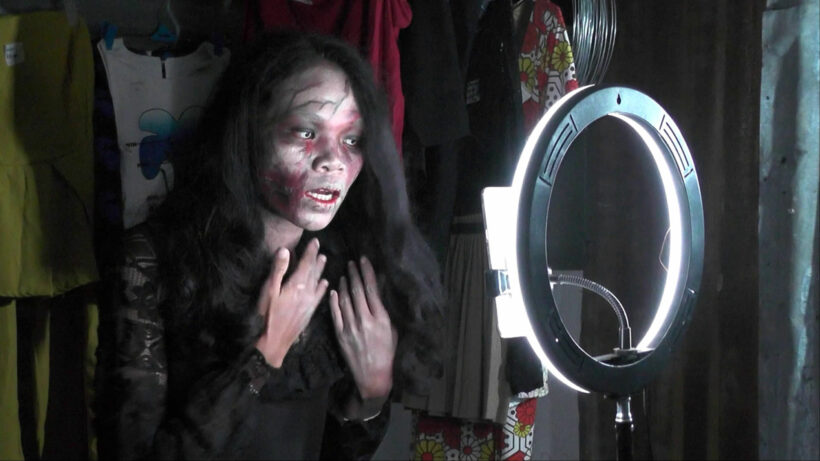 A zombie saleswoman is selling dead people's clothes online. 32 year old Kanittha Thongnak sells clothes of the deceased on a Facebook live stream while dressed as the living dead. She gives a story behind the pieces of clothing, explaining how each person died.
It all started at a funeral, Kanittha says. Traditionally in Thailand, clothes of the deceased are burned.
"There were a lot of clothes from the deceased, so I thought it would be better to sell them than to burn them."
She gets the clothes from a local temple. She says a monk does a blessing for the deceased before the clothes are given to her. The prices range from 10 to 100 baht. Some brand names and designer clothes are also sold at low prices. She's donated some money from the sales back to the temple. In addition to the dead's clothes, Kanittha sells handmade zombie dolls.
"All the clothes belong to dead people who died from various cause – accident, drowning, suicide."
Kanittha live streams each week from her home in the Northern province Phetchabun. It takes her up to 3 hours to apply her zombie makeup, but she says the costume helps draw in viewers.
"Since I started to wear scary makeup, the audience increased to 5 or 6 thousand."
Many Thais believe in ghosts and spirits. While some might be concerned about buying clothes that belonged to someone who is now dead, Kanittha says the people who end up making a purchase don't get scared.
SOURCE: Reuters
Catch up with the latest daily "Thailand News Today" here on The Thaiger.
Keep in contact with The Thaiger by following our
Facebook page
.
Never miss out on future posts by
following The Thaiger
.
Thailand to introduce separate test for big bike riders from next year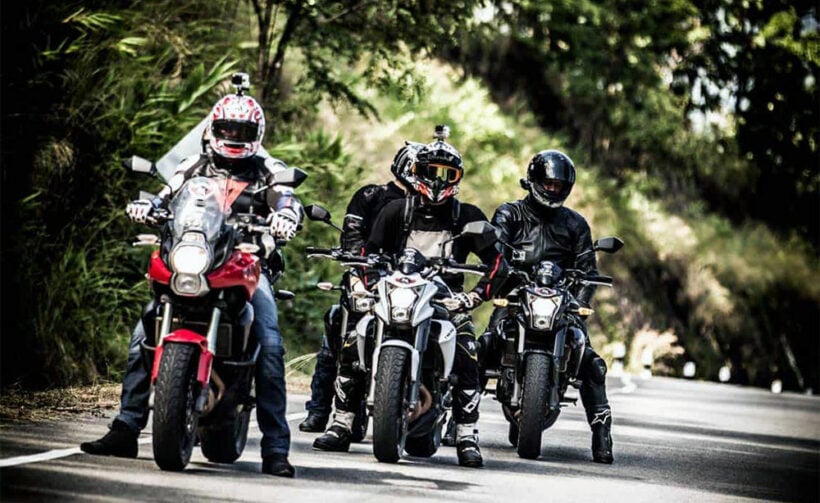 From next February, motorbike riders in Thailand will be required to pass a separate driving test and training session if they wish to receive a licence for a "big bike". The regulation has been announced in the Royal Gazette, after the government approved it last August, in a bid to cut road traffic accidents which are predominantly motorbikes (about 75%) and predominantly male. Thailand has one of the world's worst road safety records, and the highest rate of motorcycle-related deaths.
The Pattaya News reports that police spokesman Ekkarak Limsakas has confirmed that from February 19, anyone with a bike over 400cc will need to attend additional training sessions and take a test in order to comply with the law.
"The Department of Land Transport together with the Royal Thai Police had previously considered the necessity of separate driving licenses since a big bike rider needs more skillful driving skills due to the vehicle's weight and balancing difficulty. Many road accidents involving loss of lives and properties frequently occurred with big bike owners.
"The separate license for big bike owners is believed to potentially strengthen the road safety for all riders and pedestrians as well as to reduce minor and fatal road accidents. The authorities are in the process of re-classifying the regulations between a small and a large motorcycle driving license before the penalties and punishments will be re-issued under the new law."
What has not been made clear is whether foreign riders in possession of a big bike licence from their home country will also be required to take the test.
SOURCE: The Pattaya News
Keep in contact with The Thaiger by following our
Facebook page
.
Never miss out on future posts by
following The Thaiger
.
PM refuses to resign, citing concerns over political divide, the economy, Covid-19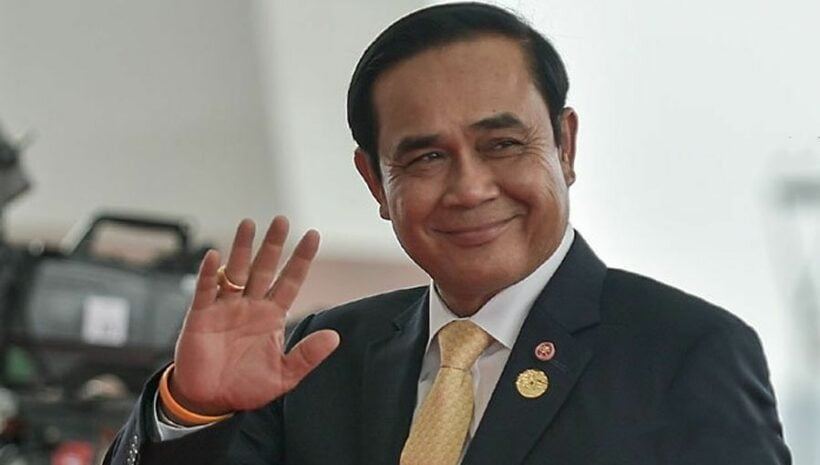 "I refuse to comply with the proposals that do not represent the needs of the majority of the people."
The Thai PM has made it clear he will not resign, saying he has no intention of "abandoning the country during a crisis". Addressing Parliament yesterday, Prayut Chan-o-cha pointed to the current problems facing Thailand, including the political divide in society, the crisis brought on by the slowdown of the economy, and the dangers of a Covid-19 resurgence. He was responding to opposition calls for his resignation.
"You should think back to the political rallies in 2006 and 2014, when the ones in power also did not resign. I refuse to comply with the proposals that do not represent the needs of the majority of the people and will not run away from problems or abandon the country during a crisis. Ask yourself whether the victory you will gain on top of the country's wreckage will be worth it or not, because by then we will have nothing left to change. Think about the children. Don't use them to drive political movements."
The PM went on to thank MPs who'd offered suggestions for a way out of the ongoing crisis, but pointed out that one of his biggest concerns about the protests is the risk of a resurgence of the Covid-19 virus. He says the country must do everything to avoid another lockdown, adding that the protests risk undermining economic confidence and are creating division in Thai society.
"The political rallies could undermine the confidence in our economy, but what worries me is that it could cause a rift in Thai society. We used to say that Thais treat each other as family members and respect one another. I don't want to see this culture disappear because of misunderstanding between generations."
Referring to yesterday's incident in Parliament, in which opposition MP Visan Techatirawat cut his arm in protest at the treatment of anti-government activists, the PM claims the incident was pre-meditated in order to get media attention.
"However, I regret that it happened, as such an incident has never taken place in Parliament before."
SOURCE: Nation Thailand
Keep in contact with The Thaiger by following our
Facebook page
.
Never miss out on future posts by
following The Thaiger
.