Injured young Brit transferred to UK for treatment after 3 months in Thailand hospital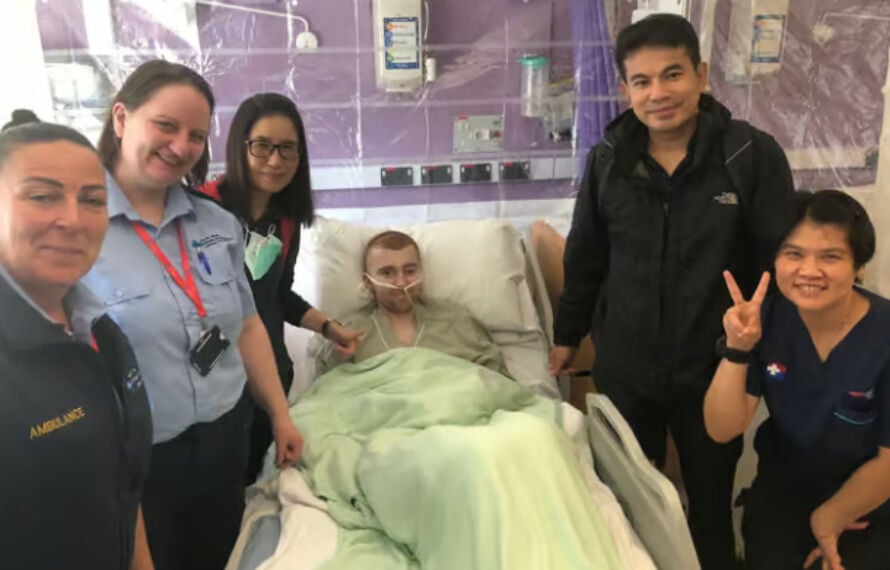 UPDATE 2
The young British man who sustained life-threatening injuries in a motorbike crash in Thailand in February has finally returned home to the UK after undergoing four surgeries in three months at Bangkok Hospital.
The 24 year old ice hockey player from Blackburn, Josh Richardson, returned on a flight on £20,000 flight on Thursday accompanied by a doctor, two nurses, and his father. Now, Richardson is receiving treatment at Royal Preston Hospital.
Richardson's mother Susan told the Lancashire Post…
"We are so relieved and thankful that we have been able to get him back home close to friends and family. He has now had his peg tube removed and started eating a balanced diet and taking fluids.
"He has had his catheter removed, however, this was very painful due to the amount of time it was in. He is now in the high-dependency neuro ward at Royal Preston Hospital. He is currently undergoing further tests and a CT scan."
In total, the defenceman underwent four surgeries in Thailand costing £53,000 (2.26 million baht). The first reset his jaw due to his fractured cheekbones and the second was on his left knee which became infected after the accident.
The third was a two-hour operation via his nose to close a tear after an air pocket was found near Richardson's brain. However, the surgery was not deemed successful and Richardson underwent a four-hour surgery, which involved opening up his skull from ear to ear.
The ice hockey player still has no sight in his left eye and is waiting for assessments. His road to recovery will be a long one.
Richardson did not need a full ICU crew to assist him back home thankfully, which would have cost £168,000 (7.2 million baht).
Susan said that Richardson's insurance didn't pay out because anyone who rents a motorbike above 50cc must have completed a bike competency test in the UK, which he didn't know because the shop that rented him the bike only asked for his money and driving license.
Joanne Gibson, a friend from Richardson's former ice hockey club, started a fundraiser which raised £36,138 from 595 donations. The View Bar and Bistro in Chorley will host two events to help raise funds for Richardson's medical fees, with the family still having to pay £95,000 (more than 4 million baht) for his stay in intensive care in Thailand.
Donations can be made through this GoFundMe appeal.
UPDATE #1: Family desperate for young Brit in intensive care in Thailand to return home
The young British man who sustained life-threatening injuries in a motorbike crash in Thailand in February is still in intensive care in Bangkok and his family cannot afford to pay for his return home.
The 24 year old ice hockey player from Blackburn, Josh Richardson, was in Thailand for less than 24 hours when he got into a motorbike collision while going out for food in the middle of the night in the early hours of February 3.
In the past two months, Richardson has undergone several surgeries for the serious head injuries he sustained in the crash and has only recently regained consciousness and started speaking again.
Doctors in Thailand performed a £20,000 (850,000 baht) brain surgery after finding air pockets in Richardson's brain. However, the surgery was not successful and he needs more surgery for the same price, reports the Mirror.
The family has been informed that if the operation is not successful and Richardson has to return to the UK, a full ICU crew will need to assist him on his journey home which will cost £168,000 (7.2 million baht). His dad remains by his side in the hospital in Thailand.
Although Richardson took out insurance for his trip, the insurance company will not cover the costs of his medical treatment because they believe he was not wearing a helmet when he fractured his skull.
The tourist's family and friends are raising funds for Richardson through this GoFundMe fundraiser, but still haven't raised nearly enough for Richardson to fly home and receive care under the UK's free healthcare system.
During his time at the University of Leeds, Richardson played ice hockey for the Bradford Bulldogs. Bulldogs Manager Joanne Gibson, who started the fundraiser, told the Lancashire Post…
"Unfortunately Josh is not home and he's had some setbacks. Had the first surgery worked, he could have flown home business class costing £15,000, but if he needs a full ICU crew to fly him home they have quoted £168,000. Where are they expected to find that kind of money?"
The hockey player has a big support network back home who are continually organising fundraising events to raise funds for Richardson's return from Thailand.
ORIGINAL STORY: British ice hockey player suffers life-threatening injuries after crash in Thailand
A talented ice hockey player from Blackburn in northwest England sustained life-threatening injuries after a motorbike crash in Thailand.
Former Bradford Bulldogs defenceman, 24 year old Josh Richardson, had an accident on Friday, February 3.
Richardson sustained serious head injuries and was rushed to the intensive care unit at Bangkok Hospital, where he has undergone several operations.
The young hockey player is currently on a ventilator after having operations on the left side of his body, including surgery on the part of his brain which controls his speech.
Before the accident, Richardson and his friend travelled 16 hours to an island. Richardson was hungry in the middle of the night and went out on his rented motorbike to find food.
When his friend woke up the next morning, Richardson was nowhere to be found. The exact circumstances of the crash are not clear.
Richardson was in between jobs so decided to travel to Thailand with a friend from the University of Leeds, where he studied from 2017-21.
Bradford Bulldogs' team manager Joanne Gibson told the Telegraph & Argus…
"We do not know what happened. All we know is that he has been knocked or fallen off his bike."
Joanna started a GoFundMe appeal to raise funds for Richardson's mounting medical bills…
"Hi Everyone, I'm trying to help to raise funds towards the medical fees for Josh Richardson who was involved in a serious motorcycle accident whilst on holiday in Thailand.
"Due to the nature of the accident, it is possible that the insurance company may not cover the costs of his treatments and operations.
"Please help where you can, however small the donation it's really appreciated by the family.
Thank you
Joanne"
Friends, family and the hockey community have come together to raise £13,229 (550,000 baht) of the £20,000 (840,000 baht) goal so far.
Richardson's parents Jim and Susan flew out to be by their son's side in Thailand. Susan recently returned to the UK.
Susan told the Telegraph & Argus…
"It was such terrible news when we heard what had happened.
"He is in a bad way and we flew out there to be with him as soon as we could.
"We're not sure what's going to happen and we're so grateful for everything that people are doing back home – it means such a lot to our family."
After starting out playing ice hockey with his hometown team Blackburn Juniors, Richardson played in Sheffield for a season before joining Bradford Bulldogs in 2013 when he was just 15 years old.
The defenceman spent most of his career playing in West Yorkshire, playing solely for the Bulldogs between 2018-22 before signing full-time with Welsh team Deeside Dragons, who play in the National Ice Hockey League (NIHL) north division.
As well as hockey, Richardson worked for the NHS Direct in Leeds and was travelling in Southeast Asia before starting a new job.
His current team Deeside Dragons and former team Bradford Bulldogs are arranging a fundraising game to help cover Richardson's medical costs.
Bradford Bulldogs said…
"On behalf of the Bulldogs family, we wanted to send our heartfelt sympathies during this difficult time.
"We were saddened to hear about Josh's accident in Thailand, and we want you to know that you are all in our thoughts and prayers.
"Please know that we are here for you and are sending all our best wishes for Josh's speedy recovery.
"We hope that he feels the love and support from the entire Bulldogs community as he heals."
Thailand News

Join the conversation and have your say on Thailand news published on The Thaiger.
Thaiger Talk is our new Thaiger Community where you can join the discussion on everything happening in Thailand right now.
Please note that articles are not posted to the forum instantly and can take up to 20 min before being visible. Click for more information and the Thaiger Talk Guidelines.