'2,215' – this year's 'must see' documentary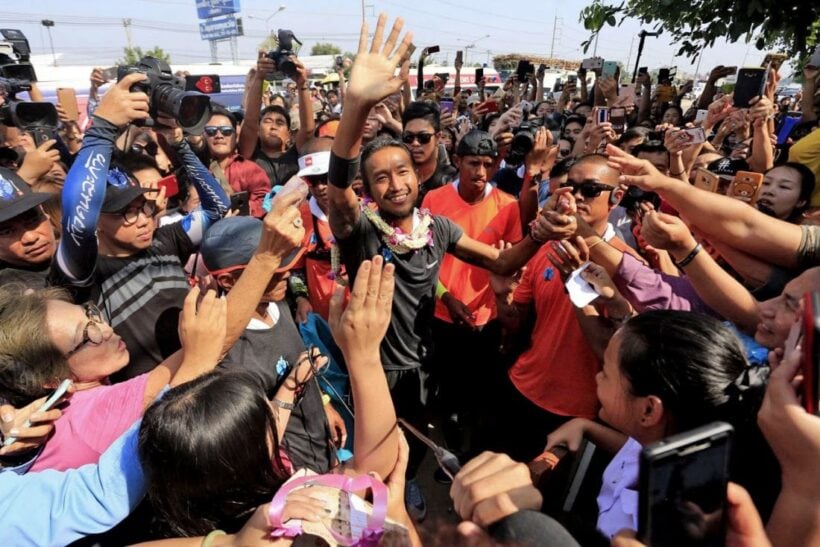 PHOTO: The Nation
From the outset, I can't recommend this wonderful documentary more highly. It was inspiring, highly entertaining and a beautifully crafted, intimate insight into, as he describes himself, a normal Thai person doing something extraordinary.
Artiwara 'Toon' Kongmalai, a huge popular rockstar in Thailand, decided to raise money for struggling public hospitals in the Land of Smiles. He didn't do it the easy way. He set out to run from the southern town of Betong to the northern tip in Chiang Rai, a journey of 2,215 kilometres (hence the title). The schedule would require Toon and his entourage to run 50 kilometres a day, 20% more than a full marathon every single day (with a few scheduled and unscheduled lay days).
He covered the distance, on schedule, in 55 days. The physical effort for 'Toon' was immense, for the support team, it was a nightmare trying to control the crowds, collect the money and mange the enthusiasm as they trekked north.
For a singer that 'enjoyed running' this was a mammoth physical and psychological undertaking and would test his own belief, stamina and resolve.
Rather than simply follow a daily timeline, the movie takes us on an intimate journey through the human side of this very public run-a-thon. We get up-close-and-personal with the people eager to meet Toon and pass on their contribution to the effort, the medical staff who are fighting the realities of Toon's health, his proud parents who just want their son to be happy and the entourage who have to, somehow, control the huge public interest, the media, the crowds along the route and a very strong-willed and determined runner.
At one stage one of the many crowd and media controllers is asked, in a scale of 1-3, how stubborn was Toon? He said 'do you have a scale up to 20?'
38 year old Toon, obviously used to the public adoration though his many years jumping around the stage as the lead singer in the rock band 'Bodyslam', made enormous efforts, throughout the journey, to meet and greet the hundreds and thousands of people who wanted to be a part of the epic run, and history.
In the end the aim to raise 700 million baht was exceeded when the total had reached 1.1 billion baht as Toon finally crossed the finish line at the northern tip of the Kingdom. So what do you do after 55 days of pounding the Thai roads, in humidity and rain, hundreds of pain-killing injections and even more therapeutic massages? Toon simply and quietly raised his finger in a reserved gesture – it was maybe the only energy he had left following the epic marathon.

Although Toon took time to meet with the Thai PM whilst passing through Bangkok, he clearly has no time for Thai politics. His aim, to raise money for a struggling public health system, could be regarded as a salvo across the bows of the Thai health ministry as a single runner did more to raise public awareness about the plight of smaller public hospitals, than anyone else ever had. Mission accomplished, message understood.
As a film, like most Thai films, it is high quality cinematography from end to end, a rocking soundtrack and compelling, although we already knew there was a happy ending with a record amount raised.
Please go an see '2,215'. It's open in most cinemas now, with full English subtitles. It only cost 70 baht when I went to see it at the Jungceylon cinemas as much of the ticket cost has been subsidised by the duty-free group King Power.

Have something to say? Scroll down to leave a comment, or visit our Thaiger Thailand Q&A Forum to discuss people, events, to-do and more with the local community.

Enterprising young Cambodian impresses with multi-lingual skills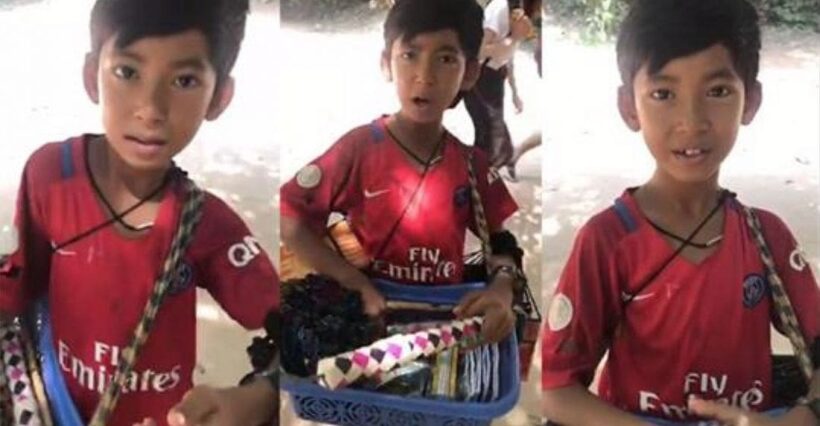 Young vendors become very resourceful at extracting money from tourists. All in the quest of making an honest living and bringing some money to their families. This young boy seems to have knowledge of at least seven languages, obviously representing the most popular languages spoken by the tourists he speaks to during his daily rounds.
Netizens are impressed by his talents but some are saying that the boy has to develop this skill in order to survive. A translation follows some of the many languages he is able to use in his daily work. Let's hope he gets the opportunity to use his skills in a prosperous career in the future.
We'll take five of whatever you're selling!
Leicester City players arrive in Bangkok for Vichai's funeral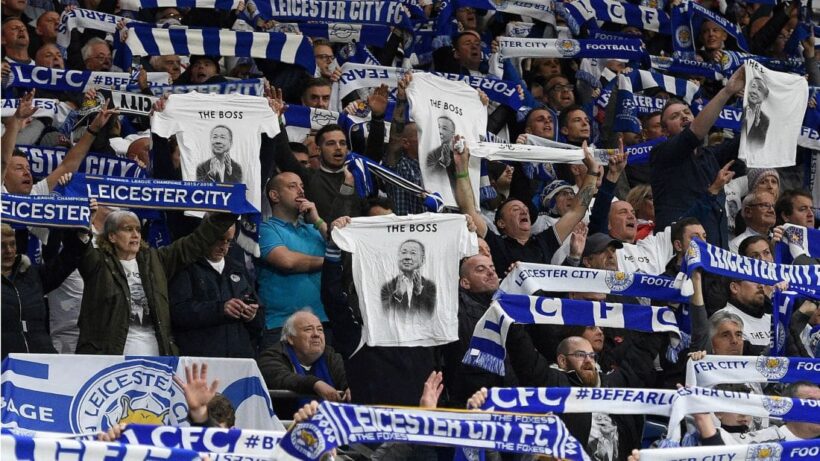 PHOTO: Goal.com
Leicester City football club players and fans have paid emotional tributes to Vichai Srivaddhanaprabha, who died in a helicopter crash last week, ahead of last night's Premier League match against Cardiff City.
Meanwhile, Leicester City players and officials have arrived in Thailand to attend the funeral of the club's owner and mentor at Wat Thepsirin in Bangkok.
His Majesty the King has provided funeral water and bestowed an octagonal funerary urn for the royally-sponred funeral rite.  Several prominent business, political, sports and entertainment figures and celebrities attended the first day the week-long rites ceremony yesterday (Saturday).
The Leicester City players attended services today and will attend again tomorrow (Monday) after beating Cardiff 1-0 in the first game since his death.
Before the match they wore T-shirts featuring a picture of Vichai while fans held banners expressing their condolences.  They stood for a minute's silence along with Leicester City staff and fans ahead of the kick-off.
Surachate Hakparn is the "People's Policeman"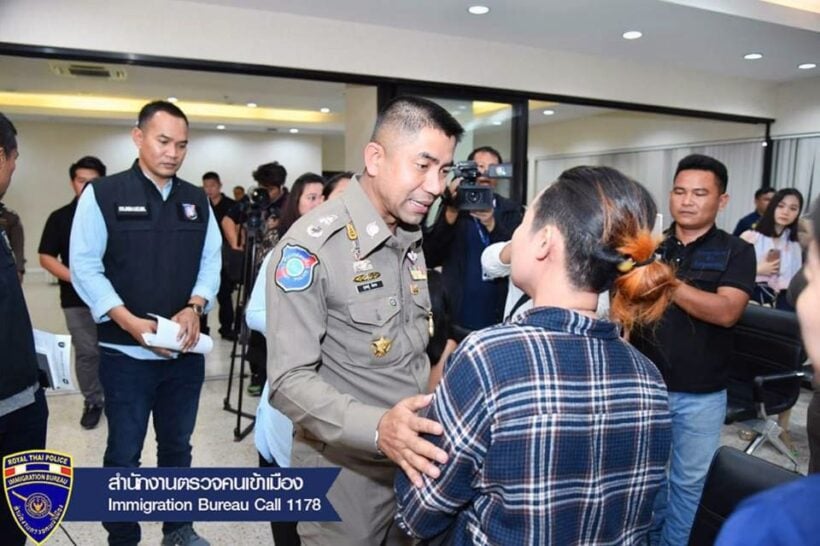 The new immigration chief Maj-Gen Surachate Hakparn, and the Thai government's poster boy for rounding up all the baddies, has been hailed as the 'People's Policeman'.
That's according to the Immigration department's own website.
"He's the man people are turning to when they need help in times of trouble."
Yesterday the Maj-Gen's Immigration Bureau website featured a story about a group of Thais ripped-off by Forex fraudsters in Australia. They turned to a tired looking Surachate for help in their hour of need, so the writers of the post inform us.
Jar Jar and Thanakorn Limpanuwat hailed him as "Tamruat khong Prachachon" (the policeman of the people).
The latter even posted a thumbs up cartoon cop intimating that Surachete is doing a great job.
Surachate promised action in the Forex complaint in which 300 Thais, in Thailand and Australia, have been conned out of 300 million baht.
A complainant representing 20 of the victims said that Chatkaew Saengthong and others had promised returns on Facebook of between 6% and 44% in currency trading. Interest was forthcoming at first but when larger investments were made contact ended and the money disappeared (we could copy/paste that paragraph every day on The Thaiger).


SOURCE: Thai Immigration Bureau