Chiang Rai: Race against time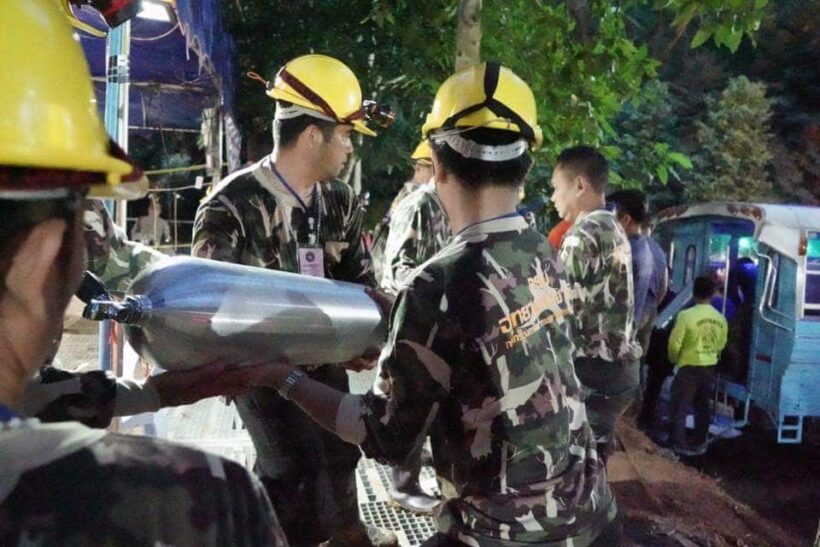 Yesterday's progress…
• The Royal Thai Navy's SEALs set up a forward command in the third chamber of the Tham Luang cave.
• The SEALs venture out of the third chamber to get closer to "Pattaya Beach" where the stranded footballers are thought to have gathered.
• The water level in the cave reduces due to all-out drainage efforts, which include powerful pumps and draining groundwater near the cave.
• Explorations above the cave finish. There are two promising shafts for rescue operations.
• Additional drilling equipment is being brought to suitable areas.
• The area in front of the cave is off-limits to most vehicles, as officials arrange for the fastest transportation for the footballers when they are found.
• Doctors plan swift delivery of medical help.
Rescue teams are racing against the clock in their bid to save 13 members of a local football club, most of them teenagers, from the flooded Tham Luang cave before heavy downpours resume and increase the floodwater level.
"Weather forecast suggests downpours will return on Wednesday," Meteorological Department director-general Wanchai Sakudomchai said yesterday.
Floodwater poses the biggest obstacle to the rescue operations that began on June 23 when the 12 football players from the Mu Pa Academy in Mae Sai district and their coach went missing. They were last seen entering the Tham Luang cave in Chiang Rai province. As flash floods hit the cave, they are believed to have been stranded inside for more than one week now.
According to Medical Services Department's director-general Somsak Akksilp, people can do without food for between 30 and 35 days if they are able to drink water.
Royal Thai Navy SEALs ventured into the cave on June 25 to save the youths amid muddy floodwater, thin air and darkness inside. However, in the middle of last week, even the SEALs had to retreat to a spot closer to the cave's entrance because of the rising and raging floodwaters. Only after rains eased on Saturday, water-drainage efforts started to yield tangible results paving way for the SEALs to make significant progress inside the cave yesterday.
As of last night, the SEALs were already 200 metres from a T-junction inside the cave. From that point, they will be only be about 1.5 kilometres from the so-called "Pattaya Beach" chamber where the footballers are believed to have gathered to stay clear of the floods. The intersection is about 800 metres from the cave's third chamber. Inside the chamber, SEALs have already set up their forward command. Light bulbs and oxygen tanks are stored there.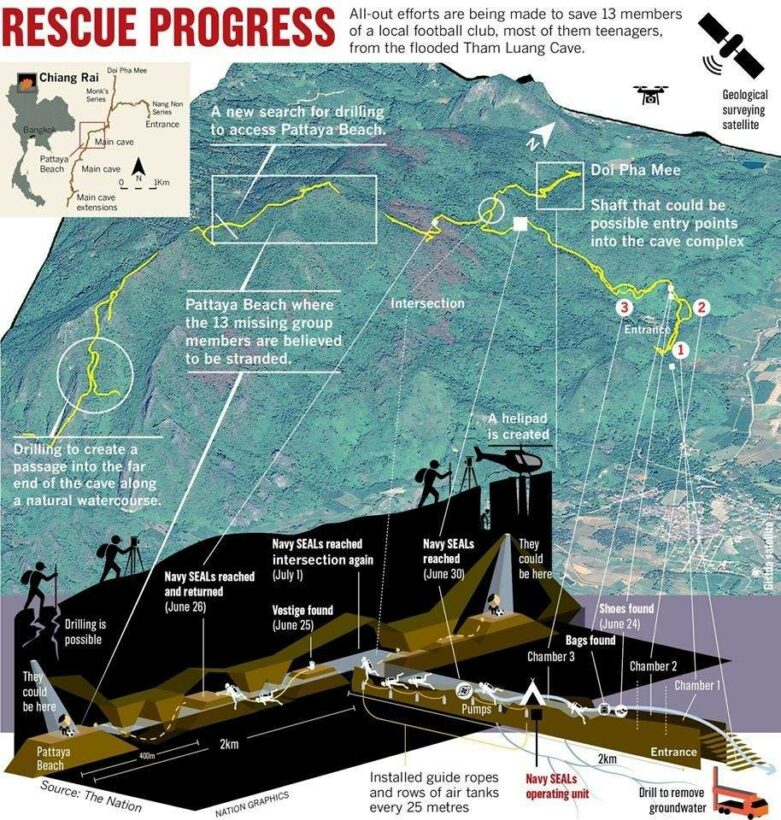 Foreign diving experts from Britain, Australia and China have now joined the SEALs operations. At present, powerful pumps have been installed to pump out as much water as possible from the cave. The groundwater in nearby areas has been drained away to downstream zones too based on the beliefs that floodwater from the cave will then seep out faster. People living in downstream zones are willing to put up with flooding if it can assist the rescue efforts.
"This is a very good day for me," Chiang Rai Governor Narongsak Osottanakorn said yesterday evening. His words led to widespread speculation that the rescue efforts must have progressed really well in the day.
According to official records, a helipad has already been prepared atop Doi Pha Mee so that a helicopter can quickly send supplies and equipment for rescue teams working there. A shaft there looks promising enough as police paratroopers together with foreign experts have managed to go down to a depth of at least 40 metres. Explorations are ongoing to determine whether this shaft can connect to the dry part of the Tham Luang cave.
Engineering Institute of Thailand president Thanet Wirasiri, meanwhile, is working on another promising shaft.
"This one is near the far end of the cave," he said.
Thanet said the first section of the shaft from its mouth stretched down for about nine metres after which it levelled for a stretch of two metres.
"From there, the shaft stretches down vertically again for about seven metres and hits a rock," he said. Thanet said although big rocks blocked the way, his team had not yet lost hope.
"This is because imaging technologies have suggested that this shaft may connect directly to the latter part of the Tham Luang cave," he said.
Thanet said his team would sprinkle colourful powder into this shaft and see whether the water will bring it down to the cave.
"If divers in the cave see the colours, we will plan our next step on how to remove the rock," he said.
Drilling solutions have already been taken up as alternate ways to save the stranded victims. Naval Special Warfare Command chief Rear Admiral Apakorn Yukongkaew meanwhile said the SEALs would not stop searching until the boys were found.
At the mouth of the cave, medical workers already have plans on how to treat and move victims when the footballers are found. A field hospital has now gone up near the mouth of the cave to perform urgent surgery, if necessary. Ambulances are on standby and even helicopters, with sky doctors, are prepared to go ahead with airlifting victims once they are found.
SOURCE: The Nation


Read more headlines, reports & breaking news in Chiang Rai. Or catch up on your Thailand news.
Australian Tham Luang cave divers receive prestigious Thai awards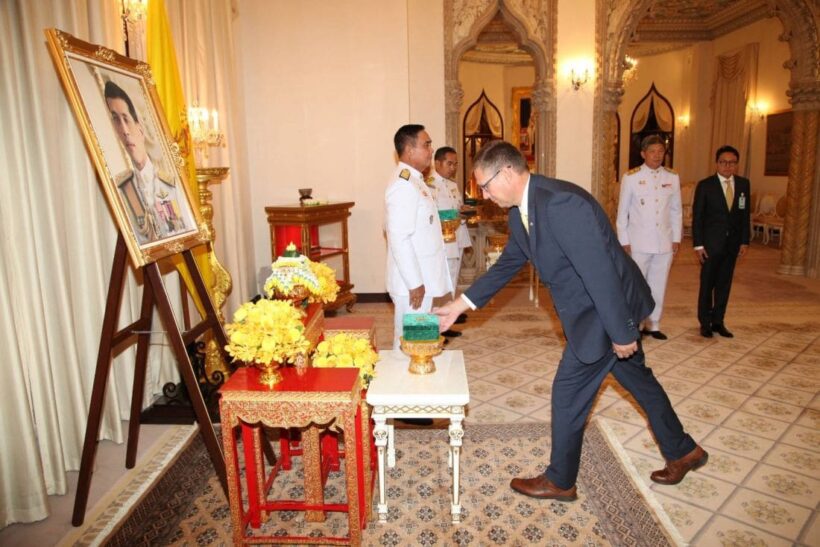 Australian cave divers Dr Richard Harris and Dr Craig Challen have been conferred the Most Admirable Order of the Direkgunabhorn at a ceremony in Bangkok, for their crucial role in the Tham Luang cave rescue.
The pair received the honour in a ceremony at Government House in Bangkok on Friday afternoon, before meeting with the PM Gen Prayut Chan-o-cha.
"It's very exciting, it's great to be back," Dr Harris said.
"We had no idea at the time of the rescue that this was going to be such a big story."
Drs Harris and Challen have returned to Thailand for the first time since their crucial contribution to the rescue of the 13 young footballers from the Tham Luang cave site in Chiang Rai almost a year ago.
Drs Harris and Challen were also in January jointly named Australians of the Year – one of the country's highest honours.
The pair will now travel to Chiang Rai to return to the Tham Luang cave site and meet with the MU Pa football team and their families tomorrow (Monday).
"That's really exciting for us to go and see them and make sure they're well and see how they're doing after the rescue," Dr Harris said.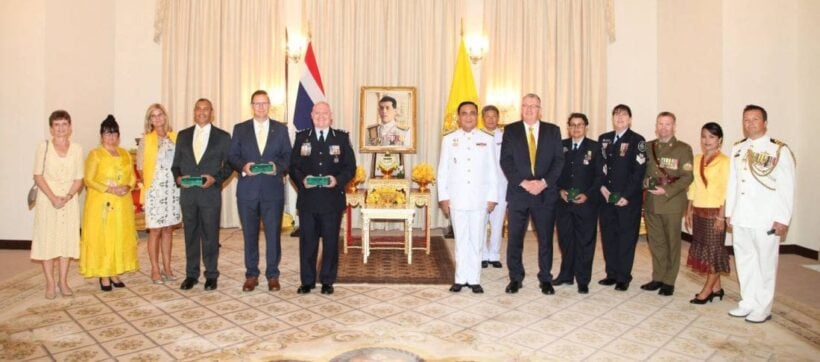 Severe localised storms predicted for central, north and north-east until April 16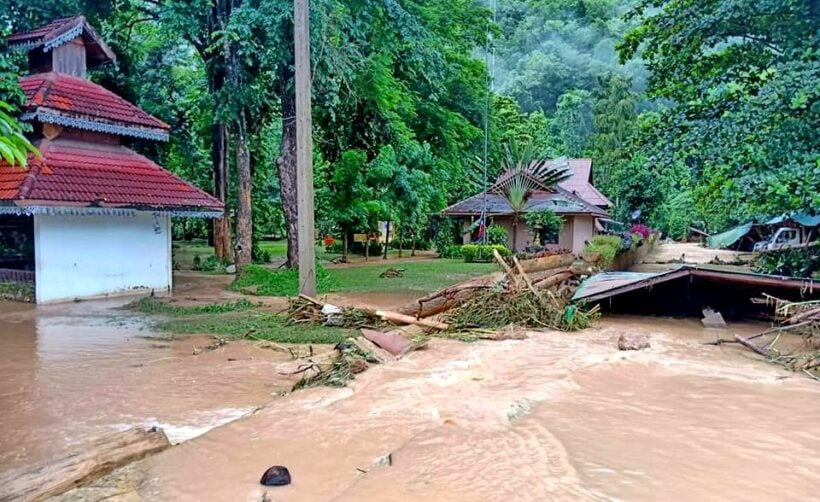 FILE PHOTO
The meteorological office (TMD) says there could be localised severe thunder storms for the entire upper area of the country until Tuesday.
The north, north-east, eastern seaboard and central regions, including Bangkok and surrounding areas could all be randomly hit by tropical thunderstorms.
The TMD office director Phuwiang Prakhammin has warned of rain storms, thunder and lightning, high winds and even hail.
"People were warned to avoid open spaces, not to stand under trees as it is a lightning strike hazard and be careful of unstable advertising hoardings."
Farmers have also been warned about protecting their livestock and crops in the agriculture-heavy northeastern provinces. Here are the provinces that may be affected…
Northeast: Bueng Kan, Sakon Nakhon, Nakhon Phanom, Mukdahan, Khon Kaen, Chaiyaphum, Kalasin, Maha Sarakham, Roi Et, Yasothon Loei, Nong Bua Lamphu, Khon Kaen, Chaiyaphum, Nakhon Ratchasima, Buri Ram, Surin, Si Sa Ket and Ubon Ratchathani
Northern region: Chiang Mai, Chiang Rai, Phayao, Phrae, Nan, Lampang, Tak, Sukhothai, Uttaradit, Phitsanulok, Kamphaeng Phet, Phichit and Phetchabun
Central: Nakhon Sawan, Uthai Thani, Chai Nat, Sing Buri, Ang Thong, Ayutthaya, Lop Buri, Saraburi, Suphanburi, Ratchaburi, Kanchanaburi, and Bangkok.
East: Prachin Buri, Sa Kaeo, Nakhon Nayok, Chachoengsao, Chon Buri, Rayong, Chanthaburi and Trat
SOURCE: Daily News
Forest fires destroy 2.7 million rai of land whilst Chiang Mai is back on top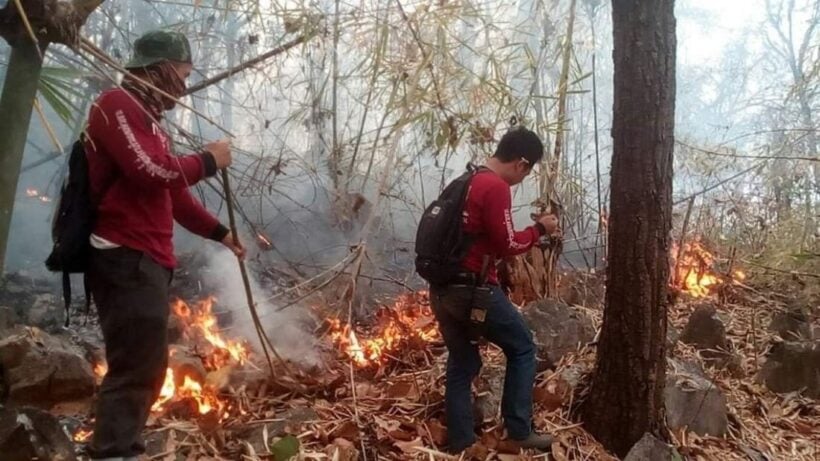 by Tossapol Boonpat
Bush fires have devastated nearly 2.7 million rai (there are 2.5 Rai in an Acre) of forests in nine northern provinces.
The Mae Hong Son forest fire and haze control centre says that satellite imaging from the Geo-Informatics and Space Technology Development Agency shows that from January 1 to March 16, 2,680,634 rai was destroyed by wildfires.
The devastation included 102,268 rai in Chiang Rai, 374,313 rai in Chiang Mai, 791,301 rai in Tak, 221,300 rai in Nan, 150,995 rai in Phayao, 176,107 rai in Phrae, 203,889 rai in Mae Hong Son, 470,009 rai in Lampang and 190,452 rai in Lamphun.
As of yesterday, the daily satellite image showed Mae Hong Son had 124 hotspots (10 in Pang Mapha, 17 in Pai, 30 in Muang, 16 in Khun Yuam, three in Mae La Noi, 26 in Mae Sariang and 22 in Sop Moei districts).

But a source from the Royal Forest Department says people should not be overly alarmed by such high figures, as the wildfires had swept through dried, flammable materials on the floors of the forests, and most trees will once again start producing new leaves.  The source said the fires had also thinned the hard shells of pods, so when the rains come, seedlings can sprout faster.

Unhealthy levels of smog were again recorded in the nine northern provinces and one province in the Central region, with Chiang Mai once again reaching the dubious honour as the world's Number One worst polluted city.

Pralong Damrongthai, PCD director-general, said hazardous levels of air pollution were detected in Chiang Mai, Chiang Rai, Lampang, Lamphun, Mae Hong Son, Nan, Phayao, Phrae and Tak provinces, as well as in the Central province of Nakhon Sawan.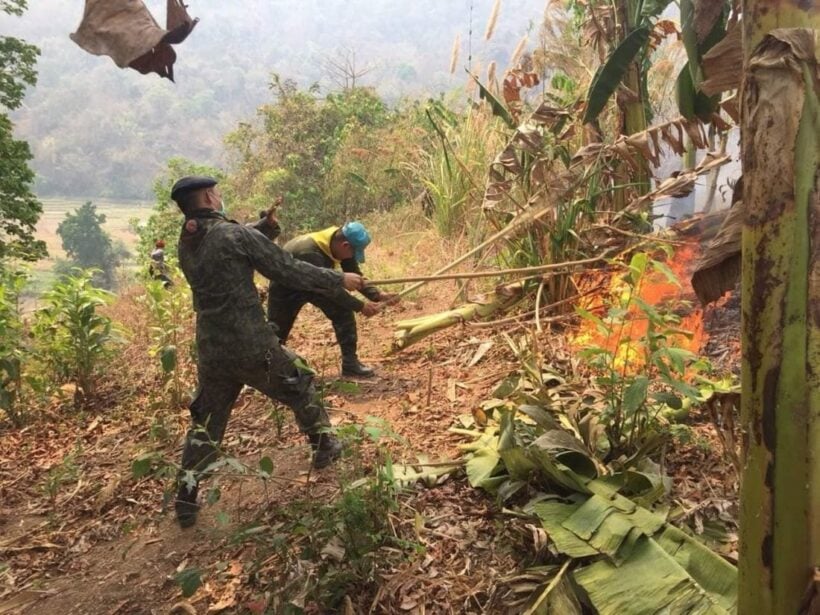 SOURCE: The Nation