Thai PM will negotiate the GSP issue with US officials during ASEAN Summit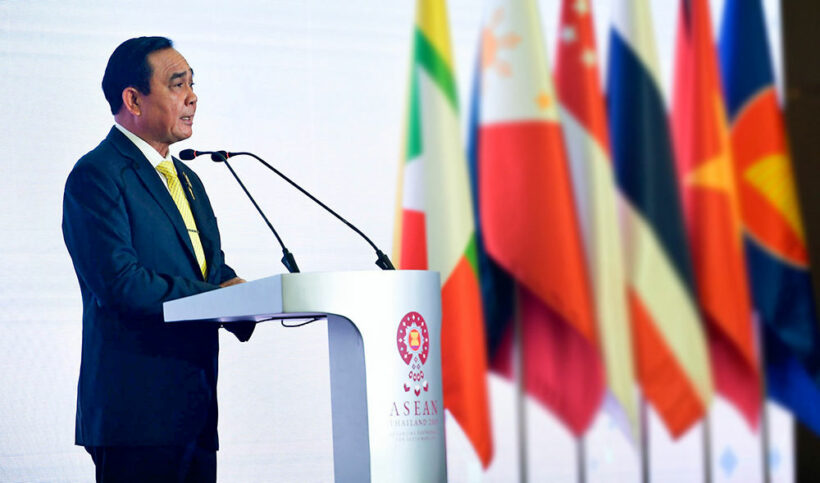 Thailand will hold talks with US officials, about the GSP (Generalised System of Preferences) suspension for Thai exports to the US market, on the sidelines of the weekend's ASEAN Summit, being held in Bangkok.
Thai PM Prayut Chan-o-cha says there are still six months in which to resolve the issues before the suspension of trade benefits for up to 500 Thai export items kicks in. He is also calling for a halt to speculation about the reason for the US action, claiming that only about 300 items will be affected and that several other countries have also been hit by similar measures.
There has been speculation that the US action is a retaliation against the ban on paraquat, chlorpyrifos and, especially, glyphosate by the National Hazardous Substances Committee last week.
The PM is assuring that the government is trying to resolve the problem and urges the private sector to do likewise but, if the US refuses to review its decision, he said that Thailand would have to accept it, according to Thai PBS.
The US announced the suspension of US$1.3 billion of trade benefits under the GSP program and the removal of Thai seafood products included in the program last Friday. The announcement cited Thailand's failure to bring labour rights up to International Labour Organisation standards, pointing out the problems in the Thai fishing industry as an example. The Thai Commerce Ministry, meanwhile, claims that the impact of the US action will be limited and will cut annual export value by less than US$32.8 million next year.
The US is Thailand's second-largest export market and shipments are valued around US$3s billion per annum.
SOURCE: Thai PBS World
Keep in contact with The Thaiger by following our
Facebook page
.


Do you need help with your business? Are you searching for a new job? Or an employer looking to hire? Try JobCute today.

Read more headlines, reports & breaking news in Bangkok. Or catch up on your Thailand news.

Thai Airways offers One Pass One Price Value Card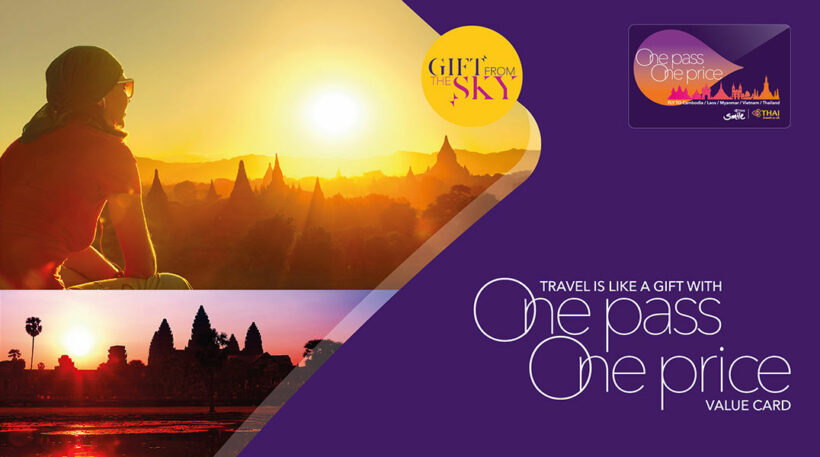 In a first of what will surely be a prolonged period of promotions, Thai Airways is offering a One Pass One Price Value Card Package which will cover four economy class fares from Bangkok to some destinations in Cambodia, Laos, Vietnam and Myanmar.
Tickets start at 8,060 baht and are valid for trips from Bangkok to Phnom Penh, Siem Reap, Vientiane, Luang Prabang, Mandalay, Ho Chi Minh, and Hanoi from November 11 to December 10, 2019.
The One Pass One Price Value Card Package for four economy class one-way tickets can be used to fly with Thai Airways and Thai Smile. Passengers may choose to fly to any of the designated destinations from Bangkok in the Mekong Region with travel valid until 31 May 2020.
Outbound flights from Bangkok (one way, four tickets) to any four cities such as Phnom Penh, Siem Reap, Vientiane, Luang Prabang, Mandalay, Ho Chi Minh and Hanoi sell for THB8,060 per package.
Inbound flights to Bangkok (one way, four tickets) from Phnom Penh, Siem Reap, Vientiane, Luang Prabang, Mandalay, Ho Chi Minh, Hanoi sell for USD260 per pass.
Taxes and surcharges fee are included in the prices above (taxes and fees may vary based on the current exchange rate on the date of ticket issue).
A limited amount of promotional fares are available for each flight, whereby terms and conditions are applicable. Passengers may receive miles based on to Royal Orchid Plus (ROP) conditions. Some of the flights are on the budget airline THAI Smile.
One Pass One Price Value Card Package is available at THAI Sales Offices at THAI's Headquarters, Larn Luang branch, as well as in Cambodia, Laos, Myanmar and Vietnam. Passengers may visit thaiairways.com for flight schedule information, reservations, and ticketing using the value card pin and password or call the THAI Contact Center at (+66)-2356-1111.
SOURCE: www.thaiairways.com
Keep in contact with The Thaiger by following our
Facebook page
.
Bangkok bombing suspects make their first appearance in court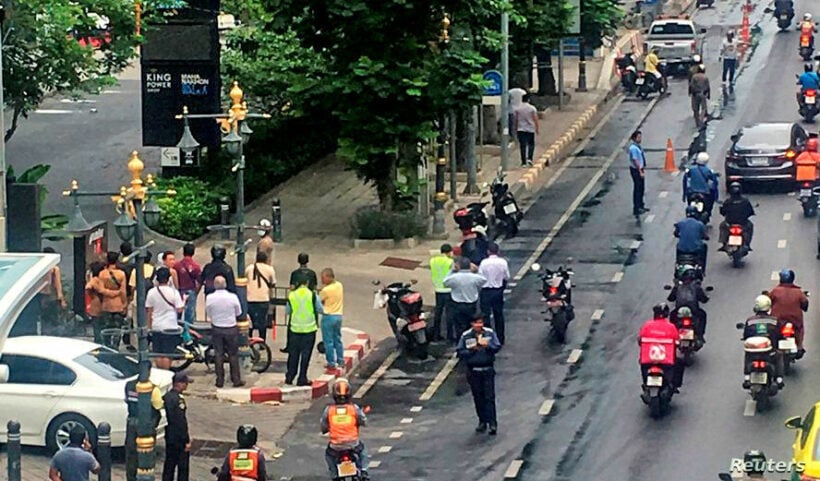 Three suspects are now in custody after being arraigned in the Bangkok Criminal Court yesterday. They had 11 charges read relating to the explosions around Bangkok in early August when the city was hosting an ASEAN Summit.
The three men – 27 year old Widan Maha, 22 year old Lu-ai Sae-ngae, and 27 year old Muhammad Ilham Sa-i – were indicted by prosecutors three days ago. All three are residents of Narathiwat in southern Thailand.
They face a total of eleven charges, including collusion in terrorism, organised crime, illegal assembly, attempted murder, illegal possession of explosives, carrying explosives plus related offences.
They were taken from Bangkok Remand Prison and arraigned in the Criminal Court on Thursday. They continue to deny all charges. The three were remanded in custody. Their next appearance in court will be on December 16.
The general thrust of the police prosecution case is that the attackers carried out the attacks in retribution for deaths of insurgents in the seep south, and that the bombings were politically motivated. They say the timing of the attacks co-incided with an ASEAN meeting in Bangkok for foreign ministers to embarrass the government.
The deputy director-general of the Department of Criminal Litigation says police investigators had submitted their case report on the bombings to prosecutors last August.
Attorney-General Wongsakul Kittipromwong had decided to indict three suspects on all counts recommended by police.
The three defendants, along with another 18 other accomplices, are accused of planning and carrying out bombings at various locations in Bangkok and Nonthaburi at the start of August this year. Read The Thaiger report at the time HERE.
They are accused of planting two bombs in front of the Royal Thai Police HQ on Rama I Road on the evening of August 1, but the bombs were discovered and safely defused, according to the police report.
They're also accused of a bomb blast at the Office of the Permanent Secretary for Defence in Nonthaburi, and planted four bombs at the government complex in Chaeng Wattana.
They've also been charged with similar attacks in Hua Mak, Bang Kapi, Thung Song Hong and Chaeng Watthana districts of Bangkok, and Pak Kret district of Nonthaburi between August 2 – 10.
SOURCE: Bangkok Post
Keep in contact with The Thaiger by following our
Facebook page
.
Malaysian PM confirms Anwar will be successor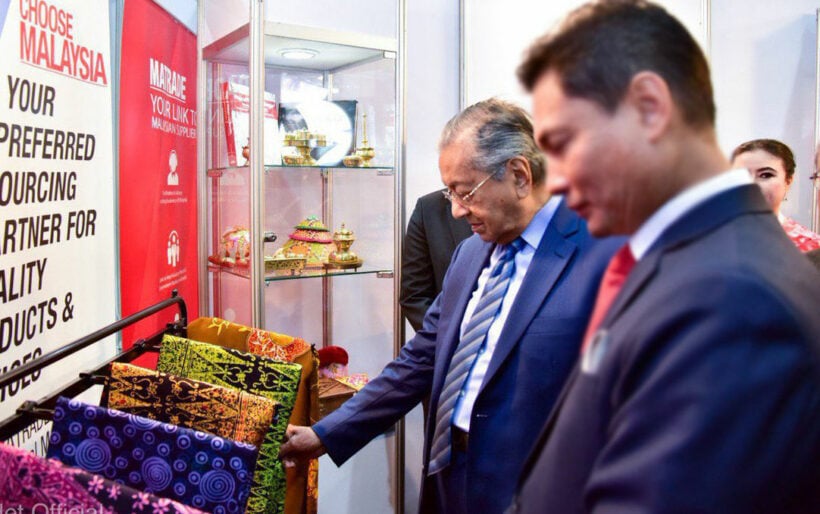 PHOTO: Malaysian PM, Tun Dr Mahathir Mohamad inspecting some Malaysian silks on the sidelines of the ASEAN Summit in Bangkok – Twitter
The Malaysian PM, Tun Dr Mahathir Mohamad has confirmed publicly that Datuk Seri Anwar Ibrahim, president of the Parti Keadilan Rakyat (People's Justice Party) will be his successor. The 94 year old PM was speaking to the Sydney Morning Herald in Bangkok yesterday, where he has been attending the ASEAN summit.
Dr Mahatir confirmed he will stand down before the next general election, despite some calls for him to remain until the end of the current government's mandate.
"Yes, I will. Although there are lots of other people who have been asking me to carry on until the next election but that is their view. My commitment is to step down before the next election, certainly."
The Nation reports that he also re-affirmed that Anwar will be his successor, and not Economic Affairs Minister Datuk Seri Mohamed Azmin Ali.
Dr Mahatir stopped short of providing a transition timeline and his reluctance to commit to a deadline has been a bone of contention in the past.
"I cannot say whether it is two years or three years, but I will certainly step down as I promised."
The two have had a tortured relationship for decades but came together last year to topple the former Malaysian PM, Najib Razak, who is currently battling numerous legal battles over his involvement with the 1MBD development bank scandal.
SOURCE: The Nation
Keep in contact with The Thaiger by following our
Facebook page
.