Live Blog
Football transfer news tracker: Live news, gossip and deals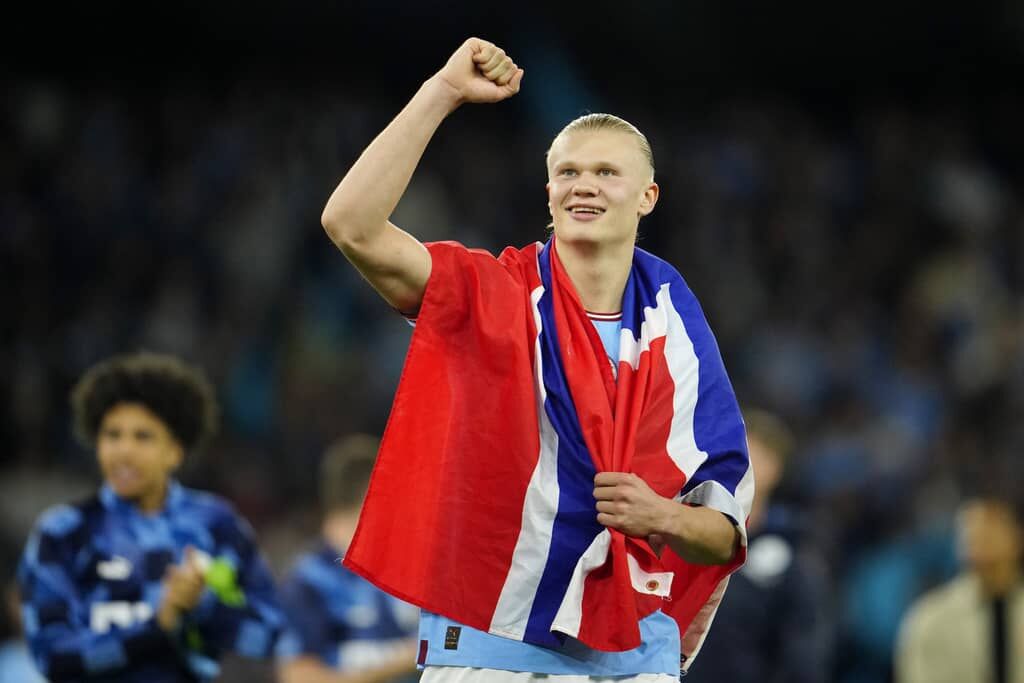 It's the end of the football season in Europe, but don't threat because the drama isn't over as we begin the pre-season with the excitement of the transfer window! Get the latest football transfer news, whether it's from the Premiership, Bundesliga, La Liga, Serie A, or even Ligue 1, we've got you covered. As the transfer window unfolds, our dedicated live news update page brings you the most comprehensive and up-to-date information on the hottest deals, rumours, and signings in the world of football. Stay informed and engaged with the ever-evolving landscape of the beautiful game.
Our live news updates cover a wide range of topics, including hot speculations, not-so-hot speculations, transfer fees, contract negotiations, and club transfer strategies. We also delve into the behind-the-scenes stories and the impact of these transfers on the teams, leagues, and the players themselves.
The Thaiger team works tirelessly to bring you the most reliable and up-to-date football transfer news and gossip in real-time. But what will it be in summer 2023? Messi to Saudi Arabia or the return of Ronaldo to Real Madrid (and if so, in what capacity)? Or maybe it's finally time for the Premiership's greatest-ever striker to leave Spurs and seek trophies at a team capable of such a feat?
Lionel Messi's shock move to Inter Miami: Beckham's decade-long pursuit pays off

In a surprising turn of events, football icon Lionel Messi joined ranks with the MLS club, Inter Miami. Co-owner David Beckham disclosed that the move was the result of over a decade of meticulous planning, which even involved a clandestine meeting with Messi's father.

Messi, aged 36, parted ways with Paris Saint-Germain (PSG) as a free agent in the summer, following two challenging seasons. The football world was ablaze with conjecture about his next move. Rumours were rife about a possible return to Barcelona or a shift to the burgeoning Saudi Pro League.

However, Messi chose to align himself with Beckham's Inter Miami franchise, where he has significantly changed the perception of football in the United States. Beckham, a celebrated Manchester United and Real Madrid player, shared insights about the effort he invested in this move during a session on Sky Sports' 'Stick to Football' podcast.

"My vision was always to bring the best players to Inter Miami. As the owner of a team, you always want to sign the best players, but it's challenging," Beckham stated.

"I sneaked into Messi's dad's hotel about four years ago in Barcelona for a meeting with him. At that point, we weren't ready to bring him and he wasn't ready to come. I told his dad: 'We want him to come to Miami when he's ready.' We continued the conversations and worked on it for four years."

His pursuit bore fruit when Messi was with PSG. Beckham saw an opportunity and seized it. "When he was at PSG, we saw an opportunity. He was either going to go back to Barcelona… Then everything aligned and we were still having the conversations," he explained.

Beckham recognised that securing Messi would not only revolutionise the club and the league but also the sport as a whole. "We knew it would change the club, the league and the sport, but it's beyond that. What he does on the pitch, what he does off the pitch," he emphasised.

Messi has already made his mark at Inter Miami, scoring 11 goals and contributing five assists in 12 games. His performance has exceeded Beckham's expectations. However, Beckham confessed that he was apprehensive about Messi's potential return to Barcelona, which could have disrupted the MLS team's plans.

Asked about his reaction to Messi's acceptance of their offer, Beckham confessed, "It was more emotional than it should have been. We'd made the offer but he'd had offers from Saudi, to go back to Barcelona, and the Barcelona one worried me. It pulled on his heartstrings. He never got to say a proper goodbye at Barcelona, but then it was down to him to decide."

Currently, Messi is battling an injury, casting doubts over his participation in Wednesday's MLS match against the Chicago Fire. However, his influence continues to be felt, both on and off the pitch, marking a new era for Inter Miami.

Shay Given criticises Manchester United's decision to replace De Gea with Onana

The recent transfer decision by Manchester United has sparked some intriguing comments from Shay Given, the renowned Premier League goalkeeper. The signing of Andre Onana, in lieu of former star David de Gea, has raised eyebrows among fans and pundits alike. De Gea's exit from the club over the summer was shrouded in controversy, having initially agreed to a new contract with the Red Devils, only to change his mind and become a free agent at the last moment.

This unexpected turn of events left Manchester United with big boots to fill. A decision was made to pay Inter Milan an excess of €50 million to secure the services of Onana. The Cameroon international had formerly worked under manager Erik ten Hag at Ajax and there were hopes his ball-playing skills would be a valuable asset to Manchester United.

However, Onana's adaptation to his new team has been fraught with difficulties. A series of high-profile mistakes, including errors in each of Manchester United's opening two Champions League matches, has cast doubt on his capabilities. The 3-2 defeat to Galatasaray last Tuesday was marred by a loose pass from Onana that led to Casemiro conceding a penalty, which Mauro Icardi narrowly missed. Despite this, Casemiro was sent off and Manchester United, being a man down, went on to lose the match with Icardi scoring the decisive goal.

"*Ball-playing is meant to be one of his strengths, or his super-power, but that was really poor,*" Given told RTE. "*I wonder how many Man Utd fans now would say I'd take David de Gea over Onana? He wasn't brilliant with the ball at his feet, so that penalty wouldn't have happened. David de Gea would've put the ball higher up the pitch.*"

Given, who has an impressive record of 450 appearances in the Premier League, playing for notable teams such as Newcastle, Manchester City, and Aston Villa, did not mince his words when critiquing Onana's performance. "*And then the saves, David de Gea would have made more saves. The third goal, I would question Onana for that as well.*"

The defensive frailties have been glaring for Manchester United this season, with the team conceding 18 goals in only nine matches. They are set to play against Brentford at home this coming Saturday, before the international break. It remains to be seen whether Onana can turn his fortunes around and prove his critics wrong.

Arsenal's first defeat of season sparks controversy over Arteta's goalkeeper strategy

In a surprising turn of events, Arsenal falls 2-1 to RC Lens in their Tuesday Champions League match, marking their inaugural defeat of the season. The match witnessed the club's manager, Mikel Arteta, breaking a significant promise he had previously made.

A few weeks ago, Arteta, in a bold stance, declared his readiness to utilise goalkeeper substitutions as a strategy to alter match dynamics. Nonetheless, when presented with such an opportunity in Northern France, he chose not to utilise this approach, stirring up controversy at the Emirates.

David Raya joined Arsenal as a replacement for Aaron Ramsdale. Although it's not officially confirmed, it's apparent that Arteta intends to make Raya, who is on loan from Brentford, his first-choice goalkeeper. The move has been deemed "humiliating" for the England keeper by famed Gunners supporter, Piers Morgan.

Raya's arrival at Arsenal, similar to Andre Onana's at Manchester United, is due to his ball-handling skills. However, his recent errors in a few matches have significantly impacted the outcomes. Like Onana, Raya is finding it difficult to justify his position as his mistake count increases.

During the match against Lens, Arsenal held a comfortable 1-0 lead until a misplaced pass from Raya shifted the game's momentum in favour of the French side. The error led to Adrien Thomasson's well-executed equaliser. Following this, Arsenal struggled to pose a credible threat, ultimately falling behind in the second half when Elye Wahi scored from a cross.

Raya's shaky handling of crosses in the North London derby previously allowed Tottenham to capitalise and secure a 2-2 draw at the Emirates.

Arteta expressed his regrets after the 1-0 victory over Everton, which marked his decision to favour Raya over Ramsdale. He confessed that he lacked the courage to substitute the goalkeeper during critical points in two games, despite feeling the need to do so.

Despite Arteta's earlier promise to change match dynamics, he did not seize the opportunity to do so during the match against Lens. Raya's mistake had invigorated Lens' pressing, which Arsenal failed to match. This lapse gave Lens the upper hand, leading to a remarkable comeback.

This scenario also raised questions about Arteta's self-imposed "standards", which Raya failed to meet in this match. While some may argue that the expectations placed on Raya, who is asked to play in a relatively high-risk manner, are unfair, his error during his first Champions League away game had substantial consequences. His mistake cost Arsenal a goal and paved the way for Lens to stage an impressive comeback.

This situation also provides food for thought for Arteta regarding the goalkeeping situation at the club. Despite the mounting pressure, Raya remains in the pole position to play against Manchester City on Sunday. However, he is now under increased scrutiny to avoid any further errors against the Premier League champions.

Paul Scholes voices concerns over Raphael Varane's fitness at Manchester United

Raphael Varane's physical condition has raised concerns for Paul Scholes, following Manchester United's 3-2 defeat to Galatasaray in the Champions League on Tuesday. The loss deepens the crisis for manager Erik ten Hag, leaving the team without any points in Europe's leading club competition. Despite two goals from Rasmus Hojlund giving United the lead on two occasions, defensive errors allowed Galatasaray to claw their way back into the match. The mistakes included a misguided pass from goalkeeper Andre Onana leading to a missed penalty and a red card for Casemiro.

Praising the €75m Man Utd signing, Scholes compared him with Van Nistelrooy. *Yet, despite the focus on the goalkeeper, Scholes, the club legend, drew attention to centre-back Varane as a cause for concern.*

Speaking to TNT Sport, where he was working alongside Rio Ferdinand, Scholes expressed his worry: *"I worry about Varane a bit. I think he's been one of the best defenders around, just like Rio was. He was of that same ilk when he was at Real Madrid. I just think that his legs are looking a little bit sluggish, he can't keep fit. I'd be worried about him."*

The cost of sacking Ten Hag continues to be a subject of speculation. Meanwhile, Varane, who is 30 years old, has hinted at feeling the strain of his age. The former Lens and Real Madrid defender retired from international football to reduce the physical toll of numerous matches and travel on his body.

This season, he has already been sidelined for three matches due to injury, missing key games against Arsenal, Bayern Munich, and Brighton. His absence was deemed one of the reasons why United conceded 10 goals across those fixtures. However, they once again let in three goals against the Turkish side, further casting doubts on Varane's performance and raising questions about the team's defensive strength.

The issues surrounding Varane and Scholes' doubts just add to the mounting problems for a Manchester United team that is under increasing pressure.

Manchester United's Rasmus Hojlund lauded by Paul Scholes after Galatasaray performance

Manchester United's latest addition, Rasmus Hojlund, 20 years old, has been hailed by Paul Scholes as having "a bit of [Ruud] Van Nistelrooy" in him, following the young Dane's striking performance against Galatasaray on Tuesday evening. The youngster, who sealed a summer transfer to United from Atalanta for a fee of €75 million, found the net twice in United's unfortunate 3-2 defeat to Galatasaray in the second round of the Champions League group fixtures.

Hojlund notched his first goal with a tidy header from six yards out, assisted by a Marcus Rashford cross. His second score was a showcase of skill and precision, driving from the halfway line before delivering a deft chip over the extended reach of Fernando Muslera, Galatasaray's goalie.

"It was a disappointing outcome for United, but there were aspects of the game that were genuinely exciting," said Scholes, who was analysing the match alongside Rio Ferdinand for TNT Sports. "Hojlund, in particular, took his two goals brilliantly. His second goal was a joy to watch. It reminded me of Van Nistelrooy, and it was quite thrilling."

The two goals from Hojlund, which built on his goal against Bayern Munich two weeks ago, drew comparisons from United legend Scholes to his former teammate, Ruud Van Nistelrooy.

However, despite these exciting moments, United was unable to secure a victory. They suffered their sixth defeat in just 10 games this season and their second consecutive Champions League loss, which leaves them at the bottom of Group A with no points.

"There were moments in the game that showed promise," Scholes continued. "Mason Mount had a solid game, but he's eager to get a goal. Sofyan Amrabat is not a natural left-back and was caught out for the third goal. The centre-back partnership of Victor Lindelof and Raphael Varane was rather soft and weak, and the goalkeeper's performance left much to be desired."

One of the players facing heavy criticism for United's defeat is summer recruit Andre Onana, who signed from Inter Milan for €52.5m. His role in Mauro Icardi's winning goal for Galatasaray and a red card given to Casemiro have been widely criticised.

Scholes, too, expressed his dissatisfaction with Onana's performance. "I don't think the goalkeeper did well," he admitted on TNT Sports. "He just sat down. If you look closer, the ball is in front of Icardi's feet. He can't really do anything other than dink the ball. Just stand up and he catches it, and for some reason, he just dives out of the way."

Real Madrid's Jude Bellingham worth €125.4m, ranked third globally

In a twist of events, Jude Bellingham, the 20-year-old England international, has emerged as a force to reckon with in the football world. Despite stiff competition from Manchester City and Liverpool, Real Madrid succeeded in acquiring his services for an initial €103 million this summer. Although the hefty price tag may seem extravagant, his current performance justifies the investment.

The departure of Karim Benzema from Real Madrid to join Saudi Pro League team Al-Ittihad left a gaping hole in Los Blancos' attack. This gap was ostensibly filled by the loan signing of Joselu. However, it is Bellingham who has stepped up to fill Benzema's boots, exceeding expectations in the process.

Carlo Ancelotti, the manager of Real Madrid, has astutely utilised Bellingham in a more forward role than he played at Borussia Dortmund. The move has been a resounding success. With the freedom to attack at will, Bellingham has become the club's most influential and clinical player.

*Deployed at the tip of a midfield diamond in possession, Bellingham has been given full attacking freedom and he has been the club's most influential and clinical player.*

Bellingham's stellar solo strike against Napoli in Matchday Two of the 2023-24 Champions League group stages marked his eighth goal in just nine appearances for Real Madrid. Furthermore, he has also provided three assists for his new club. Of his eight goals, five have led to Real Madrid victories, underlining his crucial role in the team's success.

*The England international's sensational solo strike against Napoli in Matchday Two of the 2023-24 Champions League group stages was his eighth goal in just nine Real Madrid appearances, while he also has three assists for his new club too.*

Bellingham's late-game heroics have been instrumental for Real Madrid, with three of his goals coming after the 80th minute. Incredibly, his strikes against Getafe and Union Berlin were both winning goals scored in stoppage time.

*Bellingham has been clutch for Real Madrid and he is one of the best players in world football. His transfer value, therefore, naturally reflects that.*

FootballTransfers' in-house Expected Transfer Value (xTV) algorithm, a comprehensive football player valuation system, places Bellingham's value extremely high. The 20-year-old star of Real Madrid has an xTV of €125.4m, the third highest value in the world. Only Erling Haaland (€141.2m) and Kylian Mbappe (€136m) boast a higher xTV than Bellingham.

*The Real Madrid star has an xTV of €125.4m - the third-highest value of any player in the world. Only Erling Haaland (€141.2m) and Kylian Mbappe (€136m) have a higher xTV than Bellingham.*

Jude Bellingham shines in Real Madrid's Champions League victory over Napoli

The football world is abuzz with the fantastic performance of Jude Bellingham, arguably the most dynamic player in the sport at present. Bellingham has had a stellar start to his career with Real Madrid, showcasing his skills in their recent Champions League group stage match against Napoli.

The Serie A giants were initially in the lead, thanks to Leo Ostigard's 19th-minute header. However, the tide turned in favour of Madrid when Bellingham, the England international, seized control. He cleverly intercepted a misdirected pass from Giovanni Di Lorenzo and set up a flawless assist for Vinicius Junior, which levelled the score.

Bellingham's prowess didn't stop there. In the 34th minute, he secured possession of the ball just over halfway into Napoli's half and made a beeline for the goal. With ease, he navigated his way into Napoli's penalty area, outmanoeuvred Ostigard, and guided the ball past Alex Meret. His skilful execution won Real Madrid a 2-1 lead at half-time.

This victorious match marked Bellingham's eighth goal in his nine appearances for Real Madrid. In addition to his impressive scoring record, he has three assists to his name in Los Blancos colours.

As anticipated, Bellingham's remarkable solo goal received much acclaim.

"*Jude Bellingham can't be stopped.*" - Football Transfers (@Transfersdotcom)

"*Jude Bellingham - Ballon d'Or 2024.*" - Will Brazier (@willbrazier)

"*2-1 Real Madrid. JUDE BELLINGHAM HAS DONE IT AGAIN !!!!! HE IS UNSTOPPABLE !!!!!*"- 𝐀𝐅𝐂 𝐀𝐉𝐀𝐗 💎 (@TheEuropeanLad)

"*Man, Jude Bellingham is utterly ridiculous. Took out the whole Napoli backline by himself.*" - CFC Central (@CFCCentral3)

"*BELLINGHAM 🤯What a goal. What a talent.*" - UEFA Champions League (@ChampionsLeague)

"*Jude Bellingham goal & assist in the 1st half vs Napoli. He's outrageous. A true superstar in the making. So many kids are gonna grow up idolizing him.*" - Alex Goldberg (@AlexGoldberg_)

Bellingham's performance against Napoli solidifies his standing as one of the most promising talents in world football today. His unique combination of skill, speed, and strategic thinking has made him a force to reckon with on the pitch.
Live News

Join the conversation and have your say on Thailand news published on The Thaiger.
Thaiger Talk is our new Thaiger Community where you can join the discussion on everything happening in Thailand right now.
Please note that articles are not posted to the forum instantly and can take up to 20 min before being visible. Click for more information and the Thaiger Talk Guidelines.