Live Blog
Donald Trump tracker: Live news and updates on Trump's latest moves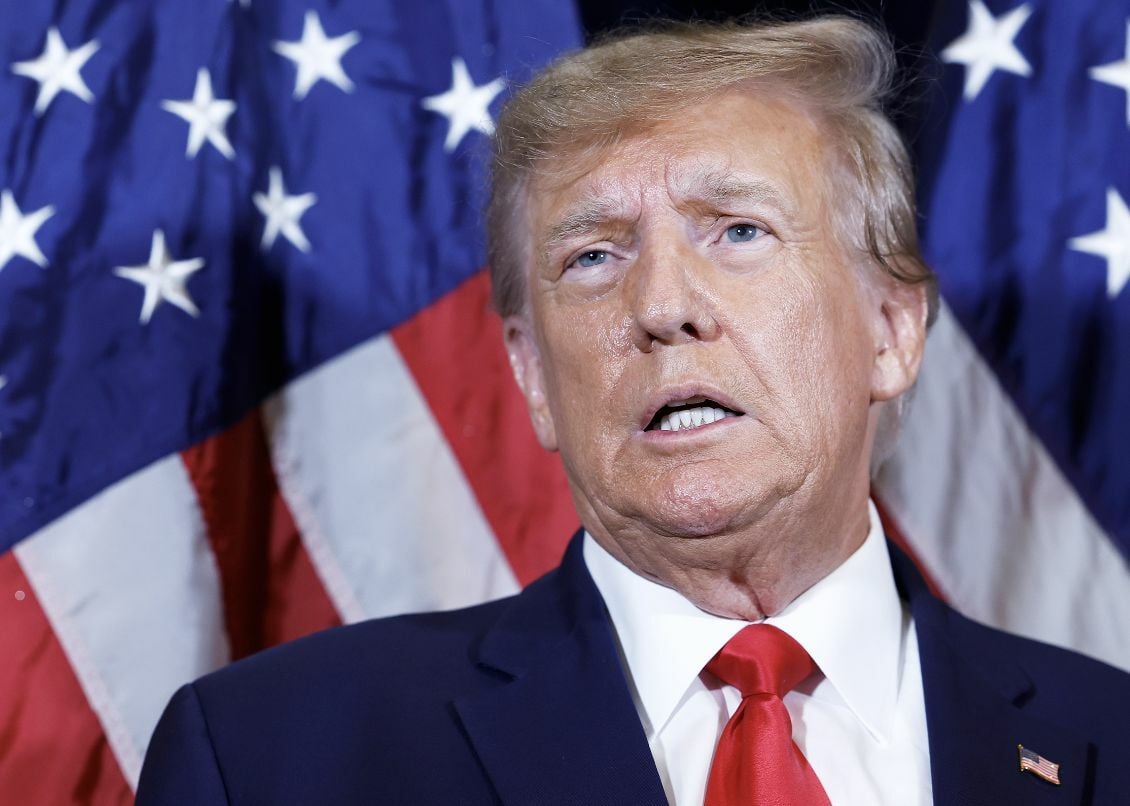 Welcome to your one-stop destination for all the latest news, updates, and insights on the 45th President of the United States, Donald J. Trump. As a prominent figure in the world of politics, business, and entertainment, Trump has been a subject of immense interest and discussion across the globe. Our dedicated page brings you the most comprehensive and up-to-date information on everything related to the former President, ensuring that you stay informed and engaged with the world of Trump.
From his early days as a real estate mogul and reality TV star to his tenure as the President of the United States, Donald Trump has been a polarising figure who has captured the attention of millions. Our news page covers a wide range of topics, including his policies, speeches, controversies, and achievements during his time in office. We also delve into his post-presidency activities, legal battles, and future political aspirations, providing you with a complete picture of the man who has left an indelible mark on American history.
Whether you are a supporter or a critic of Donald Trump, we've got a balanced and comprehensive view of his life, career, and impact on the world. Stay tuned for the latest developments, breaking news, and in-depth analysis of the former President.
So, bookmark this page, and let us be your go-to source for all the latest news and updates on Donald J. Trump. Stay informed, stay engaged, and stay connected with the world of Trump.
Trump's team pressures RNC to cancel future primary debates to beat Biden

The campaign team of Donald Trump is urging the Republican National Committee (RNC) to put an end to all forthcoming presidential primary debates. The team suggests that the RNC should redirect its resources towards defeating Joe Biden in the upcoming year. In a statement released late on Monday, leading Trump advisors echoed unfounded allegations about election fraud. They baselessly asserted that the Democrats are plotting to hijack the 2024 election. Despite the fact that numerous legal proceedings, investigations, and even his own attorney general found no evidence of fraud, Trump continues to insist that the 2020 election was stolen.

In the statement, high-ranking campaign advisors Susie Wiles, and Chris LaCivita recommended that the Miami debate scheduled for November, as well as all subsequent debates, be abandoned. They argued that any refusal to do so, along with other reasons not to cancel, would be perceived by the grassroots as a disregarding of their concerns about voter integrity. They claimed that national Republicans seemed more interested in aiding Joe Biden than in guaranteeing a safe and secure election.

The former president, who is also the current front-runner for the GOP nomination, has missed the initial two debates. Several of his competitors criticized him for his absence, and he has stated that he will not be participating in any future debates.

California's homelessness crisis: Court rulings hinder mayoral action efforts

San Francisco's Mayor, London Breed, voiced her opposition against a court decision that prohibits the removal of homeless encampments from outside a courthouse. At the same time, Governor Gavin Newsom, one of the nation's leading Democrats, was so enraged by a similar ruling that he contemplated exposing the judge's personal information.

Despite the billions of dollars invested by the state and local governments to address the homelessness crisis in California, they have made little progress. The issue has now moved beyond their control and into the courts. Several court decisions across California and other regions have forbidden cities from dismantling homeless encampments. This has put mayors in difficult positions as they face lawsuits accusing them of failing to act. For instance, Sacramento's chief prosecutor filed a complaint against the city. In Los Angeles, the city spent years in legal uncertainty after a judge ordered the city and county to provide shelter for every individual in a large encampment.

Despite the billions spent on providing shelter, over 100,000 Californians are still homeless. Many of them erect tents in public spaces, serving as a constant reminder of the state's lack of progress on the issue. This has become an increasing liability for leaders as voters' patience wears thin.

The rising number of homeless people is a national issue, putting Democratic mayors in difficult political positions across the country. For instance, in New York, an influx of migrants is challenging the city's right-to-shelter law. In the Mountain West, a 2018 decision prohibited an Idaho city from removing people from public spaces if there aren't any available beds. This has led to a slew of new rulings and injunctions.

This has created a precarious situation for California's elected officials who are under immense pressure to show progress yet complain about being restricted by the courts. They fear judges are pushing them into an impossible situation by limiting their power to manage a crisis for which they will be held responsible. They argue that the legal system is ill-equipped to handle the unique combination of high housing costs, rising drug addiction, and untreated mental health issues.

Critics argue that Democratic lawmakers are ignoring the constitutional rights of people who have nowhere to go. Jennifer Friedenbach, Coalition on Homelessness San Francisco's Executive Director, argues that a lack of shelter beds has put homeless people in an impossible situation. She accuses politicians of washing their hands of the issue while neglecting people's rights and misrepresenting data about the number of people declining shelter.

Some critics have even warned that Newsom's criticism of judges is dangerously close to the type of authoritarian rhetoric he condemns when it comes from Republicans.

However, Democratic politicians argue that their frustration towards the courts is justified. San Diego Mayor Todd Gloria, who championed a recently passed anti-camping ordinance, said in an interview that "law-degrading" judicial rulings were undermining public order.

Elected officials are left to navigate through a complex web of often-contradictory rules governing how and when they can move people from public spaces. Some of California's legal officials are urging the courts to act swiftly.

Newsom's administration asked the U.S. Supreme Court last week to consider a ruling that invalidated an Oregon city's anti-camping ordinances, arguing that confusing legal limits had "paralyzed" cities throughout California. The city of San Diego and Sacramento District Attorney Thien Ho have also urged the high court to weigh in.

Homelessness remains a top concern for voters who are looking for someone to blame — a dynamic that will play out in Breed's reelection bid next year, as enduring concerns about street conditions erode her poll numbers.

Ultimately, the power to assign blame — to courts, to mayors, or to housing policy — lies with the voters. "Politicians get punished all the time for stuff that's out of their control, but they're on the ballot," said Democratic political consultant Andrew Acosta. "The judge isn't on the ballot."

Pence rebukes Trump's 'indefensible' treason accusations against General Milley

On Tuesday, former Vice President Mike Pence rebuked Donald Trump, his former superior, for labeling retired General Mark Milley, the previous chair of the Joint Chiefs of Staff, a traitor. This was due to telephone communications Milley had with China during the turbulent closing months of Trump's presidency.

"Frankly, the manner in which Donald Trump described him in that social media post, associating him with treason and death, is absolutely indefensible," commented Pence during a national security and foreign policy forum at Georgetown University in Washington.

Pence, aged 62, also responded to the recent development of House Speaker Kevin McCarthy losing his position. He stated, "Disorder is never in America's best interest."

This event was the first in a sequence of discussions with potential Republican presidential candidates for 2024, a series co-organized by The Associated Press and Georgetown's Institute of Politics and Public Service.

In a recent social media update, Trump berated Milley over the phone calls, asserting that Milley had committed "an act so severe that, in previous times, the punishment would have been death. A war between China and the United States could have been the consequence of this treasonous act."

Milley, aged 63, has defended these calls as "routine" and "absolutely within the duties and responsibilities" of his role. Despite this, Pence chose not to comment on Milley's statement during his retirement speech that, "we don't pledge allegiance to a wannabe dictator."

Pence has established himself as a strong advocate for foreign policy within his party's crowded primary, advocating for "peace through American leadership" on the global stage. He has expressed strong criticism towards the increasing populist surge within the party, accusing competitors like Trump and his supporters of neglecting US allies.

"America is the leader of the free world. If we're not guiding the free world, then the free world is not being guided," he stated.

Trump campaign urges halt to future Republican primary debates

The campaign of Donald Trump has urged the Republican National Committee to halt all future presidential primary debates, arguing that the committee's resources should be directed towards defeating Joe Biden in the upcoming year. Late on Monday, high-ranking advisers to Trump reiterated unfounded claims about electoral fraud, alleging without substantiating evidence that Democrats are attempting to manipulate the 2024 elections. Despite numerous legal proceedings, investigations, and the assertion of his own attorney general that no fraud occurred, Trump continues to assert that the 2020 elections were rigged.

In their joint statement, senior campaign advisers Susie Wiles and Chris LaCivita expressed their belief that the scheduled debate in Miami this November and all subsequent debates should be cancelled. They argued that failure to do so would send a message to grassroots supporters that their concerns about the integrity of the voting process are not being taken seriously. They further claimed that national Republicans seem more interested in aiding Joe Biden than in ensuring a secure and fair election.

Florida Governor DeSantis declines potential VP role with Trump

Florida's Governor, Ron DeSantis, 45 years old, has declared that he would decline any offer to be Donald Trump's vice president if the opportunity arises. The revelation emerged during an interview on Fox News' Sunday Morning Futures.

DeSantis emphasized his intentions by stating, "No, I'm running for president." He further pointed out a significant potential pitfall in Trump's re-election campaign, which is the restriction that Trump cannot serve a full two terms in office. DeSantis emphasized the need for a candidate who can commit to serving two full terms.

Trump leverages court appearances for political comeback amid fraud trial

Donald Trump's recent court attendances have shifted from being mere distractions to becoming vital components of his potential return to the political arena. This shift was evident on Monday when the former president and leading Republican figure graced New York City for the opening day of a civil fraud trial. The trial accuses him of grossly exaggerating the value of his businesses.

Although Trump was not compelled to attend court on Monday and did not address the court, he nonetheless capitalized on the opportunity to make a media spectacle, ensuring he was back in the limelight. He once again portrayed himself as the victim of a politicized justice system, a stance that has solidified his position as the undisputed leader of the 2024 Republican primary.

The scene was reminiscent of previous ones where Trump reported to local courts and jails for processing of four criminal indictments since spring. Reporters once again lined up overnight to secure seats in the courtroom, news helicopters monitored his motorcade journey from Trump Tower to the lower Manhattan courthouse, and cable networks broadcasted the spectacle live on TV.

The event highlighted Trump's skill in leveraging his legal issues to advance his political ambitions. This court appearance on Monday garnered more attention than a typical campaign rally would have. It also provided Trump with a renewed chance to agitate his base and boost his fundraising by alleging that the cases against him are merely a concerted effort to undermine his campaign.

Continued...

Trump confirms attendance for day three of trial under stricter timetable

In the late afternoon, as Donald Trump departed from the courtroom, he informed the gathered press that he intends to be present for the third day of the trial, set for Wednesday. The court sessions are scheduled to start at 10am ET and continue until 4.30pm, with an allocated time for lunch. Judge Arthur Engoron has expressed intent to enforce stricter control over break durations for the remainder of the trial. The judge initiated the trial with a firm commitment to adhere to a set timetable, conducting court proceedings from Monday to Thursday within the specified timeframe.
Live News

Join the conversation and have your say on Thailand news published on The Thaiger.
Thaiger Talk is our new Thaiger Community where you can join the discussion on everything happening in Thailand right now.
Please note that articles are not posted to the forum instantly and can take up to 20 min before being visible. Click for more information and the Thaiger Talk Guidelines.