Andrew Tate news tracker: Live news, gossip and updates from the Internets most controversial person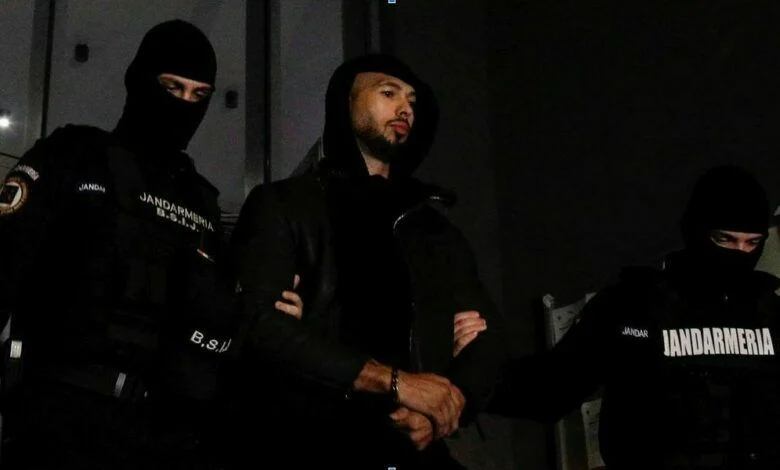 Andrew Tate, a name that has become synonymous with controversy, success, and an unapologetic approach to life. Born in Washington, D.C., in 1986, to an American father and British mother, Tate has lived a life that could easily be the plot of a Hollywood blockbuster. A former kickboxing world champion, reality TV star, and now a successful entrepreneur, Tate has become an influential figure for many young men across the globe.
Tate's influence on young men is undeniable. His no-nonsense approach to life, coupled with his relentless pursuit of success, has inspired many to follow in his footsteps. Through his various online platforms, he shares his insights on business, fitness, and relationships, often with a healthy dose of sarcasm and wit. His positive messages of self-improvement and determination have resonated with countless individuals seeking to better themselves.
Andrew's brother, Tristan Tate, is also a key figure in his life. The two brothers have forged a strong bond, both in and out of the ring, and have built a successful business empire together. Their shared experiences and mutual support have undoubtedly contributed to their individual successes.
However, not everyone is a fan of Andrew Tate. His outspoken views and unapologetic demeanor have made him a target for the left. Critics argue that his views on masculinity and gender roles are outdated and harmful, while others simply dislike his brash and confrontational style. Despite the criticism, Tate remains steadfast in his beliefs and continues to share his message with those who are willing to listen.
In a recent turn of events, Andrew and his brother found themselves in a Romanian prison, accused of various crimes, including blackmail, rape, sex trafficking and extortion. While the details of his incarceration remain murky, the Tate's have since been released on house arrest and maintain their innocence. This experience has only added to the enigmatic aura surrounding him and further fueled the debate around his character.
No doubt Andrew is a complex and polarizing figure. His influence on young men is significant, and his positive messages of self-improvement and determination have undoubtedly changed lives for the better. However, his controversial views and unapologetic style have also earned him a fair share of detractors. Regardless of one's opinion on Tate, it is impossible to deny the impact he has had on the lives of many.
What is Tristan Tate's net worth?

Renowned social media influencer and entrepreneur, Tristan Tate, is said to possess a staggering personal wealth of around £8.4 million. With a loyal following exceeding 750k on Instagram, Tate is no stranger to showcasing his luxurious lifestyle, featuring an array of sports cars, private jets and exotic vacations. Interestingly, he shares a familial connection with the rather controversial figure, Andrew Tate, known for his misogynistic beliefs. The brothers made headlines recently after being incarcerated for three months on charges of human trafficking, only to be released from prison a few days ago. As an experienced journalist of 15 years, having worked with prominent publications, my reporting style embodies a balanced blend of professionalism and sarcasm. While I may lean center-right in my political views, I maintain a respectful attitude towards the perspectives of the left.

This blog is now paused

It seems we are officially on an Andrew Tate appreciation hiatus. Fans of the social media celebrity may now experience radio silence as he takes the time to regroup and evaluate his life choices. For those who can't bear the thought of losing touch with Tate's daily pontifications, fret not, for one can always check here for the latest updates on everyone's favorite controversial moneymaker. For the uninitiated, you may be wondering who Andrew Tate is and why we must hold vigil as we await his return. So, let's ponder on the existence and popularity of Mr. Tate, a multifaceted personality who, in a short span, has garnered a colossal following, entranced viewers with his antics, and sparked heated debate on both sides of the political spectrum. In the realms of reality TV, Andrew Tate first made a splash when he found himself in a hot tub, dressed in a suit jacket and discussing the inner workings of IQ tests. How bizarre! But, before we could learn more about him, our dapper man-about-town was gone, evicted from the Big Brother house for a video that came to light, painting him in a less-than-ideal hue. Inevitably, the show went on without him, as it tends to do. After a foray into the world of reality television, Tate took to social media like a duck to water. He captured the hearts and minds of a generation who admired his brash nature and razor-sharp wit. With a particular penchant for staring into the abyss of controversy, Tate helmed a wave of discussions on topics ranging from gold-digging women to the plight of the working class. Not content with merely being a social commentator, Andrew Tate decided to venture into the world of business, with ventures ranging from self-help courses to life coaching. With a healthy disregard for traditional methods, he amassed a small fortune and built his personal brand alongside it. An essential part of Tate's allure, of course, lays in his undeniably polarizing persona. Fans on the right embrace his free spirit and no-nonsense approach, while the left-leaning crowd decries him as a provocateur, perpetuating social divides. Throughout it all, Andrew Tate has managed to remain a controversial figure in the public eye. Thus, as we enter this solemn period of Andrew Tate appreciation hiatus, we must brace ourselves for a world temporarily devoid of his presence. Who knows what new ventures and kerfuffles will arise upon his return? Whatever it is, one thing's for certain: the world will be watching with bated breath.

Tate shows off Bugatti e-scooters after cops seize supercars

In a truly spectacular display of resilience in the face of adversity, Andrew Tate, a self-proclaimed misogynist, has taken to Twitter to flaunt his latest acquisition: a fleet of Bugatti e-scooters, with a total value of £10,000. This comes after the seizure of his collection of supercars by the authorities. Clearly unfazed by his recent house arrest, Tate shared a video of himself navigating his compound on one of the eco-friendly scooters. The resourceful gentleman can be seen sporting nothing more than a pair of blue shorts, no doubt as a symbol of his unwavering commitment to his cause. In the accompanying caption, he proclaims, "They raided my house and took all my cars so I bought 10 new Bugattis." Indeed, it seems that this man will not be deterred by the petty inconveniences of legal repercussions, as he demonstrates his unshakeable resolve through the acquisition of these environmentally conscious vehicles. Admittedly, one must respect the tenacity with which he has responded to his predicament. Though his views may not align with those of the majority, his dedication to the pursuit of personal satisfaction is, in its own right, somewhat commendable.

What is Andrew Tate's kickboxing record?

Andrew Tate, a renowned kickboxing champion, boasts an impressive ISKA record of 76 victories and 9 losses. Known by the moniker "Cobra," Tate first entered the limelight in 2011 when he secured the ISKA World Full-Contact Heavyweight title. In a display of his unparalleled skills, Tate went on to claim the ISKA Full-Contact Light Cruiserweight championship in 2013. The following year, he achieved yet another remarkable accomplishment, becoming the Enfusion World Champion. The most recent battle on Tate's record took place in 2020 when he faced off against Cosmin Lingurar. While his kickboxing career may have taken a back seat, Tate has found a controversial niche in the online world. Offering questionable guidance with a tinge of misogyny, Tate caters to a specific audience of men seeking a toxic brand of advice.

Andrew Tate and the Matrix

For those well-versed in conspiracy theory, Andrew Tate should need no introduction. A man of many hats, he has been known as a self-help guru, ex-reality TV star, and kickboxing champion. Tate's latest claims have his followers' ears perking up once again. Brace yourselves, for according to the ever-enlightened Tate, we're all just pawns in a literal game of chess, made to dance to the tune of the "globalists" who hold the remote control. Intrigued? You should be. This idea of the world being nothing more than a grand illusion is not a new one. Rather, it is the favorite poster child of paranoid ideation for centuries. The concept really caught on with the 1999 movie The Matrix, which eloquently described our lives as a sophisticated computer simulation, covertly controlled in order to keep us paralyzed from the actual reality that exists outside our false perception. Tate has long been fascinated by the idea of The Matrix. According to his philosophical views, we are captive beings, living in a digital dream world, with no real awareness of the masterminds pulling the strings behind the scenes. He seems to have found the term "globalist" as a befitting boogeyman for these elusive puppeteers, who exert their influence through politics, media, and powerful organizations that shape our thoughts, desires, and decisions. Now, skeptics may smirk at this idea, relegating it to the recesses of Hollywood fantasy. Granted, the idea of living in a reality curated by a secret and malevolent force may seem fantastical. But it's important to consider that there may be merit to some of Tate's arguments, albeit not to the extent he espouses them. Upon closer examination, we see that our world is indeed influenced by powerful forces. The media and political landscape are manipulated to keep the population in check. The Matrix may not be as ludicrous a scenario as it seems at first glance - perhaps without the hi-tech computer simulation angle, but strikingly accurate in its portrayal of societal control. So, as we go about our lives, browsing through social media or consuming the latest breaking news, it might be worth pondering how much of our reality is truly our own, and to what extent it is crafted by the powers that be. Maybe, just maybe, Andrew Tate has a point worth considering when he asserts that we are all unwittingly living in a simulation. After all, who doesn't love indulging in a little conspiracy theory from time to time?

Tate's main conductors of income

In the opulent halls of his Romanian estate, Tate has crafted a thriving enterprise revolving around the lucrative world of webcamming. This business venture stands as just one of his many ambitious pursuits to generate wealth, intrigue, and perhaps even controversy. Among the array of undertakings on Tate's impressive résumé is the establishment of Hustler's University – a membership service that promises eager subscribers the secrets to success and the ticket to accumulating riches. The allure of such an institution might appear enticing, albeit somewhat questionable. But why stop at a virtual academy for aspiring entrepreneurs? Tate has also delved into the cryptic realm of private members clubs with The War Room. Here, exclusive access is granted only to those willing to part with their precious cryptocurrencies as a token of entry. One can only imagine what clandestine knowledge and dealings are shared within the confines of this elite digital sanctuary. As if his ventures weren't sufficiently diversified, Tate's entrepreneurial spirit extends to the realm of casinos. Romania, a land rich with history and culture (and perhaps opportunistic business pursuits), serves as the stage for his gambling endeavors, fueling the glitz and glamour of high stakes risk-taking. And so, this seasoned English journalist – having navigated the murky waters of politics and current events, all whilst maintaining a professional yet unabashedly sarcastic demeanor – can't help but express a mixture of admiration and bemusement at Tate's colorful enterprises. Whether one aligns with the center-right, left, or somewhere in between, the intrigue and audacity of Tate's pursuits surely captivate the imagination.

Did Andrew Tate have a hair transplant?

It seems that even one's hairline isn't immune to the test of time, regardless of fame and fortune. Renowned self-proclaimed "internet king" Andrew Tate appears to have waved the white flag in his battle against male pattern baldness. In a bold move back in 2019 that's only recently come to light, Tate succumbed to the powers of modern medicine, undergoing follicular unit extraction (FUE) to address his thinning mane. The procedure involves the meticulous extraction of individual hair grafts from a chosen donor area – presumably, one that doesn't resemble a barren wasteland – before these tufts are skillfully reintegrated into the sparser regions of one's scalp. For the uninitiated, male pattern baldness, also known as androgenetic alopecia, is a cruel fate that sees one's flourishing follicles transformed into a dwindling, receding mass over time. The merciless condition can strike anyone, and Tate merely joins a long list of casualties in our world of celebrity and status-seekers. One can only imagine the relief experienced by Tate post-treatment, liberated from the hair-raisingly infuriating reality of his once-deserted scalp. And as a self-made entrepreneur, chess master, and former kickboxing world champion, there's no shame in subduing the relentless war against hair loss with swift surgical intervention. After all, in our age of endless technological marvels, why not make the most of what the FUE procedure can provide? One might even argue that it's simply embracing available innovation and solutions. So, here's to a new and gloriously full-headed chapter in the life and times of Andrew Tate, as he shows relentless male pattern baldness that, sometimes, the underdog can triumph in the hairiest of situations.
Live News

Join the conversation and have your say on Thailand news published on The Thaiger.
Thaiger Talk is our new Thaiger Community where you can join the discussion on everything happening in Thailand right now.
Please note that articles are not posted to the forum instantly and can take up to 20 min before being visible. Click for more information and the Thaiger Talk Guidelines.