The Dream Hotel and Beach Club in Layan, Phuket is up for sale.
On offer is BOI (Board of Investment) operating properties (hotel and club) which opened in 2016. Under the BOI license 100% foreign ownership is allowed.
The hotel has 174 keys including four villas.
While currently operating under a license agreement with Dream, vacant possession is available. Brokering the sale is Savills Hotels.
Interested parties can contact Julian Nouri in Singapore at [email protected]
Story from c9hotelworks.com
BACKGROUND
The Dream brand constructed their hotel about 2 kilometres back from Layan Beach but also operated the Dream Beach Club at the old Nikki Beach Club after the American Nikki franchise pulled out of Phuket in September 2015 after opening only 18 months before.
Marketed as an uber-luxury beach club experience the Nikki Beach prices of drinks and food reflected the promise and attracted only a small coterie of hi-end, mainly Russian visitors, and other international guests. There were rumours of disputes with the property's landlord and some controversy when pictures surfaced of guests, including actor Kellen Lutz, riding baby elephants around the pools on the property. Locals also frequently complained about the constant doof-doof disturbing the calm at the north end of Layan Beach.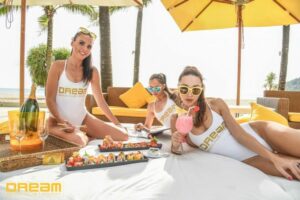 The Dream brand took over the vacant club, bought some new yellow umbrellas and had high hopes for the beach-end of it's Dream expansion into Phuket.
A big storm in 2017 closed the beachclub down for several months but it was open again for the 2017/18 high season and has been operating ever since with more yellow umbrellas and plenty of social media photos boasting girls in white swimsuits draped over various part of the property.
The Dream Hotel and Spa also had a minor dispute with staff over terminations around April 2016.
PHOTOS: Facebook/Dream Beachclub, Facebook/Dream Hotel & Spa
- Tim Newton