Worries remain over government's "Phuket Model"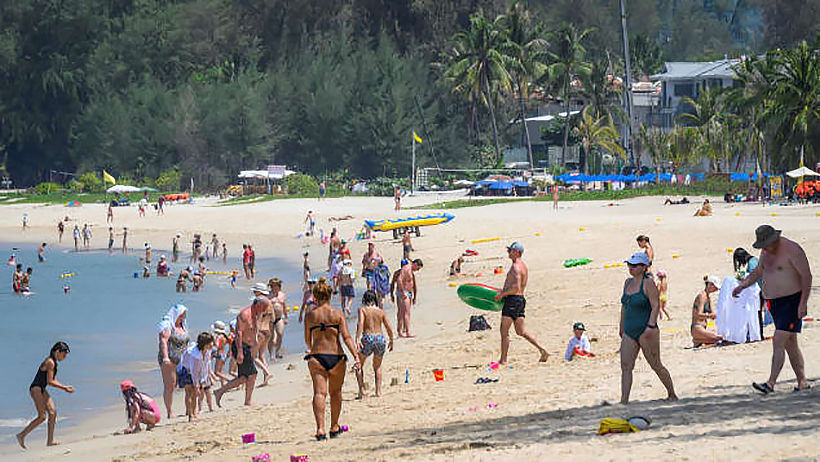 As the government has gradually eased Covid-19 restrictions, the tourism sector has high hopes for a good recovery. The resort island province of Phuket is eager to reopen to foreign tourists to help stimulate the local economy, which has been hard hit by the pandemic. The "Phuket Model" has been proposed to reopen the province in October in a "new normal" manner. But the government's efforts are creating doubt about the health system's readiness to curb a potential second wave of the virus.
It's expected that foreign tourists will be allowed to visit Thailand from October 1 onward, and about 100,000 of them will likely come. If given the green light by the government, the Phuket Model will be trialled in 6 regions across the country.
Tourism and Transport Minister Phiphat Ratchakitprakarn says Phuket will be a pilot area where foreign tourists are allowed to travel. Under the plan, foreign tourists will be allowed to stay in a designated area of a 1 kilometre radius on the island for 14 days before they can travel to other areas in the province, provided they test negative for the virus. If they want to visit other provinces, they'll have to stay in quarantine there for another week.
The president of the Phuket Tourist Association says the province's private sector has proposed its own "4Ts", instead of the Phuket Model, to welcome back foreign tourists, but that reopening Phuket doesn't mean allowing general foreign tourists in.
The "4Ts" are Target (setting clear targets for tourist numbers), Testing (screening and testing for the virus at the airport), Tracing (using an application to keep track of every tourist in real time) and Treatment (sufficient health workers and medicine to treat Covid-19 patients).
"We will allow only foreigners who used to stay in Phuket and now want to come back and those keen on staying for a long time. We intend to accept only a small group, not everyone."
He voiced disagreement with the government's model, saying Phuket must protect and serve local people first. At the peak of the outbreak, Phuket had the highest rate of infection of all of Thailand's 76 provinces.
"The private sector wants to accept only a small number of foreign tourists who must be screened and tested until it is certain that they are completely free from the virus."
The mayor of Phuket's Patong municipality, the red light district and the island's hardest hit area, said:
"We must admit that we need to allow foreign tourists in but most of the people here are not very confident in the government's measures. We are not sure if they will be strictly implemented but we must be open. People are having a tough time. Businesses have shut doors. We do not want a lot of money, we just want to get by and be healthy."
The president of the Phuket Chamber of Commerce agreed, saying Phuket is ready to welcome back tourists but its idea of reopening is different to that of the tourism and sports minister.
"We want foreigners to travel to Thailand to help generate income, but we disagree with the idea of allowing them to travel in Phuket or Thailand for just 5-7 days."
He suggested the first group of foreigners allowed in during October should be those who plan to stay on the island for a long time, including foreign students, medical tourists and those with families or businesses in the country.
Phiphat revealed more information about the planned reopening of foreign tourism yesterday. The cabinet on Tuesday approved a new tourism agency, "Thailand Longstay", which will market and organise all trips for tourists entering Thailand from approved countries which will be subject to demanding criteria. The new entity is to be 30% owned by the Tourism Authority of Thailand. He said the first group of approximately 200 tourists from Australia and New Zealand will arrive in mid-September. Visitors will be required to have a Covid 19 test, a medical certificate and US$100,000 in health insurance, specifically covering Covid-19 treatment.
SOURCES: Bangkok Post | Thai Enquirer
📱 Download our app on Android or iOS for instant updates on your mobile
📧 Subscribe to our daily email newsletter
👍 Like/Follow us on Facebook
🔔 Subscribe to or Join our YouTube channel for daily video updates
Patong official denies wastewater to blame for macro algae bloom along beachfront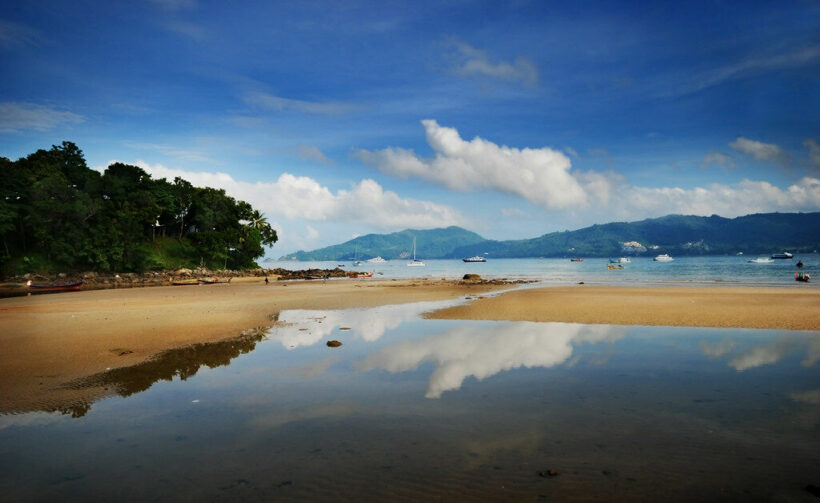 A Patong official is denying that wastewater flowing into the beach's bay is causing a large influx of algae, leading to mass amounts of red sea urchins being stranded on the shore. Nattawut Thepthon, Chief of the Patong Municipality Sanitary Works Division told The Phuket News that the appearance of sea urchins is a natural phenomenon.
He went further by saying the algae form directly from wastewater, refuting that it is a natural phenomenon. Nattawut says the wastewater has been treated, which would not spur the growth of algae. He went on to say that it is regularly tested for contaminants.
"We collect and test samples of the treated wastewater every week, and the result has shown that the water has passed the standard required for treated wastewater."
"After the Covid-19 pandemic began, only a small amount of wastewater has been sent to our treatment plant, as we have only a small number of tourists. much smaller than normal."
"As for many urchins being washed ashore, I have searched the internet to find out the cause of the phenomenon. The algae need nutrition, good weather and suitable sunlight to grow well. Right now, it is summer season, so there is good sunlight for the algae. For the nutrition, I believe that Patong Beach is on a closed bay which is full of food for algae. This is all my personal idea."
But Nattawut did not voice concerns over the impact of untreated wastewater from homes and businesses flowing into the bay that are not connected to the municipality's sewerage system.
SOURCE: The Phuket News
📱 Download our app on Android or iOS for instant updates on your mobile
📧 Subscribe to our daily email newsletter
👍 Like/Follow us on Facebook
🔔 Subscribe to or Join our YouTube channel for daily video updates
Rescue workers remove 4 metre long python from Patong resort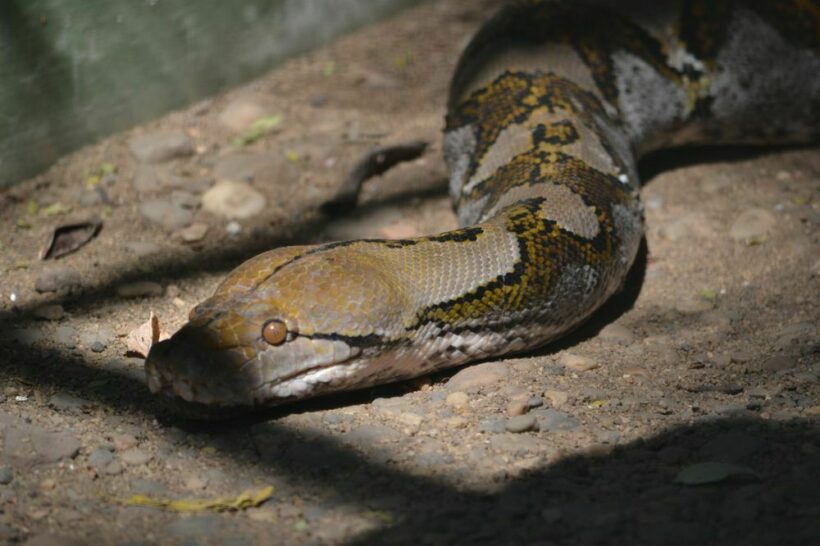 Rescue workers from the Kusoldharm Foundation branch in Patong, Phuket, say they have removed a 4 metre long reticulated python from a resort in Karon. The python was estimated to weigh around a whopping 20 kilograms.
"It was a big old boy. It took all my strength to lift it. A beautiful 4 metre python weighing more than 20kg (approximately) was having a nap behind the building."
With some help from fellow rescue workers, Modell says he soon held the python safely and they removed it from the resort.
"These are beautiful snakes, the orange colour of their eyes are stunning. Although they are non-venomous, I would not attempt to remove a snake of this size alone. One wrong move and I would be in life-threatening trouble."
"The snake bites its prey with its rows of inverted teeth up to and including 52! Then it wraps its body around slowly suffocating its prey! Yes it could easily kill me. That's why we ideally have a minimum of two more people to help deal with it."
Modell also told The Phuket News that he disagreed with the Director of the Khao Phra Thaew Natural and Wildlife Education Centre, who announced last month that all snakes caught in homes would be taken off the island.
"King cobras should not be removed from their natural habitat. The king cobra is the predator snake of the snake world. They eat all the other snakes; monocled cobras and other snakes that do all the biting."
"They do not attack people because they are just not interested in you. They know they can't eat you, so they do not even want to waste the venom."
"Removing king cobras from the wild allows the smaller problem snakes to get bigger, to grow until they become a problem."
SOURCE: The Phuket News
📱 Download our app on Android or iOS for instant updates on your mobile
📧 Subscribe to our daily email newsletter
👍 Like/Follow us on Facebook
🔔 Subscribe to or Join our YouTube channel for daily video updates
Why do foreign men like Thai women? A Thaiger vlogger wants to know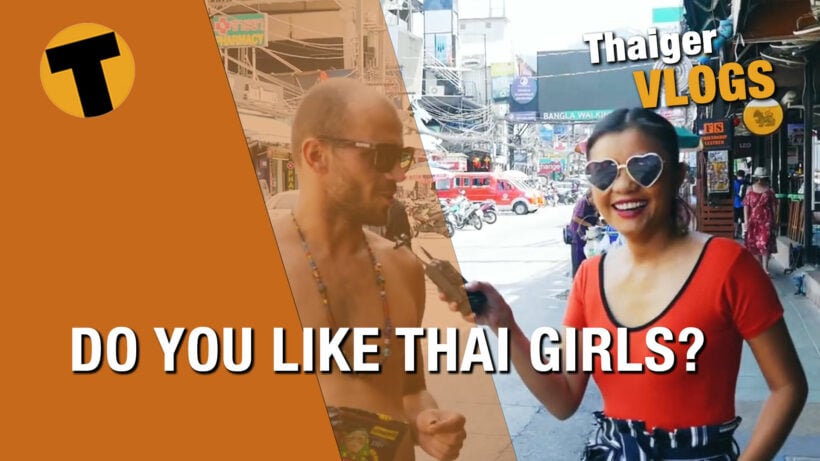 Why do foreign men like Thai women? Bibi, a vlogger for The Thaiger, went out to the Patong walking street in Phuket (before Covid-19) and asked foreign men "do you like Thai girls?"
📱 Download our app on Android or iOS for instant updates on your mobile
📧 Subscribe to our daily email newsletter
👍 Like/Follow us on Facebook
🔔 Subscribe to or Join our YouTube channel for daily video updates