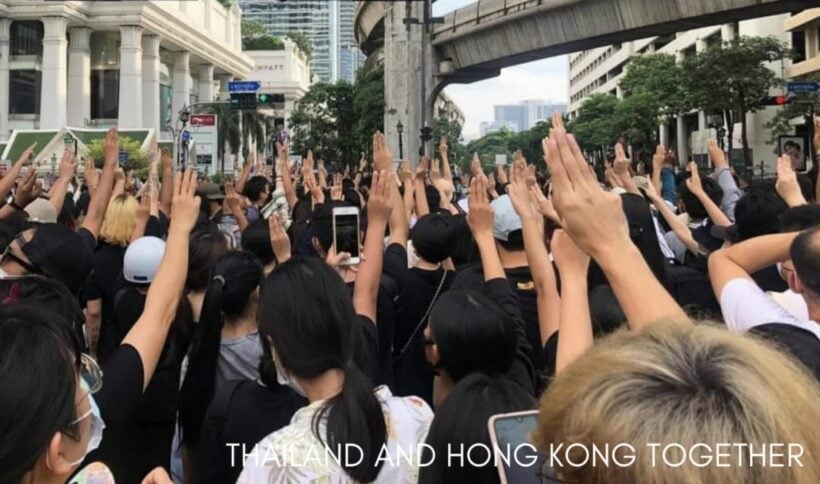 Links to continue to grow between the core Hong Kong protest movement and the current Thai protests. The alliance is being called "The Milk Tea Alliance"…milky orange-coloured sweet tea is popular in both Thailand and Hong Kong.
Democracy supporters in Hong Kong, Thailand and Taiwan are sharing their criticisms and demands for change against "regimes" they claim are stymying attempts at democracy and closing down freedoms of speech. 'Thailand and Hong Kong Together' is a new Facebook page which is helping to draw attention to the 2 protest movements and help the Thai protesters with donations of supplies and protection during the current protests.
The site has already gathered some 20,000 followers and is headlined "Can You Hear The People Sing", a reference to the freedom anthem from the musical Les Miserable.
The Bangkok Post reports that around a dozen Hong Kong's pro-democracy protesters were rallying outside the Thai consulate in Hong Kong last Monday showing solidarity with their protest peers in Thailand.
Holding banners bearing the message "Stand with Thailand", the small group gathered outside the Thai consulate on October 19. Joshua Wong, one of the leaders of Hong Kong's pro-democracy movement, was in the group. They chanted displaying the 3 finger salute gesture borrowed from the movie 'Hunger Games', which has become the symbol of the protest in Thailand.
Wong says that while people in Thailand continue to demonstrate, the "Milk Tea Alliance" should stand with them.
"We shall weather the authoritarian storm and reclaim our freedom, irrespective of the cost, the pain and tears ahead of us."
Prominent Thai activist Netiwit Chotiphatphisal says that the Thai and Hong Kong protesters are facing similar challenges and can share their experiences, and tactics.
"Protesters in Thailand understand the importance of protecting themselves with hard hats and umbrellas, which are both iconic protest gear used by protesters in Hong Kong."
"We also feel the threat from China in Thailand, so we know how people in Taiwan and Hong Kong feel. Even though the Milk Tea Alliance is an abstract coalition, we are now connected by a common vision."
"The protesters are trying to make the Thai government look ridiculous and ruthless at the same time."
Netiwit was referring to the Thai protesters almost intuitive use of social media and messaging as they play cat-and-mouse with Thai authorities and police, moving their protest locations and announcing fake locations for rallies.
SOURCES: Bangkok Post | Deutche Wella
Poster developed by Hong Kong protesters comparing their "Quest for democracy"…