Sri Panwa welcomes returning Michelin-starred chef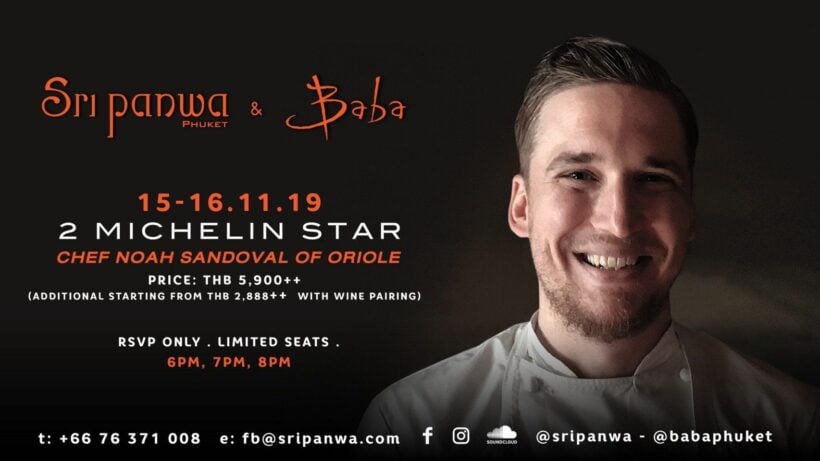 Sri Panwa, a Phuket luxury resort famous for stunning ocean views, welcomes back Chicago's two Michelin-starred chef Noah Sandoval of Oriole restaurant to display his contemporary American cuisine again on November 15-16.
"We're so thrilled to be collaborating with chef Noah to bring this truly special two Michelin-starred dining experience to our discerning guests in Phuket," Sri Panwa's managing director says. "The quality of contemporary American cuisine he wowed us with last year is unlike any experience one can find in this part of Thailand. To once again bring a chef of this calibre to Sri Panwa is an exhilarating experience."
Oriole was awarded two Michelin stars in its first eligible year and has retained them since. Sandoval was recognised as Food & Wine Best New Chef, received three semi-finalist James Beard nominations, and been named Chef of the Year by the Chicago Tribune.
Sandoval says he is "…excited to come back to Phuket and showcase some of Oriole's signature dishes" at Sri Panwa "The guests were such a pleasure to cook for and I'm looking forward to incorporating incredible Thai local ingredients," he said
Available for just two days and only for dinner, guests will get to witness Sandoval's boundless creativity and unmatched execution. The six-course tasting menu dinner will begin at 6pm, featuring the finest local and imported ingredients, and showcasing Sandoval's philosophy: "No tricks. Just imagination, sweat and an intimate understanding of flavour."
The menu is available at 5,900 baht (about$195 US dollars) per person, excluding drinks, with 2,888 baht added for a for wine pairing experience, or 3,888 baht for premium wine pairing.
For reservations or inquiries, please contact Baba Soul Food at +66 7637 1000.
SOURCE: nationthailand.com
Want more from the Thaiger family?
📱 Download our app on Android or iOS for instant updates on your mobile
📧 Subscribe to our daily email newsletter
👍 Like/Follow us on Facebook
🔔 Subscribe to or Join our YouTube channel for daily video updates
Can foreigners get vaccines in Thailand? | VIDEO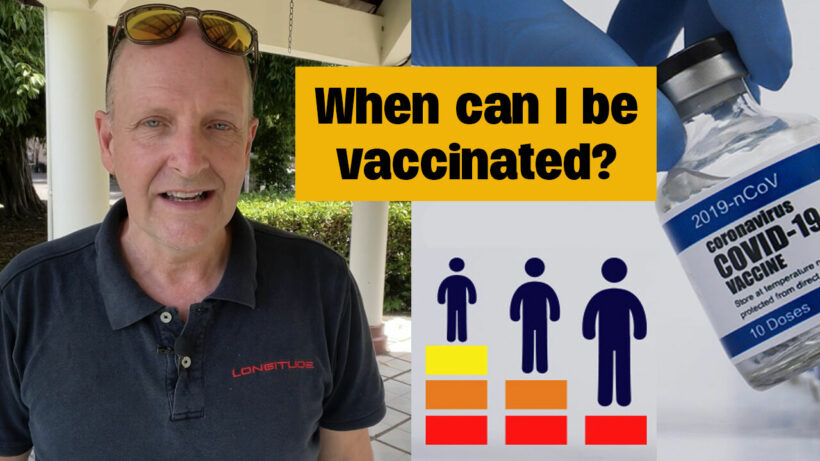 There is a lot of confusion about the vaccination of foreigners in Thailand. Tim Newton tries to paint the current picture for you. Thailand reaching a 70% level of vaccination, I think is more wishful thinking than anything else. Even in the US it appears very unlikely they will be able to reach the 70% immunisation level. In some states they're now offering free beers and other inducements to get people to come in for a free vaccine.
In Thailand you can add additional layer of superstitions, religious convictions, local conspiracy theories and just general distrust of the government to the hard rump of anti-vaxxers. Poll after poll shows that there is a chunk of Thais that just won't get vaccinated… for whatever reason. There is obviously a lot of confusion surrounding foreigners trying to get some clarity about when they can expect to be vaccinated.
There also appears to be a small exodus of foreigners who are just fed up with the vaccination vassilation in Thailand and are heading back to their home countries to source a free vaccine.
Want more from the Thaiger family?
📱 Download our app on Android or iOS for instant updates on your mobile
📧 Subscribe to our daily email newsletter
👍 Like/Follow us on Facebook
🔔 Subscribe to or Join our YouTube channel for daily video updates
Foreigners can register for vaccination next month (next week for some on Phuket)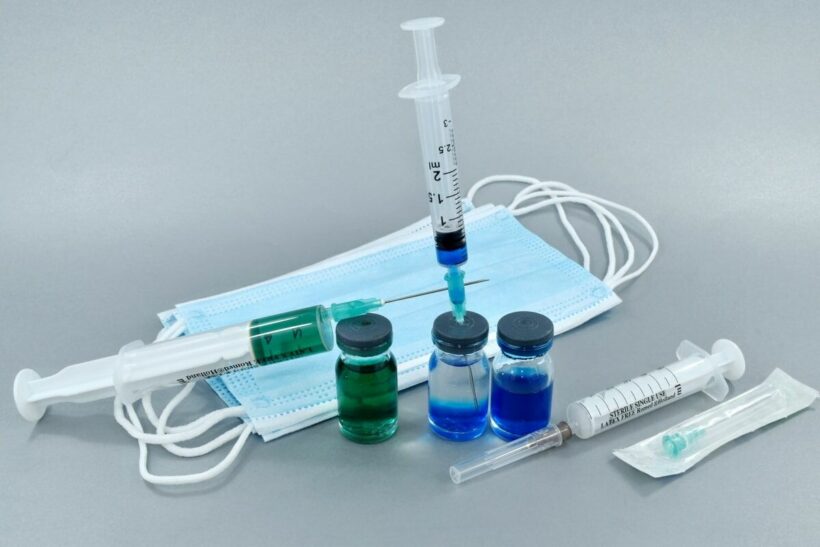 But when they will actually be vaccinated remains up in the air. While a Public Health Ministry spokesperson declared just days ago that Covid-19 vaccines were reserved for Thais, not expats, the government now says that statement was taken out of context.
Yesterday, Opas Kankawinpong from the Disease Control Department confirmed that foreigners living in Thailand would also be vaccinated.
"Anyone living in Thailand, be they Thai or foreign, will be able to get the vaccine if they want it. No one is safe until everyone is safe."
Opas went on to say that the goal of herd immunity means vaccinating at least 70% of those living here – both Thai and foreign. He says there is an estimated 3 million foreign nationals living in the Kingdom long-term, pointing out that a significant proportion of the migrant worker population in Samut Sakhon has now been vaccinated. The central province was the epicentre of a second wave of infections in December, centred around its fish markets and factories.
According to the Bangkok Post, Opas then went on to say foreigners who want to be vaccinated can contact their embassy. However, judging by the comments on social media, no foreigner who has tried this has had any success. Both the British and Australian embassies have told their citizens that they are covered under Thailand's vaccination rollout – and that's that.
Opas says priority for foreigners will be accorded in the same way as it is for Thais. The eldery and at-risk, as well as those living in high-risk areas and people with underlying conditions, will be first in line. Inoculation is expected to be carried out using the locally-produced AstraZeneca vaccine.
Meanwhile, Pensom Lertsithichai from the Foreign Ministry says that from next month, foreigners should be able to register to be vaccinated.
"The ministry is trying their best to help foreigners, so they can either use the mobile app or contact hospitals directly and register to be vaccinated."
Phuket is a step ahead, with the Phuket News confirming that foreigners working on the southern island can register to be vaccinated from next Tuesday. However, they must be in possession of a valid work permit and have their employer register them on the "Phuket Must Win" website.
Phuket expats without a work permit will be included in the following phase. The island is in a race to vaccinate 70% of its population in order to re-open to vaccinated international tourists from July.
SOURCE: Bangkok Post | The Phuket News
Want more from the Thaiger family?
📱 Download our app on Android or iOS for instant updates on your mobile
📧 Subscribe to our daily email newsletter
👍 Like/Follow us on Facebook
🔔 Subscribe to or Join our YouTube channel for daily video updates
Thailand plans to include 3 million foreigners in mass vaccination program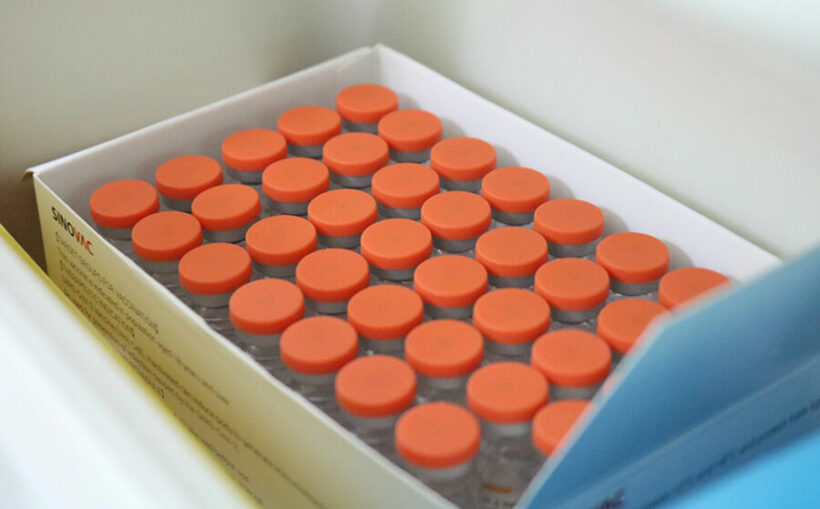 The Thai government says it is planning on including 3 million foreigners in its mass Covid-19 vaccination program in an effort to protect the entire population. Opas Kankawinpong, the head of the disease control department, has confirmed the news, saying that anyone can get the vaccine if they want it.
"Anybody living in Thailand, whether they be Thai or foreign, if they want they vaccine, they can get it. No one is safe until everyone is safe."
But the announcement is also peppered with caveats, including that foreigners will have to wait their turn. (The Thaiger will publish all the latest information from the government about foreigners registering for vaccines)
Expats have been voicing their concerns in the past few weeks about, what they say, is a lack of public information, confusion over private vaccines, and problems registering on apps. The mass immunisation program hasn't started yet, but the government is sticking to its previous announcement that major tourism areas will open in July to vaccinated travellers.
The plan was contingent upon 70% of local residents being vaccinated in order to achieve a herd immunity to the virus. But 50 million Thais and 3 million foreign residents would need to be inoculated over the next few months.
Anxiety over the massive amount of people who have yet to receive even their first dose is growing, as the country deals with its largest outbreak of Covid since the pandemic began. Reports of only frontline workers as having received the vaccines from the stock of 2.5 million Sinovac vaccines, have left critics saying that the government's slow vaccine rollout is not helping the latest wave.
Meanwhile, another 1 million Sinovac Covid-19 vaccine doses from China arrived in Thailand while another batch of 500,000 doses will arrive next week. The Government Pharmaceutical Organisation formally accepted the delivery at Bangkok's Suvarnabhumi Airport this morning.
More than 2/3 of deaths in Thailand from the virus have been recorded just in the past month alone. But new, daily infections have been hovering around the 2,000 mark since the middle of April. The Public Health Ministry says it is working on other ways to communicate with foreigners about getting the jabs.
Friday Thailand reported 2,044 new Covid-19 infections and 27 deaths.
SOURCE: Bangkok Post
Want more from the Thaiger family?
📱 Download our app on Android or iOS for instant updates on your mobile
📧 Subscribe to our daily email newsletter
👍 Like/Follow us on Facebook
🔔 Subscribe to or Join our YouTube channel for daily video updates