Sri Panwa welcomes returning Michelin-starred chef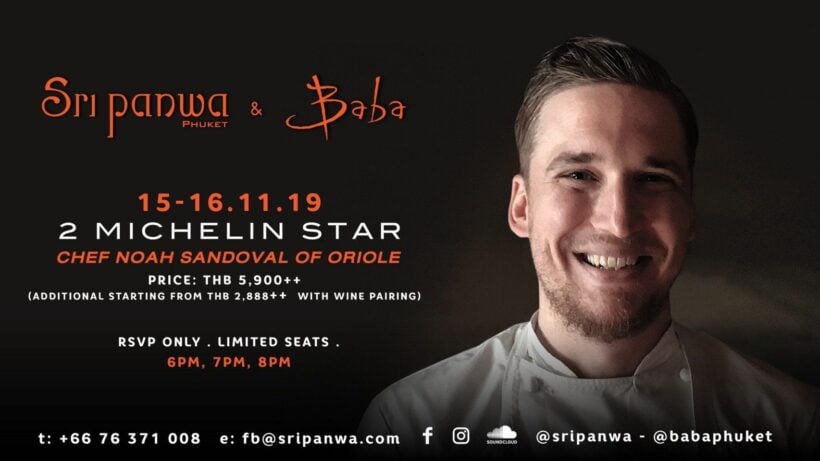 Sri Panwa, a Phuket luxury resort famous for stunning ocean views, welcomes back Chicago's two Michelin-starred chef Noah Sandoval of Oriole restaurant to display his contemporary American cuisine again on November 15-16.
"We're so thrilled to be collaborating with chef Noah to bring this truly special two Michelin-starred dining experience to our discerning guests in Phuket," Sri Panwa's managing director says. "The quality of contemporary American cuisine he wowed us with last year is unlike any experience one can find in this part of Thailand. To once again bring a chef of this calibre to Sri Panwa is an exhilarating experience."
Oriole was awarded two Michelin stars in its first eligible year and has retained them since. Sandoval was recognised as Food & Wine Best New Chef, received three semi-finalist James Beard nominations, and been named Chef of the Year by the Chicago Tribune.
Sandoval says he is "…excited to come back to Phuket and showcase some of Oriole's signature dishes" at Sri Panwa "The guests were such a pleasure to cook for and I'm looking forward to incorporating incredible Thai local ingredients," he said
Available for just two days and only for dinner, guests will get to witness Sandoval's boundless creativity and unmatched execution. The six-course tasting menu dinner will begin at 6pm, featuring the finest local and imported ingredients, and showcasing Sandoval's philosophy: "No tricks. Just imagination, sweat and an intimate understanding of flavour."
The menu is available at 5,900 baht (about$195 US dollars) per person, excluding drinks, with 2,888 baht added for a for wine pairing experience, or 3,888 baht for premium wine pairing.
For reservations or inquiries, please contact Baba Soul Food at +66 7637 1000.
SOURCE: nationthailand.com
Keep in contact with The Thaiger by following our
Facebook page
.


Find restaurant and food listings around Phuket at Thaiger Bites.

Read more headlines, reports & breaking news in Phuket. Or catch up on your Thailand news.

UPDATE: Thai immigration scraps TM28 reporting requirements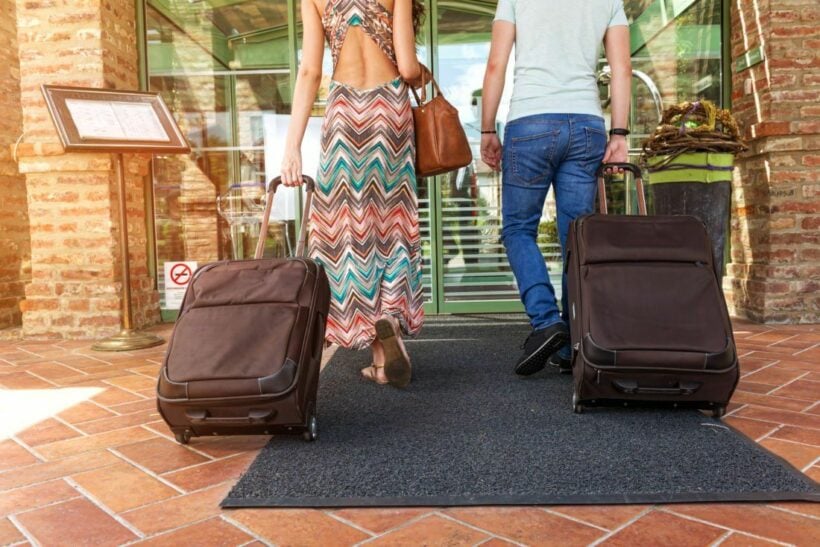 Well, for most foreigners anyway (full list of exemptions below)…
Thai immigration have scrapped the TM28 form's change-of-address reporting requirements for all but a few foreigners. The changes came into effect, with little fanfare, on January 28.
The TM28 is still listed on the Immigration website but there's now a long list of exceptions added which means that almost no one will be required to submit the forms. In 2019 a crackdown on the TM28 and TM30 forms caused an uproar in sections of the expat community who cried foul about their lives being made more difficult, and the inconveniences and impracticalities of the forms.
TM28, listed under section 37 of the Thai Immigration Act, has been an official requirement since 1979 but was rarely enforced by immigration officials. But last year officials started enforcing the law more literally, causing widespread outrage. Many foreigners, including long term expats living in Thailand, said they didn't even know the requirement existed.
At the time Immigration officials were saying the crackdown was necessary to maintain better national security and keep track of all foreigners working and living in Thailand.
The list of exceptions, now added to the form, includes just about every foreigner – diplomats and those performing official duties, students, retirees, foreigners working in Thailand, foreigners married to a Thai or are the parent of a Thai child.
The previous requirements, which caused so much discussion last year, stated that foreigners who had stayed in another province for more than 24 hours were have to inform their local immigration office with a filled out TM28 form when they returned to their usual residential address.
Foreigners will still need to inform immigration if they change address permanently.
Last year's crackdown on the TM28 also coincided with a stricter enforcement of the TM30. That form required hotels, guesthouses and property owners to report foreigners staying overnight at their address.
The crackdowns on both TM28 and TM30 resulted in Thai immigration being heavily criticised by segments of the Thai expat community and foreign businesses in Thailand, who claimed that both forms were counter-productive to help attract businesses and foreigners to the country and were "outdated" and "draconian".
Official forums were held, inviting senior officers from Immigration, and petitions were launched, and countless articles written, all to bring the plight of foreigners to the attention of officials.
The updated regulations relating to the TM28 form are on the Thai Immigration website HERE.
List of exemptions, as posted in the amendment…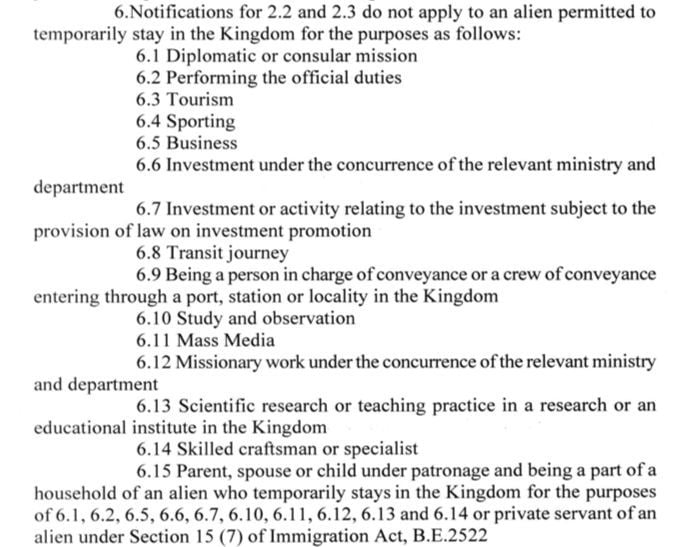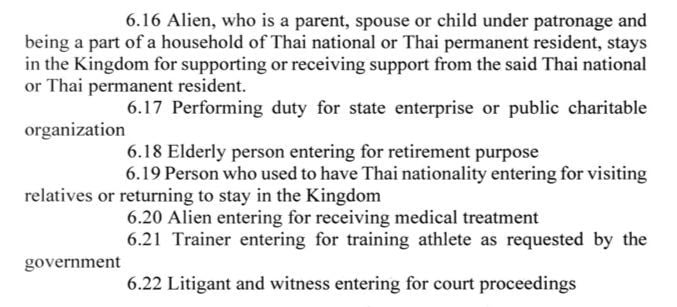 SOURCE: ThaiVisa
Keep in contact with The Thaiger by following our
Facebook page
.
Hungarian overstayer dies in Suvarnabhumi detention cell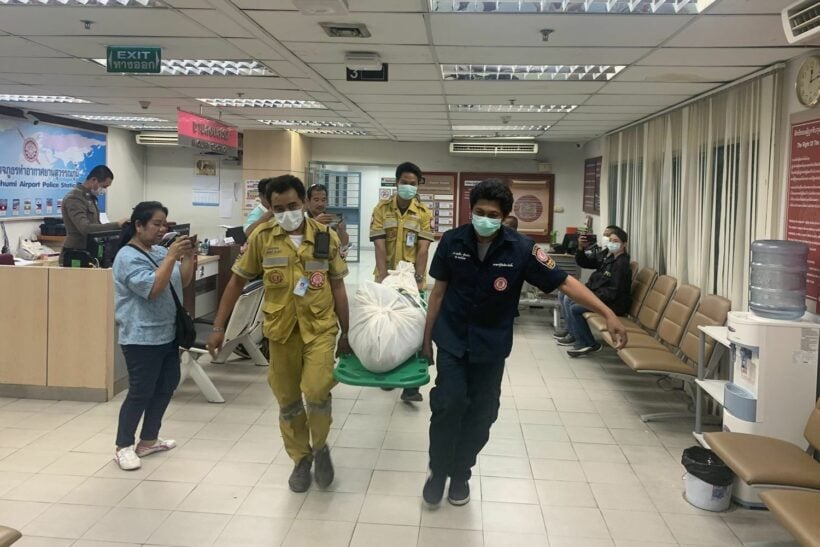 A 60 year old Hungarian man has died in detention at Bangkok's Suvarnabhumi airport. Lazlo Balogh was awaiting deportation for overstaying his visa. Laszlo was handed over to the Suvarnabhumi airport police for repatriation on Saturday, January 25. He showed no unusual signs after being put in the detention cell and was sleeping normally on Saturday night, according to police.
But when they checked again yesterday morning, the man was dead.
"There were no signs of trauma, and doctors believe he died eight hours before the body was discovered."
The chief of the airport police told reporters the Hungarian embassy had been contacted and a committee has been set up to investigate the police officers on duty. The body is being sent to the Chakri Naruebodindra Medical Institute for an autopsy.
SOURCE: The Bangkok Post | Thai Rath
Keep in contact with The Thaiger by following our
Facebook page
.
MSG makes a comeback with a new campaign against the 'Chinese restaurant syndrome'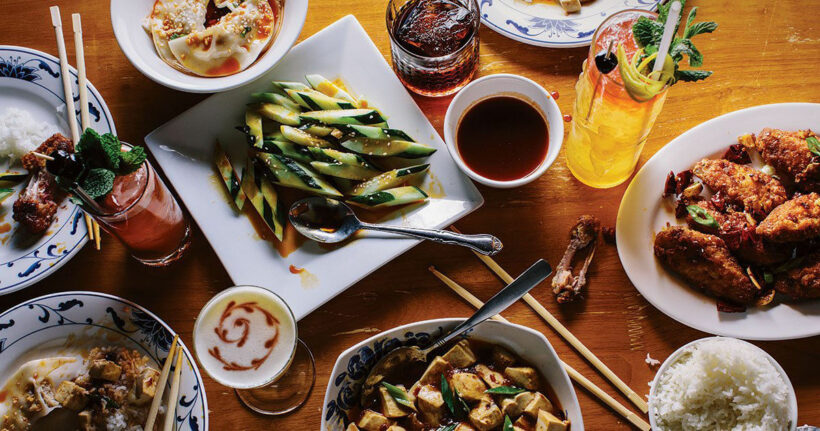 MSG, or monosodium glutamate, a common seasoning in many foods from Doritos, to salad-dressing and Thai food, is making a come back. Not that it really went away. But there was 50 years or so when it suffered, unreasonably, a poor reputation.
For years it was branded an unhealthy processed ingredient despite a lack of supporting scientific evidence. It became the whipping boy of Chinese restaurants with people alleging they would suffer from symptoms like dizziness and palpitations after eating Chinese food seasoned with MSG. It even earned the nickname "Chinese restaurant syndrome".
The Merriam-Webster even added "Chinese restaurant syndrome" to its dictionaries from 1993 after it became somewhat of an urban legend such that it became excepted that a lot of Chinese food contained MSG and that it was, somehow, bad for you. Despite hundreds of studies there has never been any repeatable experiments where it could be proven that monosodium glutamate was bad for consumer's health or could repeat the alleged side-effects in control groups.
It all started when a biochemist wrote a letter to the New England Journal of Science in 1968 saying that Chinese restaurant food left him "lightheaded and with odd aches and pains". The next issue of the journal published more purported side-effects.
That grew into a meme that Chinese food was dangerous for you and spread quickly, and even gained some early legitimacy by some medical professionals at the time. A 1969 scientific paper claimed that MSG was "the cause of the Chinese restaurant syndrome," and said it caused "burning sensations, facial pressure, and chest pain."
Subsequent scientific studies over the next half century have never been able to validate the 1969 paper's claims or find any link between the white salt-like substance and any side effects. Studies suggest that any correlation on side effects from eating MSG were probably psychosomatic.
MSG was first introduced in 1908 by a Japanese chemist Kikunae Ikeda, who was able to isolate unique flavour of a popular broth made from a seaweed called kombu. Ikeda described the flavour as neither salty, sweet, sour or bitter. It was unique. The taste came from the glutamate in the seaweed and earned the new, "fifth taste" which would be called "umami", neither salty, sweet, sour or bitter.
But MSG has been used as an active ingredient in many Asian foods, not the least Thai food where the white crystals are sprinkled liberally on favourite Thai dishes from the street stalls to the hi-so restaurants.
Now there's a campaign, "Redefine CRS" headed by Japanese food and seasoning company Ajinomoto to reflect the current knowledge about MSG and the impact of misinformation on the public's perception of Asian cuisine.
The whole Chinese Restaurant Syndrome was a western construct and never became a 'thing' in Asia. So Ajinomoto are calling out the half century of misinformation as "racist". If MSG was actually dangerous or could conjour up it's reputed side effects a long list of Asian countries and their populations would be walking around complaining about it.
"To this day, the myth around MSG is ingrained in America's consciousness, with Asian food and culture still receiving unfair blame. Chinese Restaurant Syndrome isn't just scientifically false, it's xenophobic."
In a video several Asian American figures, restaurateurs, and medical professionals spoke out against the misconceptions surrounding MSG and Chinese food. Famed restaurateur Eddie Huang, whose memoir was adapted into the hit sitcom "Fresh Off the Boat points out that MSG is not only delicious but found in hundreds of commonly used foods we use every day.
"Calling it Chinese restaurant syndrome is really ignorant."
The campaign proposes a redefinition of "Chinese restaurant syndrome"… "an outdated term that falsely blamed Chinese food containing MSG, or monosodium glutamate, for a group of symptoms."
Chances are, you've eaten it. You light be eating it right now as you snack and scroll through your phone. MSG is a common amino acid naturally found in foods like tomatoes and cheese, which people then figured out how to extract and ferment. This fermented glutamate salt is now used to flavour lots of different foods like stews or chicken stock and seasoning.
A joint study by the World Health Organisation and the UN Food and Agriculture Organisation "failed to confirm a link between MSG and the 'Chinese Restaurant Syndrome'. The syndrome itself was based on "anecdotal" evidence rather than any scientific fact."
As the new campaign points out, the public scare over MSG unfairly placed the blame on Chinese food. That myth persists in many western countries where Chinese food as is sometimes considered processed, unclean, or unhealthy.
So, head down to your local Chinese restaurant and thoroughly enjoy your meal because it tastes great, along with all the other Asian cuisines you love. If you feel 'icky, bloated and tingly' after your meal it's not the MSG, you probably just ate or drank too much.
As a side note, The Thaiger was involved in an experiment six years ago in Phuket when we had two control groups of three people. The six people were sat down and told we wanted to measure the effects of MSG in their food. All were given a standard Pad Thai Goong. One group was told the meal had been prepared with MSG, the other without MSG. In the interviews after, the group who ate the food prepared with MSG noted they had 'tingling around their lips', 'feeling of flush cheeks' and 'racing heartbeat'.
The other group, who were told their meals were prepared without MSG, had no complaints.
Then everyone was told that, in fact, the meals had been switched, so that the group who thought they had consumed MSG had eaten a Pad Thai Going without any MSG.
Hardly a scientifically-validated study but an indication how we can be easily convinced to believe anything.
Keep in contact with The Thaiger by following our
Facebook page
.