Police return four cars to victims of rental scam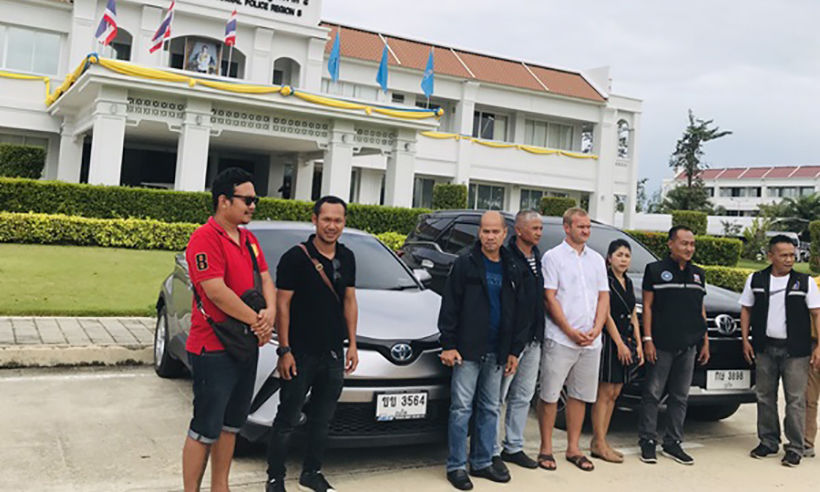 PHOTO: Phuket Hot News
Region 8 police have returned four cars to the victims following a car rental scam in Krabi and Phuket areas over recent months.
Earlier on September 17, 2 car owners from Phuket, Ratchadaporn Udomsuk, the owner of white Toyota Fortuner valued at 1,590,000 baht, and Anan Suwannachom who owns a black Toyota Fotuner worth 1,590,000 baht, reported to police that their cars had gone missing after they rented them out.
Police tried to track down a man named 'Dech' who rented the white Fortuner from Ratchadaporn. He then tried to pawn her car in Krabi. After that, a man named 'Dam' contacted her from Ao Luek, Krabi, claiming that if she still wanted her car back, she would have to pay him.
She agreed to pay him some remuneration at a petrol station in Ao Luek. Police was waiting until he showed up and then arrested the man. The officers found that Dam possessed a .38 mm gun with 5 bullets with him as well. During the arrest, police learned that the black Fortuner was also also located in the Ao Luek area as well.
Police returned the cars to the two owners on the following day as well as a grey Toyota CHR that was returned to Nikitin Evgeny from Russia, and a black Fortuner that belonged to Surotjana Suwanno from Phuket.
Police revealed that the four cars were part of a car rental scam that rents cars from people and then pawns the car in other provinces. There are still at least 20 cars under investigation in the same case.
SOURCE: Phuket Hot News
Keep in contact with The Thaiger by following our
Facebook page
.
Chon Buri police hire a steam roller to destroy over 700 illegal motorbike exhausts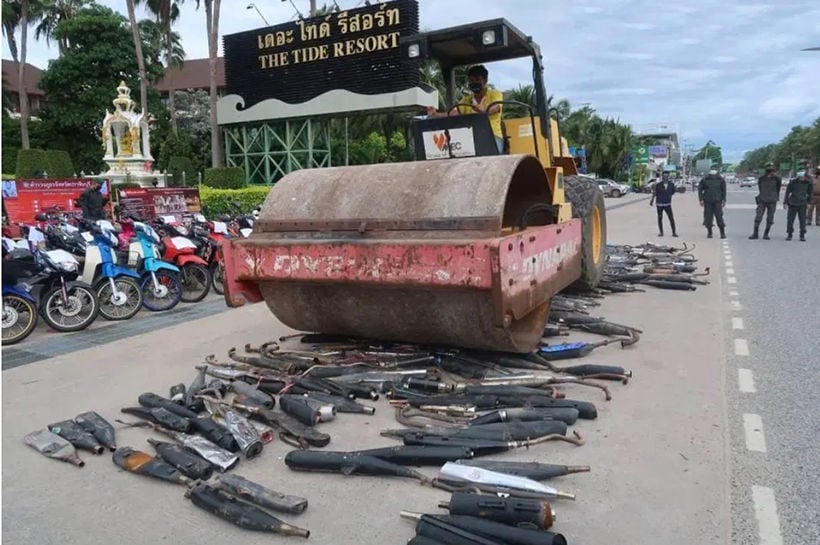 Since the national curfew was lifted last month, illegal motorbike racing has returned to Thailand's streets with increased popularity. From June 20-30, police arrested more than 5,600 racers and seized more than 17,700 motorcycles nationwide.
Chon Buri Police yesterday used a steam roller to very publicly crush more than 700 illegal exhaust pipes seized from road racers, known locally as "dek waen" or "vanz boys," in the Pattaya area. The media were invited along to capture the public shaming.
Police told that Pattaya News that over 11 days, Chon Buri police arrested 11 reckless drivers and held 1,307 inspections at motorcycle shops and repair shops, 8 of which face further legal charges relating to the illegal modifications. 761 illegal exhaust pipes were seized, 11 cars and 2,157 motorbikes were seized, and 3,075 road users were arrested. A spokesman said this is part of national Thai Government measures to crack down on road racing and the noisy modifications made to standard motorcycles, most of them less than 150cc in power.
PM Prayut Chan-o-cha has publicly warned that curfew or not, those violating the recently extended Emergency Decree will face stern penalties, and even threatened a renewed curfew if such illegal activities aren't brought under control.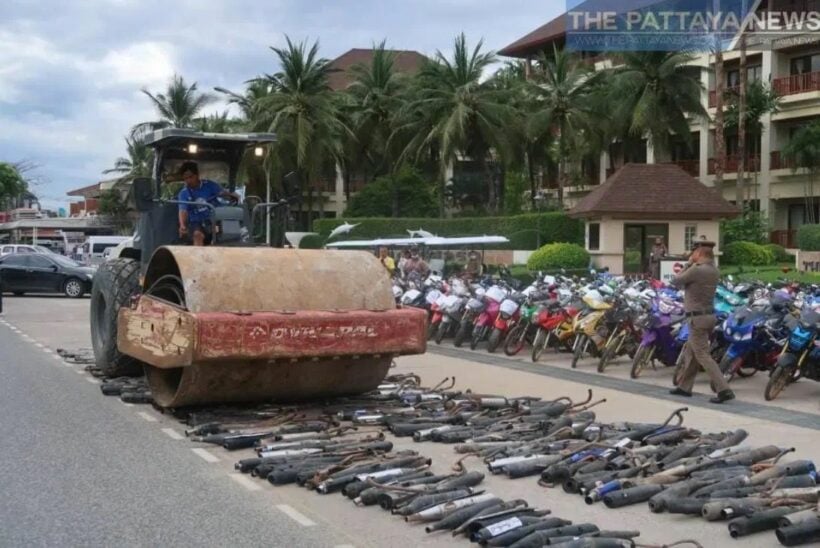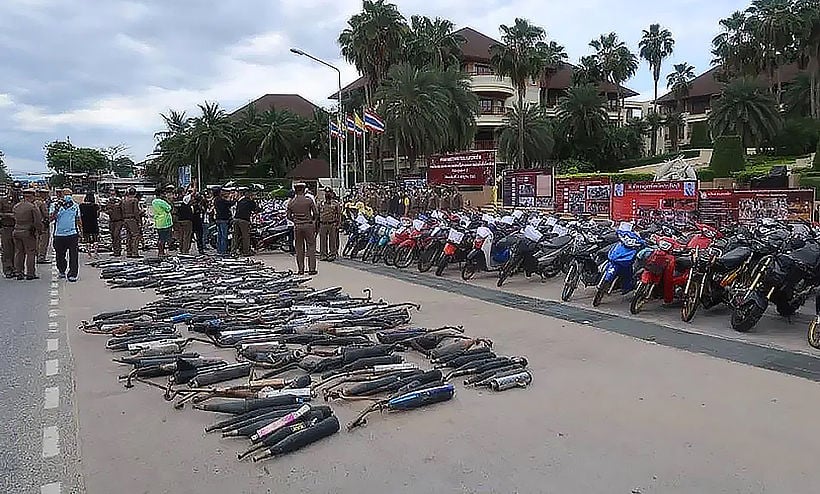 SOURCE: The Pattaya News
Keep in contact with The Thaiger by following our
Facebook page
.
Department warns women over surrogate motherhood dangers abroad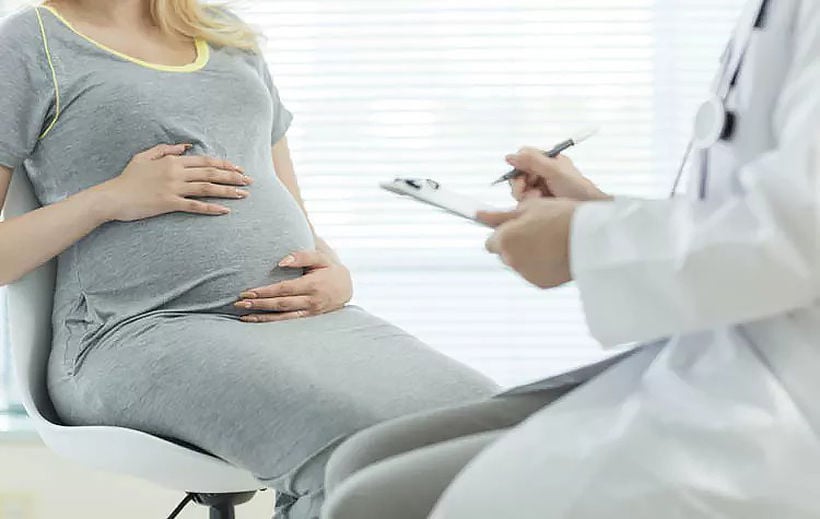 A string of arrests in what has been dubbed the "wombs for hire" scandal shocked the nation in February; now Thai Women, tempted to earn money by becoming surrogate mothers, are being warned about the potential health and social implications, especially in countries where there are no surrogacy laws to protect them.
The director-general of the Department of Health Service Support warns that surrogate mothers could end up in a bad way, even in prison, if anything goes wrong. He says that, for instance, if a hired surrogate mother gets sick while working in such a country, it might not be possible for her to ask the parents to pay her medical bills.
In most Asian countries there is generally no law requiring the identity of parents of a child carried by a surrogate to be made public, meaning the surrogate may end up having to take care of the child by herself if the intended parents change their minds.
"This is different from legal non-commercial surrogacy in Thailand. In Thailand surrogacy is protected under the law on the protection of babies born with the help of assisted reproductive technology."
In order to prevent the commercial use of assisted reproductive technology, the selling of ovum, sperm, and embryos is outlawed in Thailand.
Legal surrogate mothers in Thailand are well protected, and intended parents of these babies are required to sign a formal agreement to cover all medical services and all related healthcare services of surrogate mothers. Legal surrogates in Thailand do not have to worry about parents potentially abandoning their babies if anything goes wrong as the law makes the parents the legal guardians.
The deputy director-general of the DHSS says medical complications commonly found in surrogacy can be serious and even lethal, including heart failure, bleeding, and infections that may make a surrogate mother infertile.
"Think twice before you go for such a job in a country without a surrogacy law which pays a little money in exchange for risking your health and safety and your future ability to carry a baby."
Surrogacy in Thailand is illegal for international parents. A federal law passed in 2015 formally made commercial surrogacy illegal and banned the surrogacy process completely for international intended parents. The commercial surrogacy process was forcibly shut down by the military government in 2014.
The only parents who can legally complete a surrogacy in Thailand today are married, heterosexual Thai couples. At least one spouse must hold Thai nationality, and the couple must have been married for at least 3 years. Singles and homosexual couples are banned from completing a surrogacy in Thailand, even if they are Thai nationals. Any surrogate mother must be a sibling of one member of the couple. She must be married and have her husband's consent for the surrogacy process.
SOURCE: Chiang Rai Times | Bangkok Post
Keep in contact with The Thaiger by following our
Facebook page
.
Thousands arrested nationwide for illegal motorbike racing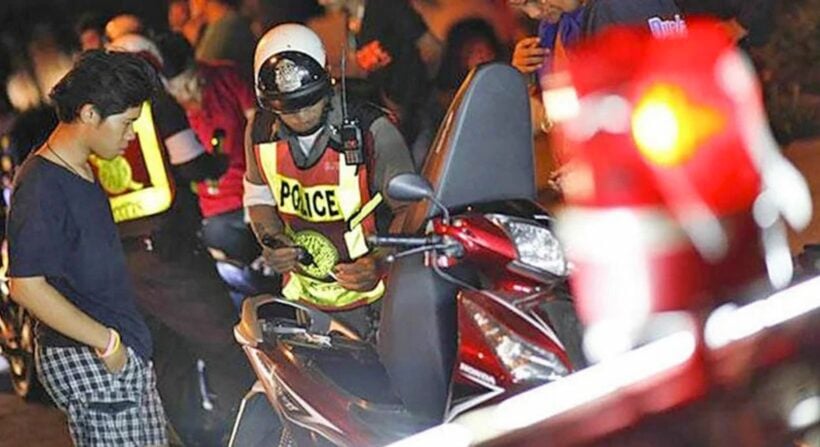 Since the lifting of the national curfew on June 14, gangs of illegal street racers, known as "dek waen" or "vanz boys" have quickly returned to Thailand's roads. From June 20-30, police arrested more than 5,600 racers and seized more than 17,700 bikes nationwide. PM Prayut Chan-o-cha has warned against gatherings and street racing, and says that regardless of the curfew police should take action against the racers, even threatening a renewed curfew. During the curfew, public complaints on illegal street races dropped from over 600 to less than 300 a month.
The assistant national police chief says Bangkok police and the Provincial Police Region 1 which covers the lower central plains, arrested 109 such racers, seized 11,743 motorcycles and prosecuted 3,088 shops for illegally modifying motorcycle parts. Most modifications were to motorcycles' exhaust pipes, increasing the noise they make, thus the locally coined word "vanz." Police also put 668 parents of illegal racers on probation.
The Provincial Police Region 8, covering the lower South, says it seized 237 motorbikes and 311 illegally modified exhaust pipes, and put 175 young motorcyclists and 28 parents on probation. Police in the northeastern Ubon Ratchathani province arrested 85 motorcyclists and seized 317 motorcycles and about 300 modified exhaust pipes. Police in the northeastern province of Nakhon Ratchasima arrested 476 motorcyclists and seized 665 bikes and 204 substandard exhaust pipes.
The Provincial Police Region 6, which oversees part of the North, arrested 6 racers, put 1,921 motorcyclists and 212 parents on probation and seized 1,306 motorcycles.
The Provincial Police Region 7 which also covers lower south provinces put 5,009 motorcyclists on probation and seized 4,632 bikes and 357 modified or substandard exhaust pipes.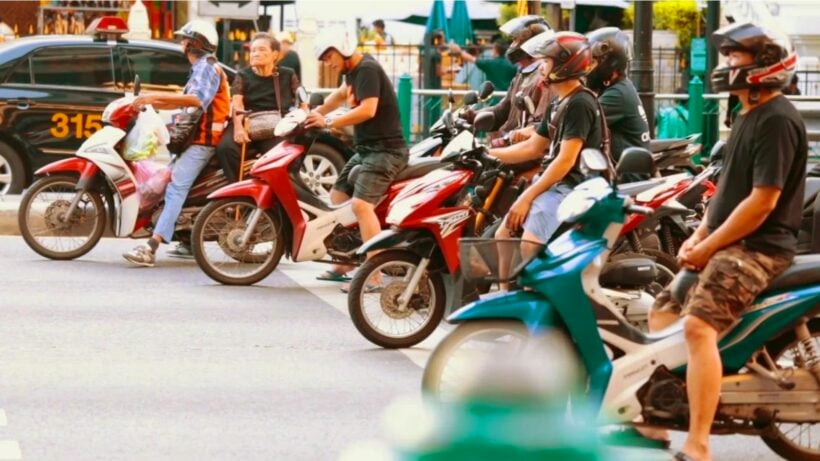 SOURCE: Bangkok Post
Keep in contact with The Thaiger by following our
Facebook page
.