Man arrested for triple fatal shooting in Nakhon Phanom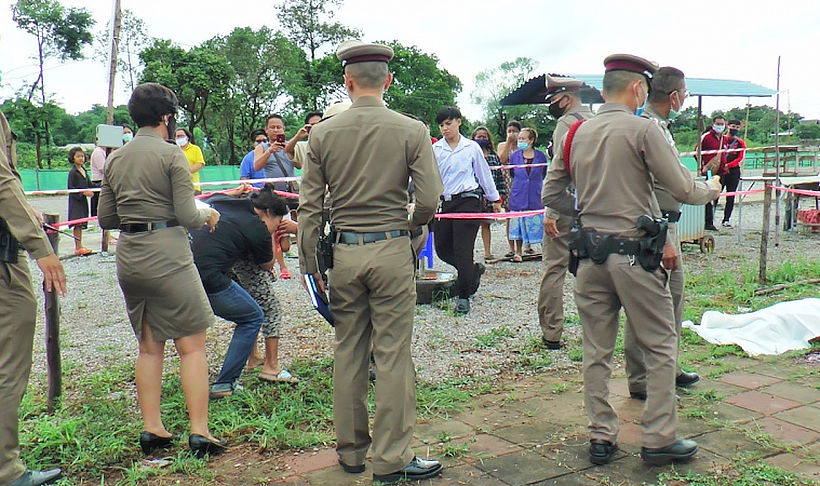 Police in the Isaan's Nakhon Phanom have arrested a man for the shooting death of his wife and 2 of her family members. The suspect reportedly confessed he acted out of jealousy after learning his wife wanted to return to her ex-husband.
41 year old Noppadol Nuamsamlee was arrested shortly after the fatal shooting of his wife, 23 year old Sujittra Chiangbai, her sister, 25 year old Jittra Chiangbai, and their mother, 45 year old "Lawan," in Muang district yesterday afternoon. Police conducted a re-enactment this morning, a standard procedure in Thai police investigations.
Authorities say the incident began after Noppadol and his wife left their house to go shopping. While driving his pickup truck, Noppadol demanded to know why his wife was still in touch with her ex-husband, with whom she had a 5 year old son.
After stopping on the roadside, he allegedly assaulted his wife, who phoned her sister for help. When Jittra and her mother arrived, Noppadol allegedly fired at them as they tried to intervene. He then fired 2 shots at his wife before fleeing. All 3 women died at the scene. Police later arrested the suspect on the road.
During questioning, the suspect reportedly admitted he shot the women "in a fit of jealousy". He told police he became angry after finding records of chats between his wife and her ex-husband on her mobile phone.
Noppadol, a resident of Bang Lamung district in Chon Buri, was due to appear in Nakhon Phanom provincial court today to face charges of murder and carrying a firearm in public. Police say they will oppose bail.
60 year old Paijit Chiangbai, who lost his two daughters and his wife, says he never imagined Noppadol, who had lived with his younger daughter for a year, could have shot his family. He says he arrived at the scene shortly after the shootings and Noppadol pointed the gun at him and threatened to fire if he tried to intervene. He says he will never forgive the suspect and doesn't want him released on bail.
Paijit also says he never thought his daughter would return to her former husband, as they had been separated for a long time and he already had a new family. Noppadol also has an 8 year old daughter from a previous marriage.
25 year old Ratchadaporn Thongkhlee, a friend of Jittra, claims the suspect had earlier threatened to shoot her and Jittra.
SOURCE: Bangkok Post
📱 Download our app on Android or iOS for instant updates on your mobile
📧 Subscribe to our daily email newsletter
👍 Like/Follow us on Facebook
🔔 Subscribe to or Join our YouTube channel for daily video updates
Thai monk beheads himself with guillotine in attempt to reach nirvana, followers could face charges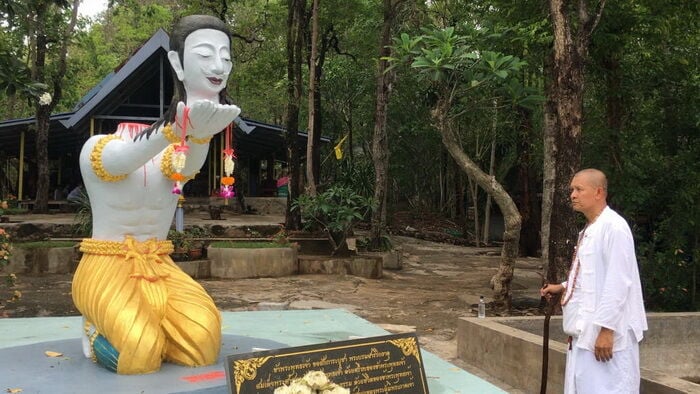 A monk, apparently 'seeking nirvana', has beheaded himself with a handmade guillotine in the northeastern province of Nong Bua Lamphu. Police are now investigating to determine if any of the monk's followers should be charged for helping the abbot with his untidy path to enlightenment.
The monk, Dhammakorn Wangphrecha, reportedly spent 5 years planning his death and believed it would help him reach nirvana, his followers say. They say he decided to die last Thursday, on his 68th birthday. The guillotine was made with a metre-long blade and 2 buckets of cement held up by rope. It was placed near a statue of a beheaded deity. Followers say the monk cut the ropes himself.
While police say evidence say it's a case of suicide, followers who moved Dhammakorn's body could face charges for concealing a corpse. The guillotine had also been disassembled when police arrived, and followers could face other charges for tampering with evidence. If police discover that followers helped the monk build the guillotine, they could be charged with conspiracy to commit murder.
Police found the monk's body in a wooden coffin at the Wat Phuhingong Monastery. They say around 300 people attended the monk's funeral just hours after his death. Police did not say how many followers are now suspects in the investigation.
PM Prayut Chan-o-cha spoke after the death of the monk, warning Thais not to put too much faith in superstition, and psychiatrists visited the monastery to do mental health checks.
"I ask you to not put too much faith in something unscientific, as the Buddha taught that his words can be proved… Everybody must have some logic to believing or respecting something. I don't think anybody wants to imitate."
SOURCE: Coconuts Bangkok
📱 Download our app on Android or iOS for instant updates on your mobile
📧 Subscribe to our daily email newsletter
👍 Like/Follow us on Facebook
🔔 Subscribe to or Join our YouTube channel for daily video updates
UPDATED: 1.1 million baht of gold necklaces stolen in Hat Yai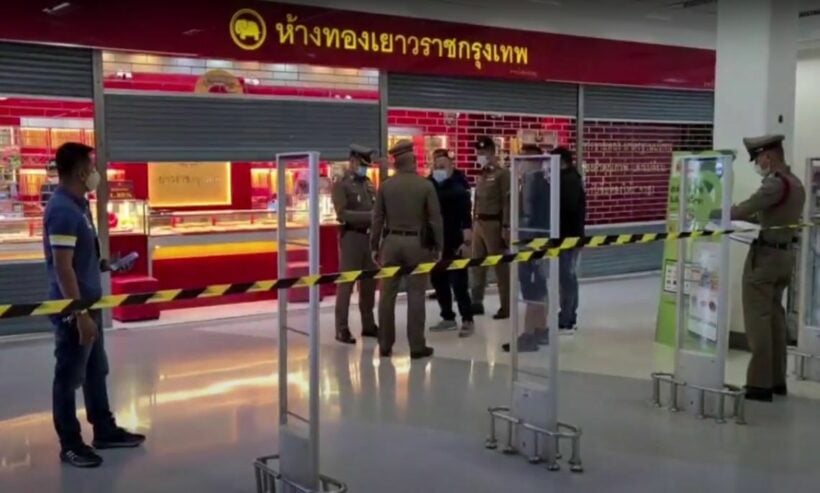 UPDATE:
A man is now in custody for the robbery of 1.1 million baht worth of gold necklaces in Hat Yai yesterday morning. Pvt Ukrit Thongsomsri, a 24 year old naval deserter from the Songkla naval bank was identified and taken into custody at a house in tambon Khuan Lang in Hat Yai. The man allegedly confessed and showed police where he had buried a bag containing the necklaces. Only 10 of the 14 missing necklaces were recovered though, so police continue to search for the missing 4. The car used in the robbery was also recovered as well as the camouflage trousers he threw from the car while fleeing, which were found on the side of the road. A press conference is expected to share more details.
ORIGINAL STORY:
An armed and masked man stole gold necklaces valued at 1.1 million baht from a Big C shopping mall in Hat Yai Saturday afternoon. Police are searching now for the suspect and his accomplice who drove a getaway car. The robbery took place at the Yaowarat Bangkok gold shop around 3:30 pm on the upper level of the Khlong Hae branch of the international supermarket chain Big C.
Early police reports indicate that the 2 men involved in the robbery arrive in a bronze-coloured Toyota Vios with the license plates removed. They parked at the mall entrance and one man entered Big C and went to the gold shop. At the time three women and a man were on shift at the gold shop.
The thief pretended to be a customer and requested to look at expensive gold necklaces. The staff opened the case to show him several necklaces when the man lunged across the counter and grabbed a handful of necklaces while pulling out a gun and threatening to shoot the staff members. The necklaces he grabbed were about 682 grammes of gold, worth about 1.1 million baht.
After snatching the gold, the man fled from Big C and jumped into the waiting getaway car. Security guards had attempted to stop the man as he raced out of the mall but the thief aimed his gun at them and threatened them. Songkla Police are reviewing security camera footage now to try to identify the thieves. The video showed the man dressed in camouflage trousers and a camouflage hat, a black jacket, dark glasses and a face mask. No further details have been released yet.
SOURCE: Bangkok Post
📱 Download our app on Android or iOS for instant updates on your mobile
📧 Subscribe to our daily email newsletter
👍 Like/Follow us on Facebook
🔔 Subscribe to or Join our YouTube channel for daily video updates
Burmese prisoners granted amnesty on first day of Myanmar's New Year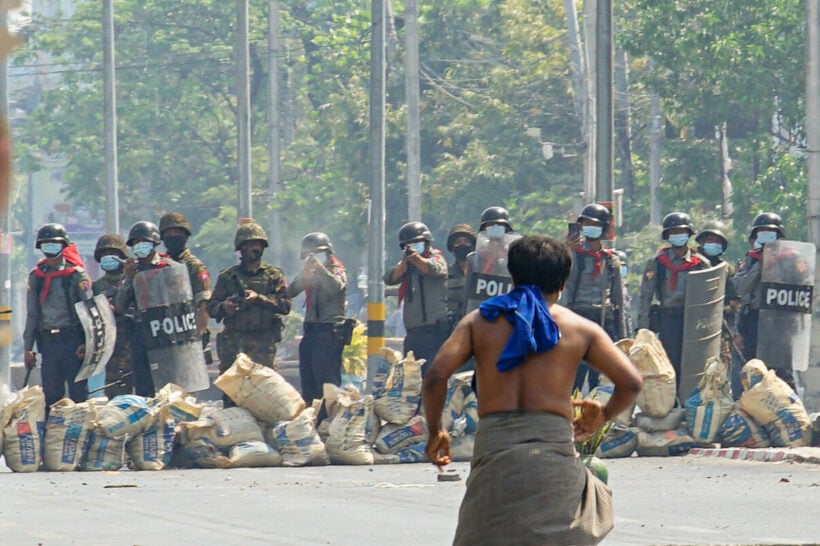 Over 23,000 Burmese prisoners and student political activists are enjoying freedom after being released yesterday in an amnesty on the first day of the country's Lunar New Year celebrations. The state-owned MRTV reported that 23,407 prisoners were released under sections of a penal code. In the Yangon region alone, over 800 prisoners were released, while Mandalay saw around 2,800 released from 5 prisons.
But, with the recent military crackdown on protesters and civilians, the law's ambiguity may be used against those released. As the law allows for the conditional release of prisoners, that means authorities can re-arrest the prisoners without warrant at any time.
Zayyar Lwin, Paing Ye Thu and Paing Phyo Min were among the released student political activists. The 3 were arrested for writing political Thingyan poems and rhymes. They were arrested under Section 505(a) of the penal code and Section 66(d) of the Telecommunications Law, both of which are regarded by many as draconian tools to oppress dissent.
The junta-led State Administration Council also issued a statement releasing 130 foreign prisoners under the same conditions. There have been 2 other mass releases since the coup. The first was in mid-February, which rights groups feared was a move to free up space for military opponents, and the second on the eve of Armed Forces Day when the regime released around 900 detained demonstrators.
But prisons continue to fill up as more than 3,100 people, mostly anti-coup protesters have been detained. The Assistance Association for Political Prisoners has been keeping track of detainees as well as injuries and deaths allegedly at the hands of the junta. It is stil unclear, however, if those released yesterday were post-coup detainees.
Meanwhile, the Burmese military leader, Gen Min Aung Hlaing, is expected to attend an ASEAN summit in Jakarta where representatives of the bloc are expected to discuss Myanmar's situation. Thailand's Foreign Ministry spokesman, Tanee Sangrat, made the announcement.
SOURCE: Thai PBS World
📱 Download our app on Android or iOS for instant updates on your mobile
📧 Subscribe to our daily email newsletter
👍 Like/Follow us on Facebook
🔔 Subscribe to or Join our YouTube channel for daily video updates