Italian man shot and killed by girlfriend's ex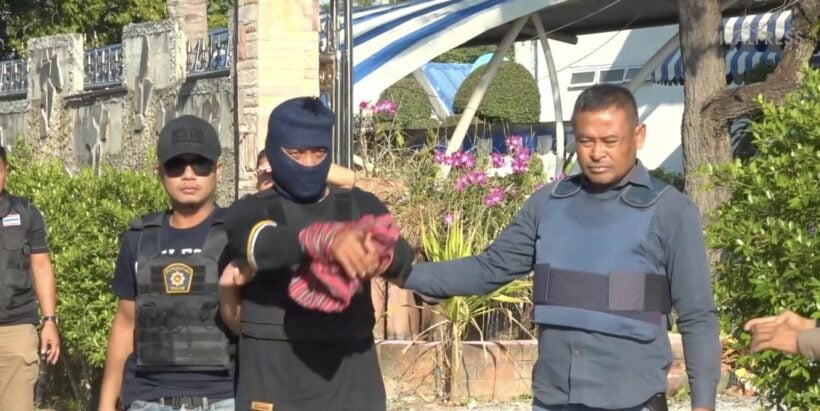 A 58 year old Italian man has been shot and killed while riding a motorcycle in Khon Kaen, northeastern Thailand. A Thai man has since been arrested for the shooting.
Police reported that 45 year old Suchin Oomket was arrested for allegedly murdering Mario Ferrri on Sunday evening. He allegedly the man on suspicions the victim was having an affair with his mistress.
According to Police, Suchin who was married, had relations with 32 year old Sumitra Sripromma for more than a year.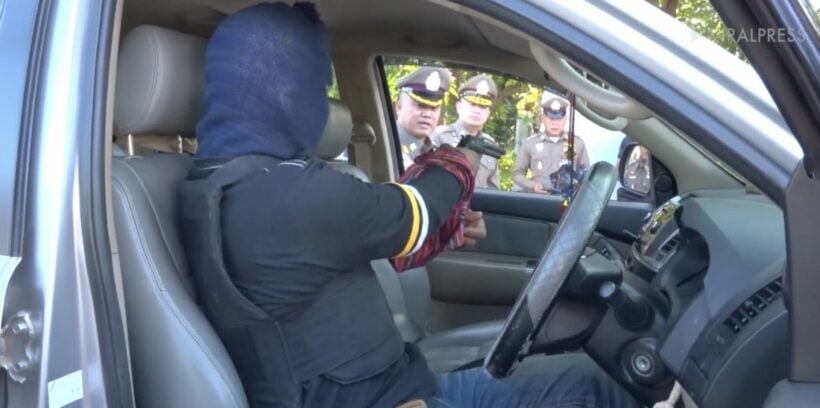 Photo: Youtube@Viral Press
He later learned Ms Sumitra was having relations with a foreign man. When he lost contact with Sumitra he gathered information and finally followed her to a resort hotel where she was staying with Mr. Ferrri.
On Sunday evening the suspect saw Mr. Ferrri riding a motorcycle from the hotel: It was the same motorcycle he had bought for the woman. In a rage, he drove after Ferrri and shot him dead.
He then fled to Huai Mek in the northeastern province of Kalasin, but after being pressured, he surrendered. Police found the suspect's pistol in a forest.
According to police, the suspect confessed to the murder.
SOURCE: chiangraitimes.com
Keep in contact with The Thaiger by following our
Facebook page
.
American fugitive, Bart Helmus, taken off life support in Sa Kaew hospital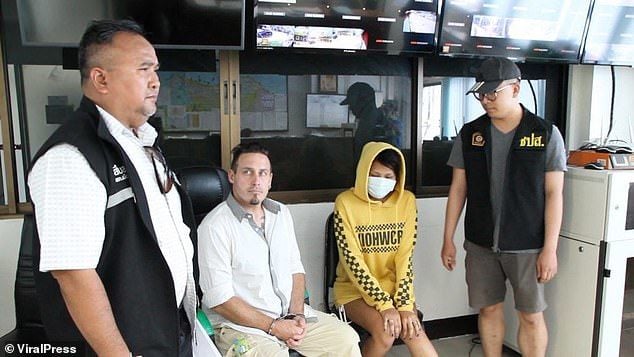 PHOTO: Bart Helmus and his Thai wife during an earlier police questioning session in Pattaya
39 year old American Bart Allen Helmus has finally been taken off life support at the Sa Kaeo hospital at 6pm last night. He had been reported to be 'braindead' by police sources since his admission to hospital a week ago.
After having been declared braindead by numerous unconfirmed police reports, and having his other major organs being kept alive since a dramatic showdown with police in Sa Kaeo in which he shot himself in the head, Mr Helmus' condition has deteriorated.
You can read more about the circumstances leading up to Mr Helmus' shooting himself in a sugar cane plantation near the Cambodian border HERE.
There had been confusion in the Thai media over his death and condition since the shooting, but multiple Thai police officials confirmed he was 'alive' but declared braindead by attending doctors. His vital organs had been kept alive on life support and the US embassy had been involved with the situation since he shot himself in a short stand-off with police last Friday.
No official statement has been issued other than saying that Mr Helmus' organs had stopped responding to treatment.
It wasn't clear if he was removed from life support before his organs "stopped responding".
SOURCE: 77kaoded
Keep in contact with The Thaiger by following our
Facebook page
.
Man arrested over armed robberies in Bang Lamung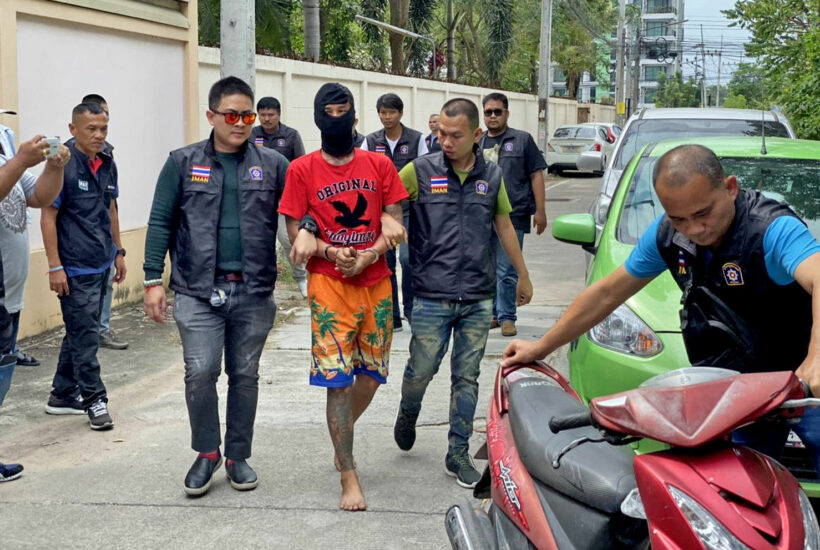 PHOTO: Re-enactment of the alleged crimes held yesterday – The Pattaya News
A suspect is now in custody following a series of armed robberies in the Bang Lamung area.
Bang Lamung police arrested 33 year old Weerayut 'Aun'Keandee earlier this week. According to the police report, on November 7 the suspect robbed local residents in Soi Plaifan in Nong Plalai.
The suspect drove up to the side of a victim, who was also driving their motorbike, and threatened them with a gun. The victim fell off his motorbike.
The suspect then used his gun to threaten the victim. The suspect stole a gold necklace before speeding away, leaving the man laying on the side of the road.
On November 11, the same suspect threatened another victim on Nongketnoi Road. Again, at gunpoint, the victim handed over 700 baht in cash to the suspect.
Weerayut has now been charged with armed robbery and has allegedly admitted to the crimes.A re-enactment of the crime was conducted yesterday afternoon.
SOURCE: The Pattaya News
Keep in contact with The Thaiger by following our
Facebook page
.
5 million baht vanishes from Samut Prakan bank account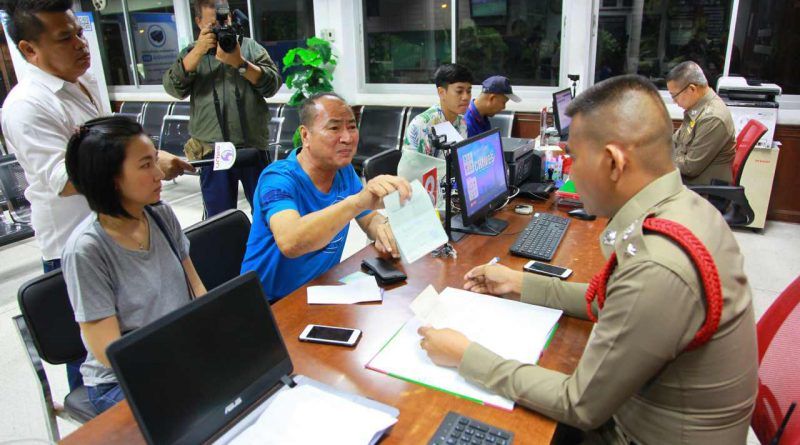 PHOTO: Sanook
A well-known restauranteur in Samut Prakan, south east of Bangkok, 61 year old Ekkaphat, has filed a report with the Samut Prakan Police over a missing 5 million baht from his bank account.
Ekkaphat told police that he had previously deposited 5 million baht into a bank in the Bangpoo Industrial Estate. He went to update his bankbook and found the account had been closed and his 5 million baht was missing.
Shocked, Ekkaphat asked the bank where his money had gone and they informed him the money was transferred to a new account that was also in his name. After the transfer of the total funds, 2.5 million baht was withdrawn by someone who allegedly forged Ekkaphat's signature.
Sanook report that, as of yesterday, Ekkaphat was at the Samut Paknam Hospital as a result of extreme stress, high blood pressure, and fainting spells. While Sanook were speaking to Ekkaphat, he received a phone call from a woman who claimed to be an employee of the bank in question. According to the report, she promised that the bank would take full responsibility for the incident. The woman also asked for permission to visit Ekkaphat.
Soon after, the bank representative arrived at the hospital with a fruit basket. She insisted that the bank HQ will take care of the problem but they needed to investigate if there was any money left in the account. After speaking to Ekkaphat alone, the woman left the ward and returned to her car without answering any questions to the waiting media.
The only statement made was that she had talked to Ekkaphat and an agreement was made.
Police say they have now issued a summons for the bank branch manager and employees but have yet to receive a full report and transaction dates from the bank.
"All of Ekkaphat's accounts have been frozen to track down all movements and to find out all who are connected to the case."
SOURCE: Thai Residents
Keep in contact with The Thaiger by following our
Facebook page
.