Garbage collectors find a bag full of meth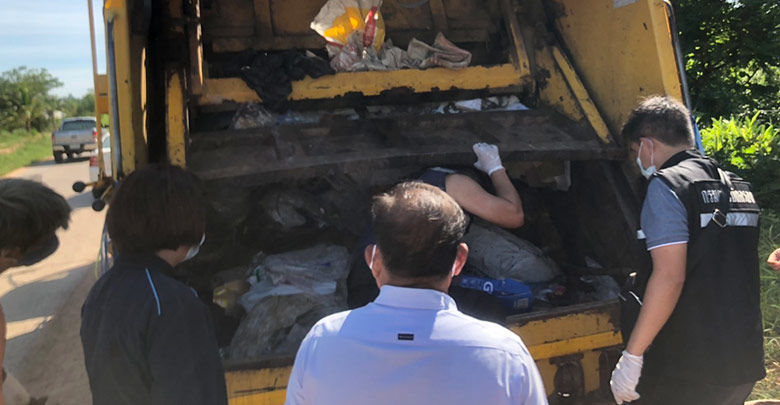 One person's trash is another person's treasure. A black rubbish bag thrown into rubbish bins wasn't your typical garbage. Police say the bag, picked up by a garbage truck in Northeast Thailand, was full of methamphetamine pills.
Along with 78,000 methamphetamine pills, police say the bag contained 2 kilograms of crystal methamphetamine, or ice. Police say the bag may have been dropped off by dealers and supposed to be picked up by the buyer, but the garbage truck snatched it up first. Whoops!
The bag was found by garbage collectors among bins situated next to an irrigation canal between Tao Hai and Phai Thong villages in Kalasin. When the trash bags were being compacted in the back of the truck, the bag broke open, exposing packages. Police say there were altogether 14 packages containing the drugs. Police have launched an investigation to find the source of the drugs.
SOURCE: Bangkok Post
Keep in contact with The Thaiger by following our
Facebook page
.
2 arrested in Narathiwat with 1,420 kilograms of meth – VIDEO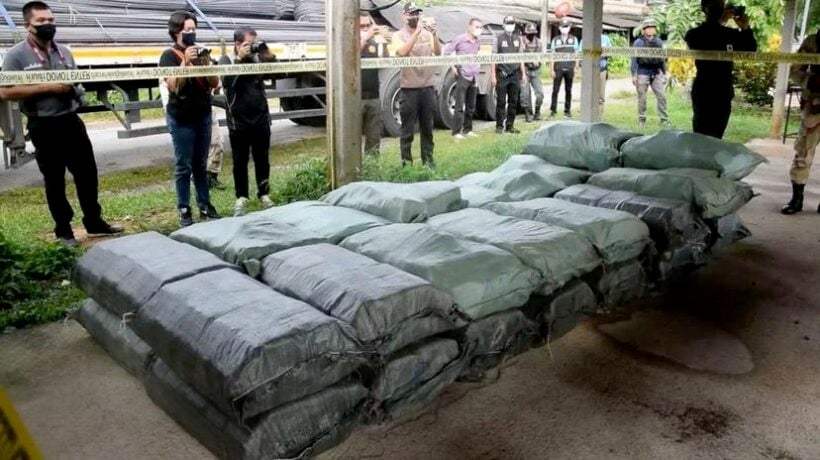 Police in the southern province of Narathiwat, on the Malaysian border, arrested 2 men and seized and 1,420 kilograms of crystal methamphetamine hidden in a trailer truck in Tak Bai district in the early hours of this morning. A team of police, soldiers and local officials was sent to Padador village in tambon Na Nak following a tip that a large quantity of drugs would be smuggled into the area.
At around 2:30am, they team noticed an 18-wheel trailer truck with Surat Thani licence plates parked along a road in in the village. 2 men, identified as driver Somchai Thiankhrue from Nakhon Si Thammarat, and passenger Khamron Chanthamanee from Songkhla, were inside. Officers demanded to search the vehicle, which was loaded with steel bars. The men gave conflicting statements and acted suspiciously during questioning. The officers took them and the truck to nearby Muno police station.
During the search, the team found 35 fertiliser sacks containing 1,420 kilograms of crystal methamphetamine hidden in the trailer truck.
Somchai and Khamron told police that a man, identified as Arwae Mohbakor, had asked them to meet him in the village and then follow him to deliver the drugs to another venue in Sungai Kolok, at the border. The team went to Arwae's house in Tak Bai and his wife's house in Sungai Kolok, but they both managed to flee before the team arrived. Authorities have ordered personnel at checkpoints to inspect vehicles carefully and hunt them down.
Team members say the seized drugs have a street value of over one billion baht.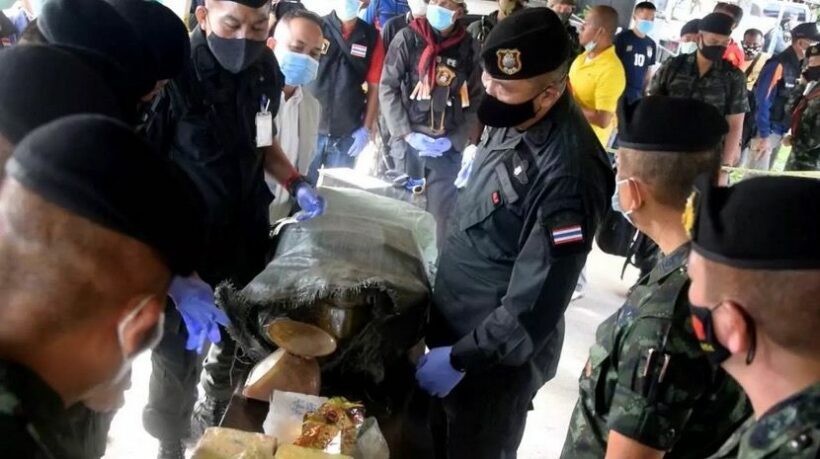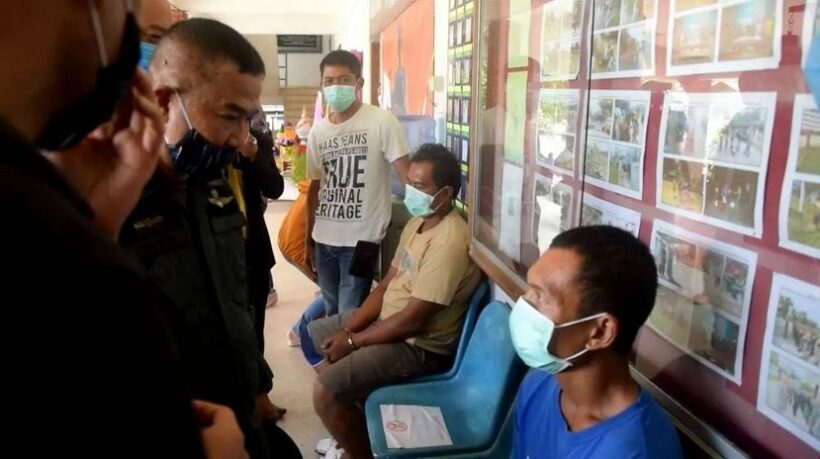 SOURCE: Bangkok Post
Keep in contact with The Thaiger by following our
Facebook page
.
Italian police seize 14 tonnes of amphetamine valued at 1 billion euros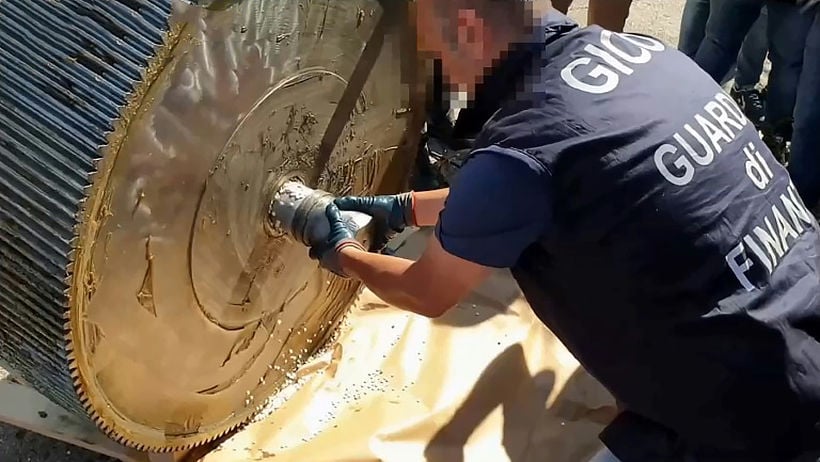 "We know that the Islamic State finances its terrorist activities mainly by trafficking drugs made in Syria, which in the past few years has become the world's largest producer of amphetamines."
Police in Italy today announced the seizure of 14 tonnes of amphetamines manufactured by the Islamic State in Syria, calling it the "biggest seizure of such drugs in the world." The drugs, in the form of around 84 million Captagon tablets hidden inside industrial goods within shipping containers, are valued at about a billion euros (34.7 billion baht), and were intended to be sold on the European market "to finance terrorism," according to a statement from the finance police of Naples.
Police say 3 suspect containers arrived at the port of Salerno, just south of Naples, containing large cylindrical paper rolls for industrial use, as well as industrial machinery. Cutting open the paper rolls and machinery with chainsaws, police found them filled with tablets. Video taken by police showed pills spilling out of the rolls and gearwheels as they were forced open.
Captagon, a brand name, was originally for medical use but illegal versions have been dubbed "the jihad drug" as they are widely used by Islamic State fighters in combat.
"The IS makes extensive use of it in all territories over which it exerts influence and where it controls the drug trade. Once the factories are established, it is easy for IS to produce large quantities also for the world market for synthetic drugs, in order to quickly accumulate substantial funding."
The amount of drugs seized is sufficient to satisfy the entire European market, police told reporters, without providing a time frame. Naples police say a "consortium" of criminal groups was likely involved in the distribution of the drugs, including possibly many clans within the infamous Camorra criminal gangs of Naples.
"The hypothesis is that during the lockdown, production and distribution of synthetic drugs in Europe practically stopped. Many smugglers, even in consortiums, have turned to Syria where production does not seem to have slowed down."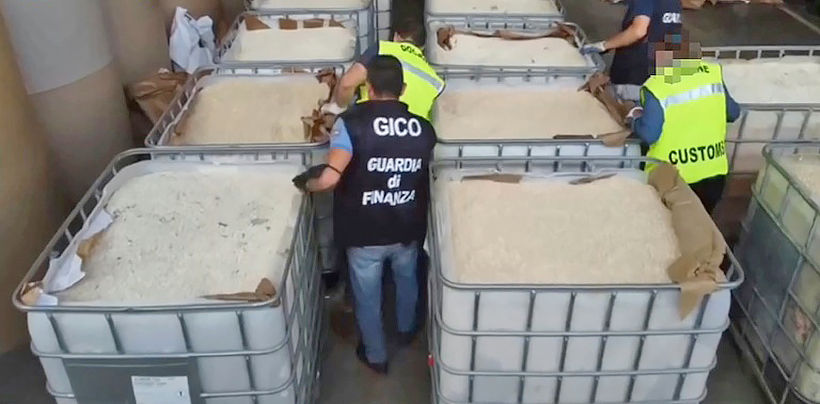 SOURCE: Barron's
Keep in contact with The Thaiger by following our
Facebook page
.
Chon Buri police arrest knife-wielding man allegedly high on methamphetamine – VIDEO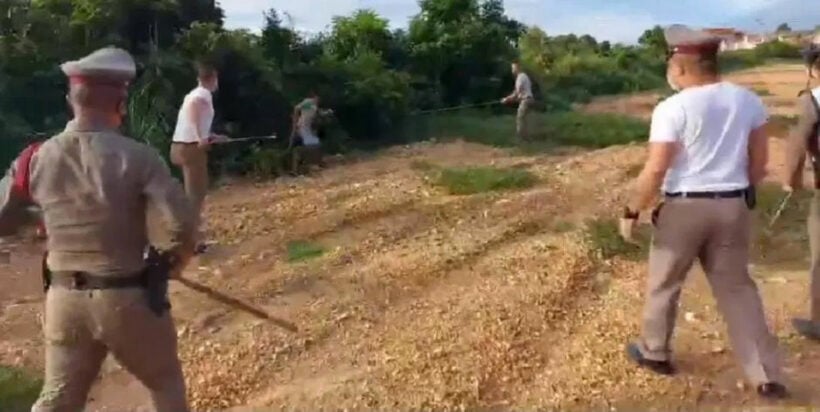 Police in Chon Buri's Banglamung district have arrested a 48 year old man for allegedly threatening local residents and officers with a knife. The man reportedly tested positive for methamphetamine.
The captain of the Nong Prue police told The Pattaya News they arrested 48 year old Sumet Hongjaroen from the northeastern Phetchabun province. He is accused of "erratically brandishing a knife" and running and shouting loudly at locals. Witnesses say they were afraid he might hurt others. He was arrested with the help of multiple officers and was uncooperative, having to be forcibly restrained with a net gun and poles.
Police say Sumet was tested and found to have methamphetamine in his urine.He faces multiple charges including resisting arrest, brandishing a deadly weapon in public and creating a public disturbance. There was no mention of the drugs test.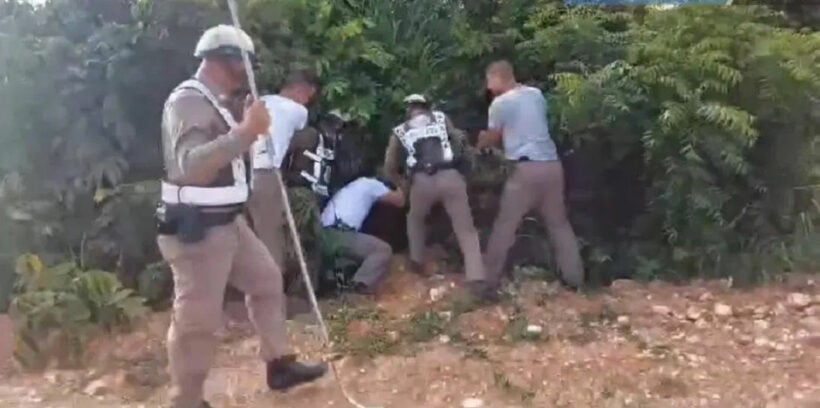 SOURCE: The Pattaya News
Keep in contact with The Thaiger by following our
Facebook page
.