Court upholds Australian's death sentence for methamphetamine smuggling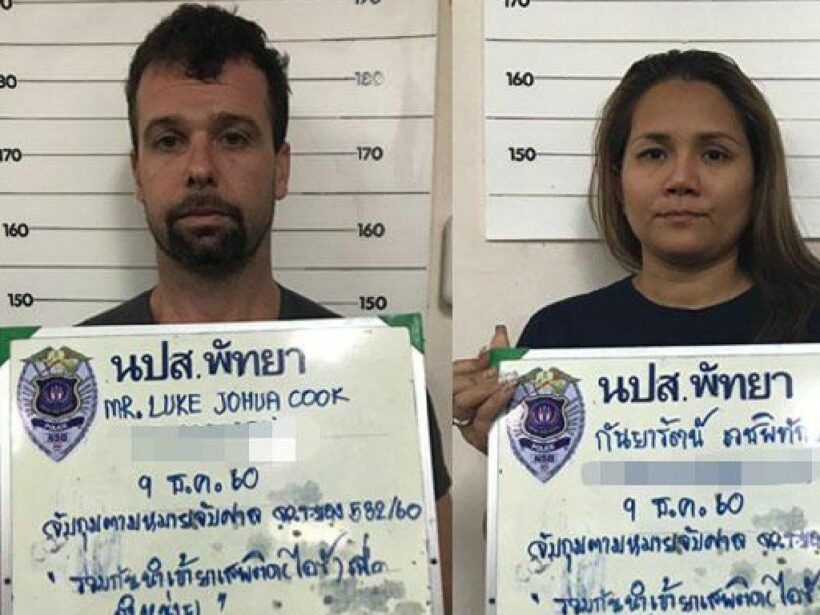 On Wednesday the Region 2 Provincial Court of Appeals in Rayong province, near Pattaya, upheld the conviction and death sentence of Australian Luke Joshua Cook, his Thai wife Kanyarat Wediphitak and a Californian man, Tyler Gerard.
All three were arrested in December 2017 on multiple criminal charges, of which the formal accusation was "the failed importation of 500kg of methamphetamine by sea-going transport into the Thai Kingdom using the yacht "Jomandy".
The yacht was acquired by Cook and Kanyarat from Malaysia using their unlicensed boat importation business "Global Marine Solution", which according to police was specifically for unlawful operations funded by deceased senior Hells Angels member Wayne Rodney Schneider.
According to the Court during May and June 2015, Cook and Gerard took the Jomandy from a marina near Pattaya City to rendezvous with a Chinese vessel in international waters, where the drugs were loaded onto the yacht. En route back to the marina, navy vessels on routine patrol approached them and they dumped the cargo overboard. It eventually washed ashore where it was discovered by locals.
The plan was reportedly to store the narcotics temporarily in Thailand while a custom keel was built for the Jomandy where the drugs were to be concealed while yacht sailed to Australia.
In December 2015, Cook and Gerard were arrested and pleaded guilty to the abduction, death and burial of Schneider which dominated local Pattaya press at the time.
The video below shows a press conference held after the arrests;
A man named Antonio Bagnato was also arrested, but he denied the charges and was ultimately sentenced to three years for assault, after a successful appeal against the death sentence issued by a lower court.
The Court of Appeals handed down the decision on Wednesday based on evidence and witness testimonies such as that given by the man who purchased the Jomandy from Cook, for substantially less than what Cook paid – suspicious, since Cook was in the business of importing used boats into Thailand for a profit, not a loss. Additionally, Cook and the two accused denied any wrongdoing with no credible evidence to support their defense and claimed they had been framed by two of the prosecution witnesses, one of whom they claimed had rented the Jomandy from Cook and undertaken the failed meth importation.
This was deemed impossible by the court as witness was shown by foreign and Thai authorities to have been in another country when the crime was committed. Court officials said this confirmed that the accused knew of the crime and were attempting to frame someone else.
Bagnato, Cook and his wife are currently in a Thai prison awaiting a trial date for charges relating to illegal firearms, one military grade, discovered in police raids after Schneider's body was discovered.
All three have denied the firearms charges, but investigators say Cook and his wife will likely be convicted as the firearms were found in his hotel room and a rental vehicle whose keys he possessed when arrested in December 2015.
Senior Thai officials gone on record calling Cook and his wife con artists and compulsive liars, citing the couple's claim that they never had any dealings or contact with the Hells Angels. A Facebook conversation from Cook's smartphone with his wife where they together reference Hells Angels members arrested by Pol Lt Gen Surachate "Big Joke" Hakparn.
The cell phone video was provided to The Pattaya News from a source at the Region 2 Police.
SOURCE: This story is an exclusive of The Pattaya News
Keep in contact with The Thaiger by following our
Facebook page
.
Coronavirus rumour prompts prison riot, some prisoners escape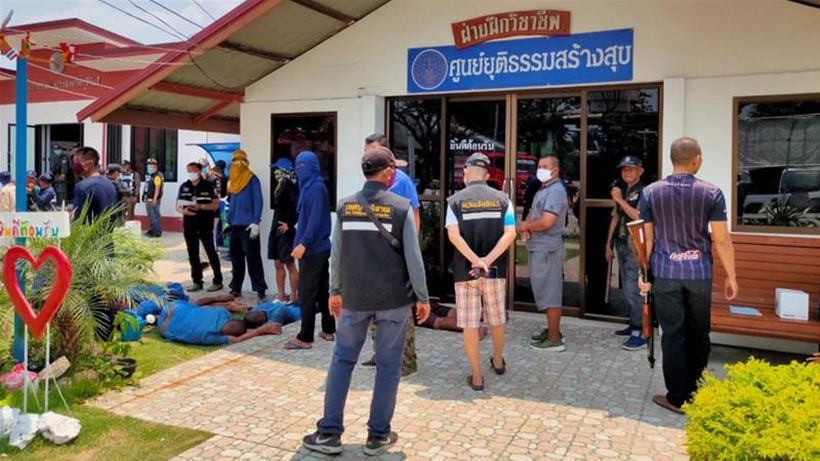 Rumours of a Covid-19 coronavirus outbreak in a prison in the lower northeastern province of Buri Ram sparked a riot. The riot erupted at the central prison after about 100 determined prisoners broke furniture and smashed windows and set a fire over rumours of a Covid-19 outbreak in the prison yesterday.
A number of prisoners escaped but 7 have been recaptured, according to Justice Minister Somsak Thepsutin. Somsak says the protest began at about 11.45am in the dining area while wardens were refurbishing an isolation cell for inmates infected with communicable diseases. The exact number of prisoners who escaped is not yet known.
Around 100 prisoners, some facing life sentences, set fire to the dining hall and destroyed the visiting room for relatives. Thick black smoke could be seen billowing from the prison into the sky.
"The fact is that none of the prisoners in Buri Ram were infected. They only started this rumour to find some supporters."
Police say mental health workers were called in to assuage prisoners "after some rumours were spread" about a coronavirus outbreak.
"The situation is under control."
SOURCE: Al Jazeera | Bangkok Post
Keep in contact with The Thaiger by following our
Facebook page
.
Gambling wife arrested after husband calls police in Nakhon Ratchasima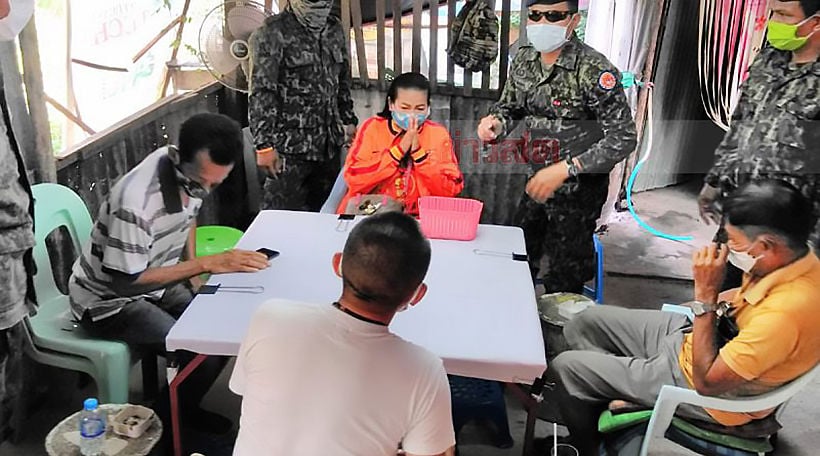 Thailand's recently declared state of emergency has meant the temporary closure of many businesses, leaving a lot of people with a lot of time on their hands. One woman in the northeastern Nakhon Ratchasima province grew bored and decided to invite some friends around for a bit of light home gambling playing cards. But her husband was afraid she might end up infected with the Covid-19 coronavirus, so he called the police (gambling is illegal in Thailand, officially.)
Police arrested 4 suspects, 3 men and and the wife playing the card game "rummy." The suspects have been sent to the Nakhon Ratchasima Court for prosecution. The province's deputy governor says officials received a complaint from a male citizen, later revealed to be the husband of the female suspect. The province has ordered 22 businesses to temporarily shut down in order to minimise the spread of Covid-19. This caused the husband and wife to have perhaps a bit too much free time.
It was not the wife's first infraction. She had been regularly spending her free time gambling in a village located behind the province's Saint Mary's Hospital. The husband, fearing the worst, decided strict action was required. He called police and gave the exact location of where the card games were taking place. The suspects were arrested with cards and 4,000baht in cash was confiscated. Thankfully, none of the suspects had a fever or showed virus symptoms.
We fear another headline in coming days… something along the lines of "wife beating up husband in north eastern Thailand".
SOURCE: Thai Residents
Keep in contact with The Thaiger by following our
Facebook page
.
Drug party raided in Chiang Rai for defying public gathering ban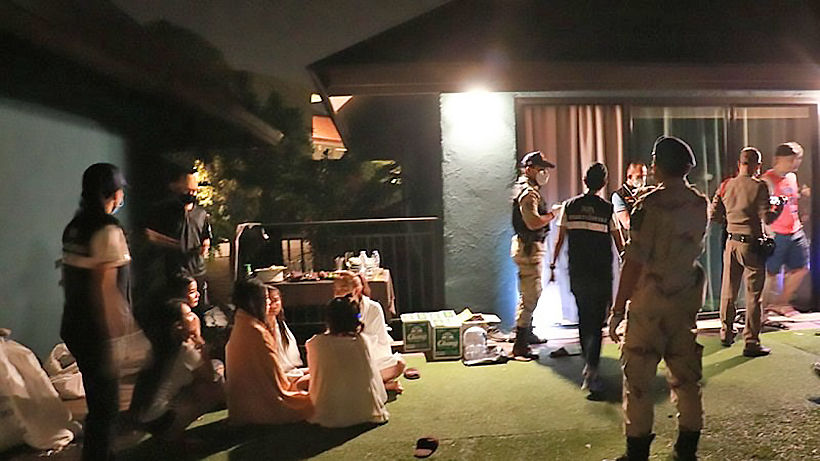 Authorities are cracking down and enforcing the ban on on public gatherings under the the state of emergency declared to fight the Covid-19 coronavirus epidemic last week. 22 people were arrested at a drug party in Chiang Rai yesterday for "gathering in defiance of the Emergency Decree". 10 men and 12 women between the ages of 20 and 30 were nabbed at a hotel in the province's main city district.
(Gamblers also arrested in Phuket, below)
The 22 were attending a pool party where alcohol and drugs such as ecstasy and ketamine were allegedly being sold. Police confiscated 237,000 baht in cash found in a bag, along with illicit drugs for evidence.
An initial investigation showed that a 24 year old man from Trat province in Thailand's east, on the Cambodian border, had been holding parties at the hotel since last Thursday. It's believed he started holding the parties because most public venues are unavailable during the virus scare.
Chiang Rai's governor says police raided the hotel in tambon Tha Sut after a tip-off.
Apart from drug charges, the detainees will also be punished for defying the Emergency Decree, which bans gatherings. The penalty is two years in prison and/or a fine of up to 40,000 baht. Chiang Rai has 5 confirmed coronavirus cases.
In a related development, 6 gamblers were arrested in Phuket near the island's Muang district yesterday.
The detainees were identified as 51 year old Natthawut, 55 year old Suwit, 40 year old Charoon, 48 year old Praiwan, 28 year old Natthapol and 39 year old Natthapong. No surnames were added to the report. Police say that while some were wearing masks to potentially protect themselves from the coronavirus, they were violating the Emergency Decree by sitting around a table to play the games. Gambling is officially illegal in Thailand, apart from the bi-monthly lottery.
SOURCE: Bangkok Post
Keep in contact with The Thaiger by following our
Facebook page
.