Study: Psychosis in teens linked to air pollution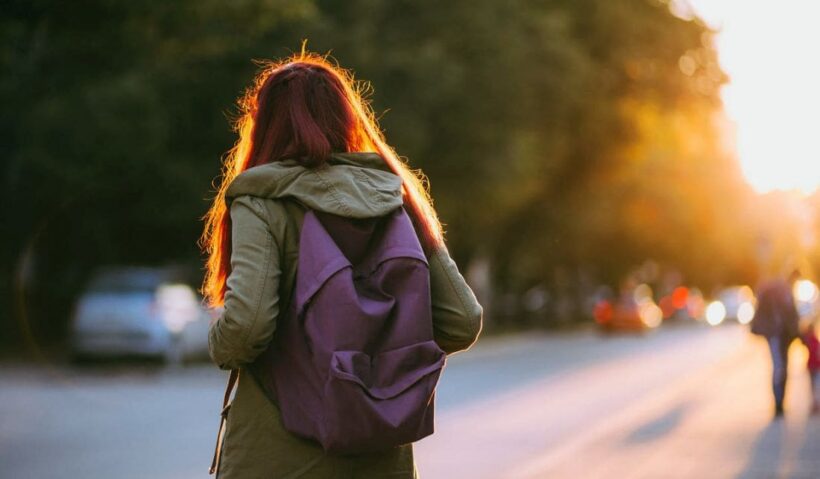 "One of the most consistent findings over the past few decades has been a link between cities and psychosis."
Whilst the high levels of air-pollution, smog and smoke remain high in the north and north-eastern provinces of Thailand, a new study has been released that links high levels of smog and psychoses in young adults.
Joanne Newbury, lead author of into the study looking at possible links between air pollution and teen psychosis at King's College London, says that children who are born and raised in urban versus rural settings are almost twice as likely to develop psychosis in adulthood.
For the study published in the journal JAMA Psychiatry, Newbury and her co-authors explor whether psychotic experiences are more common among teens exposed to higher levels of air pollution. They applied data from a study with more than 2,000 participants, all born in England and Wales in the years 1994/1995.
Researchers have followed up with each child repeatedly at ages 5, 7, 10, 12 and most recently at 18.
"Psychotic experiences are more common among teens exposed to the highest levels of nitrogen dioxide and other forms of air pollution. Nitrogen oxides, including nitrogen dioxide, are tailpipe pollutants, entering the air due to burning fuel."
A study co-author, and a reader of developmental psychopathology at King's College, Dr. Helen Fisher says, "when we talk about psychotic experiences, we are talking about people who are experiencing things like hearing or seeing things other people don't, or feeling very paranoid."
30% of the teens (623 individuals) reported at least one psychotic experience between ages 12 and 18.
Next, the researchers gathered hourly emissions data from monitoring sites to assess pollution levels in the places where each teen spent the most time: a home address and two other places such as school.
Psychotic experiences were significantly more common among teens in the highest areas of pollution exposure, even after the researchers accounted for factors that might also be linked to psychosis, such as cigarette smoking, cannabis dependence and neighborhood crime levels.
"The teens exposed to high levels of nitrogen dioxide, nitrogen oxides and particulate matter (PM2.5, fine inhalable particles derived from chemical smoke) had 71%, 72% and 45% greater odds, respectively, of psychotic experiences compared with those exposed to the lowest-quartile levels."


Read more headlines, reports & breaking news in Chiang Rai. Or catch up on your Thailand news.
Mae Hong Son continues to be plagued with fires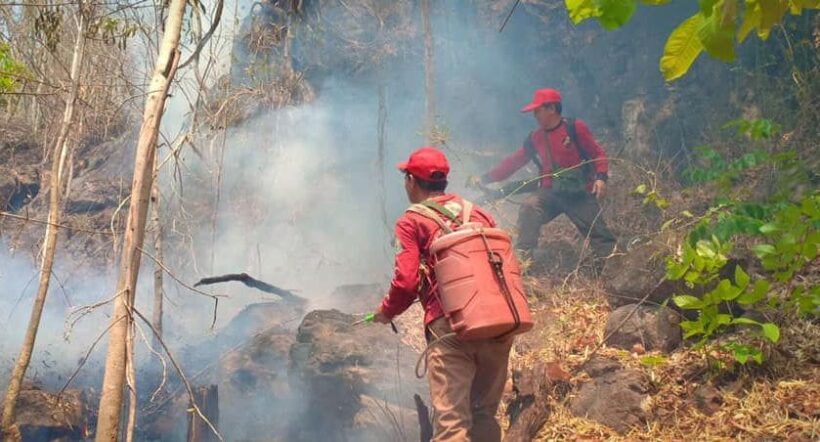 Mae Hong Son province continues to be plagued by forest fires despite the ban and the raging haze and smoke problems.
In recent months, Mae Hong Son has been struggling with haze most of the time with flights to its airport limited at the height of the crisis. Exposure to the serious air pollution has become a threat to the health of locals. Authorities continue to blame outdoor fires as the key cause of smog.
However, illegal outdoor fires continue to be detected.
Satellite images confirmed that there were at least 23 hotspots in Mae Hong Son yesterday. Of them, 13 were in Sop Moei district.
Kampanart Prachongpim, who heads Mae Hong Son's forest-fire control division, says that teams from several provinces had come to Mae Hong Son to help extinguish forest fires that were often caused by people. At least, two bushfires extinguished yesterday were caused by people going into the forest to collect forest produce. According to him, by the time these forest fires were put out, about nine rai of forest reserves had been destroyed.
Mae Hong Son is 100 kilometres north west of Chiang Mai, near the Myanmar border.

SOURCE: The Nation
Developer pulls the plug on 500 million baht retirement project in Chiang Mai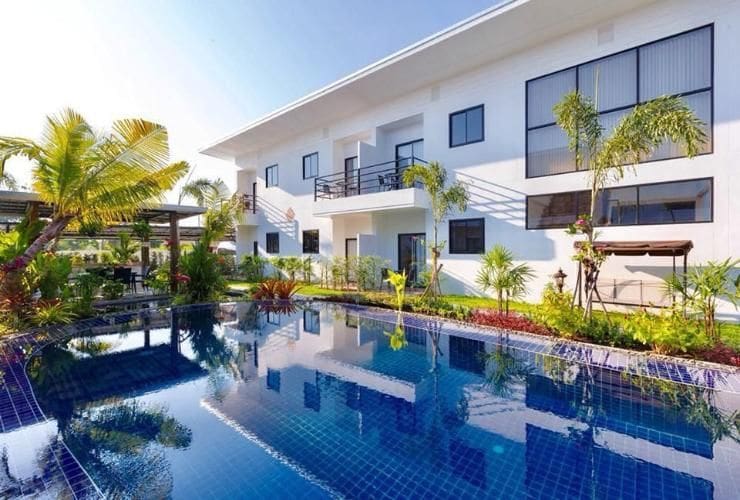 PHOTO: Sunshine International Retirement Residence & Serviced Apartment, Hua Hin
Sunshine International, Thailand's leading brand of retirement residences says that their project which was due to be constructed near Chiang Mai's city centre has now been cancelled.
Sunshine International, a retirement property that included around the clock medical facilities, on site doctors and nurses, and state of the art facilities, was due to be built on a five rai site in central Chiang Mai.
But ThaiVisa reports that the company says, due to the problems the city is experiencing with poor air quality, smog and pollution, it has been forced to cancel the Sunshine International Retirement Residences project.
Andrew Stocks of Sunshine International said they had an increase in people contacting them saying they have been forced to leave Chiang Mai because of the smog.
He said that due to the negative impact the project is currently not viable.
Andrew said his company will now focus on its other retirement projects located in Hua Hin, as well as a soon to be announced project in Phuket. He said Sunshine International would consider returning to Chiang Mai again if the smog situation improved.
Andrew called on the authorities to step in to help protect the livelihoods of local people who rely on income generated by the tourism industry in the region.
SOURCE: ThaiVisa.com
New fires in the North likely to be arson – Army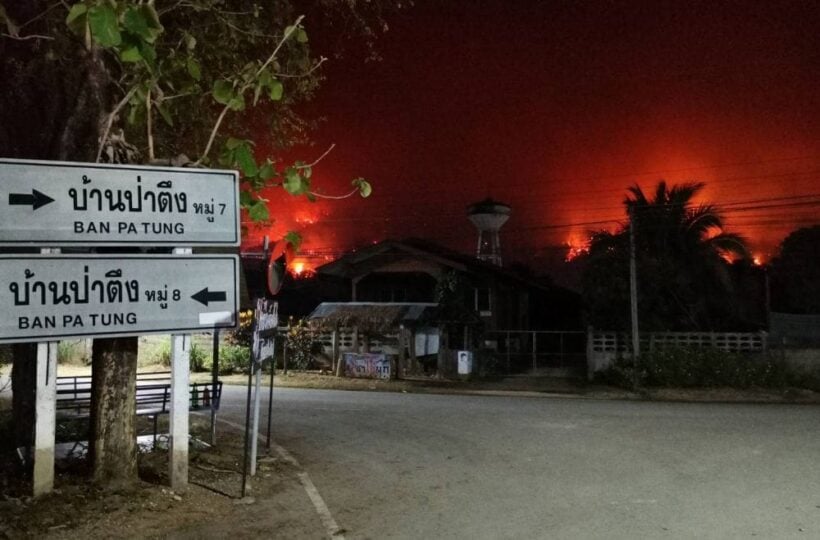 Some 1,000 combined professional and volunteer firefighters are battling a major forest fire in the mountainous area overlapping Chiang Mai's Muang and Mae Chan districts.

The fire started on Sunday night in the Doi Jorakhe area of Tambon Tha Sud in Muang before spreading to Tambon Pa Teung in Mae Chan, a densely populated area and home to Mae Chan Hospital and temples.

As of this morning the fire had already devastated 1,000 rai of forestland and nearby plantations.

Mae Chan disrict chief Wandee Ratchomphu led the efforts by 800 state officials and volunteers to put out the fire and prevent it from reaching communities or more forestland in Mae Fah Luang district. A special coordination centre was set up at Wat Pateung to dispatch firefighters to the affected areas by first light, attempts to put out the flames in the heavily wooded mountainous area during the night considered dangerous.

Third Army Region deputy commander Major Buncha Duriyapan was also on the scene to help supervise soldiers joining the fire-fighting efforts. The Army brought in a helicopter to provide support to the Protected Area Regional Office 15's chopper being used to carry water from the three-metre-deep Tham Sua reservior to douse the flames in hard-to-reach spots.

Buncha also ordered related agencies, especially the police and army, to investigate and identify the person(s) who started this massive fire, saying this was "a strange and unprecedented situation when wildfires erupted all over the province's mountainous areas simultaneously".

He said he was convinced that this was a case of arson and not a freak natural incident like a lightening strike.

The Geo-Informatics and Space Technology Development Agency's fire monitoring system, as of yesterday morning, identified 521 hot spots in the North. Chiang Rai led the pack with 291 hotspots, followed by Nan (57), Lampang (46), Phayao (46), Chiang Mai (44), Tak (15), Mae Hong Son (14), Phrae (6) and Lamphun (2).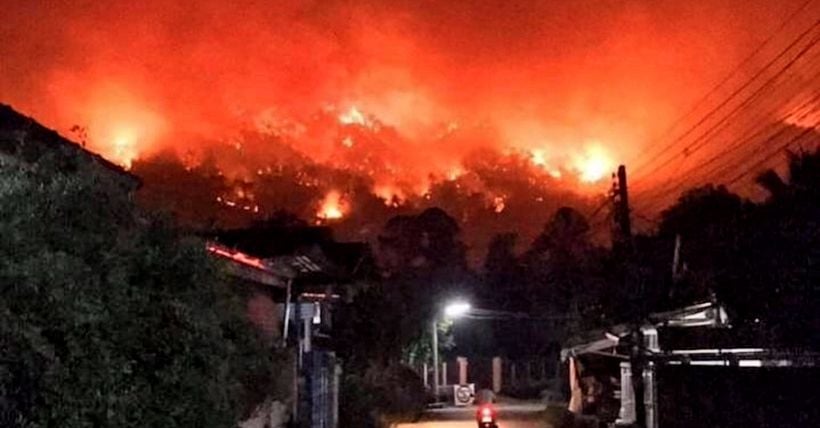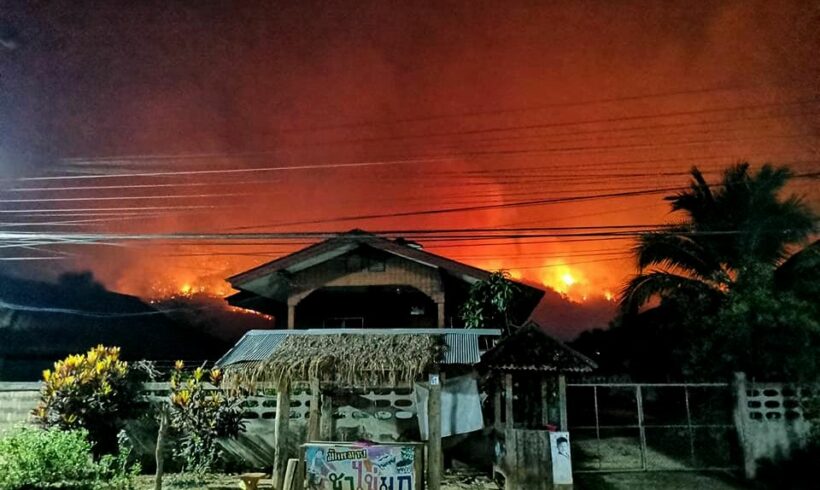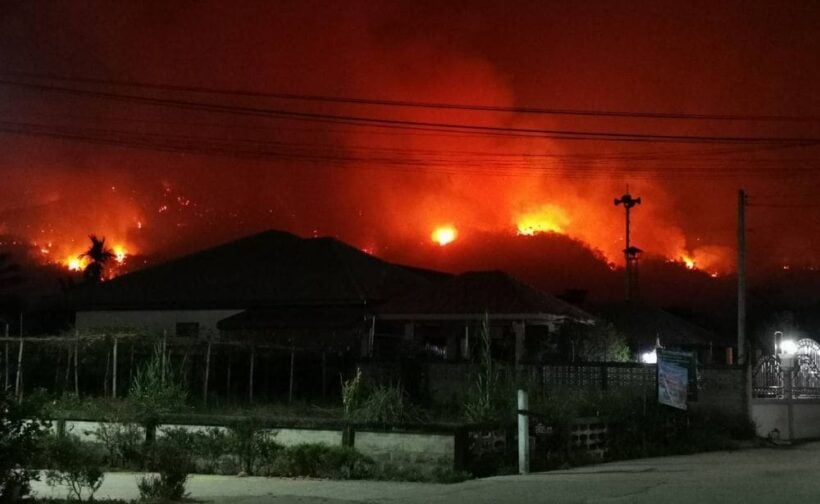 SOURCE: The Nation