Northern haze to go onto 'national agenda'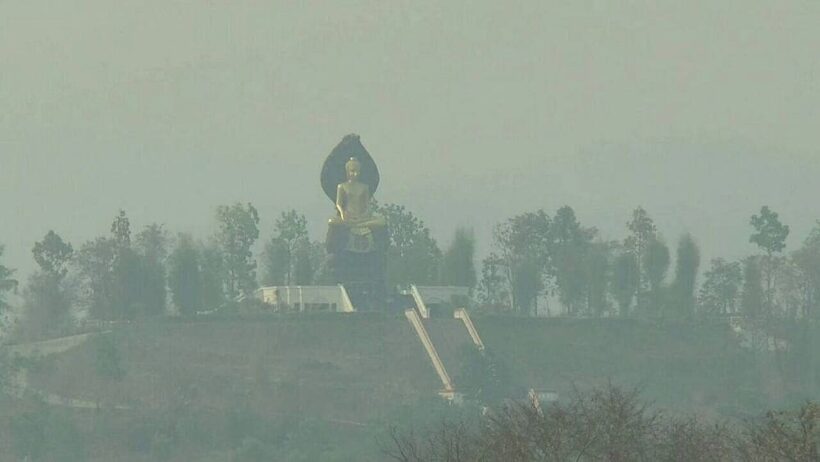 by Chularat Saengpassa– PHOTOS: The Nation
Flights cancelled, schools closed, locals visiting hospitals in record numbers and the visual proof is overwhelming. Some of Thailand's most beautiful areas and popular locations are shrouded in a dense smog and an equally hazy list of solutions.
Calls for the government to tackle the problem of serious air pollution as a vital part of the national agenda are getting louder.
The North has been struggling with severe air pollution for several months now, as outdoor fires are increasing the amount of airborne dust particles.
"Smog is a threat to people's health," said Sonthi Kotchawat, an independent environmental health expert.
He added that the region has been struggling with this dust problem for a long time now, but relevant parties have simply waited for nature – such as wind and rain – to blow away the dangerous dust particles.
"We can't let northerners struggle with smog every year because their health is in grave danger," Sonthi said, demanding that the authorities issue clear action plans to address the problem.
He also emphasised that the government actively participate in dealing with the problem instead of leaving the job to local authorities.
"Don't rely on provincial authorities to address this problem. The government needs to take action because the smog has worsened over time," Sonthi said.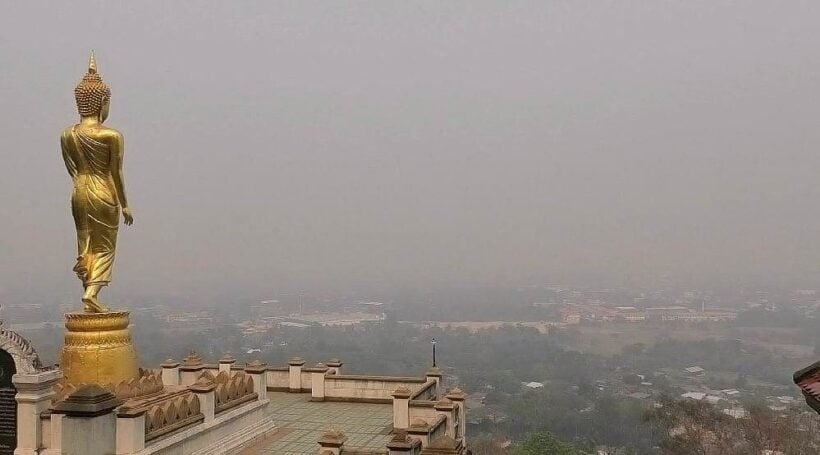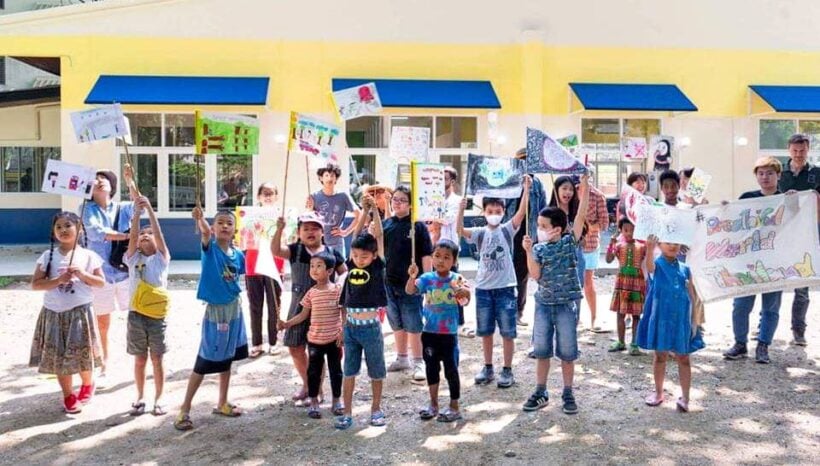 Records show that there were 6,080 hotspots in Myanmar and 3,030 in Laos on Wednesday. Both countries border Thailand in the North. Although the ASEAN Transboundary Haze-Fee Roadmap is in place, fires from Thailand's neighbours have continued polluting the air.
Meanwhile, Chiang Mai has been topping the global list of the world's most polluted city for a few hours every day since Tuesday.
The Pollution Control Department wrote to Myanmar authorities this week asking for help with the smog, but there has been no satisfactory result so far.
In Chiang Rai's Mae Sai district, which is next to Myanmar, the PM2.5 level hovered around 208mcg per cubic metre of air as of noon yesterday and its AQI stood at a shocking 318 – a threat even to healthy people.
Thai representatives in the Thailand-Myanmar Township Border Committee will soon be sent to Myanmar to discuss the problem.
Meanwhile, the Deputy PM and Defence Minister General Prawit Wongsuwon attended a meeting on the pollution in Chiang Mai yesterday.
"We will use this as an opportunity to raise public awareness about PM2.5 and will take tough action against those who violate the ban on outdoor fires," he said after emerging from the meeting.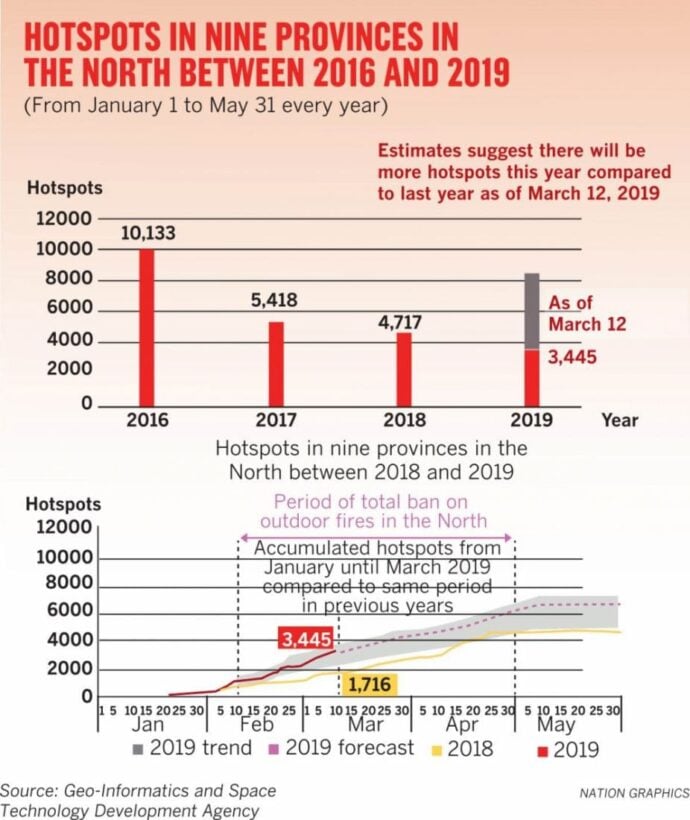 SOURCE: A longer version of the story at The Nation
Keep in contact with The Thaiger by following our Facebook page.
Never miss out on future posts by following The Thaiger.
Smog across Bangkok can be blamed on a 'Dust Dome' of pollutants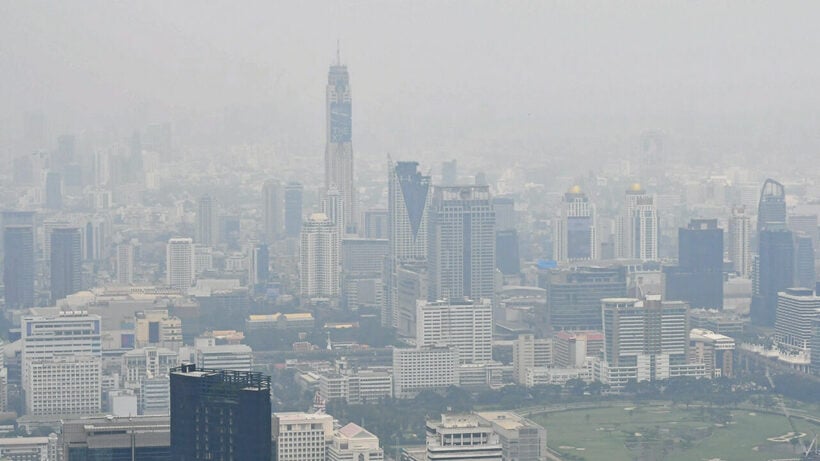 Poor air quality across Bangkok in the past week are not just caused by the PM2.5 dust. We can blame a 'dust dome' that is formed with low atmospheric pressure, dust and pollutants from the farmland waste burning, and greenhouse gases.
Natural Resources and Environment Minister Varawut Silpa-archa says that the pollutants come from "the improper disposal" of farming waste around Bangkok's northern outskirts. He also asked provincial governors to ask farmers to avoid burring farm waste. If they refuse to cooperate, there might be an order to ban all outdoor burning activities in the future, while suggesting that farmers should sell their agricultural waste instead of burning it.
The mentioning of the agricultural sector being major contributors to Bangkok's smog problems is a rare official recognition of the pollution 'elephant in the room'.
People in Bangkok are also being encouraged to avoid outdoor activities and wear their masks when going outside to prevent both the pollutants and Covid-19. While "unhealthy level" of PM2.5 has been reported in many areas over the past week, the Department of Pollution Control is considering both short-term and long-term measures to tackle the air pollution problems.
Measures that have been rolled out include an extension of the work-from-home policy, lowering the price of low sulphur fuel in the capital and its vicinity, extensive monitoring of waste burning on farms, as well as offering higher prices for sugarcane products which were made in a sustainable manner.
For a long-term plan, the department is considering setting a new standard of air quality by lowering the "safe" threshold for PM2.5 exposure below the current level, but this is likely to happen in the next 5 years. Also, the government aims to apply the Euro-5 standard for vehicle emissions by 2024.
He also says that the pollution situation in Thailand has seen improvement after the measures were implemented. And, the number of days where [air quality] exceeded safe standards was less than 20% of the year.
SOURCE: Bangkok Post
Keep in contact with The Thaiger by following our Facebook page.
Never miss out on future posts by following The Thaiger.
Air pollution in Bangkok expected to get worse due to "cold spell"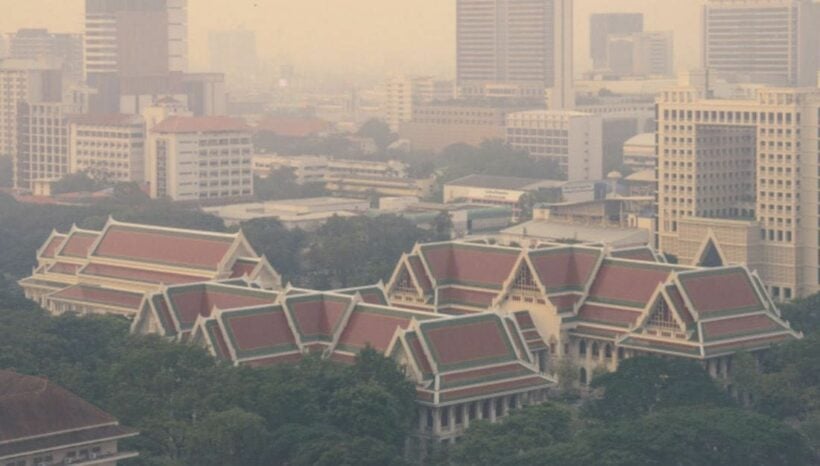 Air pollution in Bangkok is expected to get worse over the next few days as pollutants are getting trapped in the atmosphere thanks to a recent cold spell and a lack of wind to blow the haze away from the city. In response to the unhealthy air pollution, The PM's Office permanent secretary says he has asked several ministries to step up efforts in combatting the PM2.5 micron 'dust' particulate that has blanketed the city.
He says that the issue has been contained so far due to Covid-19 measures which have made many people work from home.
"But vehicle exhaust fumes, construction sites and burning garbage in open areas is not helping."
"To add to the problem, the cold spell is creating an "inversion layer" as meteorologists call it, which stops air below it from rising and trapping pollutants."
As usual, Bangkok officials are looking to some of the smaller, localised traffic issues to blame, although the annual "smoke from the north" problem is the key and overriding issue regarding Bangkok's smog problem months. The local traffic pollutants, whilst ever-present, don't cause the skyline smog and haze for the rest of the year.
And when the Thais refer to a "cold spell" it usually means the ambient temperature has dropped to the low 20s. In other parts of the world that would be considered a heat wave!
The secretary says police and other officials are being asked to curb traffic build-ups at intersections as some had seen a sharp increase in dust pollution. Motorists are also being advised to take their cars for routine engine check-ups but some owners are refusing, saying their cars are new and not releasing black smoke. Public transportation vehicles are also being checked for emissions that could further add to the pollution issue in the country's capital.
Meanwhile, PM Prayut has recently asked people to avoid large gatherings out of what he says is "concern" for their health after the recent cold spell from China hit the nation. But, more particularly, he pointed out political gatherings and has also asked everyone to adhere to social distancing and mask wearing to help curb the recent outbreak of Covid-19 that has swept the country in the past couple of months.
SOURCE: Bangkok Post
Keep in contact with The Thaiger by following our Facebook page.
Never miss out on future posts by following The Thaiger.
59 areas see excessive PM 2.5 dust in Bangkok today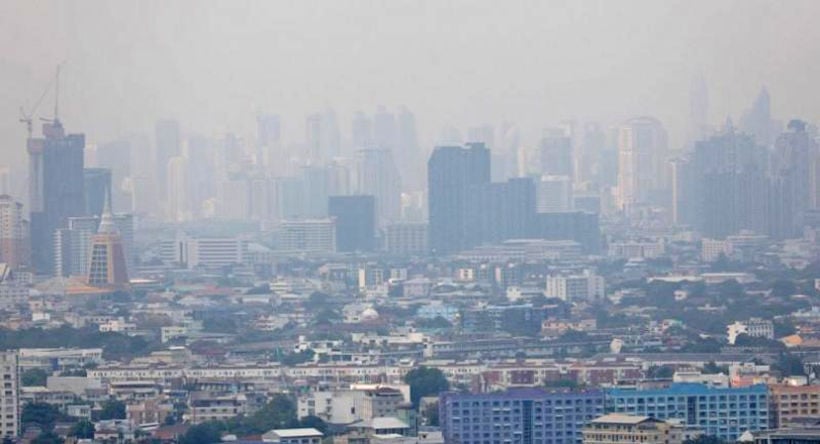 59 areas in Bangkok are seeing excessive PM 2.5 dust ratings today as air quality is being described as moderate to poor. Din Daeng Road is being identified as the most polluted, according to the air4thai website of the Pollution Control Department. The amount of PM 2.5 dust is being measured at between 39 and 113 microns.
Din Daeng is also joining Bang Na-Trat highway in Bang Na district, Lat Phrao district and Sukhapibaan 5 Road in Sai Mai district in featuring PM10 dust in the atmosphere that is measuring between 54 and 155 microns.
Read more about Bangkok's pollution today, and its causes, HERE.
The 59 areas that are considered polluted today are:
Hirunrujee sub-district, Thon Buri district
Kanchanapisek Road in Bang Khun Thian district
Bang Na sub-district
Song Khanong sub-district in Phra Pradaeng district
Din Daeng sub-district, Din Daeng district
Talat Kwan sub-district in Muang district of Nonthaburi
Omnoi sub-district in Krathumban district of Samut Sakhon
Paknam sub-district in Muang district of Samut Prakan
Bang Sao Thong sub-district
Khlong 1 sub-district in Khlong Luang district of Pathum Thani
Rama 4 Road in Pathumwan district
Intharapitak Road in Thon Buri district
Lat Phrao Road in Wang Thong Lang district
Din Daeng Road in Din Daeng district
Khlong Goom sub-district
Khlong Sam Wa district
Chom Thong district
Charunsanitwong Road in Bang Phlad district
Rama 2 Road in Bang Khun Thian district
Vibhavadi Rangsit highway in Din Daeng district
Sukhumvit Road in Phra Khanong district
Ratburana Road in Ratburana district
Rama 5 Road in Dusit district
Trimitr Road at Wongwian Odeon, Samphanthawong district
Rama 6 Road in Phya Thai district
Lat Phrao Road at Soi Lat Phrao 95 in Wang Thong Lang district
Rama 4 Road in front of Sam Yan Mitrtown, Pathumwan district
Narathiwat Road in Bang Rak district
Thung Wat Don sub-district
Rama 3-Charoen Krung Road in Bang Khor Laem district
Sukhumvit Road Soi 63 in Wattana district
Pattanakarn Road in Suan Luang district
Bang Na-Trat highway in Bang Na district
Pahonyothin Road at Kasetsart intersection, Chatuchak district
Don Mueang district
Sukhapibaan 5 Road in Sai Mai district
Nawamin Road in Bang Kapi district
Suan Sayam-Raminthra intersection in Kanna Yao district
Lat Krabang Road in Lat Krabang district
Seehaburanakit Road in Min Buri district
Liab Waree Road in Nong Chok district
Srinakharin Road in Prawet district
Ratchadapisek-Tha Phra Road in Thon Buri district
Charoen Nakhon Road in Khlong San district
Tha Phra intersection, Bangkok Yai district
Soi Nikhom Rodfai Thon Buri in Bangkok Noi district
Buddha Monthon 1 Road in Taling Chan district
Thawee Wattana Road in Thawee Wattana district
Aekkachai Road in Bang Bon district
Pracha-uthit Road in Thung Khru district
Samsen Road in Phra Nakhon district
Huay Khwang district
Khlong Toey sub-district
Ban Sue sub-district
Lat Phrao district
Thung Song Hong sub-district
Pahonyothin Road in Bang Khen district
Saphan Soong district
SOURCE: Thai PBS World
Keep in contact with The Thaiger by following our Facebook page.
Never miss out on future posts by following The Thaiger.