Forecast for poor air quality returning to Bangkok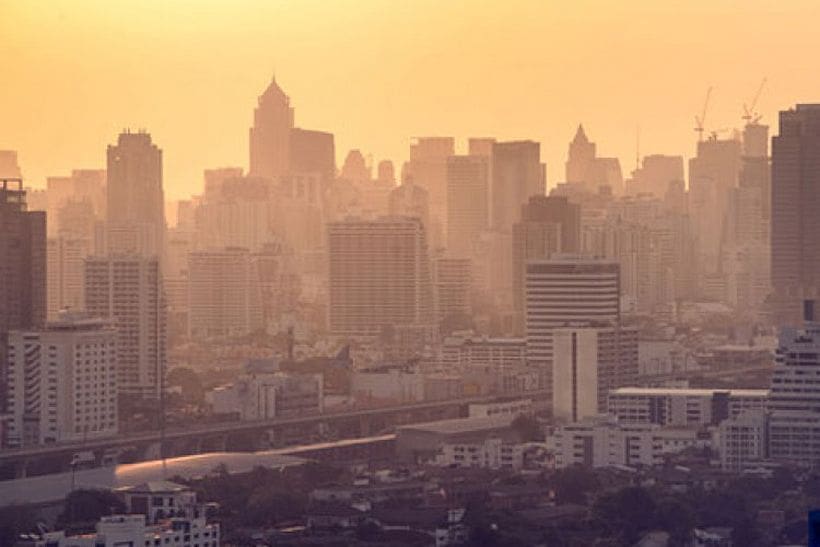 Smog, smoke and haze problems have returned to the capital and its neighboring provinces. Nine areas were found to contain levels exceeding the 50-micron safety level yesterday.
Blaming the poor air quality on weak low-altitude air flow, the pollution control department predicts that the situation might further deteriorate.
The department pleaded for cooperation from members of the public by not burning anything in open areas and suspending the use of smoke emitting vehicles.
Several northern provinces, including Chiang Mai, are facing a worsening haze problem, mainly due to man-made forest fires which have sent the level of PM2.5 dust way over the 50-micron level.
Today Bangkok has 'moderate' levels of haze, well under the safe limit. Its forecast today shows the winds coming from the south, where the air is a lot clearer than than the north.
The Thaiger will continue to monitor the situation around the country.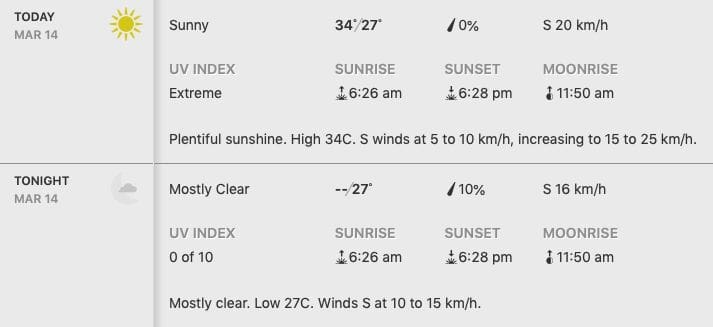 Read more headlines, reports & breaking news in Bangkok. Or catch up on your Thailand news.
Week kicks off with more choking haze and cancelled flights in the north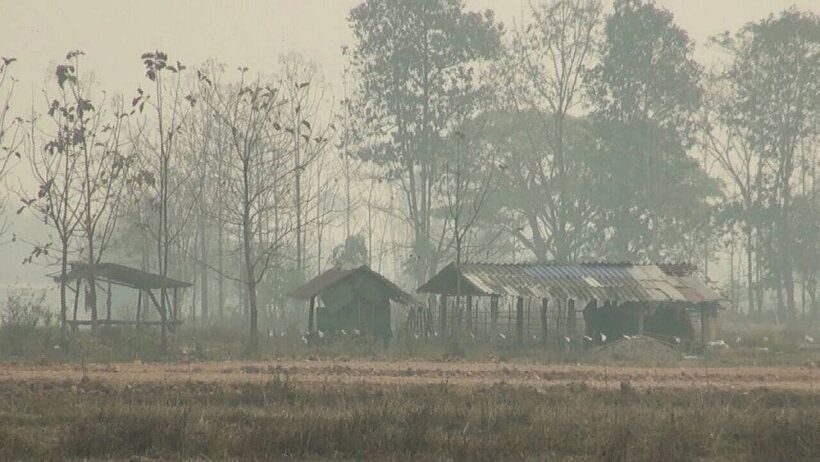 From Nan to Mae Hong Son, Phrae, Chiang Mai and Chiang Rai, choking smog continues to be a persistent problem and part of daily life in the North, where more than 400 brushfire hotspots have now been identified.
Most of the fires are in Mae Hong Son, on the far north-west border with Myanmar, which counted 100.
Bangkok Airways has already cancelled its morning flights between Chiang Mai and Mae Hong Son until at least next Sunday, extending the deadline from this weekend, saying there had been no improvement in visibility so the situation was too risky for flights.
Yesterday morning visibility at Mae Hong Son was just 1,600 metres, whereas Bangkok Airways requires 6,000 metres. At this stage other flights are continuing their schedule.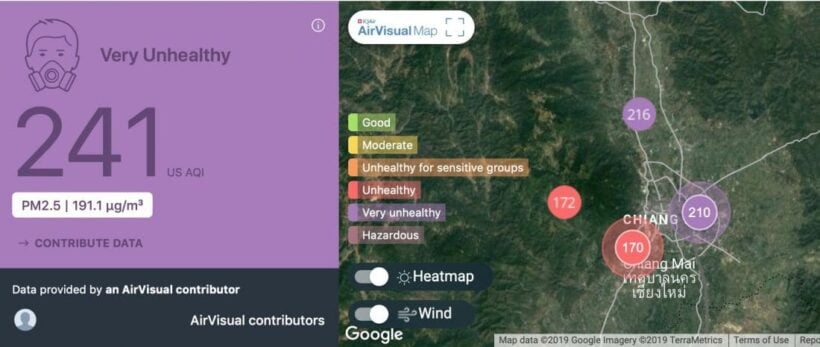 Areas north of Chiang Mai this morning, registering well above safe levels for air quality
The Pollution Control Department reported the level of PM2.5 – particulate matter 2.5 micrometres or less in diameter – in Mae Hong Son more than twice the safe limit of 50 micrograms per cubic metre.
Authorities say that deliberately set brushfires and plantation burn-offs are the main cause of the air pollution. With Mae Hong Son topping the list, Chiang Mai had 83 hotspots on Sunday, Phayao 54, Tak 49, Nan 38, Chiang Rai 37, Lampang 31, Phrae 24 and Lamphum 20.
Authorities in several provinces have declared total bans on outdoor burning, but farmers often risk the threatened fines because they have no other viable way to clear their land.
Several outdoor activities have been cancelled in Nan, such as sports tournaments, as a result of the danger to health.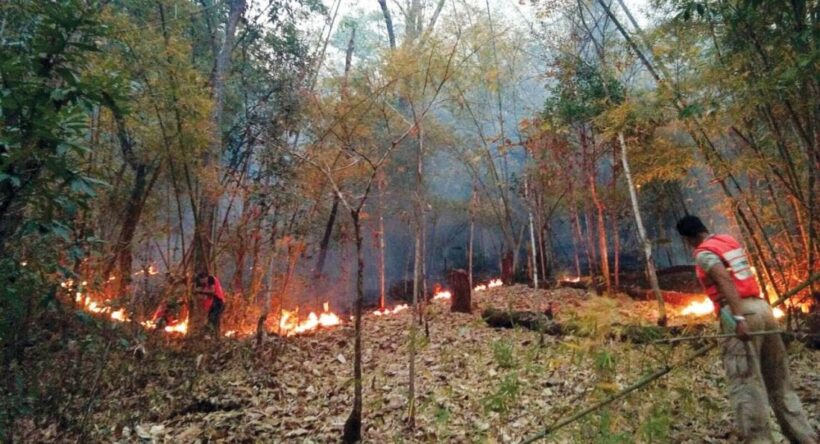 SOURCE: The Nation
Thailand's north continues to choke under record smoke levels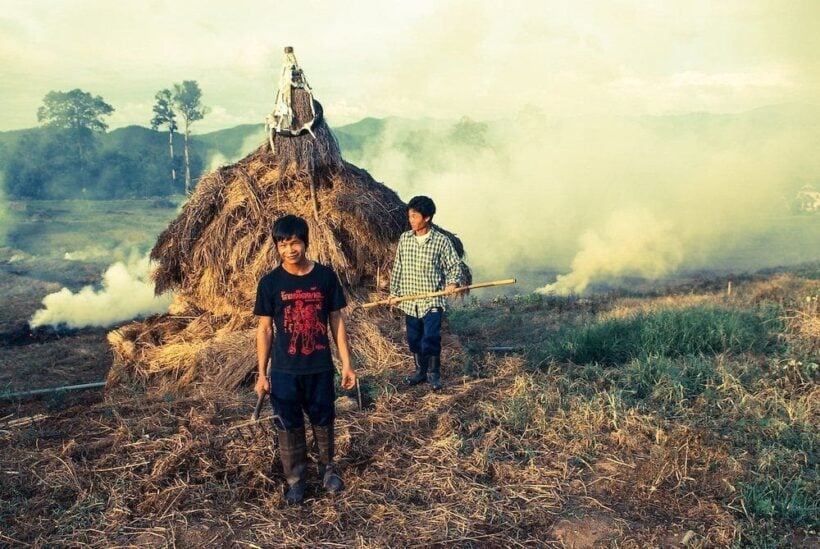 PHOTO: Burn-off of plantation land and forest fires continue to blanket the north in smoke – Thailand Discovery
For the fourth consecutive day Chiang Mai ranks as the world's most air-polluted city, with an air quality index (AQI) score of 282 this morning on airvisual.com.
Mae Hong Son meanwhile continued to battle multiple forest fires, and Lampang saw it Thammasat University campus suspended classes and office work until March 18 due to the severe haze. Bangkok Airways has also suspended its daily flights into Mae Hong Son airport from Chiang Mai but will review the situation over the weekend.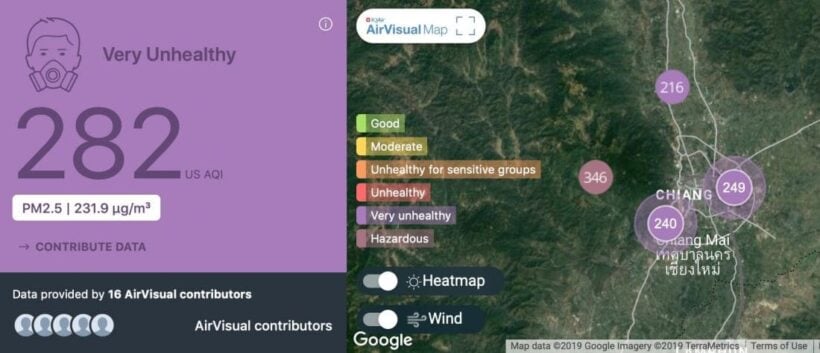 The Pollution Control Department reports that all nine northern provinces this morning had unsafe levels of PM2.5 dust particulates.
The Thai safety limit for PM2.5 is 50 micrograms per cubic metre or an AQI of 100. This morning's measurement of 282 is listed as 'unhealthy' by the internationally recognized website.
In Mae Hong Son, where satellite image reports had cited more than 100 hot spots for several consecutive days, the latest report found 104 hot spots in the province – with the largest number clustered in Pai district at 43 hot spots followed by Pang Mapha district at 33 hot spots, which is a slight drop from the previous day's 119 hot spots.
The satellite image report as of 2.18am cited 561 hot spots in nine northern provinces – Mae Hong Son (104), Chiang Mai (137), Chiang Rai (36), Nan (43), Phayao (94), Phrae (33), Lampang (61), Lamphun (28) and Tak (25).
A Thai friend of The Thaiger sent this video to us today….
https://web.facebook.com/thethaigernews/videos/2462678387293208/
The haze has inundated the region with poor visibility. It has now ravaged Mae Hong Son, especially its Doi Kongmu area, for two weeks and caused officials to dispatch fire engines to spray water throughout the city.
State officials and volunteers continue daily to battle forest fires, most of which have reportedly stemmed from villagers lighting fires in the forests. About 60% of the forest fires have occurred in beyond-reach steep mountainous areas and so continue to bellow smoke and strengthen the haze.
In Lampang, the Thammasat University campus suspended classes and stopped office work for until March 18 as a precaution to ensure students and staff can protect their health.
The university also suspended the use of outdoor fields and its stadium, said the deputy rector for litigation and administration, Professor Pairoj Kampusiri. The university also urged students and staff to wear effective face masks during this period.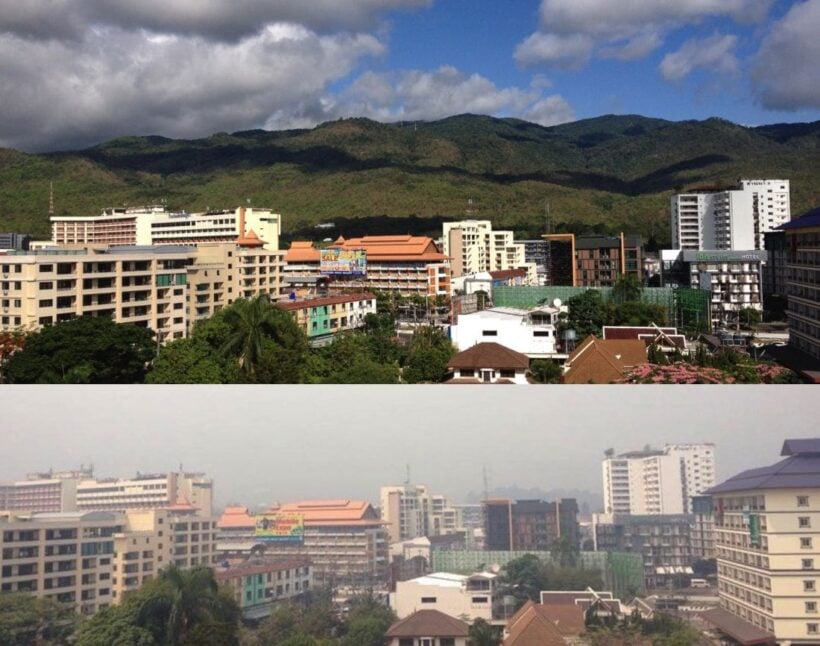 SOURCE: The Nation
Plastic waste fire smothers village in acrid smoke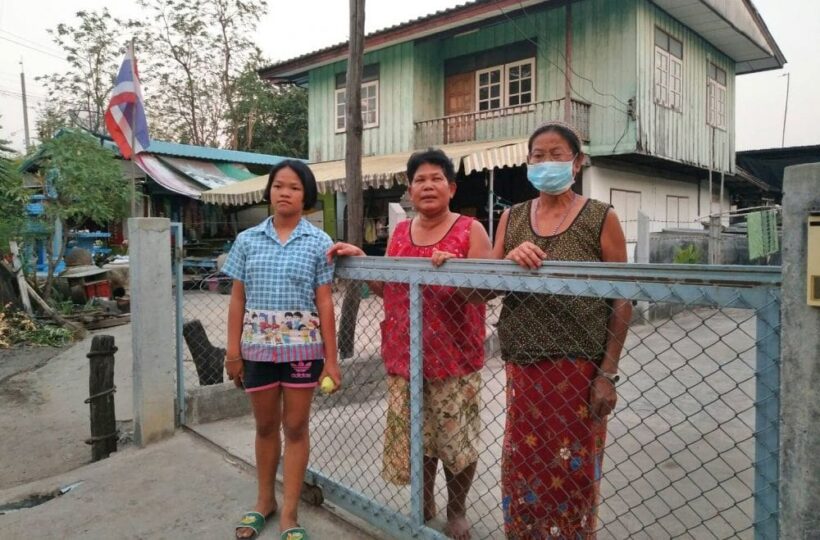 Firefighters are struggling to control a major fire at a plastic waste-separating factory in Nakhon Ratchasima's Noen Sung district which began on Wednesday afternoon and is still not completely completely extinguished. Nakhon Ratchasima is the gateway to the north-east, heading out of Bangkok.

Villagers in Ban Don Ree and Ban Som say they are worried about the health impact from the acrid smoke. Some residents have already moved to stay elsewhere.

Disaster Prevention and Mitigation officials are investigating to determine the cause of the fire.

The fire broke out at around 3pm on Wednesday at the abandoned plastic waste factory in Ban Don Ree in Tambon Don Chomphu where hundreds of tonnes of plastic waste were ignited.

Over 10 fire engines responded to the factory, which was abandoned nearly a decade ago as the previous owner reportedly faced a bankruptcy lawsuit and the property was passed onto a bank.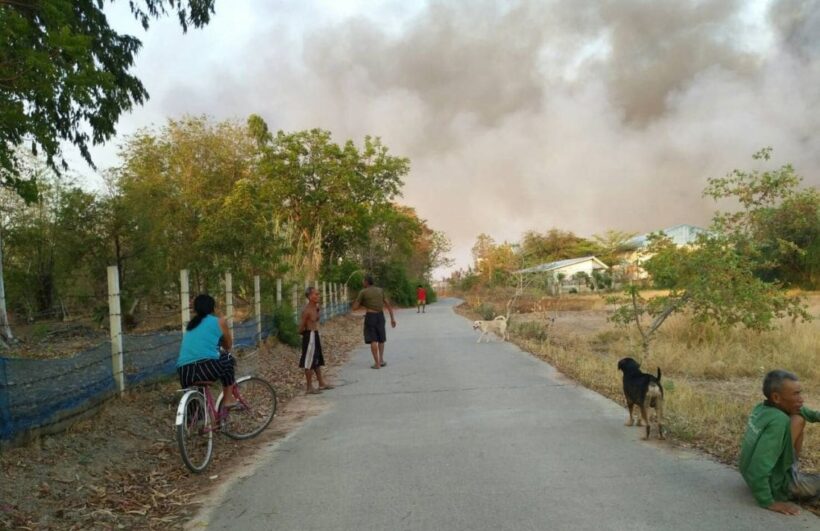 SOURCE: The Nation