Air quality for Thailand – February 22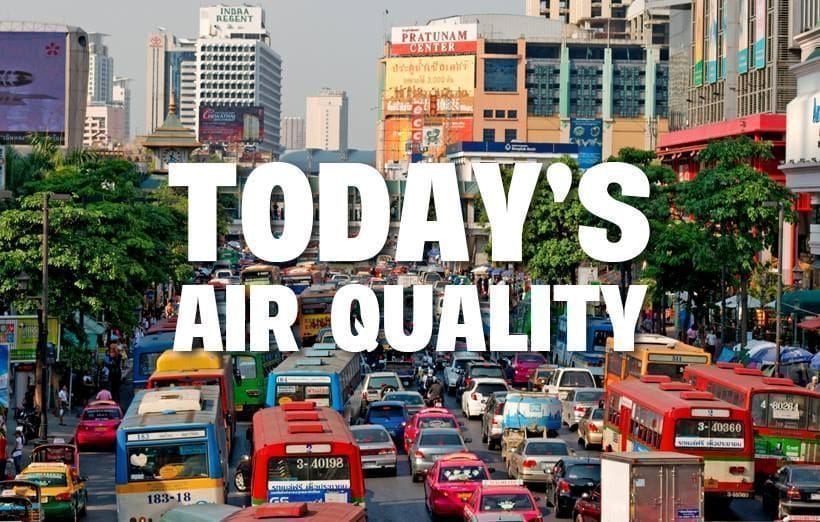 Central Thailand
Air quality is acceptable; however, for some pollutants there may be a moderate health concern for a very small number of people who are unusually sensitive to air pollution.


Northern Thailand
Members of sensitive groups may experience health effects. The general public is not likely to be affected.


Southern Thailand
Air quality is acceptable; however, for some pollutants there may be a moderate health concern for a very small number of people who are unusually sensitive to air pollution.


Hazardous: Chiang Mai again leads the world in air pollution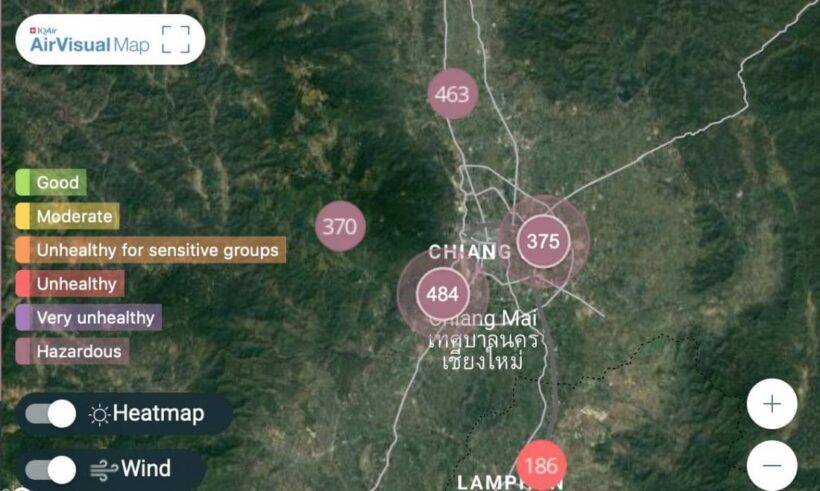 Chiang Mai is back on top of the world's list of most air-polluted cities, according to the AirVisual.com website.
AirVisual reports at 1.45pm that the air quality index (AQI) of Chiang Mai on Saturday stands at 471 (##!!??!!) , much higher than the 100 AQI safety standard (the WHO lists the safety limit as 50 on the AQI scale). It's been about 350 all day today.
In its six scale listings Chiang Mai is now listed at the bottom as 'Hazardous', the scale doesn't go any lower.
The northern capital has been covered with white, mostly bushfire smoke and smog, for almost two weeks prompting Chiang Mai residents to wear N95 air-filter marks outdoors. Or stay indoors.
The Chiang Mai University, the Rajamangala University of Technology Lanna and Chiang Mai provincial administration confirmed that the air quality in the city remained critical.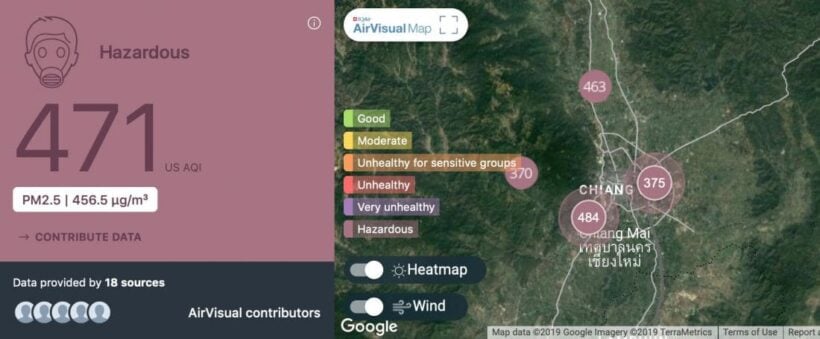 Specialist clinics for pollution-related symptoms to be set up around the country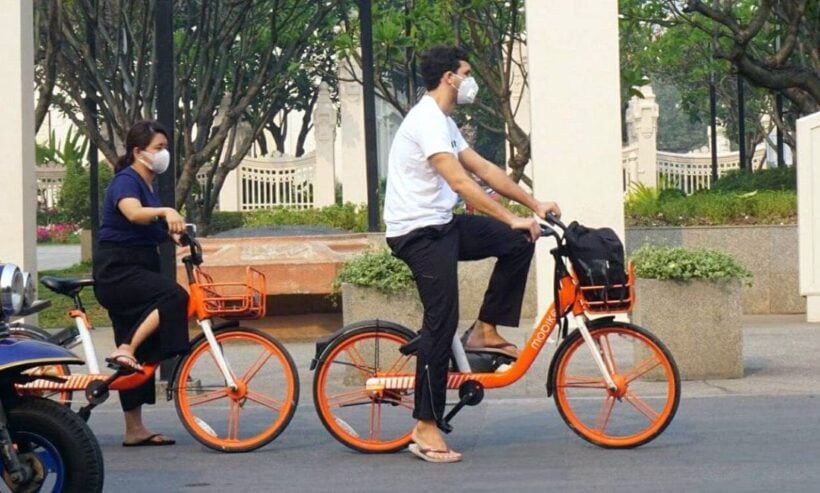 The Public Health Ministry says they are now preparing to set up specialised clinics to treat patients suffering from pollution-related symptoms in the northern parts of the country.

"At present, we have just one such clinic in the country. So, we have decided to introduce many more," according to permanent secretary Dr Sukhum Karnchanapimai.

He made the pledge in response to the high levels of choking smog and smoke that has been haunting several provinces of Thailand in recent months.

"We plan to set up pollution clinics in the North and the Northeast before the end of this year," Sukhum said.

Currently, the country's only 'pollution clinic' is located at Nopparatrajathanee Hospital in Bangkok.

According to the permanent secretary, the Medical Services Department has already prepared a manual on how to set up pollution clinics for hospitals to use.

Certain groups of people face a graver threat than the general population from dust problems: those working outdoors, young children, pregnant women, the elderly, asthma patients, and those suffering respiratory disorders.

Disease Control Department deputy director-general Dr Kajohnsak Kaewjarus said about 22,000 people had sought medical help about symptoms that could be associated with smog and air pollution.

"The most common symptoms concern respiratory disorders, heart and coronary-artery disease, eye inflammation and inflamed skin."

Health Department director-general Dr Panpimol Wipulakorn said people should try to protect themselves.

"Minimise exposure to dust. Keep your home clean. When going outdoors, wear a facemask. And if you develop health problems, go see a doctor," she said.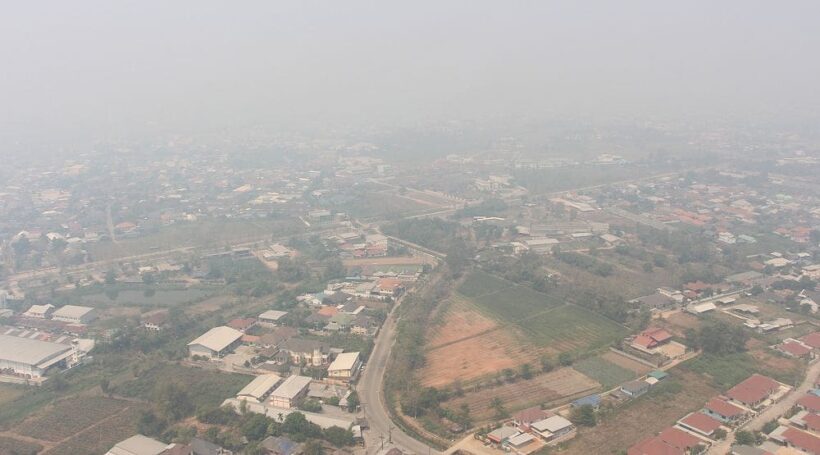 SOURCE: The Nation
Week kicks off with more choking haze and cancelled flights in the north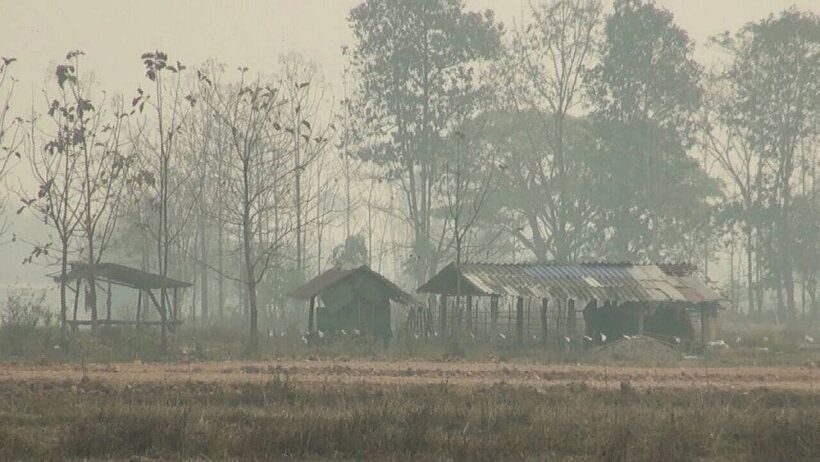 From Nan to Mae Hong Son, Phrae, Chiang Mai and Chiang Rai, choking smog continues to be a persistent problem and part of daily life in the North, where more than 400 brushfire hotspots have now been identified.
Most of the fires are in Mae Hong Son, on the far north-west border with Myanmar, which counted 100.
Bangkok Airways has already cancelled its morning flights between Chiang Mai and Mae Hong Son until at least next Sunday, extending the deadline from this weekend, saying there had been no improvement in visibility so the situation was too risky for flights.
Yesterday morning visibility at Mae Hong Son was just 1,600 metres, whereas Bangkok Airways requires 6,000 metres. At this stage other flights are continuing their schedule.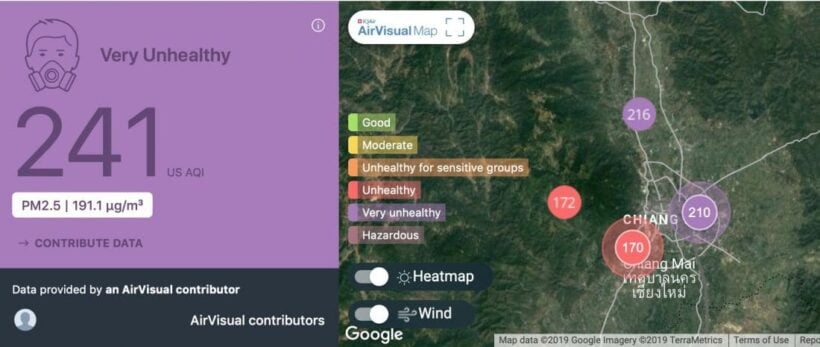 Areas north of Chiang Mai this morning, registering well above safe levels for air quality
The Pollution Control Department reported the level of PM2.5 – particulate matter 2.5 micrometres or less in diameter – in Mae Hong Son more than twice the safe limit of 50 micrograms per cubic metre.
Authorities say that deliberately set brushfires and plantation burn-offs are the main cause of the air pollution. With Mae Hong Son topping the list, Chiang Mai had 83 hotspots on Sunday, Phayao 54, Tak 49, Nan 38, Chiang Rai 37, Lampang 31, Phrae 24 and Lamphum 20.
Authorities in several provinces have declared total bans on outdoor burning, but farmers often risk the threatened fines because they have no other viable way to clear their land.
Several outdoor activities have been cancelled in Nan, such as sports tournaments, as a result of the danger to health.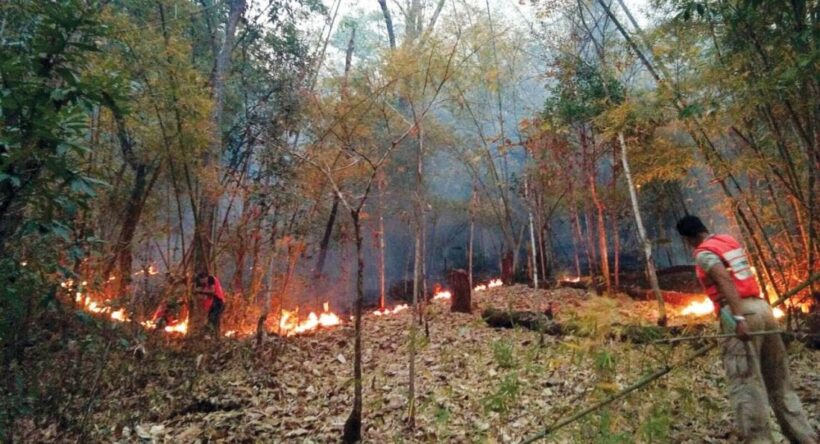 SOURCE: The Nation