"Be water" and "Blossom everywhere": Hong Kong protesters' attempts to outsmart police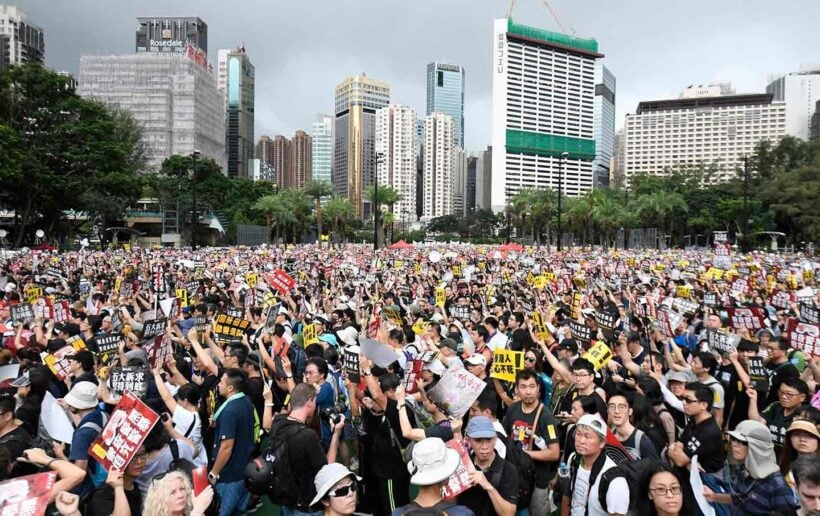 As the protests that have brought Hong Kong to a standstill show no signs of ending, demonstrators are employing new tactics in an attempt to overcome the police.
AFP reports that flash-mobs are springing up across different parts of the city since Monday, as 7½ million people attempt to create as much chaos as possible. Shops continue to be ransacked, pro-Beijing businesses vandalised, and public transport severely disrupted.
Anonymous messages on social media provide direction to protesters, such as the one that appeared Wednesday on an internet message board used by pro-democracy activists.
"We must blossom everywhere to divert the police force."
The police for their part, are employing new ways to put an end to demonstrations and rallies but are being accused of violence and heavy-handedness in their approach.
To fight police efforts, protesters are attempting to create chaos and confusion by blocking traffic in one part of the city, then quickly disappearing and re-emerging in another, a tactic they're calling, "be water", after the philosophy of one of Hong Kong's most famous sons, martial arts star Bruce Lee.
It's a tactic that has brought the subway system to a halt however, as authorities attempt to prevent activists using it to quickly travel from one protest hot-spot to another. The closure of the transport system has resulted in protesters vandalising the trains.
"Blossom everywhere", the tactic referred to in Wednesday's online instruction, involves creating as many diversions in as many different parts of the city as possible, in efforts to overwhelm police.
As part of this, posts on social media ask that people gather in small numbers in their own local areas, without having to move far or rely on public transport.
"Do not go to other districts. Firstly, not familiar. Secondly, no transport."
Another indication that things are moving up a notch is the fact that since Monday, protests are no longer confined to weekends and evenings, with the "blossom everywhere" disruption taking place three days in a row this week.
On Tuesday, a police spokesperson was quoted as saying Hong Kong was "on the brink of total collapse."
SOURCE: themalaysianreserve.com
Keep in contact with The Thaiger by following our
Facebook page
.


Find more SE Asian News courtesy of The Thaiger.

Broke? Find employment in Southeast Asia with JobCute Thailand and SmartJob Indonesia. Rich? Invest in real estate across Asia with FazWaz Property Group or get out on a yacht anywhere with Boatcrowd. Even book medical procedures worldwide with MyMediTravel, all powered by DB Ventures.

China retaliates on pro-democracy bill by imposing sanctions on US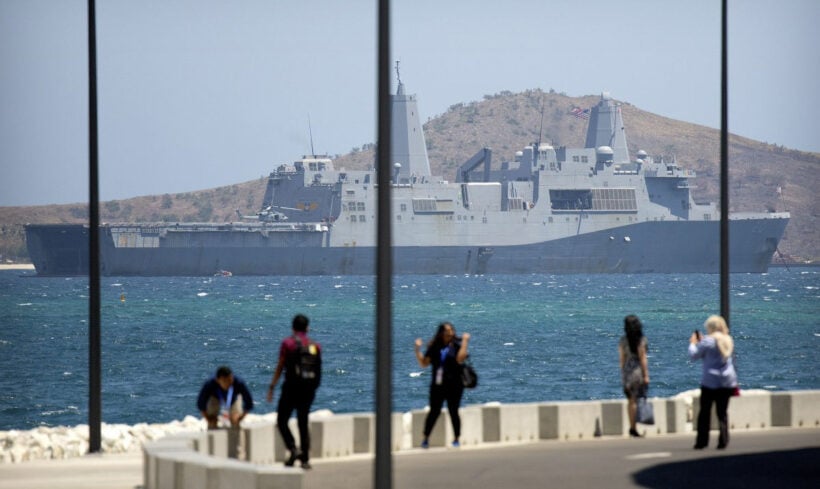 PHOTO: South China Morning Post
Following US President Trump's signing of a bill to protect the rights of Hong Kong pro-democracy campaigners, China has hit back, with foreign ministry spokesperson Hua Chunying announcing a suspension of US warship visits and sanctions against American NGOs.
"In response to the unreasonable behaviour of the US side, the Chinese government has decided to suspend reviewing the applications for US warships to go to Hong Kong for rest and recuperation as of today."
She added that US-based NGOs that had acted "badly" during the recent protests in Hong Kong would also face sanctions. While she didn't go into detail on what these might look like, she singled out the National Endowment for Democracy, Human Rights Watch and Freedom House, claiming that there is "a large amount of facts and evidence that make it clear that these non-governmental organisations support anti-China", and accusing them of bearing "great responsibility for the chaotic situation in Hong Kong."
The Hong Kong Human Rights and Democracy Act which has just become law, mandates that the US president must conduct a yearly review of Hong Kong's preferential trading status and threaten to remove it if China takes any steps that negatively impact on the freedoms enjoyed by the territory under the One Country, Two Systems rule.
The timing couldn't be worse for US President Trump, as he attempts to deal with an impasse in trade talks between the two countries, in hopes of securing a partial deal to coincide with his re-election campaign.
Pro-democracy activists in Hong Kong continue to push for increased freedoms and an independent enquiry into police brutality during the protests. Their rallies have been running since June and have turned increasingly violent, decimating the city's tourism and retail sectors.
Hong Kong's Finance Chief issued a warning earlier this week that the region was about to record its first budget deficit in fifteen years. See story HERE.
SOURCE: Herald Live
Keep in contact with The Thaiger by following our
Facebook page
.
Hong Kong Finance Chief warns of first budget deficit since 2004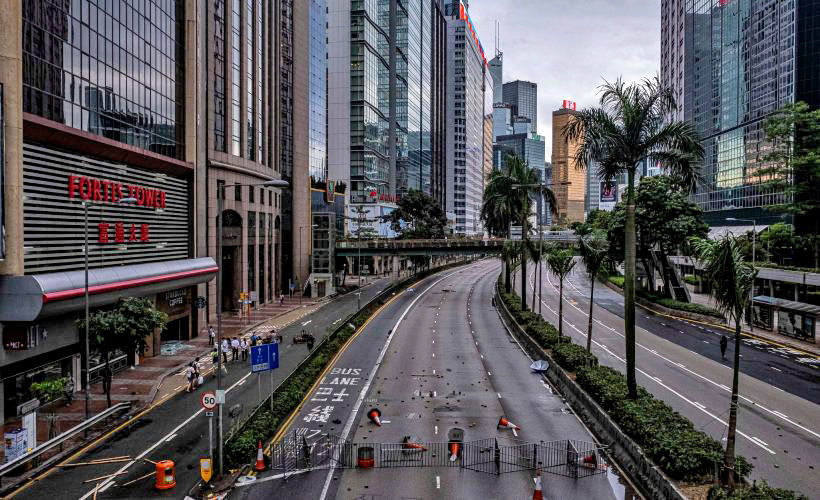 Hong Kong's Finance Chief, Paul Chan, says the city is about to record a budget deficit as a result of the protests that have rocked the territory since June, coupled with the ongoing US-China trade war. It will be the first budget deficit in fifteen years, the last one having been caused by the SARS crisis that hit the region hard, killing around 300 people.
Thai PBS World reports that Chan predicts an economic contraction of 1.3% for 2019 and blames a number of factors, including the 2019-2020 deficit on decreased tax revenues and a slowdown in land sales.
"At the end of the financial year, the SAR (Special Administrative Region) government will be in the red. Hong Kong's economy is now in extremely difficult times."
The pro-democracy protests taking place in the city since June have become more violent in recent months, decimating the retail sector and hitting tourism hard. Sales fell by 24% in October, which was the fourth consecutive month of double-digit declines, according to the Thai PBS World report.
The drop is being felt all the more keenly given that October is normally a month in which tourists from China flock to Hong Kong during the Chinese holiday known as "Golden Week". Instead, there has been a 46% drop in visitors from the mainland.
And it's not just the protests that are hitting the economy hard, with the ongoing US-China trade war also having a significant impact on the city that has traditionally linked a controlling, Communist China with the markets of the Western world.
Given that Beijing has not yet come up with a solution to the current political crisis, news of the budget deficit is unlikely ro restore confidence among investors.
Hong Kong Airlines is just one of many businesses to find itself struggling, with the city's aviation regulator giving it five days to find more money or risk having its licence suspended. The carrier has already announced a delay in paying some of its employees as a result of financial woes caused by a drop in passenger numbers.
SOURCE: thestar.com.my
Keep in contact with The Thaiger by following our
Facebook page
.
Thailand's Pulse Clinic now opens in Hong Kong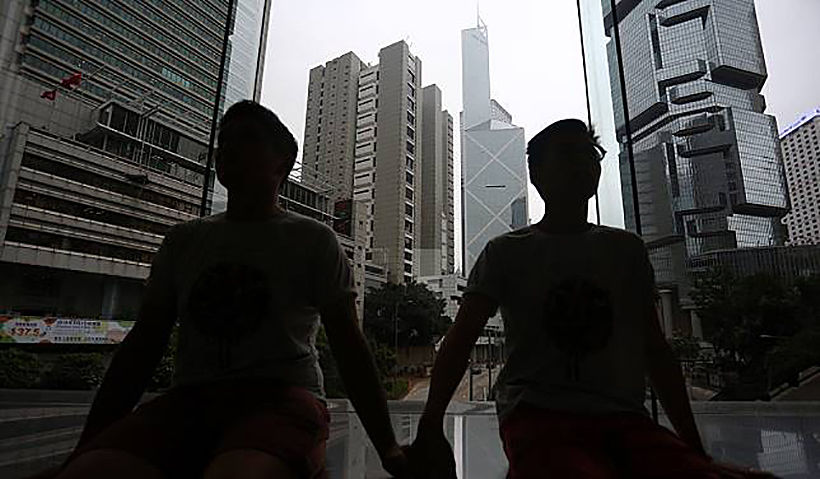 PHOTO: Jonathan Wong
Today is World Aids Day. Whilst the treatments and social acceptance of HIV and AIDS has come a long way since those scary days in the early 80s, stigmas remain, particularly in Asia. The Thaiger would like to commemorate the day by featuring a story about local Thai hero Dr Deyn Natthakhet Yaemim who has made knowledge about HIV/AIDS more available and modern treatments accessible in the Land of Smiles. And now Malaysia and Hong Kong as well.
Discrimination against sexual minorities remains rife in Asian health care. An encounter at a hospital in Thailand five years ago prompted Dr Deyn Natthakhet Yaemim to open a venue where LGBT community members are treated sensitively and, importantly, can access health care without discrimination, easily, and with the knowledge they'll be treated with the same respect as other hospital patient would expect.
An encounter with unprotected sex five years ago, found Deyn visiting a Bangkok hospital to get an emergency anti-HIV drug known as PEP, post-exposure prophylaxis. This antiretroviral medication significantly reduces, but doesn't eliminate, the chance of contracting the HIV, if taken within 72 hours of the sexual encounter. But the reaction from an attending nurse was a shock.
"Are you gay? How can you behave like that?" "Why are you gay?"
Deyn eventually received the PEP medication but not after being made to feel unwelcome and stigmatised.
The incident spurred him to open the Pulse Clinic in Bangkok in 2015.
"When we opened in Bangkok, it was like customers were coming to my family's house and we treated them that way, like you would a friend or a relative."
The first clinic in Thailand was a totally family affair. Deyn's mother was a nurse, his gay brother worked in reception, and his father in security.
In the first year the first Bangkok Pulse Clinic served 9,000 patients. Now there are three other Pulse Clinics in Thailand, another in Bangkok, one in Phuket, and another opening up in Kuala Lumpur, Malaysia, as well as the new clinic in Hong Kong. (Story continues below…)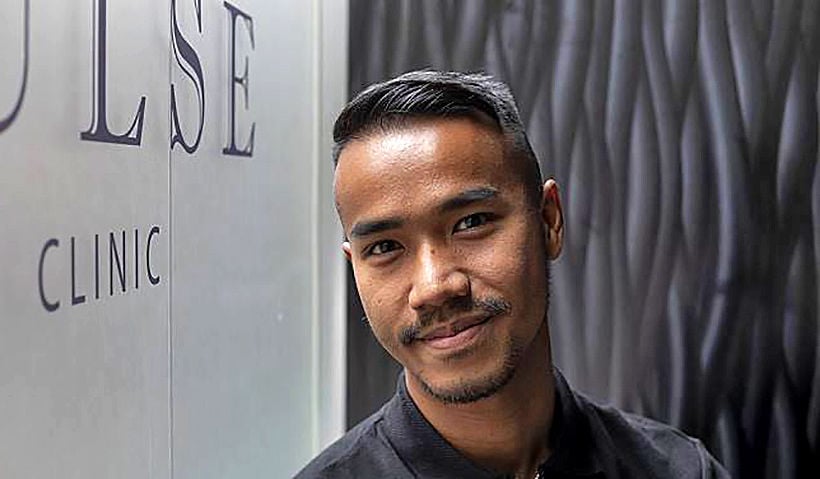 PHOTO: Local Thai hero Dr Deyn Natthakhet Yaemim, owner of Pulse Clinics
PEP and PrEP
PEP stands for post-exposure prophylaxis. It means taking antiretroviral medicines (ART) after being potentially exposed to HIV to prevent becoming infected. PEP must be started within 72 hours after a recent possible exposure to HIV, but the sooner you start PEP, the better. Every hour counts. If you're prescribed PEP, you'll need to take it once or twice daily for 28 days. PEP is effective in preventing HIV when administered correctly, but not 100%.
PrEP, on the other hand, (Pre-exposure prophylaxis) is when people at very high risk for HIV take HIV medicines daily to lower their chances of getting infected. A combination of two HIV medicines (tenofovir and emtricitabine), sold under the name Truvada® (pronounced tru vá duh), is approved for daily use as PrEP to help prevent an HIV-negative person from getting HIV from a sexual or injection-drug-using partner who's positive. Studies have shown that PrEP is highly effective for preventing HIV if it is used as prescribed. PrEP is much less effective when it is not taken consistently. www.cdc.gov
The recently opened Hong Kong outpost of the Pulse Clinic is in Central, where Deyn and staff welcome patients from the local LGBT community. But stigma against HIV still exists in Hong Kong forcing many Hongkongers living with HIV to go Thailand for treatment in the past.
"If they are HIV positive, they'd do treatment there as well because they feared their partner or anybody knowing about their status, and they didn't want to be registered in the government health care system there so they came to Bangkok."
Now Hongkongers can visit the clinic in Central, for sexual health services, STD screenings, HIV prevention and treatment strategies, and more. Importantly, confidentiality is assured.
HIV patients remain among the most unfairly demonised groups due to long-held, and mostly incorrect, misunderstandings about the virus. This, despite many medical advances including antiretroviral drugs that make patients highly unlikely to infect others.
While condoms remains the most popular barrier against HIV infection, Prep is also effective. PrEP (pre-exposure prophylaxis) is 99% effective at stopping the transmission of HIV through sex without condoms. Deyn cites partner studies (in which one is HIV positive, the other HIV negative) having almost "zero chance" of cross infection on this drug regimen.
"The protection would be 99% so it's even better than a condom. However, PrEP only prevents you from HIV, not other sexually transmitted diseases, so it is recommended you still use a condom."
A landmark study published in The Lancet in 2019 that tracked about 1,000 male couples across Europe for eight years (HIV positive gay men and their HIV negative partners) and found, thanks to antiretroviral drugs, there was no chance the HIV positive individual could infect the other, even though many participants reported having unprotected sex during that period.
SOURCE: South China Morning Post
Keep in contact with The Thaiger by following our
Facebook page
.