Songkran 2023: Your last minute beach escapes to celebrate Thailand's water festival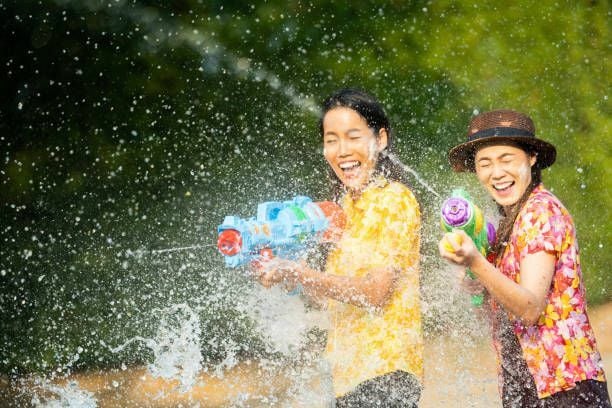 Songkran 2023 is fast approaching, and there's no better way to experience this vibrant Thai New Year celebration than at the country's stunning beach destinations. Songkran is a centuries-old festival that marks the beginning of the traditional Thai solar calendar. It's a time for family reunions, spiritual cleansing, and paying respect to elders. The most iconic aspect of Songkran is the water splashing, symbolizing purification and the washing away of sins and bad luck.
In Thailand, people celebrate Songkran with great enthusiasm and joy, as it signifies renewal, unity, and the welcoming of warmer months. As the temperature starts to rise, the water festivities become a refreshing and exciting way to cool off and connect with others. This is where beach destinations come into the picture.
During Songkran 2023, Thailand's beach destinations will come alive with a unique blend of cultural traditions and modern celebrations. The sun-kissed shores and crystal-clear waters provide the perfect backdrop for the world's biggest water fight, as well as more traditional activities like temple visits, merit-making, and parades. These coastal retreats offer a fun, rejuvenating, and unforgettable experience for both locals and tourists, as they immerse themselves in the spirit of Songkran. So, pack your swimsuit, grab your water gun, and get ready to join the world's biggest water fight as you celebrate Songkran 2023 in the tropical paradise of Thailand's beaches.
Top 5 beach destinations to celebrate Songkran 2023
1. Phuket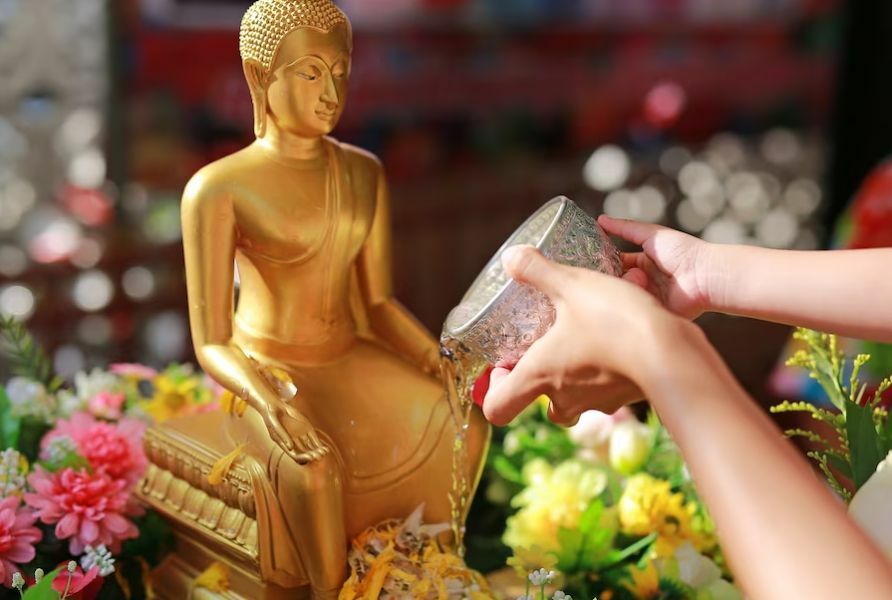 Phuket is an ideal destination to celebrate Songkran 2023 because of its vibrant atmosphere, beautiful beaches, and unique cultural experiences. As the largest island in Thailand, Phuket boasts a wide variety of activities and attractions that cater to different interests, making it a perfect place to enjoy the Thai New Year celebrations.
During Songkran 2023, Phuket's streets will come alive with water fights, traditional ceremonies, and lively parties. Patong Beach, in particular, becomes a hotspot for both tourists and locals who gather to engage in fun-filled water battles. The island's diverse range of beach clubs, bars, and nightclubs also host special events and parties in honour of Songkran, providing endless entertainment options for visitors.
Phuket also has many temples that offer a more traditional way to celebrate Songkran. Wat Chalong is one of the most popular temples in Phuket, and it hosts a special Songkran ceremony each year. This is a great opportunity to learn more about Thai culture and to experience the spiritual side of the festival. One of the main ceremonies at Wat Chalong is the bathing of the Buddha images. This involves pouring scented water over the Buddha images to symbolize the washing away of sins and bad luck from the previous year. This ceremony is led by the temple monks and is considered to be a very important part of Songkran celebrations.
Another popular activity at Wat Chalong during Songkran is the building of sand stupas. Visitors can build small sand stupas as a way of making merit and showing respect to the Buddha. This is a fun and creative activity that is enjoyed by both locals and tourists. In addition to these activities, Wat Chalong also hosts traditional Thai dance performances and cultural shows during Songkran. This is a great way to experience the more spiritual side of the festival.
In addition to the festivities, Phuket also has many beautiful beaches and natural attractions to explore. After a day of water fights and temple visits, you can relax on the beach or explore the nearby islands.
2. Koh Samui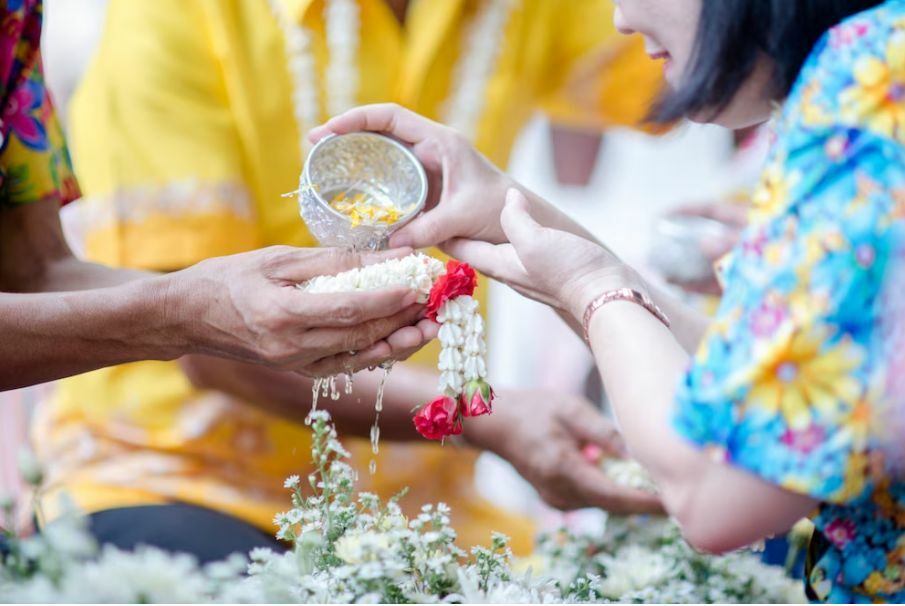 Koh Samui is an ideal destination for celebrating Songkran 2023 due to its unique blend of traditional and modern festivities, beautiful beachside setting, and diverse range of activities to suit all ages and preferences.
Firstly, Koh Samui offers a rich cultural experience, with locals and visitors coming together to engage in traditional Songkran rituals such as the Rod Nam Dam Hua ceremony. This involves paying respect to elders and seeking their blessings by pouring scented water on their hands. Additionally, the island's numerous temples, such as Wat Plai Laem and Wat Phra Yai, host special merit-making events that give visitors a chance to immerse themselves in the spiritual side of Songkran 2023. Wat Plai Laem is one of the most popular temples on the island and is known for its beautiful architecture and peaceful ambience. During Songkran, the temple is decorated with flowers and colourful banners, and visitors can participate in traditional ceremonies, including the bathing of the Buddha images and offering alms to the monks.
Another great way to celebrate Songkran in Koh Samui is by taking part in a traditional Thai cooking class. This is a unique way to learn about Thai culture and experience the festival through food. Visitors can learn how to make traditional Thai dishes, including curries, stir-fries, and desserts, and enjoy a delicious meal with family and friends.
The island's pristine beaches and tropical climate provide the perfect backdrop for the lively water fights that have become synonymous with Songkran celebrations. Popular beaches like Chaweng and Lamai transform into energetic battlegrounds where people of all ages engage in friendly water fights, using water guns or buckets, to symbolize the washing away of sins and bad luck.
3. Krabi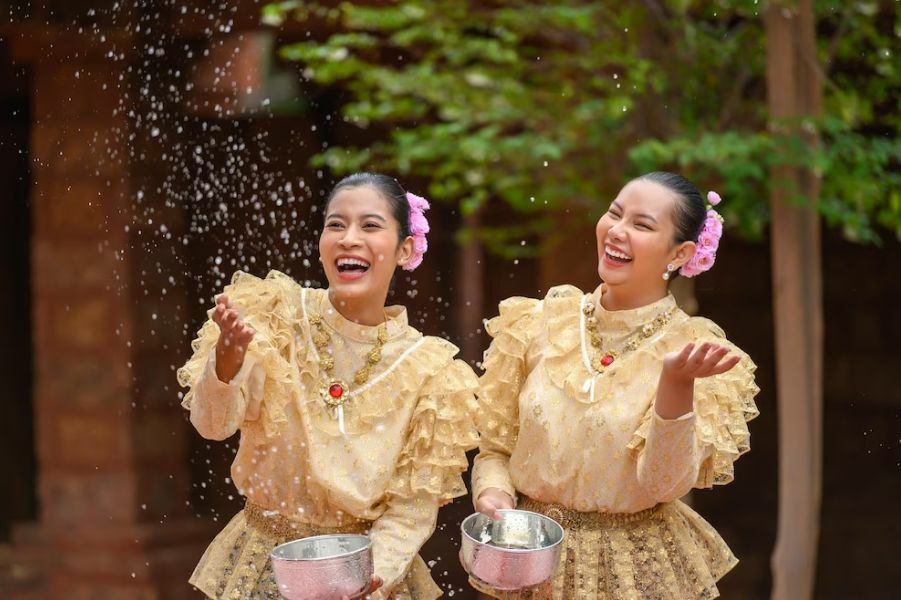 Songkran 2023 in Krabi is set to be an action-packed and vibrant event that showcases the best of Thai culture and tradition. As the Thai New Year commences, the picturesque province of Krabi transforms into a hub of excitement, attracting both locals and tourists to participate in the festivities.
One of the most significant aspects of Songkran in Krabi is the traditional water blessing ceremony, which symbolizes the washing away of bad luck and misfortune from the previous year. Locals and visitors alike can participate in this meaningful ritual by gently pouring water over the hands and shoulders of elders and loved ones, wishing them good luck and prosperity for the year ahead.
Krabi is also home to many beautiful temples and shrines that offer a more traditional way of celebrating Songkran. One of the most popular temples is Wat Tham Suea, also known as the Tiger Cave Temple. During Songkran, the temple hosts a range of activities, including traditional ceremonies, cultural performances, and food stalls. Another unique way to celebrate Songkran in Krabi is by taking part in a traditional Thai boat race. This is a popular activity during Songkran and involves racing colourful long-tail boats on the river. Visitors can also enjoy a range of traditional Thai food and drinks during the race, adding to the festive atmosphere.
4. Pattaya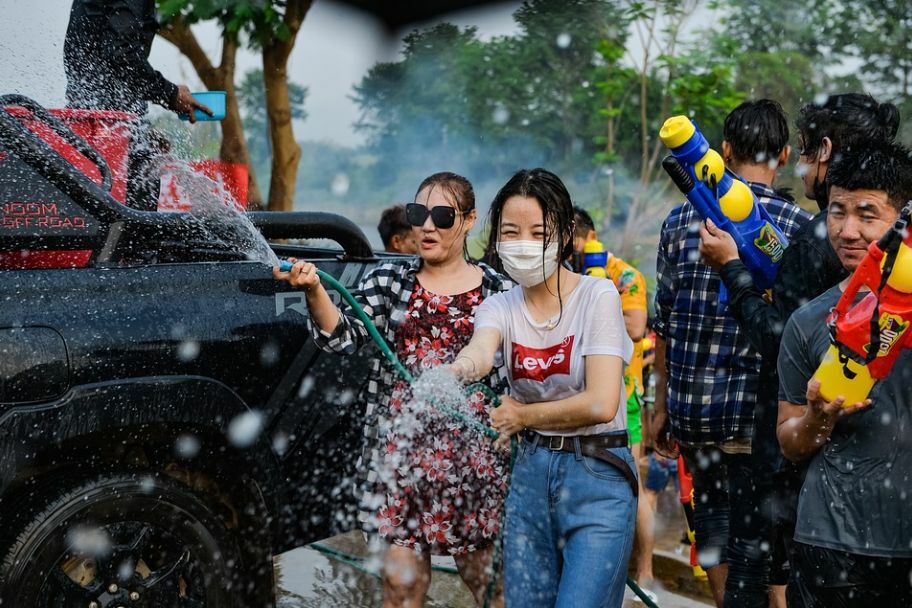 Pattaya offers several unique ways to celebrate Songkran 2023 in Thailand. One of the reasons why Pattaya is an ideal destination for celebrating Songkran 2023 is the variety of activities that are available. Visitors can take part in traditional ceremonies at local temples, visit cultural exhibitions, and enjoy street food at various markets. They can also enjoy a range of water activities such as water sports, beach parties, and water gun fights.
Additionally, the city's reputation as a party destination also acts in its favour to celebrate Songkran 2023 in full aplomb. The city has a vibrant nightlife with a range of bars and nightclubs, and during Songkran, the city comes alive with street parties and music events. Visitors can join in the fun by dancing, spraying water or throwing powder, and enjoying the lively atmosphere. Pattaya's location also makes it an ideal destination for Songkran. It is situated on the east coast of Thailand and is easily accessible from Bangkok. Visitors can enjoy the city's beaches, explore the nearby islands, and take part in water activities during their stay.
Pattaya has a rich cultural scene, with numerous temples, shrines, and traditional markets scattered throughout the city. Visiting these sites during Songkran 2023 will give you a deeper understanding of Thai culture and the significance of the festival. Many locals visit temples to pay their respects and make merit, which is an essential aspect of the Songkran tradition.
5. Koh Chang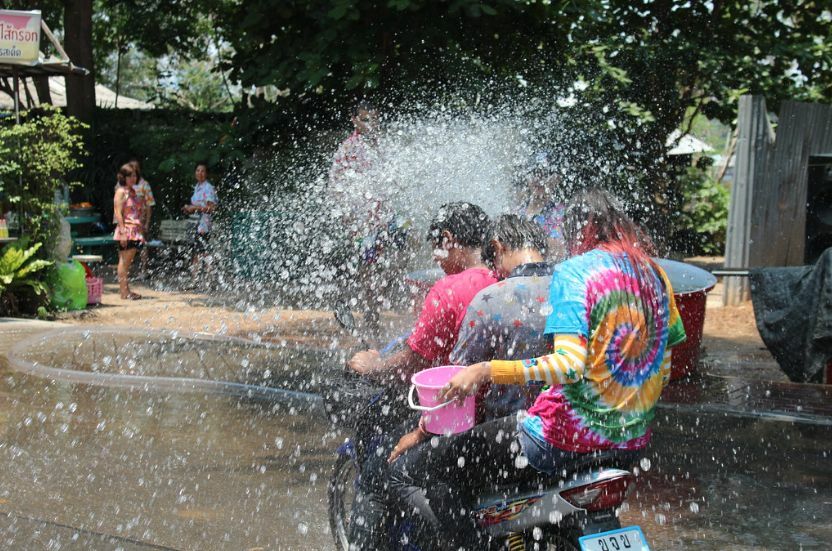 Koh Chang celebrates Songkran 2023 with a variety of activities that showcase the island's natural beauty, cultural traditions, and commitment to sustainability. One of the most popular activities during the festival is the traditional water fights, where visitors and locals alike take to the streets armed with water guns and buckets, splashing each other with water to signify washing away the past and starting anew. The water fights take place across the island and are a fun way to cool off from the heat of the festival.
Visitors can also take part in eco-friendly activities during Songkran 2023, such as beach cleanups and tree planting, as part of the island's commitment to sustainability. These activities are a great way to give back to the community and make a positive impact on the environment.
There are also parades featuring traditional Thai costumes and dance performances, providing visitors with a glimpse of the local culture. Street vendors sell delicious Thai street food, and visitors can also participate in cooking classes to learn how to make traditional Thai dishes.
Now that you know the top beach spots to celebrate Songkran 2023 in Thailand, it is necessary you stay alert on how to keep yourself safe during such festivals. It can be chaotic most of the time. But, do not worry! We have got you covered. If you are interested in learning more about the Songkran festival in Thailand, you can always check out our article on Everything you need to know about Songkran.
Things To Do

Join the conversation and have your say on Thailand news published on The Thaiger.
Thaiger Talk is our new Thaiger Community where you can join the discussion on everything happening in Thailand right now.
Please note that articles are not posted to the forum instantly and can take up to 20 min before being visible. Click for more information and the Thaiger Talk Guidelines.