Bangkok's best vegan and vegetarian restaurants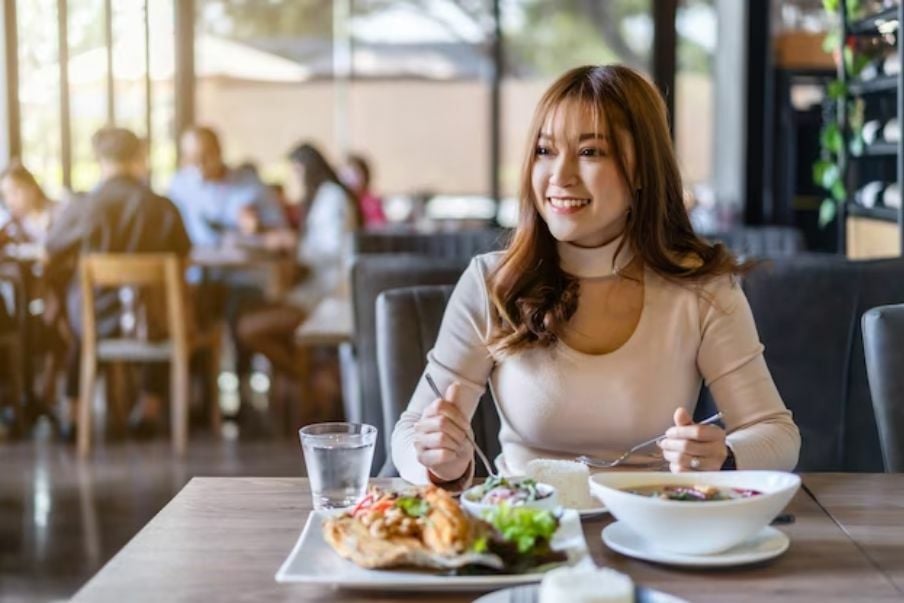 Craving a scrumptious meal that's kind to the planet and your taste buds? Known for its exotic flavors and drool-worthy dishes, Thailand boasts an array of innovative vegetarian and vegan eateries. These eateries not only offer a plethora of plant-based options but also cater to the specific needs of vegetarians and vegans alike, ensuring a delightful culinary experience.
The rise of veganism in Thailand has significantly contributed to the growth and popularity of vegetarian restaurants in Bangkok. As more people embrace plant-based diets for various reasons, including health, environmental concerns, and animal welfare, there has been an increased demand for vegetarian and vegan food options. This has led to a surge in vegetarian restaurants in Bangkok, catering to the diverse culinary preferences of locals and tourists alike. We have compiled an excellent selection of the finest vegan and vegetarian restaurants in Bangkok for you to try. You may also find top tips for finding animal-friendly food in Thailand here.
Vegan restaurants
Broccoli Revolution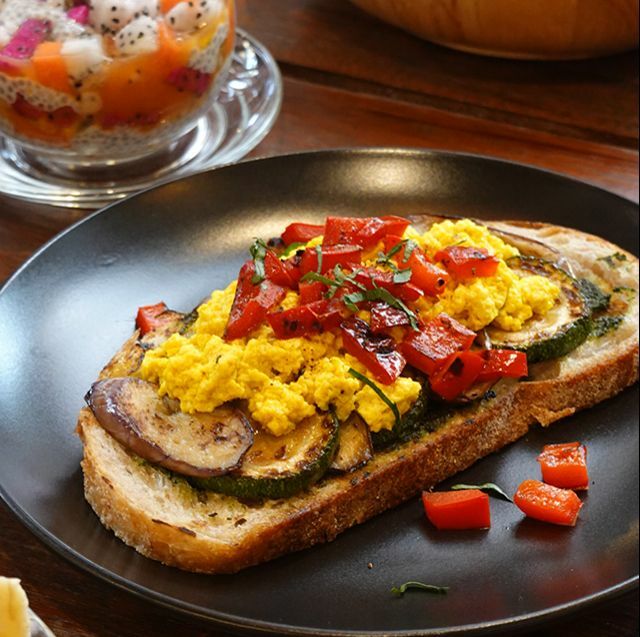 Broccoli Revolution in Bangkok stands out as the best vegan eatery due to its unique flavors, lively atmosphere, and dedication to sustainability. Situated in the busy Sukhumvit area, this plant-based haven offers a captivating blend of Thai, Western, and Asian cuisines in a stylish, modern setting. The diverse and innovative menu sets Broccoli Revolution apart. With dishes like the Broccoli Quinoa Charcoal Burger and the Burmese Tea Leaf Salad, the eatery caters to various tastes. The menu also features fresh-pressed juices, smoothies, and nut milk drinks, all designed to delight taste buds and support good health.
High-quality ingredients play a crucial role in Broccoli Revolution's success. The restaurant prioritizes organic, locally sourced, and sustainably produced products, ensuring fresh and delicious food. This approach also reflects the eatery's commitment to eco-friendly practices. The delicious banoffee pie and homemade soy ice cream offer a guilt-free indulgence, sourced from local bakeries and suppliers like Theera. This social enterprise collaborates with children who have special needs, further showcasing the eatery's commitment to ethical practices.
Veganerie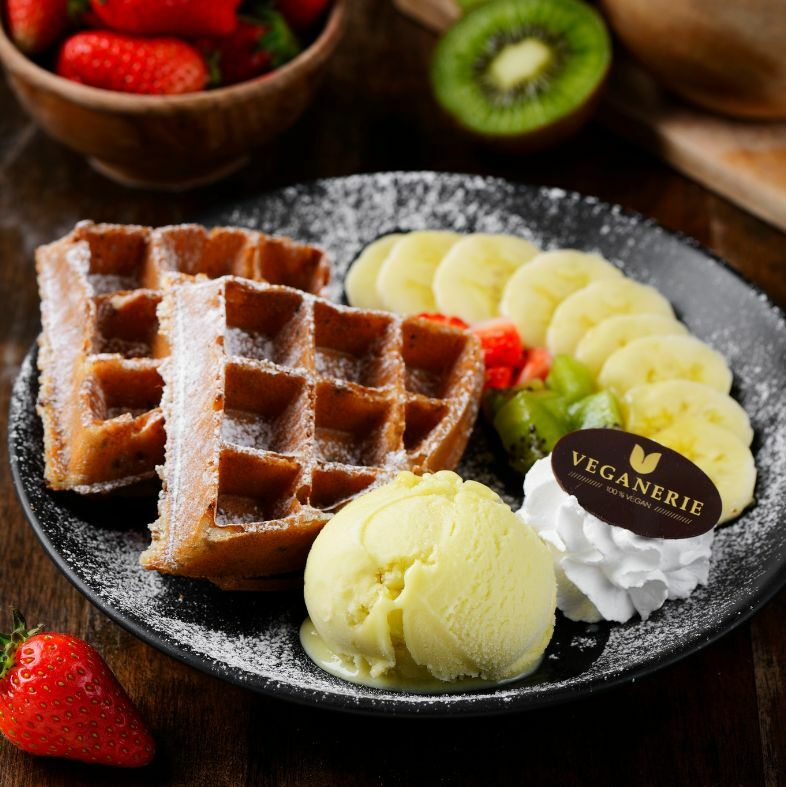 Veganerie is a popular vegan restaurant in Bangkok, known for its extensive and delectable plant-based menu. Its unique offerings and commitment to cruelty-free cuisine make it a favorite destination for vegans and non-vegans alike. The first aspect that sets Veganerie apart is its impressive range of dishes, from appetizers to mains and desserts. The menu draws inspiration from both Thai and international cuisines, ensuring a diverse dining experience. Whether you're craving a hearty meal like the Vegan Barbecue Ribs or a comforting bowl of Tom Yum soup, Veganerie has something for everyone.
Veganerie's innovative approach to vegan desserts is a true delight for those with a sweet tooth. From tempting Vegan Chocolate Lava Cake to refreshing Mango Sticky Rice, the dessert options are bound to leave a lasting impression and satisfy your cravings.
May Veggie Home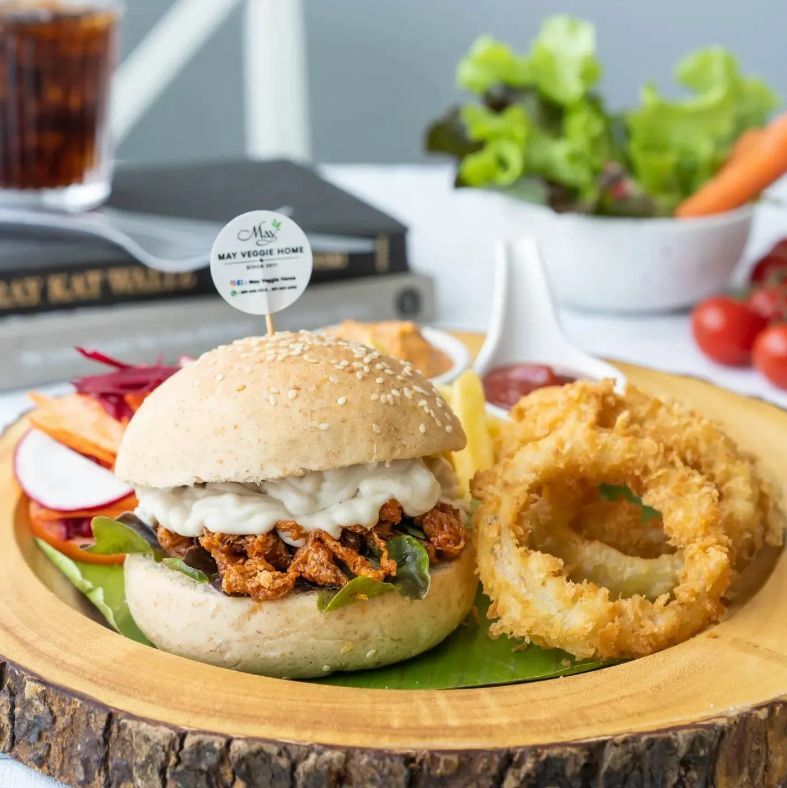 May Veggie Home is a beloved vegan restaurant in Bangkok, celebrated for its authentic flavors, cozy ambiance, and commitment to plant-based cuisine. The food at May Veggie Home is a harmonious blend of traditional Thai dishes, Asian favorites, and Western classics, all prepared using plant-based ingredients. The restaurant's talented chefs use their creativity to craft vegan versions of popular dishes without sacrificing taste or quality. This unique approach allows visitors to enjoy a wide variety of flavors and textures, making the dining experience exceptional. Patrons can savor meals like the spicy Laab Mushroom Salad, the rich and creamy Tom Kha soup, or the flavorful Vegan Sushi.
May Veggie Home pays careful attention to the ingredients they use, sourcing fresh, high-quality produce from local suppliers. This practice supports the local economy and ensures a smaller carbon footprint.
Barefood Bangkok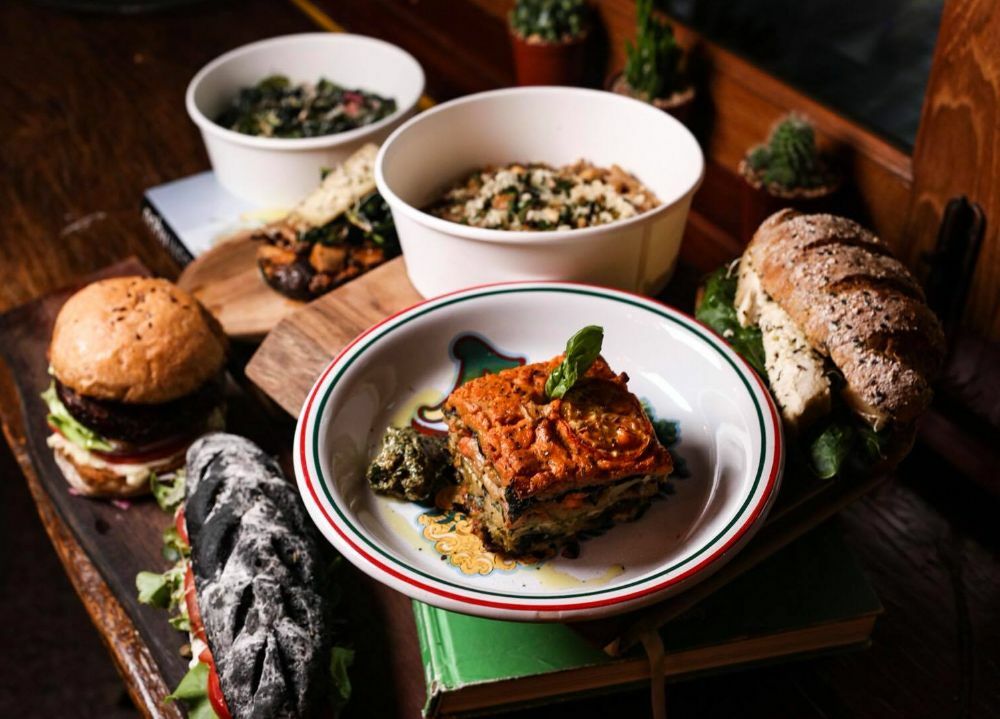 Barefood Bangkok is a distinguished vegan restaurant that has earned its reputation through its innovative cuisine, focus on quality ingredients and warm atmosphere. The eatery offers a wide range of options, such as the Eggless Quiche, the Cashew Cheese Platter, or the beautifully presented Raw Zucchini Lasagna, all skillfully crafted to satisfy diverse palates.
Barefood Bangkok's dedication to producing artisanal vegan cheese sets it apart from other vegan eateries. By creating a variety of nut-based cheeses with different flavors and textures, the restaurant provides a unique offering that appeals to both vegans and non-vegans.
Vistro
Vistro in Bangkok is a prominent vegan restaurant known for its inventive cuisine, stylish ambiance, and commitment to sustainability, making it a top choice for plant-based dining in the city. Options like the Vegan Khao Soi, the comforting Mac 'n' Cheese, and the unique Jackfruit Tacos cater to a wide range of palates, ensuring a memorable dining experience for all.
Vistro's modern and stylish atmosphere adds to its appeal, making it an excellent venue for both casual gatherings and special occasions. The contemporary decor, coupled with the attentive and friendly service, creates a welcoming ambiance that enhances the overall dining experience. Vistro's delectable dessert offerings, such as the Chocolate Hazelnut Tart and the Blueberry Cheesecake, provide patrons with a satisfying and indulgent conclusion to their meal, making it a well-rounded vegan dining experience.
Vegetarian restaurants
Ethos Vegetarian Restaurant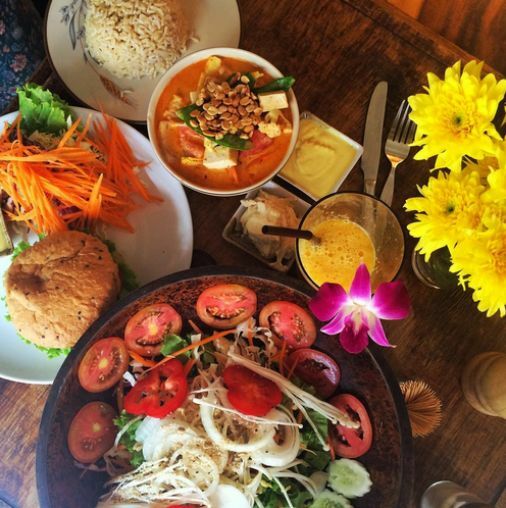 Ethos Vegetarian Restaurant is a popular vegetarian restaurant in Bangkok that offers a wide variety of delicious, healthy, and sustainable dishes. Known for its cozy, welcoming atmosphere and friendly staff, this restaurant is a favorite among both locals and tourists looking for a fulfilling meal without the guilt. Customers can enjoy various dishes from all around the world, including Thai, Indian, Mediterranean, and Western cuisine, all prepared with fresh, high-quality, and organic ingredients.
With its casual and laid-back setting, adorned with colorful tapestries and warm lighting, Ethos creates a relaxing and comfortable dining experience. It also offers a community vibe, where customers can socialize with fellow diners and share their love for vegetarian food. In addition to its extensive food options, Ethos Vegetarian Restaurant also boasts an impressive selection of vegan desserts, fresh juices, and smoothies, making it a perfect spot to satisfy your sweet tooth while maintaining a healthy diet.
Their homemade kombucha is a must-try, as it is a refreshing, healthy, and unique beverage choice that stands out from the usual offerings at other establishments. Ethos Vegetarian Restaurant takes pride in crafting its kombucha in-house, ensuring its quality and flavor are of the highest standard. The homemade kombucha at Ethos comes in a variety of flavors, giving customers the chance to explore different taste profiles and find their favorite one.
Suananda Vegetarian Garden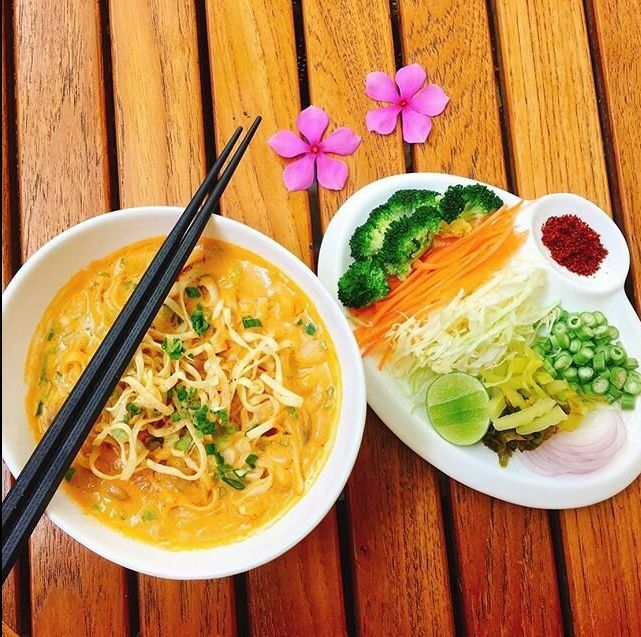 Suananda Vegetarian Garden is a charming vegetarian restaurant in Bangkok that offers a tranquil oasis amidst bustling city life. The menu at Suananda Vegetarian Garden is thoughtfully curated, focusing on Ayurvedic principles and promoting holistic well-being through wholesome, nourishing meals. This unique approach to vegetarian dining ensures that every dish is not only delicious but also beneficial to one's overall health.
The eatery's enchanting ambiance, complete with lush greenery and soothing water features, further elevates the dining experience. The calming environment encourages patrons to slow down, unwind, and savor every bite of their meal, fostering a sense of mindfulness and appreciation for the food. Suananda Vegetarian Garden also offers regular workshops and events related to holistic health, yoga, and meditation, making it a comprehensive wellness hub for those seeking to nourish their bodies and minds.
Govinda Italian Restaurant and Pizzeria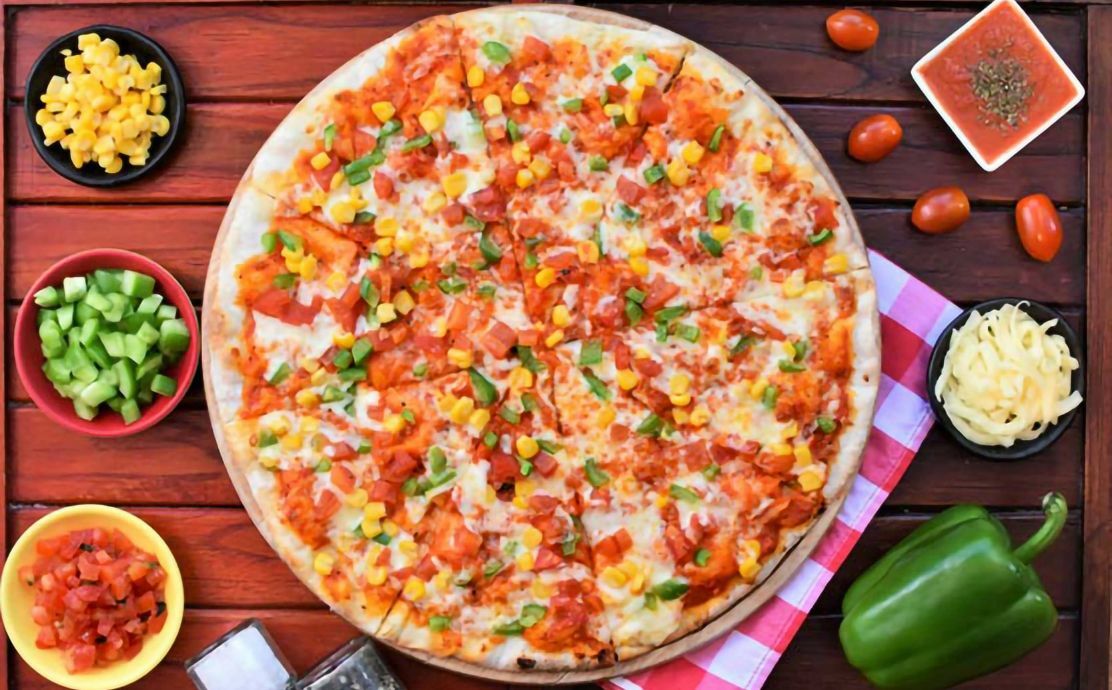 Govinda Italian Restaurant and Pizzeria is a delightful vegetarian restaurant in Bangkok that specializes in authentic Italian cuisine with a vegetarian twist. This charming eatery is a haven for vegetarians and Italian food lovers alike, offering a diverse menu of mouth-watering dishes that cater to various dietary preferences and needs. As its name suggests, one of the highlights of Govinda Italian Restaurant and Pizzeria is its impressive selection of pizzas. Prepared with fresh, high-quality ingredients and baked to perfection in a traditional wood-fired oven, these pizzas boast an exquisite taste and texture that rival those of traditional pizzerias.
But that's not all; this vegetarian restaurant in Bangkok also serves an array of scrumptious pasta dishes, satisfying salads, and classic Italian appetizers, all prepared with a creative and healthy spin. Diners can indulge in rich, creamy risottos, flavorful lasagnas, and decadent desserts, all while maintaining a guilt-free and ethical dining experience.
Khun Churn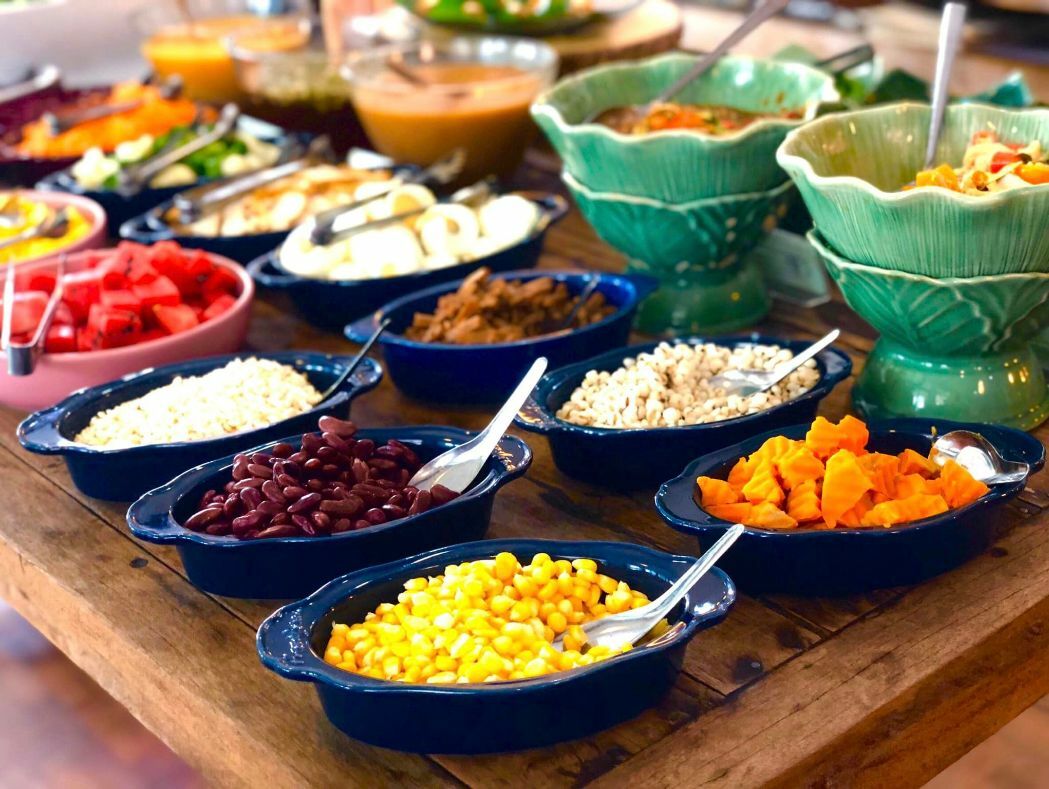 Khun Churn is a well-known vegetarian restaurant in Bangkok, renowned for its extensive buffet-style offerings of both traditional Thai and international dishes. This popular eatery has gained a loyal following among vegetarians, vegans, and health-conscious diners seeking a variety of delicious and wholesome meal options.
What sets Khun Churn apart from other vegetarian restaurants in Bangkok is its unique all-you-can-eat buffet concept, which provides customers with an opportunity to sample a wide range of dishes while enjoying an affordable and satisfying dining experience. The buffet includes an array of appetizers, salads, soups, main courses, and desserts, ensuring that there is something to suit every palate. In addition to its buffet, Khun Churn also offers an à la carte menu for those who prefer a more personalized dining experience. The eatery's welcoming ambiance, with its spacious and comfortable seating area, makes it an ideal spot for gatherings.
Anothai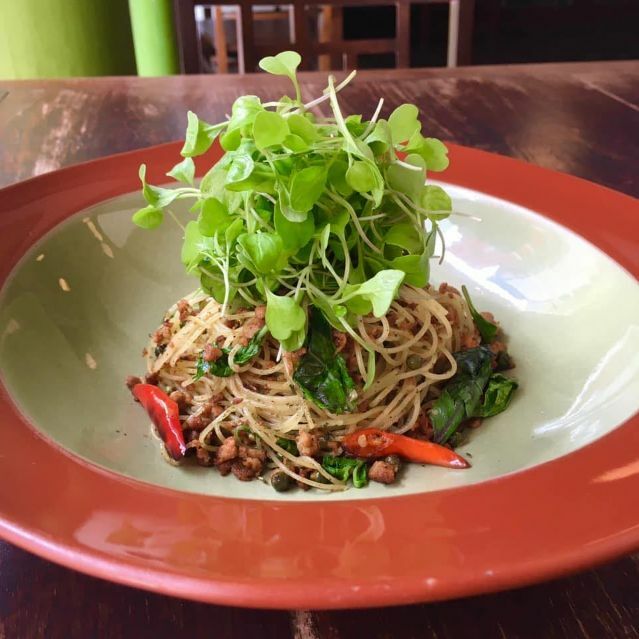 Anothai is a delightful vegetarian restaurant in Bangkok that brings a unique fusion of Thai and Chinese cuisine to the city's vibrant vegetarian dining scene. At Anothai, the focus is on providing a diverse array of delicious and healthy menu options that cater to various dietary preferences, including vegan and gluten-free choices. The dishes are crafted with an emphasis on using organic and locally sourced ingredients, ensuring that each meal is not only satisfying but also environmentally conscious.
This vegetarian restaurant in Bangkok offers an extensive menu that showcases the finest aspects of Thai and Chinese culinary traditions, with an innovative plant-based twist. Diners can indulge in mouth-watering stir-fries, aromatic curries, delectable dim sum, and an assortment of flavorful rice and noodle dishes, all skillfully prepared by experienced chefs.
Click here to find out the best vegan desserts in Bangkok to satisfy your sweet tooth with no guilt.
Food
Guides

Join the conversation and have your say on Thailand news published on The Thaiger.
Thaiger Talk is our new Thaiger Community where you can join the discussion on everything happening in Thailand right now.
Please note that articles are not posted to the forum instantly and can take up to 20 min before being visible. Click for more information and the Thaiger Talk Guidelines.